Lively performances by British Columbian bass-baritone Daniel Okulitch and Iowa bass-baritone Kyle Ketelsen as Don Giovanni and Leporello – buttressed by the solid vocal support from the artists who play Giovanni's fellow aristocrats – are the main attractions of Santa Fe Opera's new production of Mozart's "Don Giovanni".
The new production, directed by Brazilian stage director Ron Daniels, was quirky without being outrageous, with Costa Rican Conductor John Nelson permitting key artists the license to sing alternate passages (as Mozart expected his major singers to do to exhibit their virtuosity) for the second verses of familiar arias.
Daniel Okulitch's Don Giovanni
Okulitch is an artist who has both great vocal technique and an engaging stage presence. As Don Giovanni, he made a strong impression, both vocally and through his ability as an artist to charm the audience, just as his character charms the women he pursues.
Okulitch seems not to be an artist bothered by stage inhibitions. He carries on the 21st century "tradition" of the shirtless baritone (whose original source was the barechested staging that director Francesca Zambello – for a theatrical effect – created for baritone Nathan Gunn).
Okulitch's operatic resume includes totally nudity [Dissecting "The Fly": the American Premiere of Shore's Opera in L.A. – September 7, 2008], and appearing only in a leopard skin brief [Loving "The Last Savage": Over the Top Menotti Charms at Santa Fe Opera – August 5, 2011].
An imaginative setting (a bathtub and dressing screen) for the "champagne aria" Finch'han dal vino provides yet another opportunity for Okulitch to unfetter himself from heavy costumes. Fortunately, for purists who prefer their baritones to be fully costumed, the aria was nicely performed.
[Below: Don Giovanni (Daniel Okulitch), having just emerged from his bath, sings the "champagne aria"; edited image, based on a Ken Howard photograph, courtesy of the Santa Fe Opera.]
Kyle Ketelsen's Leporello
For Kyle Ketelsen, Leporello is a signature role, for which he is known throughout the opera world.
Having seen Ketelsen perform Leporello in two quite different productions [See Review: Mariusz Kwiecien Excels in Robert Falls New "Don Giovanni" Production – Lyric Opera of Chicago, October 29, 2014] I was impressed by his approach to the essence of each line of Lorenzo Da Ponte's libretto. His facial expressions and body language, his comic timing, his athleticism, all were elements of a masterful performance.
[Below: Kyle Ketelsen as Leporello; edited image, based on a Ken Howard photograph, courtesy of the Santa Fe Opera.]
I have now reviewed back-to-back first nights of Ketelsen performance runs. Seven weeks ago I was at the first night of another Ketelsen assignment, Golaud [see Review: Imbrailo, Winters and Ketelsen Effective in Dmitri Tcherniakov's Psychoanalytic Take on "Pelléas et Mélisande" – Zurich Opera, May 8, 2016] and have high confidence in his success in any operatic role he assays.
Edgaras Montvidas' Don Ottavio, Leah Crocetto's Donna Anna and Keri Alkema's Donna Elvira
Lithuanian tenor Edgaras Montvidas' warm lyric voice added elegance to Don Ottavio's two great arias Dalla sua pace and Il mio tesoro.
[Below: Don Ottavio (Edgaras Montvidas, left) attempts to comfort Donna Anna (Leah Crocetto, right); edited image, based on a Ken Howard photograph, courtesy of the Santa Fe Opera.]
Michigan soprano Leah Crocetto sang the role of Donna Anna with power and grace.
In her final aria, Non mir dir, Crocetto displayed the mastery of coloratura that Santa Fe Opera audiences will recall from her 2012 appearance in a Rossini opera seria [see Stormy Weather, But Strong Performances from Pisaroni, Crocetto, Bardon, Sledge in Rossini's "Maometto II" – Santa Fe Opera, August 2, 2012.]
At this point in her career, Crocetto is moving into such dramatic soprano roles as the title role in Verdi's "Aida", that she is scheduled to perform at the San Francisco Opera four months later.
Florida soprano Keri Alkema, in her Santa Fe Opera debut, impressed as Donna Elvira, displaying the dramatic energy and solid technique that this extraordinary role requires.
[Below: Don Giovanni (Daniel Okulitch, right) sweet-talks Donna Elvira (Keri Alkema, left); edited image, based on a Ken Howard photograph, courtesy of the Santa Fe Opera.]
I had reported on Alkema's Queen Elizabeth I earlier this year [see Review: Joyce El-Khoury's second "Maria Stuarda" in 21 Hours displays style and endurance – Seattle Opera, February 28, 2016], another demanding role in which she proved effective.
Soloman Howard's Commendatore, Jarrett Ott's Masetto and Rhian Lois' Zerlina
In my previous reviews of performances by District of Columbia basso Soloman Howard [see, for example, Review: Gripping Portraits by Eric Owens, Melody Moore in Anne Bogart's Staging of Verdi's "Macbeth" – Glimmerglass Festival, July 17, 2015], I spoke of his being a rising star in his vocal category, whose roles include the beautiful vocal lines Verdi wrote for the basso cantante.
[Below: The Commendatore (Soloman Howard, center top) takes hold of Don Giovanni (Daniel Okulitch, armed raised with an unhappy appearance) who discovers that hellfire is less pleasant than he expected; edited image, based on a Ken Howard photograph, courtesy of the Santa Fe Opera.]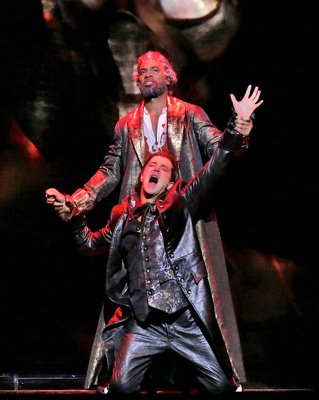 The part of Masetto was assigned to Pennsylvania baritone Jarrett Ott, a Santa Fe Opera Apprentice singer, who sang the role with distinction.
Ott achieved recognition earlier this year when he took over all performances of the lead role, W. P. Inman, in the Opera Philadelphia production of Jennifer Higdon's "Cold Mountain" (whose world premiere took place at the Santa Fe Opera in 2015) when its star, Nathan Gunn, was called home for a family emergency. He is announced for the lead role of Curly in Rodgers and Hammerstein's "Oklahoma" at the 2017 Glimmerglass Festival.
[Below: Baritone Jarrett Ott; edited image of a Dario Acosta photograph for IMGArtists.]
Masetto's bride, Zerlina, was the Welsh soprano Rhian Lois in her American debut. Although Lois was a stylish singer, her voice was of a lighter weight than I believe is desirable for Santa Fe Opera's 2100 seat John Crosby Theater.
Maestro John Nelson and the Santa Fe Opera Orchestra
The Santa Fe Opera Orchestra showed its affinity and technical skill with Mozart's timeless music, particularly the spooky music that begins the overture and that accompanies Don Giovanni's final moments on earth.
Maestro John Nelson provided the musical leadership for the enterprise. This obviously included allowing three of the principal artists the license to alter the music of the final verses of familiar arias, in a show of virtuosity expected of opera singers in Mozart's day. (No 21st century artist would attempt such a thing without the encouragement and approval of the conductor.)
Ron Daniels Production and Riccardo Hernandez' Scenic Design
The Ron Daniels production contained some interesting ideas, including rows of footmen on each side of the stage in the opening scenes, who, at opera's end are the "infernal chorus" that accompanies Don Giovanni as he is dragged to Hell.
Six weeks ago, I reported on a new Baden-Baden production of Boito's "Mefistofele", whose staging utilized a large skull onto which video projections could be made [See Review: "Mefistofele" Impressively Performed by Schrott, Castronovo, Penda and Blue in New Philipp Himmelmann Production – Festspielhaus Baden-Baden, May 16, 2016.]
[Below: Footmen array themselves on both sides of the stage as a large structure emerges on the stage framed by the Sangue de Christo Mountains which are seen through the open rear of the stage; edited image, based on a Ken Howard photograph, courtesy of the Santa Fe Opera.]
A similar idea is utilized in this Ron Daniels production, although less successfully than Himmelmann's in Baden-Baden.
A mysterious structure arises at the rear of the stage and becomes an "elephant in the room" around which much of the stage action takes place. At times, video projections onto the structure suggest a location, such as the bucolic gardens of Don Giovanni's estate. At opera's end the structure is ablaze with hellfire.
Although arguably an ultimately unsuccessful addition to this production, the technique of video projections on stage surfaces is a promising trend that adds to the armamentarium of stage directors and scenery and video designers.
Whether or not the structure met the director's original conceptualization of the staging, it does not detract from a well-sung, nicely acted performance of "Don Giovanni".
Recommendation
I recommend this production for its fine singing and good acting and for the orchestra's beautifully performed realization of Mozart's timeless music.
For my essay, first published in the San Diego Opera's program for its 2015 season "Don Giovanni", see: Don Giovanni in Bohemia: How the Community of Prague Assured Mozart's Last Four Operas
For my 50 year retrospectives on "Don Giovanni" performances seen at the San Francisco Opera, see: 50 Year Anniversaries: "Don Giovanni" with Tozzi, De Los Angeles, Schwarzkopf, Evans and Lewis in Zeffirelli's Production – San Francisco Opera, October 20, 1962, and also
50 Year Anniversaries: "Don Giovanni" with Leontyne Price's Donna Anna – San Francisco Opera, October 15, 1965.