Note from William: This post continues my series of observances of historic performances that I attended at San Francisco Opera during the general directorship of Kurt Herbert Adler. This is the first of six such observances of performances from the company's 1962 Fall season.
Last year I reported on the 50th anniversary of San Francisco Opera performances that I attended, as a college freshman and new subscriber to Thursday night opera performances.
In one of these performances a Welsh bass-baritone, Geraint Evans, sang [see 50 Year Anniversaries: Schoeffler, Della Casa, Uhl, Geraint Evans in "Die Meistersinger" – San Francisco Opera, October 21, 1961]. In another performance a young California soprano, Marilyn Horne, appeared [see 50 Year Anniversaries: Brouwenstijn, Uhl, Schoeffler, Horne, in "Fidelio" at the War Memorial – San Francisco Opera, October 5, 1961.]
Now a college sophomore, in my second year with an Orchestra seat subscription to the San Francisco Opera, I switched my series from Thursday night to Saturday night, moving from center aisle Row V to center aisle Row L.
The first performance on my series was a revival of San Francisco Opera's successful 1960 production of Berg's "Wozzeck", in which Evans starred, co-starring performances by Horne. Also in the cast was a Welsh tenor, Richard Lewis, whom I had seen previously as Ferrando in Mozart's "Cosi fan Tutte" and Bacchus in Richard Strauss' "Ariadne auf Naxos".
[Below: Wozzeck (Sir Geraint Evans, center) slays his common law wife, Marie (Marilyn Horne, back to camera) in a production photograph, courtesy of the San Francisco Opera.]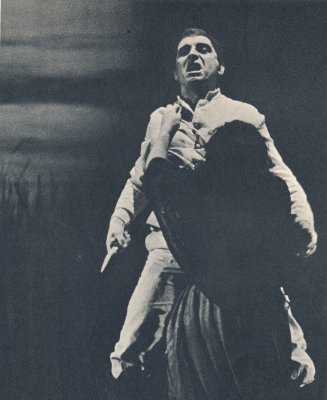 The cast for the revival was a memorable one, that included, among the returning artists, Evans, Horne and Lewis and, as well, character tenors Raymond Manton and Howard Fried as, respectively, Andres and the Fool.
Additionally, that Saturday night was the American debut of the famous English bass-baritone Michael Langdon as the Doctor. Janis Martin was the Margret, heldentenor Brian Sullivan as the Drum Major.
Wozzeck at the War Memorial
The opera "Wozzeck", Berg's memorial to the despair that Central Europeans felt at the end of World War I, had not been performed at San Francisco's War Memorial Opera House until the two performances scheduled for 1960. In its 1960 debut season, "Wozzeck" was declared a success because ticket sales had been strong enough for the two scheduled performances, to add a third performance that year, and then to revive it for two more performances in 1962. Even so, I attended only the fourth performance of the then 40 year old "Wozzeck" in San Francisco Opera history.
[If that sounds like a sparse number of "Wozzeck" performances, consider that those five "Wozzeck" performances from the 1960 and 1962 seasons were three more than what is now considered the most popular German opera. Throughout the entire history of the San Francisco Opera from 1923, the company's founding season, to 1967, there had been only two performances ever of Mozart's "The Magic Flute".]
The "Wozzeck" cast was the same between 1960 and 1962 for the three principal performers – Geraint Evans in the title role, Richard Lewis as the Captain, and the now 28 year old Marilyn Horne as Marie. I also attended the seventh performance (in 1968) and eighth performance (in 1981). The Maries in the latter years were the estimable sopranos, Evelyn Lear and Janis Martin, the latter graduating from the smaller role of Margret that she sang in 1962.
Welsh Operatic Nobility
"Wozzeck" was performed 13 times in four seasons during the General Directorship of Kurt Herbert Adler – three times in 1960, twice in 1962, three times in 1968 and five times in Adler's final season, 1981. Remarkably, Sir Geraint Evans and Richard Lewis, CBE, were respectively Wozzeck and Wozzeck's Captain (who in the opera so torments Wozzeck) in all of those 13 Adler era performances.
[Below: Richard Lewis as the Captain; edited image, based on a production photograph.]
The Horne Seasons
When "Wozzeck" was performed in 1960, Marilyn Horne was not originally cast as Marie, but replaced Brenda Lewis, who had fallen ill during the period she was preparing the role. Having sung the role in her early 20s in German houses, Horne had been recommended to San Francisco Opera general director Kurt Herbert Adler. Her success as Marie caused Adler to cast her in four other roles during the 1960, 1961 and 1962 seasons.
During those three seasons, Horne sang 13 "mainstage" performances in five roles, proving her versatility in operas of Berg, Beethoven, Mussorgsky, Puccini and Britten, none of whom she was associated with in her later career. She had also performed the title role of Bizet's "Carmen" with heldentenor James King as Don Jose at the War Memorial as part of San Francisco Opera's Spring Opera Theater [SPOT] in 1961 and had returned for the 1962 SPOT season in a role by a composer whose music did prove to a major part of her later career, Rosina in Rossini's "Barbiere di Siviglia".
Another artist appearing in the 1962 season was Elizabeth Schwarzkopf (on whose 1962 Donna Elvira in "Don Giovanni" I will report soon). The team handling Schwarzkopf's publicity, led by Herbert Breslin, had just signed Joan Sutherland and invited Marilyn Horne to sign with them also. Team Breslin went beyond traditional management and publicity services, into creation of media personalities. (They added Luciano Pavarotti to their clientele a few years later.)
[Below: Marilyn Horne as Marie in "Wozzeck"; resized image of a production photograph, courtesy of the San Francisco Opera.]
Soon Horne began the transformation from versatile house soprano with the range to sing Marina in Mussorgsky's "Boris Godunov" to celebrity super-star mezzo-soprano. There was another stop back at the War Memorial during this transition period – to take part in the 1964 SPOT season as Isabella in Rossini's "L'Italiana in Algeri", which became one of her signature roles.
She was to return in the 1966 as Eboli in Verdi's "Don Carlo". But it would not be until the 1980s, after an acrimonious falling out with Adler in 1973 (Adler's Horne Dilemma occurred when she canceled the season opening production on too short a notice to replace her with an "A-list" star) and an eventual reconciliation with Adler, that she returned in a "mainstage" production at the San Francisco Opera.
The Bauer-Ecsy Sets
What I remember most vividly about my first "Wozzeck", beyond the performances of Evans, Lewis and Horne, were the sets of the German designer, Leni Bauer-Ecsy, whose reputation had been established in Stuttgart. Her dark and imposing sets and the stage direction by Paul Hager reflected the increasing mental distress that the protagonist feels.
Particularly effective were Bauer-Ecsy's barracks where the snoring soldiers are awakened by the Drum Major (brilliantly played by the handsome, though ill-fated, heldentenor Brian Sullivan).
[Below: the Leni Bauer-Ecsy sets for Wozzeck's barracks; edited image, based on a production photograph, courtesy of the San Francisco Opera.]
Sullivan's Drum Major not only brags about his easy conquest of Marie, Wozzeck's wife, but responds to Wozzeck's disquiet by beating him up. Perhaps there are other equally effective operatic presentations of a character at a mental breaking point, but, at this moment, I cannot think of one.
Reflections on "Wozzeck"
Since Adler left, 31 seasons ago, there have been only ten subsequent performances of the opera – four in 1990 and six in 1999, none of which I attended. (I had tickets to a scheduled performance in 1990, but it was canceled because of a lingering orchestra strike.)
I have expressed the opinion that both of Berg's operas, "Wozzeck" and "Lulu" are museum pieces, each composed in a different but uncompromisingly avant-garde style, each a priceless treasure. Neither of Berg's operas will ever be successfully imitated, even though there were seeming legions of 20th century opera composers who wished to do so.
I've enjoyed every "Wozzeck" performance I've every attended and revel in its melodic moments – even the honky tonk – although as was discussed in my interview with Conductor Frederic Chaslin, Berg was attempting to disparage popular melody, rather than embracing it. [See Living the Seine to Santa Fe Circuit: An Interview with Frederic Chaslin].
I know it's possible not to enjoy a performance of "Wozzeck". I'm fortunate to have seen not only the historic production that Paul Hager and Leni Bauer-Ecsy conceived, but also the brilliant production of Des McAnuff for San Diego Opera – regrettably no longer in existence [See Humanizing "Wozzeck": Hawlata, McAnuff, Brill Create a San Diego Opera Masterpiece – April 17, 2007] – and of Daniel Slater at Santa Fe [See "Wozzeck" for the Connoisseur: Richard Paul Fink Stars in Impressive Santa Fe Opera Revival – August 3, 2011.]
Berg provided a Germanic start of my 1962 season, but three works of Verdi, one of Mozart, and one of Puccini assured full representation of the Italian repertory among the Fall 1962 operas I attended. My remembrances of these five performances will follow in subsequent posts.