The Santa Fe Opera has announced its Summer 2022 season. It consists of four 19th century works and the world premiere of "M. Butterfly", which was previously announced but canceled along with the other operas of the Summer 2020 sseason, due to the Covid-19 pandemic.
The new opera "M. Butterfly" will be highlighted in a subsequent "Quests and Anticipations" feature.
Carmen (Bizet and Meilhac/Halévy), Santa Fe Opera, July 1, 6, 9, 14, 22, August 2, 8, 13, 17 and 21, 2022.
Director Mariame Clément stages "Carmen" with Isabel Leonard in the title role. Bryan Hymel is Don Jose for the July dates, Michael Fabiano for the August dates. Escamillo is Michael Sumuel, Sylvia D'Eramo is Micaela, David Crawford is Zuniga.
[Below: Isobel Leonard as Carmen; edited image, based on a Karen Almond photograph, from the Washington National Opera.]
Maestro Harry Bicket conducts. Matthiue Guilhaumon is choreographer.
The Barber of Seville (Rossini and Sterbini), Santa Fe Opera, July 2, 8, 13, August 1, 6, 10, 20 and 26. 2022.
Stephen Barlow is stage director for Rossini's "Il Barbiere di Siviglia", the most popular opera buffa. The opera stars Joshua Hopkins as Figaro the Barber, Emily Fons as Rosina and Jack Swanson as Almaviva. The role of Dr Bartolo is performed by Kevin Burdette in July and Ryan Speedo Green in August.
[Below; Joshua Hopkins (left) is Figaro and Serena Malfi (right) is Rosina in a Canandian Opera Company production of Rossini's "Barber of Seville"; edited image of a production photograph for Canadian Opera Company.]
Maestro Ivan Lopez-Reynoso conducts. The scenic and costume designs are by Andrew D. Edwrds. Mitchell Harper is choreographer.
Falstaff (Verdi and Boito), Santa Fe Opera, July 16, 20, 29, August 5, 11, 19 and 23, 2022.
Sir David McVicar is director and Scenic and Costume designer for Verdi's final operatic masterpiece. Quinn Kelsey is Falstaff. The Merry Wives are Alexandra Lo Bianco (Alice Ford), Megan Marino (Meg Page),Elena Villalon (Nanetta) and Ann McMahon Quintero (Dame Quickly). Eric Ferring is Fenton, Roland Wood is Ford and Scott Conner is Pistola.
[Below: Benedetto Cristofani's 2022 poster illustration for the Santa Fe Opera, celebrating the scene in which Falstaff suffers the indignity of having to hide in a laundry basket.]
Maestro Paul Daniel conducts. Andrew George is choreographer.
Tristan und Isolde (Wagner), Santa Fe Opera, July 23, 27, Augusts und 5, 11, 19 and 23, 2022.
Zack Winokur and Lisenka Heijboer Castanon direct Wagner's "Tristan und Isolde", the opera making its belated Santa Fe Opera debut, after its cancellation with the rest of the 2020 season. Simon O'Neill is Tristan; Tamara Wilsosn is Isolde. Jamie Barton is Brangaene. Nicholas Brownlee is Kurwenal. Eric Owens is King Marke for all performance except for Augusts 11, when David Leigh performs the role,
[Below: Simon O'Neill as Tristan in the Glyndebourne Festival's "Tristan und Isolde"; edited image, based on a production photograph for the Glyndebourne Festival.]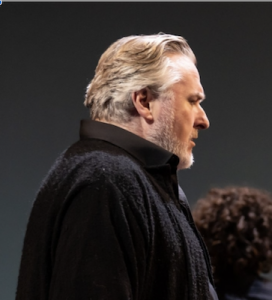 Maestro James Gaffigan conducts. The scenic design is by the Charlap Hyman and Herrero Company. The cosstume desisgns are by Charles J. Soto, projections by Greg Emetaz.
This list is supplementary to previous lists in this "Quests and Anticipations" series of selected operas being performed through June, 2022:
Mozart's and da Ponte's "Cosi fan Tutte" at the San Francisco Opera [See In Quest of Fall 2021 Live Opera Performances in Los Angeles and San Francisco.]
Rossini and Ferretti's "La Cenerentola" at the Los Angeles Opera and Mozart's and da Ponte's "Don GIovanni" at the San Francisco Opera [In Quest of 2021 and 2022 Opera Performances in California and Arizona].