The Santa Fe Opera revived its 2010 production of Puccini's "Madama Butterfly", created by the late Lee Blakeley. A strong cast and insightful direction provided a dramatically exciting evening in the theatre. The performance included a considerable amount of rarely heard music from the earliest versions of the opera, which, although eventually cut by Puccini, should fascinate Puccini buffs.
Kelly Kaduce's Cio-Cio-San
Minnesota spinto soprano Kelly Kaduce was visually persuasive as the adolescent Madama Butterfly, her radiant sound soaring in Un bel di, vedremo, one of Italian opera's most beloved arias.
[Below: Kelly Kaduce as Cio-Cio-San edited image, based on a Ken Howard photograph, courtesy of the Santa Fe Opera.]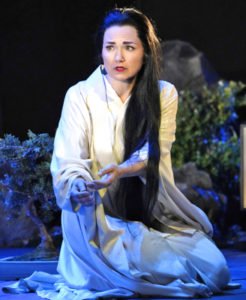 Kaduce was vocally resplendent in the Butterfly's love duet with A. J. Glueckert's Lieutenant Pinkerton. She showed the dramatic power requisite for Butterfly's suicide in the opera's chilling final scene.
[Below: Cio-Cio-San (Kelly Kaduce) rejoices at the thought that her husband has returned to her; edited image, based on a Ken Howard photograph, courtesy of the Santa Fe Opera.]
Kaduce had sung the opera's title role at the production's 2010 season-opening premiere [Kaduce's Incandescent Cio-Cio-San, Jovanovich's Injudicious Pinkerton, Emblazon Blakeley's "Butterfly" – Santa Fe Opera, July 16, 2010].
I had reported on Kaduce's superb performance in Massenet's Thais last month [see Review: Minnesota Opera's Splendidly Exotic, Erotic "Thaïs" – May 12, 2018].
A. J. Glueckert's Lieutenant Francis Blummy Pinkerton
Oregon spinto tenor A. J. Glueckert, who had a small assignment in the 2010 production premiere as a Santa Fe Opera Apprentice, took on the principal role of Lieutenant F. B. Pinkerton.
He was an ardent Pinkerton, appropriately smug in his opening aria Dovunque al mondo, vocally expressive in the first act love duet with Butterfly, and affecting in his last act aria, Addio, fiorito asil.
I had seen Glueckert perform comprimario roles during and after his 2013-15 years as a San Francisco Opera Adler Fellow. This was my first opportunity to experience his performance in a principal role. He proved to be a convincing Pinkerton.
[Below: Lieutenant Pinkerton (A. J. Glueckert, right) and Cio-Cio-San (Kelly Kaduce, left) express their love to each other; edited image, based on a Ken Howard photograph, courtesy of the Santa Fe Opera.]
S
One of the oddities of the earliest versions of "Madama Butterfly" is that "Francis" and "Blummy" are used for Pinkerton's first and middle names. Very soon in the opera's history, Puccini settled on the name "Benjamin Franklin Pinkerton" (the latter, I suspect, sounding more typically "American".)
Megan Marino's Suzuki and Nicholas Pallesen's Sharpless
Colorado mezzo-soprano Megan Marino was a rich-voiced Suzuki, in a sympathetic portrayal as Cio-Cio-San's loyal servant.
[Below: Megan Marino as Suzuki; edited image, based on a Ken Howard photograph, courtesy of the Santa Fe Opera.]
An Santa Fe Opera Apprentice Artist three seasons ago, she was a noteworthy Page in Richard Strauss' "Salome" and participated in the world premiere of Higdon's "Cold Mountain".
California baritone Nicholas Pallesen made a positive impression as the American consul, Sharpless, for whom Puccini has written some of the opera's most beautiful music.
[Below: Sharpless (Nicholas Pallesen, left) explains to Cio-Cio-San (Kelly Kaduce, right) why he believes she had best forget her American husband; edited image, based on a Ken Howard photograph, courtesy of the Santa Fe Opera.]
I had admired Pallesen's performances in the 2009 Santa Fe Opera season when he sang three roles as a Santa Fe Opera Apprentice [Christine Brewer, Paul Groves Lead Elegantly Sung "Alceste": Santa Fe – August 1, 2009]. It was a pleasure seeing a recent alumnus of an opera company's Young Artists' program, like his colleagues A. J. Glueckert and Megan Marino, succeeding in a principal role.
Matthew DiBattista's Goro, Soloman Howard's Bonze and other Cast Members
Massachusetts tenor Matthew DiBattista effectively performed the role of the "marriage broker" Goro, arguably the least sympathetic of the opera's characters.
District of Columbia bass Soloman Howard made a strong positive impression as the Butterfly's uncle, the Bonze, one of the more difficult short roles in the operatic repertory.
California baritone Kenneth Stavert was Prince Yamadori. District of Columbia mezzo-soprano Hannah Hagerty was Kate Pinkerton.
Butterfly's Uncle Yakuside was sung by Maryland baritone Benjamin Taylor. Two of Butterfly's other relatives have individual parts in the "Brescia" performing edition heard here. Her mother was sung by Florida mezzo-soprano Kaitlyn McMonigle, her aunt by Pennsylvania soprano Meryl Dominguez.
The parts of both the Imperial Commissioner (California bass-baritone Erik von Heiningen) and the Registrar (Connecticut bass Colin Ramsey) are larger in the Brescia version.
Paulina Rivera-Torres and Paxton Bleyle alternate performances in the role of the child Trouble.
Maestro John Fiore and the Musical Performance
Washington State Maestro John Fiore led the Santa Fe Opera Orchestra in a nicely-paced performance.
Director Matthew Ozawa's Revival of Lee Blakeley's Production
It was the intent of the production's creator, the late Lee Blakeley and his colleagues French scenic designer Jean-Marc Puissant and German costume designer Brigitte Reifenstuel to stage the opera to reflect Butterfly's socioeconomic status and the lower class Nagasaki neighborhood in which Butterfly would have lived, having been shunned by her family and abandoned by Pinkerton.
In my conversations with Blakeley before his untimely and unexpected death [see Mounting the Big Shows: An Interview with Director Lee Blakeley], he emphasized the need to strive for "reality-based" productions of European operas set in Asia. California director Matthew Ozawa showed respect for Blakeley's ideas, while adding details, such as having performers emphasize the postures and gestures expected of early 20th century Japanese men and women.
Instead of using Puccini's universally recognized fifth revision of his opera (the "Standard" version), the production's creator Lee Blakeley and 2010's conductor, Maestro Antony Walker, incorporated passages from the second version of the opera.
That version was first presented in the Lombard town of Brescia, Italy, three month's after the opera's unsuccessful world premiere at Milan's La Scala.
Maestro John Fiore and revival director Matthew Ozawa chose to perform virtually the entire Brescia version. That version contains considerable music later cut by Puccini for the Standard version. That music includes several conversations between Pinkerton and Cio-Cio-San's relatives and between Cio-Cio-San and the Consul Sharpless.
I find it fascinating to see a performance that contains virtually all of the original music that Puccini wrote for the opera. Generally, I like the opening of operatic cuts in most of the operas with which I'm familiar. However, when comparing the familiar Standard version of "Butterfly" to the Brescia version (or any of the previous versions) – with the exception of the division of the second act into a second and third act, of which I'm not in favor – I much prefer Puccini's final word on the subject (the "Standard edition").
Recommendation
I enthusiastically recommend the production and cast (and the curiosity of the Brescia version of the opera) both to the veteran opera goer and person new to opera.
For my review of Blakeley's production of "Madama Butterfly" at the Los Angeles Opera, starring Ana Maria Martinez (also scheduled to sing the role in Santa Fe in 2018), see: Review: An Exciting, Moving "Madame Butterfly" – Los Angeles Opera, March 12, 2016.