A theatrically effective, beautifully sung performance by Puerto Rico soprano Ana Maria Martinez, a newly revised production by British director Lee Blakeley tailored for the Dorothy Chandler Pavilion stage, and a dramatic reading of Puccini's lush score by Maestro James Conlon were among the highlights of the Los Angeles Opera's production of Puccini's "Madame Butterfly".
[Below: Ana Maria Martinez as, Cio-Cio-San, Madame Butterfly, in her wedding kimono; edited image, based on a Ken Howard photograph, courtesy of the Los Angeles Opera.]
Ana Maria Martinez' Cio-Cio-San
In the title role, Ana Maria Martinez demonstrated that her attractive lyric voice has the weight and power to sustain the intense role, the dominant presence of the opera's second and third acts (presented, as is almost universally the 21st century custom, without a break).
Martinez nicely sang the glistening high notes of Butterfly's entrance and her first act love duet with Pinkerton, but the evening shifted into another dimension with Butterfly's second act showpiece aria Un bel di and sustained a high energy as she portrayed Butterfly's successive moods of hopeful anticipation, joy and despair.
At opera's end, Martinez received a richly deserved and unanimous standing ovation.
Martinez was reunited with Maestro Conlon and Italian tenor Stefano Secco, who had appeared together at Los Angeles Opera four seasons ago [see Legend Making at Los Angeles Opera – Placido Domingo, James Conlon Lead Star-Studded "Simon Boccanegra", February 11, 2012 ].
Stefano Secco's B. F. Pinkerton
Italian tenor Stefano Secco's lyric tenor has the weight to hold its own with Pinkerton's lush music, perhaps the most beautiful music ever written for an operatic character whose behavior is ultimately unforgivable.
North American opera audiences, over the past decade or so, have adopted the custom of good-naturedly booing villainous characters at opera's end.
[Below: Stefano Secco's Lieutenant B. F. Pinkerton; edited image, based on a Ken Howard photograph, courtesy of the Los Angeles Opera.]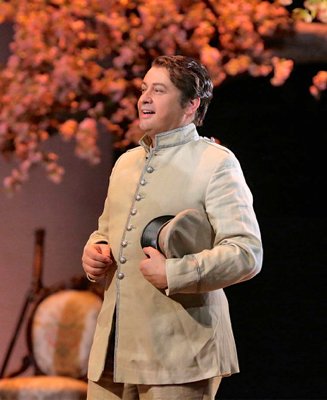 Maestro Conlon, in his always instructive pre-opera lectures in Los Angeles, pleaded with his large lecture audience not to boo the Pinkerton at opera's end – to no avail.
If anything, Secco, directed by Blakeley, was an even less sympathetic Pinkerton that one usually encounters and was rewarded with much louder booing than I've heard from Secco's Pinkerton elsewhere [See Harold Prince's Vintage "Butterfly" in San Francisco – November 5, 2010.]
In good spirits, Secco, a veteran with North American audiences, as now do all artists appearing before them in villanous roles, himself encouraged the audience booing with "give it to me" gestures.
Milena Kitic's Suzuki
In the important role of Suzuki, Butterfly's servant and companion, Milena Kitic made a powerful impression.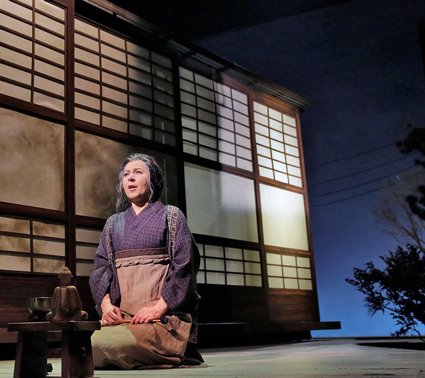 With a large and focused mezzo voice, Kitic projected a Suzuki who shows determination and inner strength.
Kihun Yoon's Sharpless
A member of the Domingo-Coburn-Stein Young Artist program, South Korean baritone Kihun Yoon took on the role of Sharpless, whose music, including his duets with Pinkerton, is among the most melodic Puccini ever wrote for the baritone voice.
[Below: Sharpless (Kihun Yoon, left) finds himself unable to communicate the intent of the letter he has read to Cio-Cio-San (Ana Maria Martinez, right); edited image, based on a Ken Howard photograph, courtesy of the Los Angeles Opera.]
He succeeded admirably in this breakthrough role in Los Angeles, confirming that he is ready for a major operatic career.
Keith Jameson's Goro
The only member of the cast to have sung in the original version of Blakeley's production at the Santa Fe Opera, is North Carolina tenor Keith Jameson.
[Below: Cio-Cio-San (Ana Maria Martinez, left) is infuriated at the idea that Goro (Keith Jameson, right) should arrange for a new husband for her; edited image, based on a Ken Howard photograph, courtesy of the Los Angeles Opera.]
One of the most effective character tenors of the present day, Jameson's Goro is as finely honed vocally as it is dramatically.
Other Cast Members and Maestro Conlon's Conducting
Alabama bass-baritone Nicholas Brownlee assayed the short but vexingly difficult vocal requirements of the Bonze, Cio-Cio-San's furious uncle. New York bass-baritone Patrick Blackwell is the Imperial Commissioner, Romanian basso Gabriel Vamvulescu is the Official Registrar, Texas baritone Daniel Armstrong is Prince Yamadori. Iowa mezzo-soprano Lacey Jo Benter is Kate Pinkerton.
The role of Cio-Cio-San's child Sorrow was charmingly played in the performance I reviewed by Los Angeles' five year old Nicholas Cuenca Terry (who alternates the role with Oklahoma City's five year old Michael Alspaugh).
Maestro James Conlon's rapport with the Los Angeles Opera Orchestra and with the performers assures that any performance he assays will be musical experience of a high order.
Although Conlon's conducting of operas by Mozart, Verdi and Wagner is always memorable, Conlon clearly has a special affinity for Puccini and a connection with "Butterfly". One can trust that what one is hearing from the Los Angeles Orchestra is a world class orchestral interpretation of Puccini's incomparable score.
Lee Blakeley's Production
Lee Blakeley had previously created a memorable production of Verdi's "Falstaff" for the Los Angeles Opera [A Lovable "Falstaff": Roberto Frontali Brilliant in Lee Blakeley's Enchanting New Production – Los Angeles Opera, November 9, 2013].
Blakeley's gritty production of Puccini's "Madama Butterfly" was originally mounted for the Santa Fe Opera [see my review: Kaduce's Incandescent Cio Cio San, Jovanovich's Injudicious Pinkerton, Emblazon Blakeley's "Butterfly" – Santa Fe Opera, July 16, 2010]. Since Santa Fe's stage is partially open to the elements, the production had to be revised to accommodate the Dorothy Chandler Pavilion's stage.
[Below: Suzuki (Milena Kitic, left, standing) prepares the wedding dress and hair of Cio-Cio-San (Ana Maria Martinez, left, kneeling) as Lieutenant Pinkerton (Stefano Secco, right) waits outside; edited image, based on a Ken Howard photograph, courtesy of the Los Angeles Opera.]
Unlike the elegant Japanese settings of productions traditionally seen of Puccini's masterpiece, Blakeley has taken a sobering view of Butterfly's socioeconomic situation, particularly in the combined second/third act, when (as we know from the libretto) Butterfly has sold most of her furniture and other possessions and is shunned by her family.
[Below: Sharpless (Kihun Yoon, right) explains to Suzuki (Milena Kitic, center) who Kate Pinkerton (Lacey Jo Benter, left ) is and why she is there; edited image, based on a Ken Howard photograph, courtesy of the Los Angeles Opera.]
Blakeley emphasizes the poverty of the neighborhood in which the house is located, at the turn of the 20th century. The setting is wholly consistent with the words that Butterfly (Ana Maria Martinez) and Suzuki (Milena Kitic) sing and is dramatically convincing.
Recommendation
I recommend the production and cast enthusiastically, both for the veteran opera-goer and for persons new to opera.
See also: Mounting the Big Shows: A Conversation with Director Lee Blakeley.