San Francisco Opera opened its 97th season with Gounod's "Roméo et Juliette". The evening was a resounding success. The principal artists, supporting cast, orchestra and chorus superbly performed in Jean-Louis Grinda's tautly-directed production,
Pene Pati's Roméo
New Zealand tenor Pene Pati, of Samoan birth and heritage, was originally scheduled for the last of the seven scheduled performances. He became the Roméo for the entire run, when the originally scheduled artist withdrew in the final week before opening night.
Pati was vocally secure, in this, his role debut, from his first moments onstage. He displayed a vocal lyricism throughout his range, beautifully suited to Gounod's sweet melodies. After his expressive aria Ah! lèvetoi soleil preceding Juliette's "balcony scene", the audience rewarded him with a sustained ovation.
[Below: Pene Pati as Roméo; edited image, based on a Cory Weaver photograph, courtesy of the San Francisco Opera.]
As the evening progressed, Pati's comfort in and mastery of the role became evident, including a bravura performance in which he sustained a high note over several measures.
An alumnus of the company's Adler Fellowship Program, Pati had already drawn high praise as the Duke of Mantua, which he sang for all eight of San Francisco Opera's 2017 performances of Verdi's "Rigoletto" [Review: Quinn Kelsey a World Class Verdi baritone in "Rigoletto" – San Francisco Opera, May 31, 2017]. The company's investment in Pati has resulted in artistic dividends.
[Below: Roméo (Pene Pati, left) and Juliette (Nadine Sierra, right), at her balcony, express their love to each other; edited image, based on a Cory Weaver photograph, courtesy of the San Francisco Opera.]
Nadine Sierra's Juliette
In her role debut as Juliette, Florida soprano Nadine Sierra was vocally resplendent and dramatically persuasive. Sierra became the second artist in San Francisco Opera history (after Ruth Ann Swenson 32 years prior) to sing the challenging aria Amour ranime courage, in which she accepts the dangers and unknown consequences of the potion that will simulate her death. That aria's leaping intervals and passages of coloratura were avoided for well over a century by most prima donnas – content with displaying their vocal talents in the less demanding first act arietta Je veux vivre. (Sierra sang both arias with charm and technical precision).
[Below: Nadine Sierra as Juliet; edited image, based on a Cory Weaver photograph, courtesy of the San Francisco Opera.]
The evidence of chemistry between Pati and Sierra, as between their characters Roméo and Juliette, was strong. The young artists, who will reprise their roles in Opéra National de Bordeaux performances in March 2020, were in joyous spirits, embracing and dancing during the ovations at opera's end,
The 2017 winner of the prestigious Richard Tucker Award for American singers with promising careers, Sierra's previous triumphs at the San Francisco Opera include the title role in a new production of Donizetti's "Lucia di Lammermoor" [See Review: Soprano Nadine Sierra's, Director Michael Cavanagh's Vivid "Lucia di Lammermoor" – San Francisco Opera, October 8, 2015.]
Lucas Meachem's Mercutio
North Carolina baritone Lucas Meachem is another artist whose early career, as an Adler Fellow, is associated with the San Francisco Opera. Meachem sang the role of Roméo's sidekick Mercutio. Meachem drew first blood (and the first audience ovation) among the opera's solo arias with an eloquently sung paean to Mab, the fairy who creates the fantasies that take place in men's dreams (Mab, la reine des messages).
[Below: Lucas Meachem as Mercutio; edited image, based on a Cory Weaver photograph, courtesy of the San Francisco Opera.]
Meachem's lyric baritone continues to grow in power. His effective acting, beautiful French, convincing swordplay and Gallic demeanor made me regret that Mercutio is a shorter role. He has successfully performed one of the most iconic French roles, Athanaël In Massenet's "Thaïs", to great acclaim [See Review: Minnesota Opera's Splendidly Exotic, Erotic "Thaïs" – May 12, 2018].
James Creswell's Frère Laurent
Washington bass James Creswell, whose early career included San Francisco Opera's Merola program for young artists, authoritatively performed the role of Frère Laurent, the cleric who proposes that Juliette ingest a substance that mimics death. Creswell's Laurent described its effects – in a passage that begins Bientot une paleur livide – enlisting his luxurious basso for one of the opera's most memorable melodic episodes.
[Below: Frère Laurent (James Creswell) holds a bottle containing a potion that induces a sleep that mimics death; edited image, based on a Cory Weaver photographm courtesy of the San Francisco Opera.]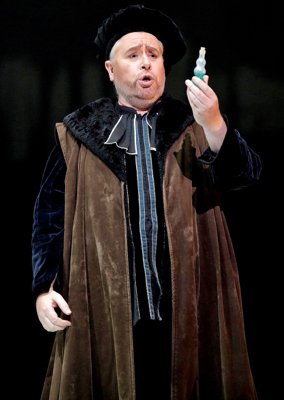 Stephanie Lauricella's Stephano, Daniel Montenegro's Tybalt and Other Cast Members
New York mezzo-soprano Stephanie Lauricella's career has been concentrated in the Mozartean and bel canto roles. In her San Francisco Opera debut, she made a strong impression as Stephano, displaying an attractive, resonant voice and acting skill. A younger member of the Montague entourage, Stephano is the only character in the opera for whom there is no equivalent character in the Bard's play.
[Below: Stephanie Lauricella as Stephano; edited image, based on a Cory Weaver photograph, courtesy of the San Francisco Opera.]
The cast included Maryland baritone Timothy Mix as Count Capulet. Others on the Capulet side were Kansas tenor Daniel Montenegro as Tybalt and New Zealand baritone Hadleigh Adams as Paris. New York mezzo-soprano Eve Gigliotti was Gertrude, who, as her chaperone, was loyal only to Juliette Capulet.
On the Montague side were Republic of Korea baritone Seokjong Baek as Gregorio and Georgia tenor Christopher Oglesby as Benvolio.
The warring clans got into aggressive swordfights (staged by California director Dave Maier) that were skillfully choreographed.
[Below: The fatal actions of Tybalt (Daniel Montenegro, front left) has goaded a reluctant Roméo (Pene Pati, front right) into a fight in which Tybalt is killed; edited image, based on a Cory Weaver photograph, courtesy of the San Francisco Opera.]
Florida bass-baritone Philip Skinner, a San Francisco Opera veteran whose performance history with the company spans 34 years, was again impressive as the Duke of Verona.
Maestro Yves Abel and the San Francisco Opera Orchestra, Chorus and Ballet
Canadian conductor Yves Abel presided over the San Francisco Opera Orchestra in a superbly contoured, sensitive reading of Gounod's melodic score. Maestro Abel has a rich background in conducting French opera. Eight of his last ten conducting assignments internationally have been French operas. For his San Francisco Opera debut in 1996 he conducted the only performances of Ambroise Thomas' "Hamlet" in company history.
Both the San Francisco Opera Orchestra and Chorus (the latter led by Scottish director Ian Robertson) performed with distinction. The San Francisco Opera ballet added nicely danced glamour, created by California choreographer Lawrence Pech, to the first act Capulet ball.
Jean-Louis Grinda's Production
The production was that of Monacan director Jean-Louis Grinda. It was organized around a unit set, created by French designer Eric Chevalier. The set's central point is a raised disk, slanted towards and sometimes away from the audience, The disk serves multiple functions – as the central focus of the Capulet's ball, Juliette's bedroom and the tomb in which the lovers die.
[Below: the scene of Capulet's ball; edited image, based on a Cory Weaver photographm courtesy of the San Francisco Opera.]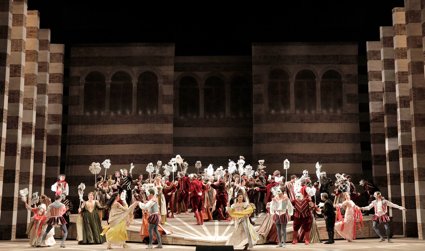 At another point the disk is covered by a structure representing a raised area near Juliette's bedchamber. The fatal swordfights take place in front of an arcade which splits apart to reveal the the public square in which the Duke of Verona banishes Roméo.
[Below: the Duke of Verona (Philip Skinner, center, standing on front of central disk); edited image, based on a Cory Weaver photograph, courtesy of the San Francisco Opera.]
"Roméo et Juliette", the French repertory and the San Francisco Opera
"Roméo and Juliette" received its first San Francisco Opera performance in 1923, during the company's inaugural season. Over the next three decades San Francisco Opera occasionally mounted a performance of the opera for early 20th century's operatic superstars (notably Beniamino Gigli, Queena Mario, Bidu Sayao, Raoul Jobin, Jussi Bjoerling).
Including those few legendary appearances, the opera was only performed a total of nine times by the main company in the six decades between 1923 and its 1987 revival. The 2019-20 season's opening night was only the 16th performance of the opera in San Francisco Opera's 97-year history.
Importing Grinda's "Roméo" production reflects an obvious commitment to the French repertory by the San Francisco Opera administration. In reviewing my remarks of the past ten seasons, I have praised the intelligently conceived productions of Bizet's "Carmen" by Jean-Pierre Ponnelle, Calixto Bielto and Francesca Zambello, of Gounod's "Faust" by Jose Maria Condemi, of Massenet's "Werther" by Francisco Negrin, of Offenbach's "Tales of Hoffmann" by Laurent Pelly and of Massenet's "Manon" by Vincent Boussard. The San Francisco Opera administration is to be commended for regularly reserving one of its eight productions of each season for the French repertory.
Recommendation
I recommend the cast, production and musical performance, both for the veteran opera-goer and the person new to opera.
For my essay written at the request of the San Diego Opera for its program accompanying their 2010 production of the opera, see: Sweet Melody: Gounod's "Faust", "Romeo and Juliet" and the Théâtre Lyrique.