Britten's "Billy Budd" returned to the San Francisco Opera repertory after a 15 year absence., utilizing Michael Grandage's spectacular production. The production represents the three-levels of the 18th century warship HMS Indomitable. Strong performances in the opera's three principal roles and a taut musical performance by the cast, San Francisco Opera Orchestra and Chorus under the baton of Maestro Lawrence Renes, made this a memorable evening.
[Below: the crew of the HMS Indomitable; edited image, based on a Cory Weaver photograph, courtesy of the San Francisco Opera.]
John Chest's Billy Budd
South Carolina baritone John Chest, in his San Francisco Opera debut, performed the opera's title role. He brought to the role a lyrical voice and confident acting. Chest proved at home on Grandage's sets, displaying athleticism in climbing between decks, and humor in the crew's below deck highjinks.
[Below: John Chest as Billy Budd; edited image, based on a Cory Weaver photograph, courtesy of the San Francisco Opera.]
The scenes in which Chest was especially affecting are Billy's moments of calm. Chest was dramatically effective in portraying those moments in which Billy contemplates his death, after he has been sentenced to hang. Chest's sweet-sounding lyric baritone graced Billy's aria Look, through the port comes the moonlight astray (accompanied by San Francisco Opera Orchestra flautist Stephanie McNab on a rare A-flat piccolo).
There are alternative ideas about what "Billy Budd" is ultimately about, and a persuasive case can be made that the force of good (Billy) and the force of evil (John Claggart) find themselves in a struggle ending in their mutual destruction. Chest's Billy Budd fits the idea of a "force of goodness" perfectly.
Chest's previous ties with the San Francisco Opera were as a young artist in the company's Merola program, but his recent years have been spent as an ensemble member at the Deutsche Oper Berlin, where he has also appeared as Billy.
William Burden's Edward Fairfax Vere
Florida tenor William Burden portrayed Captain Edward Fairfax Vere in an arresting portrait of the conflicts the captain faced. As enforcer of the Kings' Regulations, he has no leeway to change Billy's death sentence.
[Below: William Burden as Captain Edward Fairfax Vere; edited image, based on a Cory Weaver photograph, courtesy of the San Francisco Opera.]
Burden's monologues were beautifully sung and powerfully emotional. In the opera's prologue and epilogue, as an elderly man (convincingly portrayed by Burden), he conveyed Vere's tortured reflection of those shipboard events.
I had previously reported on Burden's performance as Vere in Paul Curran's production for the Santa Fe Opera [Superlative: Original 1951 "Billy Budd" Catches the Santa Fe Wind – August 14, 2008]. Burden has emerged as one of the most successful interpreters of the role in the opera's history.
Christian Van Horn's John Claggart
New York bass-baritone Christian Van Horn played Sergeant-at-Arms John Claggart, who, in a good-versus-evil scenario, unambiguously represents Evil.
Van Horn's sonorous voice and ominous movements heightened the sinister message of Claggart's monologue. Claggart recognizes both his attraction to Billy and his fatalistic need to destroy him.
One can offer a psychological reason for Claggart's remarkable monologue – a popular idea is that Claggart has internalized homophobia because he is sexually attracted to Billy. I believe that the alternative idea of Claggart and Billy representing the eternal battle of Evil and Goodness is inherent in the libretto and especially in Claggart's monologue.
(My arguments are more fully detailed in my review of a recent "Billy Budd" production at the Central City Opera [See Review: Hopkins, Norman and Burdette in a Beauty of a "Billy Budd"- Central City Opera, July 21, 2019.])
[Below: Christian Van Horn as Master-at-Arms John Claggart; edited image, based on a Cory Weaver photograph, courtesy of the San Francisco Opera.]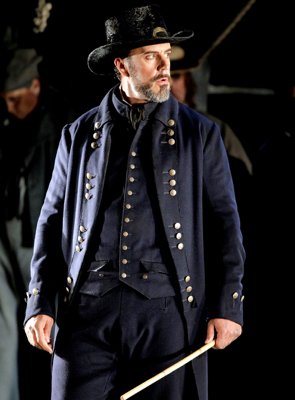 The 2018 recipient of the Richard Tucker Award for artists early in their career, Van Horn fills the niche of the operatic villain perfectly [See Matthew Polenzani Triumphs in Pelly's Take on "Tales of Hoffmann" – San Francisco Opera, June 5, 2013 .]
[Below: Sergeant-at-Ars John Claggart (Christian Van Horn, left) attempts to gain the attention of a distracted Captain Vere (William Burden, right); edited image, based on a Cory Weaver photograph, courtesy of the San Francisco Opera.]
Philip Skinner's Dansker, Brenton Ryan's Novice, Robert Brubaker's Red Whiskers and Matthew O'Neill's Squeak
Florida bass-baritone Philip Skinner gave an affecting portrait of the old Dansker, who provides comfort to Billy in the last hour of the doomed seaman's life. It is Skinner's Dansker who sings the chilling words of warning about Claggart's intentions, Jimmy Legs is down on you, at the dramatic end to the opera's first act.
Missouri lyric tenor Brenton Ryan portrayed the distraught Novice, who, in exchange for Claggart's assurance he will be immune from further lashings from a cat-o-nine tails, reluctantly agrees to Claggart's plan to frame Billy for mutiny.
Ryan has become a go-to operatic tenor for character roles for young men, be it a fated Janek [Review: Nadja Michael's Arresting Performance in "Makropulos Case" – San Francisco Opera, October 14, 2016] or an effete Dancing Master [Review: Santa Fe Opera's Delectable New "Ariadne auf Naxos" – Santa Fe Opera, July 28, 2018]. Ryan's novice was another sensitively conceived portrait.
[Below: The novice (Brenton Ryan, left) suggests to Billy (John Chest, right) that he should lead the disaffected crew in mutiny: edited image, based on a Cory Weaver photograph, courtesy of the San Francisco Opera.]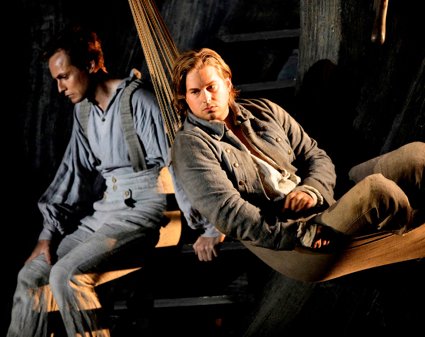 Pennsylvania charatcter tenor Robert Brubaker played Red Whiskers. Brubaker was convincing in that character's emotional gamut, ranging from outrage at being pressed into service to high-spirited camaraderie in the Indomitable crew's below decks partying.
Another specialist in character roles, Indiana tenor Matthew O'Neill was the unfortunate Squeak, whom Claggart employed in his evil schemes, only to abandon him at a moment of Squeak's failure. In an impressively sung and acted performance, O'Neill vividly portrayed how dangerous it was to be Claggart's subordinate.
Philip Horst's Mr Redburn, Wayne Tigges' Mr Flint and Edward Nelson's Bosun
One of the absorbing themes of "Billy Budd" is the difference between the Indomitable's four senior officers and the "below decks" crew. Grandage's production effectively separates the private conversations of the officers from the ship's general activities.
Vere's senior officers Mr Redburn and Mr Flint (both plum roles in "Billy Budd's" large cast) were respectively played, both with power and dramatic effectiveness, by New York bass-baritone Philip Horst and Iowa bass-baritoe Wayne Tigges.
There are two extended scenes (one in each act) for the senior officers. In both cases, a structure representing the Captain's private quarters descends from the rafters of the War Memorial Opera House stage. In Act One Burden's Vere, Horst's Redburn and Tigges' Flint discuss their concerns about the war with Revolutionary France.
In Act Two, Vere first arranges what becomes a disastrous meeting between Claggart and Budd, then has to call for a "drumhead court" led by Redburn and Flint.
[Below: the Bosun (Edward nelson, right) restrains Billy Budd (John Chest, left) who is on trial for murder; edited image, based on a Cory Weaver photograph, courtesy of the San Francisco Opera.]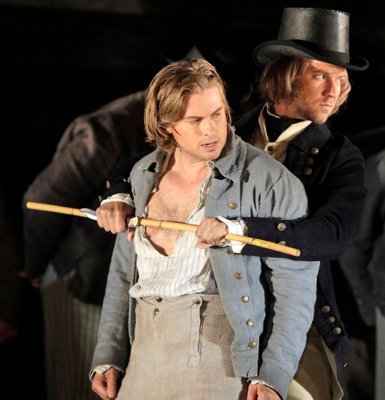 A third member of the Drumhead Court, Mr Ratcliffe, was performed with distinction by California bass-baritone Christian Pursell.
Other Cast Members
Other officers of the Indomitable include North Carolina baritone Sidney Outlaw as the First Mate and Pennsylvania baritone Kenneth Overton as the Second Mate.
[Below: Billy Budd (John Chest, second from left) is prepared for the moment of his hanging; edited image, based on a Cory Weaver photograph, courtesy of the San Francisco Opera.]
Members of the crew include New Jersey baritone John Brancy as Billy's pal Donald, California baritone Eugene Villanueva as the Novice's Friend, New Zealand baritone Hadleigh Adams as Arthur Jones and Vermont tenor Christopher Colmenero (a current Adler Fellow) as Maintop.
The youthful midshipmen were California trebles Talinn Hatti, Marvin B. Valdez, Curtis Resnick and Lucas Willcuts. California actor Benjamin Drever was the Cabin Boy.
Maestro Lawrence Renes and the San Francisco Opera Orchestra and Chorus
Dutch Maestro Lawrence Renes conducted the San Francisco Opera Orchestra in an intensely dramatic reading of Britten's surging score. The San Francisco Opera Orchestra brilliantly performed Britten's powerful sonic seascape. Particularly exciting was the orchestral accompaniment of the Indomitable's attempt to overtake a French warship.
The San Francisco Opera Chorus (for this opera with only its male members), led by Scottish Chorus Master Ian Robertson, was a powerhouse of resonant sound. The chorus was supplemented by youth from the Ragazzi Boys Chorus.
[Below: Maestro Lawrence Renes; edited image, based on a Marco Borggreve photograph, courtesy of the San Francisco Opera.]
Michael Grandage's Production, Ian Rutherford's Stage Direction and Christopher Orakkm's Production Design
Michael Grandage's production was created for Britain's 2010 Glyndebourne Festival. The sets were by British designer Christopher Oram. The revival for San Francisco Opera was staged by English director Ian Rutherford.
Oram's sets, suggesting the close quarters of a man-of-war at sea, are fully exploited by Grandage's staging (recreated by Rutherford). Nautical ropes stretch across the stage, pulled by crew members. At the brief clearing of a mist that obscured and protected their target French warship, the crew readies large cannons for battle, only to be disappointed as the mist returns. When Billy is sentenced to hang, a rope expert is busy at constructing a proper hangman's noose, and the ship's upper levels are prepared for the execution to come.
Recommendation
I enthusiastically recommend the cast, production and musical performance both for the veteran opera-goer and the person new to opera.
For another review of "Billy Budd", see: Superbly Cast and Conducted, the Los Angeles Opera's "Billy Budd" is a Theatrical Triumph – February 22, 2014.