The following interview with Philippe Sly took place at the War Memorial Opera House of the San Francisco Opera, whose facilitation of this interview is deeply appreciated: 
[Below: Bass-baritone Philippe Sly; resized image of an Adam Scotti photograph.]
Wm: What were your earliest memories of music? Of classical music? Of opera?
PS: My parents lived in Germany before I was born and brought many recordings back to Canada, Glenn Gould playing Bach's Goldberg Variations, Simon and Garfunkel albums, the Forrest Gump soundtrack and Schönberg's "Les Misérables".
 In fact, when I auditioned for the Ottawa Boys Choir, my audition song was Do You Hear the People Sing? from "Les Misérables".
Wm: You have a bachelors in music from McGill University in Montreal. What were the circumstances that led you to choose that institution and that course of study? When did you decide on a career in vocal performance?
PS:  From an early age I was telling people that I wanted to be an opera singer. I decided that I wanted to go to whichever school had the best voice teacher.
Five minutes into an introductory voice lesson with Sanford Sylvan I knew that I wanted him to be my teacher. Luckily he was to begin teaching at McGill University that same year, and it just happened to be the institution closest to my home in Ottawa!
[Below: Philippe Sly as Escamillo in "La Tragédie de Carmen" at McGill University; resized image of an Adam Scotti photograph.]
Wm: You were a winner of the Metropolitan Opera National Council Auditions. Elaborate on that experience and how that influenced your career.
PS: That, to me, was a fluke, because I was still a student. I knew that there were regional auditions being held in nearby Buffalo, New York, and I thought that even if I were unsuccessful, I could still apply again. But I made it to the semi-finals, and then to the finals. It was a surreal experience.
Luckily I did not make the mistake of learning new repertoire especially for the competition, I stuck with the arias I had been singing for years and somehow came out a winner.
Wm: What was the result of your success in the auditions?
PS: Winning the Met competition gives you visibility in a career field which is very crowded and extremely difficult.
There are so many great artists out there. Yet, the first thing you are told in university is that less than 10 percent of the class will even work in the field of music. Winning the Met was a way to have my "voice" heard.
Wm: You entered the San Francisco Opera's Merola program and sang the role of Bartolo in Rossini's "Barber of Seville". Then you began an apprenticeship with the Canadian Opera Company in Toronto but soon received an invitation to become an Adler Fellow at the San Francisco Opera.
What were the circumstances that convinced you to return to San Francisco?
PS:  At the time I began my round of auditioning, I had been accepted into the Canadian Opera Company's Young Artists program. Then, the summer just before the Met auditions, I was accepted as a member of San Francisco Opera's Merola Program.
I had returned to the Canadian Opera Company when I received a call from Gregory Henkel, San Francisco Opera's Director of Artistic and Music Planning that the Guglielmo for San Francisco Opera's Summer 2013 production of Mozart's "Cosi fan Tutte" had cancelled and asked if I would be willing to replace him, with one condition: I had to become an Adler Fellow and hence needed to cut my two years with the Canadian Opera Company short.
[Below: Guglielmo (Philippe Sly, right), disguised as an Albanian sailor, begins the seduction of Dorabella (Christel Lötzsch, left); edited image, based on a Cory Weaver photograph, courtesy of the San Francisco Opera.]
Wm: That's not the kind of news a Young Artist's program would want to hear, particularly from a Canadian artist in a Canadian program. I suspect that they weren't happy about it. 
PS: They had invested in me generously, but they had no plans to offer me a role similar in importance to Guglielmo in the near future.
As artists we have only a limited number of career changing opportunities, and experience on stage is extremely valuable. They completely understood my decision and supported it.
Wm: Many alumni of the Adler Fellowships have later established important relationships with the San Francisco Opera, but your career is especially notable in that you have been tapped for principal roles in Mozart operas – besides Guglielmo in "Cosi fan Tutte", you are performing the title role in "Nozze di Figaro" and in a few weeks you will star as  Papageno in "The Magic Flute" – even though you are only in your 20s.
Do you foresee Mozart as being the central part of your repertory for the early decades of your career? What other roles would you like to add to your repertory at present?
 PS: The Mozart roles are ideally suited for my type of voice.  I will be singing the title role of "Don Giovanni" in the future and more Guglielmos in "Cosi", but no other other Mozart roles yet. I have concentrated on classical and baroque music.
[Below: the pairs of "Cosi fan Tutte" lovers in a Los Angeles Philharmonic performance, staged by Christopher Alden and conducted by Gustavo Dudamel, from left to right Philippe Sly as Guglielmo, Roxana Constantinescu as Dorabella, Alek Shrader as Ferrando and Miah Persson as Fiordiligi; edited image, based on a photograph for the Los Angeles Philharmonic.]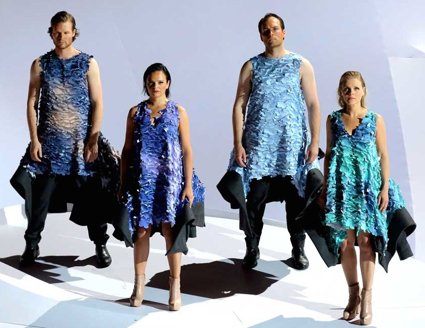 As a French-Canadian, French works are very important to me, and suit my voice. I will be singing Golaud in a concert performance of Debussy's "Pelleas et Melisande" this fall in Montreal. It's important to find ways of "stretching" one's repertoire in a safe environment.
Golaud will become an important role later in my career but I think it's important to begin work on such iconic roles early in one's development. I want to grow with these roles.
Wm: The great basso Ferruccio Furlanetto has made a point that several of the roles that you sing or are about to sing are "young men's roles" appropriate to early stages of a basso or bass-baritone's career. 
PS: Although these Mozart roles feel like young persons' roles, Mozart is harder to sing than other roles you might be offered in early career.
Mozart's operas function almost in real time. That is to say that musical gestures are not elongated like in bel canto and this leaves less time for the voice to resonate.
If the voice isn't resonating chances are you are pushing and therefore slowly damaging your voice. It is very tricky!!
Wm: And you are surrounded by a young cast in the other principal roles as well.
PS: Yes, I think there is a naturalness that one can approach the roles when characters who are supposed to be young are played by artists of a similar age. Soprano Nadine Sierra is a very young countess, but she is the age that the character is supposed to be.
[Below: Susanna (Lisette Oropesa, standing) shows affection to her fiancé, Figaro (Philippe Sly, lying on bed); edited image, based on a Cory Weaver photograph, courtesy of the San Francisco Opera.]
There is one "inversion". Figaro really should be a bit older than Almaviva, as we recall from Rossini's "Barber of Seville", but that's not something you usually see.
Wm: Christopher Alden's production of Handel's "Partenope" at the San Francisco Opera in Fall 2014 proved to be one of the season's artistic triumphs. What was it like working in Alden and that cast?
PS: I, for sure, thought it was the highlight of the San Francisco Opera Fall season. I had worked with Christopher Alden before. He is very good at assessing each artist's strengths and making the best use of them.
His staging was very specific and it was exuberant and immediate as theater. It was experiential to be on stage. It felt much more than a succession of recitative and arias.
[Below: Philippe Sly as Ormonte in the Christopher Alden production of Handel's "Partenope"; edited image, based on a Cory Weaver photograph, courtesy of the San Francisco Opera.]
Wm: You have been preparing the title role in "Nozze di Figaro" with Houston Grand Opera's music director, Patrick Summers. Do you feel a special bond with Summers in preparing and performing this Mozart masterpiece?
PS: Patrick Summers has been very helpful in working one-on-one with me, knowing that this is my first Figaro. He wants to be sure that I am singing healthily while keeping my musical and theatrical imagination alive.
This is my first leading role. Before Figaro, I was subordinate to artists in the most important parts. As the leading male I am expected to fill the space around me, to be the artist that other members of the cast play against.
My time with Summers has been a very wholesome process. It's not just helping me on details in the score. It's been a true mentorship. 
Wm: Earlier this year you made your European stage debut at the Paris Opéra-Comique as Ory in Philippe Boesman's opera "Au Monde". What were the circumstances that came to your being asked to take that role?
PS: My big opportunities have come from replacing baritones who have dropped out of projects. In this case, French baritone Stéphane Degout had sung the role of Ory in Boesman's "Au Monde" in the world premiere performances at the Monnaie in Brussels, but when the opera was to travel to the Opéra-Comique earlier this year, he had been engaged by the Opéra de Paris to sing the role of Pelléas in Debussy's "Pelléas et Melisande".
I was the only new member 0f the cast who had not sung the role in Brussels.They needed to find someone who could replace Degout, who, as a baritone has a range that is higher than mine, so a few notes were changed to conform to my vocal range as a bass-baritone.
Wm: What was it like doing a contemporary opera in such a venerable setting?
PS: The culture of the Opéra-Comique is very different. Both the composer and librettist were there to work with us. Because the size of the theater is so much smaller than an American opera house, we worked like film actors. It was luxurious experience and could have been made into a film.
The intimacy we were able to achieve can be accomplished in very small theaters. There were not any compromises – not directly.
Wm: What is it like being recognized as a star so early in your career by a company with the international standing of the San Francisco Opera?
PS: It's magic for me to be assigned the dressing room that great male artists such as Luciano Pavarotti have used. I am amazed at all the wonderful people who have sung here. My dresser will tell me about helping Samuel Ramey with his costume!
Wm: Where do you see your career going from here?
PS: At the present time, I am like a nomad, with no encumbrances that prevent me from following whatever path that "going with the flow" leads me. One artist's career can be built very differently from another's.
Wm: Thank you, Philippe, for your time.
PS: Thank you!