The oldest opera that is considered part of the core operatic repertory is Mozart's "The Marriage of Figaro [Le Nozze di Figaro]".
Dating from 1786, and undervalued in its day, except in the Bohemian capital of Prague [See my article Don Giovanni in Bohemia: How the Community of Prague Assured Mozart's Last Four Operas], "Le Nozze" is now one of what I call the nine "safe" operas – those with abundant audience appeal and a wide international pool of artists available to perform its roles with distinction. [The other eight I have so described are comprised of three by Puccini, two more by Mozart, and one each by Rossini, Verdi and Bizet.]
In my ten years as reviewer for this website, I have reported on no fewer than ten separate mountings of "Nozze", two in Europe, one in Asia, four split between Los Angeles, Chicago and Santa Fe, as well as San Francisco Opera's offerings of 2006, 2010 and 2015.
The San Francisco performances (and most of the others as well) have placed an emphasis on youthful singers – those, of course, who have mastered the vocal technique to sing Mozart correctly.
Philippe Sly's Figaro
This year, the lead of Figaro, has been entrusted to a 26-year old bass baritone from Montreal, Philippe Sly, a former San Francisco Opera Adler Fellow.
[Below: French-Canadian bass-baritone Philippe Sly as Figaro; edited image, based on a Cory Weaver photograph, courtesy of the San Francisco Opera.]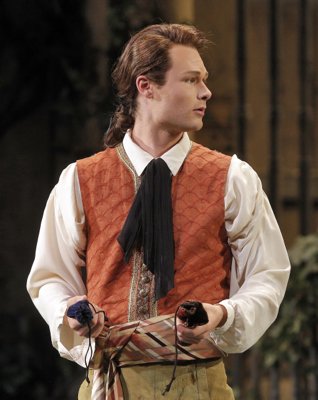 Sly, at age 24, sang the important role of Guglielmo in Mozart's "Cosi Fan Tutte" at San Francisco Opera's War Memorial Opera House and who has been cast in this Fall's San Francisco Opera revival of the Jun Kaneko production of Mozart's "The Magic Flute" in the lead role of Papageno.
In my comments on his Guglielmo two years previously I wrote that "Philippe Sly [is] clearly on the fast track to international stardom. Tall and handsome and possessing a winsome lyric baritone, there exists a rich repertory of operatic roles for which he would seem an obvious choice". Obviously, San Francisco Opera's management believed that Mozart's Figaro and Papageno were two of them.
The opera company management's confidence in Sly was well-placed. Vocally secure, Sly was a charming Figaro – energetic, athletic and dramatically believable.
Lisette Oropesa's Susanna
Although I had reviewed previous operatic performances of every member of the cast, the only one of the five principal singers that I had seen before in the role being sung in this performance was the Susanna, Louisiana lyric soprano Lisette Oropesa.
[Below: Lisette Oropesa as Susanna; edited image, based on a Cory Weaver photograph, courtesy of the San Francisco Opera.]
An endearing Susanna in Santa Fe [Santa Fe Opera Reverentially Revives "Nozze di Figaro" – June 29, 2013], Oropesa fulfilled the requirements of this, the longest role in the opera.
As the center of most everything that happens in the opera, a Susanna must convey wit, intelligence and spark. Oropesa does this convincingly, as well as affectingly singing Susanna's great aria, Deh vieni, non tardar .
Luca Pisaroni's Count Almaviva
Nine years ago, when Luca Pisaroni debuted at San Francisco Opera as Masetto in Mozart's "Don Giovanni" [see Kwiecien Excels in McVicar's Dark Side "Don Giovanni" – S. F. June 2, 2007], I described Pisaroni as "handsome, vocally gifted, funny, and with good acting skills", and said "one hopes he has been secured for future seasons in San Francisco".
Now, a decade and a half into a distinguished international career, the Italian bass-baritone, who was the immediately previous San Francisco Figaro [see Copley Directs, Luisotti Conducts, Sparkling "Nozze" Ensemble – San Francisco Opera, October 3, 2010] has been cast as Almaviva.
[Luca Pisaroni as Count Almaviva; edited image, based on a Cory Weaver photograph, courtesy of the San Francisco Opera.]
Pisaroni not only is a superb actor, but is a stylish singer who ranks as one of the great contemporary Mozarteans.
Nadine Sierra's Countess
The Contessa Almaviva is such an iconic role with two of Mozart's most memorable arias, one most often sees experienced artists well established in their careers draw the assignment (as they do the Marschallin in Richard Strauss' "Der Rosenkavalier", even though the Marschallin is supposedly barely out of her 20s).
[Below: Nadine Sierra as the Countess; edited image of a Cory Weaver photograph, courtesy of the San Francisco Opera.]
The San Francisco Opera administration chose instead to cast one of its rising young stars, 27-year old Florida soprano Nadine Sierra, as the Countess.
With impressive experience in San Francisco [for my report on her Musetta see Review: Michael Fabiano, Alexia Voulgaridou are Vocally Splendid in John Caird's Cleverly Conceived "La Boheme" – San Francisco Opera, November 14, 2014] and elsewhere  [see Superlative: Anthony Roth Costanzo, Nadine Sierra, Ensemble Dancers Superb in Jessica Lang's Visualization of Pergolesi's Stabat Mater – Glimmerglass Festival, July 20, 2013], Sierra proved to be a vulnerable countess, her heartfelt aria Dove sono truly expressing the thoughts of a woman who feels disoriented by the knowledge that she is routinely betrayed by her husband.
Kate Lindsey's Cherubino
Kate Lindsey returned to the San Francisco Opera for her second assignment after her 2011 Zerlina [see Meachem, Vinco, Lead Cast of Imaginatively Staged "Don Giovanni" – San Francisco Opera, October 23, 2011].
[Below: Figaro (Philippe Sly, left) explains to the distressed Cherubino (Kate Lindsey, right) what he should expect in the military life; edited image, based on a Cory Weaver photograph, courtesy of the San Francisco Opera.]
A physical actor (those who remember Zerlina's cartwheel at her wedding celebration will see Cherubino doing his cartwheel in the final scene in the Almavivas' garden), she convincingly portrayed the lusty adolescent.
Lindsey has become one of the finest singing actresses of her generation, whose portraits of Nicklausse (See Groves, Wall, Lindsey Excel in Christopher Alden's Harrowing, Hallucinatory "Hoffmann" – Santa Fe Opera, July 17, 2010 and Cenerentola [see Love All Around for Cinderella, Prince Charming in Joan Font's Zany Staging of Rossini's "Cenerentola" – Los Angeles Opera, March 23, 2013] are but two of her catalogue of memorable roles.
John Del Carlo's Don Bartolo, Catherine Cook's Marcellina and Greg Fedderly's Don Basilio
If youth was key in casting the Almavivas, and the Figaro and Susanna, experienced character actors were enlisted for the great comprimario roles conceived by Mozart and his librettist, Lorenzo da Ponte.
The artist whose association with the San Francisco Opera is the longest is John Del Carlo, likely the world's only current opera singer who regularly appears in San Francisco who sang here during the 1970s when Kurt Herbert Adler reigned as the company's General Director. (Although the veteran basso Ferruccio Furlanetto appeared in San Francisco for one role in 2012, it was after an absence of over three decades, and Del Carlo's San Francisco Opera debut was earlier than Furlanetto's.)
[Below: John Del Carlo (second from left) is Don Bartolo, in the company of Philippe Sly as Figaro (left), Luca Pisaroni as Count Almaviva (seated) and John Easterlin as Don Curzio (right); edited image, based on a Cory Weaver photograph, courtesy of the San Francisco Opera.]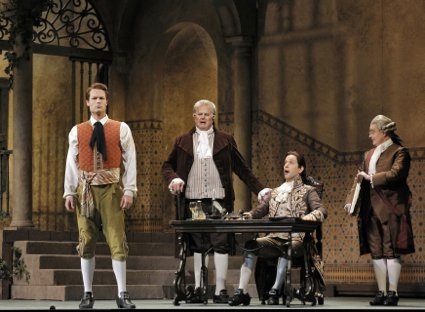 Del Carlo continues to delight audiences with Bartolo's great first act patter aria and traded hilarious tongue-twisting passages with the other members of the trio of Almaviva operatives (that includes the Marcellina of Catherine Cook and the Don Basilio of Greg Fedderly, all three returning after their successful appearances in the 2010 mounting of the work.)
[Below: Catherine Cook as Marcellina; edited image, based on a Cory Weaver photograph, courtesy of the San Francisco Opera.]
Other Musical Artists
California bass-baritone Bojan Kenezevic, who was hilarious as the besotted gardener Antonio in the company's 2010 performances, was brought back for yet more hilarious examples of his stagecraft.
John Easterlin was the notary Don Curzio. Since Curzio has a part in one of Mozart's great comic ensembles, even this small role must be cast with care. One of contemporary specialists in the character tenor roles, Easterlin repeats his Curzio from the production nine years earlier.
Atlanta soprano Maria Valdes had the privilege of singing Barbarina, and singing it beautifully – a short part, but with an arioso that is one Mozart's prettiest musical passages.
San Francisco Opera Choristers Virginia Pluth and Erin Neff were the bridesmaids for the Marriage of Figaro and Susanna, demonstrating that members of the opera chorus, led by Ian Robertson, can and do perform solo roles with distinction.
Indiana conductor and Houston Grand Opera Music Director Patrick Summers, a valued mentor for the young artists, conducted with authority and wit.
Robin Guarino's Stage Direction
In the ten performances between 2006 and 2015 that I have reviewed for this website, I have reported on the stage direction of a varied and distinguished group, that includes such luminaries as British directors John Copley (San Francisco), Ian Judge (Los Angeles) and Jonathan Kent (Santa Fe), Swiss director Marco Arturo Marelli (Vienna Volksoper), and Americans Gina Lapinski (San Francisco) and Paula Williams (Seoul, South Korea), as well as revivals of historic productions conceived by Giorgio Strehler (Paris) and Sir Peter Hall (Chicago).
[Below: Susanna (Lisette Oropesa, center) has fainted, while Don Basilio (Greg Fedderly, left) and Count Almaviva (Luca Pisaroni, right) try, more or less, to revive her; edited image, based on a Cory Weaver photograph, courtesy of the San Francisco Opera.]
"Nozze di Figaro" abounds in gags that remain embedded in the classic score that is soon to be 230 years old. The Count attempts to seduce Susanna in a room where Cherubino is hiding, and the Count soon will be forced to hide himself.
Marcellina discovers that Figaro, who was trying to enforce a marriage contract requiring Figaro to marry her if he defaults on a loan, is her son. Susanna, who has obtained money to pay off the loan, is angry to find Figaro and Marcellina embracing.
All of these incidents have to be staged – as well as the Count getting tools to break into the Countess' closet and the gardener Antonio bringing broken flower pots into the Countess' room (which I always found a strange thing for a gardener to do, but Antonio's judgment is, of course, alcohol-impaired. Fortunately for the audience, Antonio's antics form part of one of Mozart's longest, funniest and most brilliantly conceived ensembles.)
[Below: The guests have arrived for the dual weddings, and the page boy Cherubino (Kate Lindsey, center, dressed in hoop skirt) in disguise; edited image, based on a Cory Weaver photograph, courtesy of the San Francisco Opera.]
What I find truly amazing is that more than two centuries later, not only are the very specific jokes still funny, but that directors find fresh new ways to stage them.
I recall reading about the production team that would stage the 1950s television "Your Hit Parade", which set about each week to do a new staging of that week's top hit songs, and who had hoped week after week that Bob Merrill's song How Much is that Doggie in the Window? (which was a multiple million seller for Patti Page) would drop off the charts.
All of this introduction is to compliment New York Robin Guarino on yet another brilliant staging of "Nozze di Figaro", using the durable and still attractive production originally conceived by Zack Brown. She employed the talented cast's singing and acting ability and comic timing to create a praiseworthy experience.
Recommendation
I heartily recommend this cast, staging and production both to the veteran opera-goer and the person new to opera, as an excellent presentation of one of humanity's greatest creative works.