The following interview is with Signora Jolanda Meneguzzer, a lyric-leggiero soprano from Florence, Italy, whom I saw perform several roles at the San Francisco Opera in the 1962, 1963 and 1965 seasons. Her responses to my questions are shown in Italian, followed by their translation into English.

[Below: Jolanda Meneguzzer; edited image, based on a photograph, courtesy of Jolanda Meneguzzer.]
Wm: Signora Meneguzzer, would you describe your earliest memories of music and your earliest memories of operatic singing?
JM: Mia madre, Mafalda Zonaro, pianista, mi ha insegnato la musicamettendomi al pianoforte a quattro anni e mezzo. Vivendo in Lombardia, i miei genitori mi portavano spesso alla Scala, (ricordo ancora che i primi spettacoli a cui assistei fu rono l'Amore delle tre melarance" e il "Campiello" di Wolf-Ferrari che poi cantai molti anni dopo in Fenice come Gasparina registrai come Gnese a Milano, presso gli studi RAI) in un palco accanto a quello centrale, che poi, adulta, avrei guardato dalpalcoscenico!
Mia madre fu un insegnante dura e inflessibile, madevo a lei l'aver imparato perfettamente la musica, uno studioche, al giorno d'oggi, non mi pare più essere prioritario neigiovani che si accingono a voler fare questo mestiere, ma che ioancora ritengo essere prioritario.
My mother, Mafalda Zonaro, who was a pianist, taught me how to play the piano when i was four and half years old. We lived in Lombardy, and my parents often took me to La Scala , where we sat in a box next to the central one. Then, as an adult, I watched from backstage! (I still remember that the first operas that I attended were "The Love for Three Oranges" and Wolf-Ferrari's "Il Campiello", the latter of which I then sang the role of Gasparina many years later at the La Fenice in Venice as Gasparina, which I recorded at the RAI studios in Milan.)
My mother was a hard and inflexible teacher, but I owe it to her to have learned the music perfectly. Nowadays, that way of studying music does not seem to be a priority for young people who want to do this job, but that I still consider to be a priority.
[Below: Jolanda Meneguzzer as Oscar in Verdi's "Un Ballo in Maschera" at the Baths of Caracalla in Rome, Italy; edited image of a production photograph, courtesy of the Jolanda Meneguzzer.]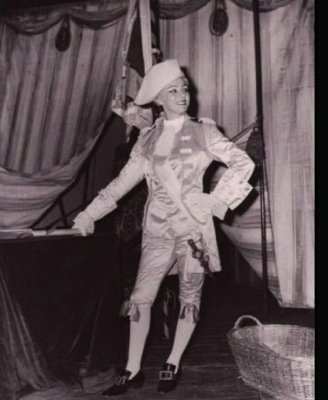 Wm: You were a pupil of Nerina Baldisseri, whom you describe as a direct descendent of Mathilde Marchesi's style of teaching. Mme Marchesi's pupils included several of the most famous opera singers of the late 19th and early 20th centuries, including Frances Alda, Emma Calvé, Emma Eames, Mary Garden, Dame Nellie Melba and Sybil Sanderson. From whom did Signora Baldisseri learn her technique?
JM: La madre della mia maestra, Nerina Baldisseri, era stata allieva della Signora Marchesi, assistendo anche a lezioni accompagnate al pianoforte da Gounod; dunque fu lei la sua insegnante di canto.
The mother of my teacher, Nerina Baldisseri, had been a pupil of Mrs. Marchesi. Assisting in her lessons was Charles Gounod, who also accompanied her on the pianoforte. Therefore, she was her singing teacher.
Wm: Perhaps Signora Baldisseri is best known to today's operagoers for the duet from Mascagni's "L'Amico Fritz" that she recorded with Beniamino Gigli. Can you give us some background on her career, and how you came to be her pupil?
JM: Nerina Baldisseri cantò per pochi anni, ma con buon successo. Lasciò la carriera per ragioni di famiglia dopo aver interpretato"Barbiere", "Rigoletto", "Mignon", "Ugonotti", "Manon" (Massenet) e partecipando a numerosi concerti (con De Luca ecc.).
Ancora oggi conservo un album con articoli dei giornali dell'epoca che esaltano sia il suo talento musicale che attoriale,ma il destino non ha voluto che la sua fosse la carriera che avrebbe senz'altro meritato. Era amica di amici della mia famiglia e così ho preso a studiare canto con lei; ho poi studiato con molti altri maestri, ma vocalmente è stata lei la mia unica maestra. Sino all'ultimo, nelle pause di lavoro che io cercavo sempre di trascorrere a casa mia a Firenze, sono andata da lei "a far accordare lo strumento dal liutaio".
Ho appreso dell'esistenza del duetto di Mascagni inciso dalla mia maestra non molti anni fa e all'ascolto mi sono profondamente commossa, perché posso ben dire che era la prima volta che udivo la sua voce. Dalla prima all'ultima lezione, infatti, lei non mi fece MAI esempi in voce, invece io, coi miei studenti ho sempre preferito farli, perché liri tengo sommamente utili come supporto a uno studio a cui giovano qual cosa i trattati, ma tanto e soprattutto la conoscenza del proprio corpo e delle sensazioni che esso emana.
Nerina Baldisseri had a successful career for a few years. She gave up her career for family reasons after starring in "The Barber ", " Rigoletto" , " Mignon", " Les Huguenots " and Massenet's "Manon " and also participating in numerous concerts with De Luca , etc.
Even today, I keep a scrapbook of newspaper articles of the time that praised her musical talents and acting, but it was her fate not to have the career that she certainly deserved. She was a friend of my family, so I took singing lessons from her. I then studied with many other teachers, but, for my voice, she was my only teacher. To the last, during the work breaks I would spend at my home in Florence, I would go to her "so that the maker could tune the instrument."
When I learned of the existence of Mascagni's duet recorded by my teacher many years ago, I was deeply moved, because I can easily say it was the first time I heard her singing voice. From the first to the last lesson, in fact, she would NEVER give me vocal examples of what she was teaching, whereas I, with my students, always preferred to sing for them to explain what I wanted them to do. I found singing for students extremely useful to support their studies and especially for youthful singers to know how their body should feel.
[Below: Jolanda Meneguzzer is Gilda and Louis Quilico is Rigoletto in a production of Verdi's "Rigoletto" at the Canadian Opera Company of Toronto, Ontario; edited image, based on a production photograph, courtesy of Jolanda Meneguzzer.]
Wm: You were a teenager when the Second World War ended. The war years resulted in the destruction of so much of the European operatic infrastructure. The years of your vocal preparation coincided with the rebuilding of Europe's opera houses. What was it like to be learning to sing opera at that time?
JM: Durante la Guerra non ho mai smesso di studiare; fu un periodo molto difficile, anche perché Firenze, occupata dai Tedeschi, veniva ripetutamente bombardata dagli Alleati procurando entrambi morte e distruzione, ma noi ragazzi studiavamo ugualmente col massimo dell'impegno e le scuole bene o male funzionavano.
Io frequentavo allora il Liceo Artistico; dalla mia classe uscirono grandi architetti fra i quali Luigi Caliterna che progettò e vide realizzati diversi teatri in Italia. Zeffirelli, invece, col quale poi ho avuto l'onore e il piacere di lavorare diverse volte, nello stesso periodo studiava all'Accademia.
Il mio debutto avvenne a Firenze nel 1957, nel pieno della stagione del Maggio Musicale Fiorentino, del quale mi considero come una figlia, avendo poi partecipato ad altre otto edizioni, in stagioni estive e invernali. Il Maestro Siciliani, come mi sentì cantare, volle che debut tassi subito nel Festival. Non avevo mai eseguito né opere né concerti né tanto meno provato in orchestra, ma il Maestro fu inflessibile; debuttai così nel magico Giardino di Boboli come Euridice nell'"Orfeo" di Monteverdi.
Ero incosciente e stranita, non mi rendevo bene conto di cosa stesse accadendo, ma la vera paura la provai in seguito, quando i ruoli vocali aumentarono in difficoltà e mi trovai di fronte a grandi personaggi e collega di celebri cantanti. Fino all'ultimo giorno della mia carriera ho provato paura e non me ne vergogno, anche se poi è sempre andato tutto bene, ma quanto batti cuore in vent'anni di carriera!
During the war I never stopped studying. It was a very difficult period, because Florence was occupied by the Germans, and was repeatedly bombed by the Allies resulting in both death and destruction, but we children also studied with the utmost commitment in schools through good times and bad.
I then attended art college. Out of my class came great architects, including Louis Caliterna who designed several Italian theaters. During the same period, Zeffirelli studied at the Academy. I had the honor and the pleasure to work with Zeffirelli several times.
[Below: Jolanda Meneguzzer as Monterverdi's Euridice at the Florence May Festival's 1957 Boboli Gardens production; photograph courtesy of Jolanda Meneguzzer.]
My debut was in Florence in 1957, during the height of the Maggio Musicale Fiorentino, of which I consider myself to be a daughter, having participated in eight subsequent summer and winter seasons. Maestro Siciliani, when he first heard me sing, wanted me to debut at the Festival immediately, even thoughI had never performed either in operas or concerts nor had ever tried to sing with an orchestra. The maestro was inflexible about this. My debut so magical as Euridice in the Boboli Gardens' "Orfeo" by Monteverdi.
I was barely conscious and bewildered, and I did not realize very well what was going on, but, as the vocal roles increased in difficulty I felt real stage fright, finding myself surrounded by the great figures of famous singers and colleagues. Until the last day of my career I was fearful of being on stage and I'm not ashamed to let that be known, although it's always worked out well, even as my heart beat rapidly during the twenty years of my career.
Wm: You trained for opera at a time in which there was a significant increase in the number of complete opera recordings available to the public, including the studio recordings of Maria Callas, whose performances highlighted the dramatic content of the roles she sung. Would you agree that the long-play record led to a postwar resurgence of interest in opera worldwide, and that Callas was a major influence on developing the acting skills of many opera singers?
JM: Come tutti gli aspiranti artisti, non era inusuale che studiassi anche sulle incisioni dei grandi; ho adorato la Callas, che credo abbia influenzato tutti gli studenti della mia epoca, ma cercavo sempre, in ogni artista di cui ascoltavo le prestazioni, di capire e comprendere segreti e motivazioni che lo spingevano a interpretare la musica e il personaggio a quel modo.
Like all aspiring artists, it was not unusual that I also studied the recordings of the great. I loved Maria Callas, whom I think has influenced all the students of my age, but I always tried, in every artist whose performance I listened to, to understand the secrets and motivations that drove them to interpret the music and the character in that way.
Wm: You have characterized yourself as a lirico-leggiero soprano. Which roles do you believe best exemplify this vocal category? Are there present day artists that you believe carry on the legacy of yourself and your contemporaries in these roles?
JM: La mia voce era piena nel centro, colorata nel basso e facile ai virtuosismi nell'alto, grazie anche a una tecnica che aveva raggiunto una apprezzabile solidità.
Ho interpretato 56 ruoli spaziando da Monteverdi, Peri, Handel, Pergolesi, Mozart,Salieri, Paisiello, Cimarosa, Donizetti, Rossini, Bellini, Verdi, Gounod, Puccini, Strauss a Vlad, Castelnuovo, Tedesco, Prokofieff, Sciostakovic, Patrassi, Veretti, Strawinski.
Mi pare che siano pochi oggi, tra coloro che si affacciano sul palco scenico, a possedere le mie caratteristiche vocali, (mie e dimo olti altri colleghi della mia epoca) anche perché mi pare che oggi regni molta confusione tra gli stessi insegnanti e nei conservatori.
My voice was full in the center, colored at the low part of my range, with easy virtuosity at the top, thanks to a vocal technique that produced an appreciable strength.
I've played 56 roles ranging from Monteverdi, Peri, Handel, Pergolesi, Mozart, Salieri, Paisiello, Cimarosa, Donizetti, Rossini, Bellini, Verdi, Gounod, Puccini, Strauss Vlad, Castelnuovo, Tedesco, Prokofiev, Shostakovich, Patrassi, Veretti, Stravinsky.
It seems to me that few today, including present day stars of the opera stage, have my vocal characteristics, because it seems to me that today is much confusion reigns among the voice teachers themselves and the conservatories.
[Below: a 1962 performance of Puccini's "La Boheme" in Florence, Italy, from left to right, Jolanda Meneguzzer (Musetta), Renata Tebaldi (Mimi), Maestro Tullio Serafin and Renato Cioni (Rodolfo); edited image of photograph, courtesy of Jolanda Meneguzzer.]
Wm: You made your professional debut in 1957 and your San Francisco Opera debut in 1962. That company's impresario, Kurt Herbert Adler, would assemble many of the greatest contemporary artists for each of his seasons.
Reportedly, you took over roles that Graziella Sciutti was originally scheduled to sing in 1962, which led to engagements in San Francisco for the 1963 and 1965 seasons as well. How did you become known to Adler, and when did you receive your invitation from Adler to sing in San Francisco?
JM: Il Maestro Adler era in conoscenza con la Signora Finzi, agente milanese che si rivolse a me (io, allora, avevo già una buona fama in Italia) perché la Signora Sciutti non aveva ottenuto il visto per gli USA per sue situazioni familiari. Allora l'America era un po' più puritana, ma in fondo per me fu un'occasione imperdibile, certamente tra le più importanti della mia carriera.
Maestro Adler was acquainted with Signora Finzi, a Milanese agent who turned to me (who already had a good reputation in Italy) because Signora Sciutti had not obtained a visa to the U.S. because of her family situation. America was a bit more puritanical than now, but basically for me it provided an opportunity that was certainly among the most important of my career.
Wm: Your American debut was October 4, 1962 as Maria in Donizetti's "La Figlia del Regimento", conducted by Oliviero de Fabritiis, with Renato Cioni and Salvatore Baccaloni. You sang this role only once for the main audience and once for a student matinee, although you repeated the role on tour in Los Angeles.
Your stage director for the "Figlia" was Tito Capobianco. There is a photograph of you riding a horse in that production. What are your memories of that performance?
[Below: Jolanda Menneguzzer in 1963 as Maria in Donizetti's "La Figlia del Regimento"; resized image of a production photograph, courtesy of the San Francisco Opera.]
JM: Ho ricordi bellissimi del mio debutto americano, non ultimo la cavalla che mi avevano affidato in "Figlia del Reggimento". Non avevo mai cavalcato ed avevo paura, ma avendo la passione per gli animali, ed avendo già lavorato in teatro con animali (nel 1959 Zeffirelli, nella sua splendida regia di "Orlando" di Handel, mi aveva affidato un agnellino che si rivelò splendido collega e che io spesso mi portavo anche a casa) ho superato la prova. L'applauso di accettazione della sala non lo dimenticherò mai; frail resto avevo studiato il ruolo di Maria in venti giorni e in quel periodo mi attendeva anche il debutto in "Don Giovanni", nel ruolo di Zerlina.
Colleghi e altri personaggi del palco scenico sapeva no del mio desiderio di visitare Disneyland; dopo il debutto a Los Angeles in contrai a teatro il Maestro Adler sempre grintoso, ma con un abbozzo di sorriso mi disse: "lei è stata brava, andiamo a Disneyland, a patto che nessuno lo sappia: melode ve pro mettere. Domattina". La mattina seguente trovai una macchina ad aspettarmi fuori dell'albergo e quella fu una giornata incredibile in compagnia di un sorridente e divertente giovanotto,così diverso dal burbero maestro!
Era va mo due ragazzi e il divertimento fu spensierato e innocente: abbiamo provato tutti igiochi e le giostre, visto e comprato quanto era offerto come gadgets colorati. Poi il Maestro tornò quello di sempre, un po' distante e serissimo, senza confidenze; avevo avuto un premio, il mio premio!
I have wonderful memories of my American debut, not least the mare that I had been entrusted with the title role of "Daughter of the Regiment ." I had never ridden a horse and I was afraid, but having a passion for animals, and having already worked in theater with pets (Zeffirelli in 1959, in his splendid director of "Orlando" by Handel, had given me a little lamb who turned out to be a wonderful colleague), I passed the test.
I will never forget the applause of acceptance in the War Memorial Opera House. With little rest, I had learned the role of Maria in twenty days and during that time I was waiting also to debut in "Don Giovanni" in the role of Zerlina.
Colleagues and company personnel knew of my desire to visit Disneyland. After my debut in Los Angeles, Maestro Adler who is always so stern, with a hint of a smile said, "You were good. Let's go to Disneyland tomorrow morning, provided that no one knows." The next morning I found a car waiting outside the hotel. It was an amazing day. It was like I was in the company of a fun, smiling young man, so different from the gruff maestro!
We were two carefree kids having innocent fun. We tried all the rides, saw and bought the colorful gadgets that were offered us. Then the Maestro returned the same as always, a little distant and very serious, with no confidences. I had earned an award. It was my prize!
[Below: Jolanda Meneguzzer and Glade Peterson in the 1963 San Francisco Opera performance of Richard Strauss' "Capriccio"; edited image of a production photograph, courtesy of Jolanda Meneguzzer.]
Wm: I first saw you perform a week later (October 11) as Nannetta in the first performance of the new Elemer Nagy production of Verdi's "Falstaff" with Welsh baritone Sir Geraint Evans in the title role, Scottish baritone Thomas Stewart as Ford, and Giulietta Simionato in her signature role of Dame Quickly.
Then on October 20th, I saw you in the extraordinary cast of Mozart's "Don Giovanni" in which American basso Giorgio Tozzi was the Don, Spanish soprano Victoria de los Angeles was Donna Anna, German soprano Elizabeth Schwarzkopf was Donna Elvira, and Sir Geraint Evans was Leporello. Would you comment on these "Falstaff" and "Don Giovanni" casts and the Franco Zeffirelli production?
JM: Quel "Falstaff" fu per me meraviglioso, anche se già avevo debuttato l'opera nel 1961 a Siena, presso il Teatro de' Rinnovati,con colleghi del calibro di Mariano Stabile, Marcella Pobbe,Fedora Barbieri, Giuseppe Baratti e Giulio Fioravanti, ma il cast di quella produzione americana non fu da meno e l'atmosfera chesi respirava sempre a San Francisco era perfetta per lavorare con gioia e armonia, anche grazie all'onnipresente Maestro Adler che seguiva tutti con la sua competenza affettuosa.
Così fu per "Don Giovanni", anche perché già conoscevo Zeffirelli, avendo giàn lavorato con lui alla Scala e al Maggio Musicale Fiorentino.
That "Falstaff" was wonderful for me, even though I had already premiered the work in 1961 in Siena, at the Theatre de Renaissance, with colleagues from the likes of Mariano Stabile, Marcella Pobbe, Fedora Barbieri, Giuseppe Baratti and Giulio Fioravanti, but the cast of the American production was no less illustrious and the atmosphere breathed again in San Francisco was perfect to work with joy and harmony, thanks to the ubiquitous Master Adler who followed everyone with his affection and expertise.
So it was with "Don Giovanni", because I already knew Zeffirelli, having worked with him at La Scala and at the Maggio Musicale Fiorentino.
Wm: You were invited back to San Francisco for their 1963 season in which you sang Lisa to Joan Sutherland's Amina in Bellini's "La Sonnambula". I've always thought of Lisa as an interesting role, that, of course, is overshadowed by the Amina.
[Below: Jolanda Meneguzzer as Amina in Bellini's "La Sonnambula" at the Teatro Regio Torino in Turin, Italy; edited image of a production photograph, courtesy of Jolanda Meneguzzer.]
Although you did not sing Amina in San Francisco, it is a role associated with you, and with lirico-leggiero singers. Would you comment on your approach, and that of Maria Callas and Joan Sutherland to the role of Amina?
JM: Il Maestro Adler, che mi ha voluto anche l'anno successivo, mi contattò direttamente. Ho accettato il ruolo di Lisa perché perl' occasione avrei avuto vicino una spettacolare Amina (JoanSutherland) che mi sono goduta nota per nota.
Molto diversa dalla Callas perché diversa era la creatura che cantava, diversi i luoghi d'origine, diversa la formazione artistica. Di fronte a due stelle del genere chi può dire quale splendesse di più? La Callas, pur troppo, non l'ho mai incontrata, ma la Sutherland sì, ed è stato uno degli incontri più emozionanti della mia carriera.
Sfogliando gli album dove ho raccolto articoli e locandine, mi rendo conto di essere stata molto fortunata ad aver potuto conoscere e cantare con sommi artisti della mia epoca. Il mio incontro con Leontyne Price, sempre in America, fu altrettanto emozionante.
Ella mi definiva il suo portafortuna e forse un po' lo fui, perché i suoidebutti in Donna Anna e in Amelia, che io tenni a battesimo, furono memorabili. Giulietta Simionato e Fedora Barbieri furonole mie Mrs. Quickly preferite ed amate, Elisabeth Schwarkopf fu una Contessa in "Capriccio" e una donna Elvira che non potrò mai dimenticare.
Così tanti tenori come Alva, Valletti, Cioni, Konya, Bergonzi, Baratti, bassi come Washington, Rossi-Lemeni, Raimondi, Montarsolo e baritoni (colore maschile che amo molto) come Panerai, Capecchi, Bruscantini.
Con colleghi diquesto calibro era impossibile non trovarsi a proprio agio e dare il meglio di sé sul palcoscenico ed io posso ben dire di essere stata sempre amata e rispettata in ogni angolo del mondo.
JM: Maestro Adler, who wanted me the following year, contacted me directly. I accepted the role of Lisa because on that occasion the spectacular Joan Sutherland was the Amina whose every note I enjoyed. Sutherland was very different from Callas because they were artists whose places of origin were different, and who had different artistic training. In front of these two stars of the genre who can say which shone more? Unfortunately, I never met Callas, but performing with Sutherland was one of the most exciting matches of my career.
Flipping through the album where I collected articles and posters, I realize I have been very fortunate to have been able to learn and sing with great artists of my era.
Performing with Leontyne Price, while still in America , it was just as exciting. She called me her lucky charm and maybe I was a little charm, because her debuts as Donna Anna and Amelia, where I was also in the cast, were memorable . Giulietta Simionato and Fedora Barbieri were my favorites and each was a beloved Mrs. Quickly, Elisabeth Schwarzkopf was a Countess in "Capriccio" and a Donna Elvira that I will never forget.
I performed with such tenors as Alva, Valletti, Cioni, Konya, Bergonzi, Baratti, and with bassos like Washington, Rossi-Lemeni, Raimondi and Montarsolo and with such baritones (a masculine vocal range whose color I love very much) as Panerai, Capecchi amd Bruscantini. With colleagues delivering this caliber of singing, it was impossible not to feel at ease and give the best of ourselves on stage. I can truly say that I was always loved and respected in every corner of the world.
Wm: My favorite of all your performances that I attended was your Rosina in Rossini's "Barbiere di Siviglia" conducted by Piero Bellugi. Although Bellugi only conducted in San Francisco in the 1965 season, I believe there is an ongoing "Bellugi legacy" for the company in that Nicola Luisotti, whom he mentored, is now the music director of the San Francisco Opera. What are your memories of performing under the baton of Bellugi? Who were your favorite conductors of all time?
JM: Ho un ricordo caro del Maestro Bellugi. E' stato un grande amico col quale ho sempre lavorato con molto entusiasmo. Era un uomo che spesso si rifugiava in un mondo tutto suo, molto lontano dalla realtà.
Ricordo che una volta, a San Francisco, alloggiando in appartamenti molto vicini tra loro, mi aprì la porta disperato perché non riusciva più a trovare il telefono; glielo ritrovai io, chiuso nel frigorifero, dove era stato confinato perché suona va troppo spesso, disturbando il Maestro che doveva studiare. E'stato un ottimo musicista, raffinato e dotatissimo, in dubbia mente tra i direttori d'orchestra coi quali ho lavorato con più piacere, anche se mi piace ricordare altri nomi quali Claudio Abbado,Antonino Votto e Tullio Serafin.
I cherish my memories of Maestro Bellugi. He had been a great friend with whom I always worked with a lot of enthusiasm. He was a man who sought refuge in a world of his own, far away from reality.
I remember once, in San Francisco, that we were staying in apartments very close to each other. He came to my door, desperate because he could not find the telephone, I found that he had closed the phone in the refrigerator, where it had been confined because it rang too often, disturbing the Master who had to study. He was a great musician, gifted and refined, without a doubt in my mind of all the conductors with whom I have worked, none was with more pleasure, though I like to remember working other names such as Claudio Abbado, Antonino Votto, and Tullio Serafin.
Wm: What are your thoughts about the current state of opera in Italy, and elsewhere? What do you see as hopeful and what do you regret about opera performance in the present day?
JM: Purtroppo, per la mia età, non posso più seguire diretta mente quello che è stato il mio mondo. Ho avuto buoni allievi che adesso è giusto definire colleghi e attraverso loro so che in Italia continuano a tagliare fondi e contributi ai teatri e alle istituzioni culturali, i steri lendo a volte in maniera vergognosa prove, recite e cartelloni.
L'Italia è stata la culla dell'opera, ha dato al mondo autori, interpreti e musicisti che hanno fatto la storia di questo genere musicale, ma purtroppo in pochi, qui in Italia, sembrano ricordarlo. Mi auguro che in America, in Asia e nel resto d'Europa la cultura, in ogni suo campo, venga ancora amata e tutelata com'è da tradizione; l'uomo non può vivere senza cultura e credo in particolar modo senza musica; le nuove generazioni devono proteggere con tutte le loro forze questo immenso patrimonio che noi, addetti ai lavori di tutti i tempi e tutti i luoghi,ci siamo sforzati di creare e di accrescere col nostro talento e lanostra passione.
Unfortunately, at my age, my mind no longer connects what exists now with what was my world. I've had good students and it is now their right to define with their colleagues what should be.
I know that in Italy, the government ministries continue to cut funds and contributions to the theaters and cultural institutions.
Italy was the birthplace of Opera. It gave the world its composers, performers and musicians who have made the history of the genre, but unfortunately few, here in Italy, seem to remember it.
I hope that in America, Asia and the rest of Europe culture, in every field, is still loved and protected as it is by tradition. Humanity cannot live without culture and I think especially cannot live without music. The new generations have to protect with all their strength this immense heritage that we, professionals of all times and all places, have endeavored to create and enhance with our talent and our very passion.
Wm: Thank you, signora, for sharing your thoughts with me.