San Diego Opera revived its 2008 John Coyne production of Leoncavallo's "Pagliacci", whose single set portrays a rustic village with a small stage on which a traveling troup of commedia dell'arte players are scheduled to perform that evening. [See Cura, Futral Shine in New San Diego Opera "Pagliacci" – March 22, 2008.]
For the 2014 revival Australian director Andrew Sinclair, with commendable results, took on the responsibility of re-staging the production, originally directed by the late Lotfi Mansouri. Yves Abel conducted.
[Below: the arrival of the pagliacci, from left to right, Beppe (Joel Sorensen, with left foot raised), Canio (Frank Porretta, onstage), Tonio (Stephen Powell, next to bass drum) and Nedda (Adina Nitescu, with arms outstretched); edited image, based on a Cory Weaver photograph, courtesy of the San Diego Opera.]
Pagliacci" has five principal singers.
Frank Porretta's Canio
The most famous part is that of Canio, the lead actor of a commedia dell'arte troup (pagliaccio means player). His big aria Vesti la giubba , recorded nearly a century ago by tenor Enrico Caruso, holds the distinction of being the first million-selling record in history.
Tenor Frank Porretta's robust, dramatic voice is suited to the heavier weight of the Canio role. [For his performance in a French heroic tenor part requiring a voice of similar weight, see Blythe Leads Impressive Role Debuts in "New" Pittsburgh "Samson et Dalila" – October 18, 2008.]
[Below: Tenor Frank Porretta as Canio; edited image, based on a Cory Weaver photograph, courtesy of the San Diego Opera.]
Porretta proved to be effective in the part, evoking the jealousy, insecurity, and cruel rage of a man who regards a wife's infidelity as a capital crime. Although a dangerous man, he is not the most unsympathetic character in the opera.
Stephen Powell's Tonio
Canio believes his closest ally to be the slow-witted Tonio, although we in the audience know about Tonio's monstrous attempt to seduce Canio's wife, Nedda. Baritone Stephen Powell effectively played him as a bitter man, whose infirmities have made him a sinister and ultimately lethal presence. [For one of Powell's more positive characters, the consul Sharpless, see: The Remaking of San Francisco Opera Part III "Madama Butterfly" – December 8, 2007.]
[Below: Stephen Powell as Tonio; edited image, based on a Cory Weaver photograph, courtesy of the San Diego Opera.]
Powell's Tonio performed the opera's prologue brilliantly, and, with Canio in this production committing suicide after killing his wife and her paramour, has had restored to him the final line of the opera La commedia e finito, originally written for Tonio, but appropriated by Canios for more than a century.
David Adam Moore's Silvio
There are two baritones in the opera who have every intention of cuckolding Canio. The one with the inside track is Silvio, typically a baritone of lighter vocal weight than Tonio.
A character who perceives the dangerous situation in which his lover, Nedda, finds herself, he plans her escape, while reassuring her with some of the most beautiful love music in all of opera.
In this production, David Adam Moore, who has sung the role of Mercutio in San Diego [see Costello, Perez in Passionately Romantic "Romeo et Juliette" – San Diego Opera, March 13, 2010], made a fine impression as Silvio.
[Below: David Adam Moore as Silvio; edited image, based on a Cory Weaver photograph, courtesy of the San Diego Opera.]
In an article I wrote for the program for San Diego Opera's 2010 season production of Gounod's "Romeo et Juliet", I had developed the argument that, Charles Gounod, the French composer of "Faust" and "Rome0", created a style of luxuriously melodic operatic music. [See Sweet Melody: Gounod's "Faust", "Romeo and Juliet" and the Théâtre Lyrique.]
What I refer to as "sweet melody" accompanies scenes of seduction, sexual attraction and intimacy that was reflected in the works of Gounod and his contemporaries. It also influenced the Italians Verdi, Puccini and Leoncavallo, in the latter case, evidenced by the melody accompanying Silvio's E allor perche, di tu m'hai stregato.
(Those attending the performance should read Konrad Dryden's essay in the "Pagliacci" program about Leoncavallo's immersion in the Parisian salons in which he came to know Gounod and his contemporaries.)
[Below: Silvio (David Adam Moore, right) expresses his love to Nedda (Adina Nitescu, left); edited image, based on a Cory Weaver photograph, courtesy of the San Diego Opera.]
Stage director Andrew Sinclair, as if to further goad Canio (who seems not to require a lot of evidence that his wife is unfaithful), has Moore's Silvio remove his shirt and engage in a bare-chested horizontal embrace with Canio's wife).
Joel Sorensen's Beppe
Another familiar artist in San Diego Opera performances is character tenor Joel Sorensen, who sang the part of Beppe, the member of the company who tries to hold everything together, even when he knows instinctively that all will end in shambles.
[Below: Joel Sorensen as Beppe; edited image, based on a Cory Weaver photograph, courtesy of the San Diego Opera.]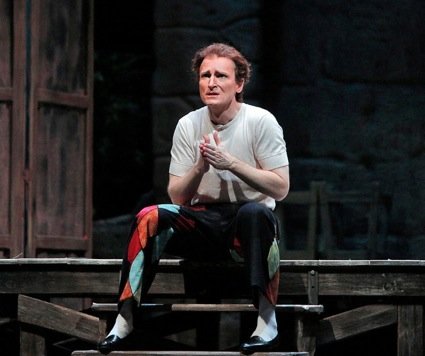 Sinclair effectively uses the intermezzo after Canio's discovery for a pantomime in which Beppe sits in despair on the edge of the makeshift stage, sobbing and crossing himself in apprehension of what he knows is about to happen.
Adina Nitescu's Nedda
My reservations about the "Pagliacci" cast were solely concerned with the casting of Rumanian soprano Adina Nitescu as Canio's beleaguered wife, Nedda. General Director Ian Campbell had praised her performances in the title roles of Puccini's "Manon Lescaut" and "Tosca" elsewhere.
Although the Puccini roles are usually considered requiring voices of heavier weight than Nedda, it is plausible that a spinto soprano could lighten her voice to sing Nedda. This, unfortunately, did not happen.
[Below: Adina Nitescu as Nedda; edited image, based on a Cory Weaver photograph, courtesy of the San Diego Opera.]
Nitescu's delivery was outsized and often unsteady, producing a sound that rarely matched the character she was portraying, that was not in balance with Moore's appropriately weighted Silvio. It seemed to me as if Nitescu was warming up for the title role of Richard Strauss' "Elektra".
These expressed reservations are not of sufficient concern, however, for me not to recommend attending an otherwise fine performance.
Playing "Pagliacci" without Rustic Chivalry
Unlike 2008, "Pagliacci" was presented alone, rather than observing the tradition of pairing the opera with Mascagni's "Cavalleria Rusticana" as an operatic double bill.
Presenting "Pagliacci" as a single opera avoids the expense and complexity of presenting two one-act operas requiring first rank singers in both operas. Unfortunately for operatic budgets, there are minimal opportunities for using the singers from one opera in the other.
[Below: Beppe (Joel Sorensen, center above) is astride a ladder while Nedda (Adina Nitescu, right) looks on; edited image, based on a Cory Weaver photograph, courtesy of the San Diego Opera.]
There are many opera companies that have split the "Cav" and "Pag" double bill, as it often referred to, as they quite often do with the three separate operas of Puccini's "Trittico", (There have been mixes and matches between the Double Bill operas and the Trittico, such as a pairing of "Pagliacci" with Puccini's "Suor Angelica" that I saw at the San Francisco Opera 24 years ago.)
The idea of pairing "Cav" with "Pag" is a tradition dating back to the 1890s, but the idea was disapproved of by both Mascagni and Leoncavallo (as Dryden's program essay reminds us).
Personally, I have no problem with that tradition, noting that both operas share some characteristics – their approximate length, their use of prologues and intermezzos, their choruses of villagers and melodramatic plots set in rural areas.
Although "Pagliacci" lasts only an hour and a quarter, it's an intense experience dramatically. The opera contains an infusion of Italian verismo melodrama set to music that blends both late 19th century French and Italian lyrical styles.
"Pagliacci" is enjoyable in itself, with or without "Cavalleria Rusticana", whether standing alone or paired with any other operatic masterpiece.
Recommendation
I recommend the San Diego Opera production of "Pagliacci", which I believe most opera-goers, both experienced and new to the art form, would enjoy.