The following interview was conducted in the administrative offices of the San Francisco Opera, whose facilitation of the interview is gratefully acknowledged.
[Below: San Francisco Opera Music Director Nicola Luisotti; edited image, based on a Terrence McCarthy photograph, courtesy of the San Francisco Opera.]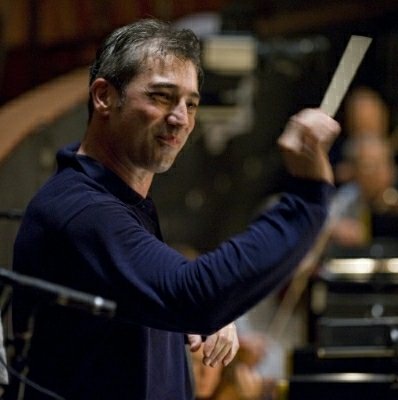 Wm: You sang in church choirs in your home province of Tuscany as a young child and became choral director before you were a teenager. Was this the major factor in your decision to pursue a musical career?
NL: When you are young, you don't think of a career. Everyone of my friends were playing football (soccer), while I was in church playing the organ for hours.
Of course, I played football too, and I probably thought of music as my amusement. But I have been called by music all my life, like a wave to the sea. When music is so important to you as a child, you just want to stay with it.
Wm: Do you find that this these early experiences influence how you work with opera choruses?
NL: I had this attitude towards conducting ever since I was 11. When I was eleven or twelve, I began leading a choir in our church. When I return to the village where I grew up, I still meet people in their 50s or 60s that remember when I led the choir. Some will say "Oh, you used to point your finger at me, and I'd be so scared!"
Wm: You were an advanced student in piano, but also played the trumpet, and received degrees in voice and composition. Do you regard formal preparation as an instrumentalist as well as a chorister to be useful prerequisites to the career of a opera conductor?
NL: When I was real young, I was able to play the organ and would try almost every instrument – the flute, even the glass harmonica. I was always looking for something to play that would have the dimension of sound.
I don't think you can consider the career of conductor if you don't know what a conductor does. If you think they do nothing but waive a baton, when you yourself start to conduct, you won't be successful.
Wm: An early mentor of yours was Conductor Piero Bellugi, who died earlier this year. What did you learn from Bellugi? Who were the other early influences on your musical career?
NL: I was working at the La Scala Opera House in Milan as a pianist. Baritone Claudio Desderi introduced me to Piero Bellugi, who had scheduled a master class on conducting in Pisa. Although the course was closed for credit, I was told that I could audit it.
Bellugi said to the class, who would like to try his hand at conducting Mozart's "Le Nozze di Figaro"? None of the persons enrolled in the class volunteered, but I, who was only an auditor, raised my hand and said I would like to try it. I had to rehearse the singers and then the orchestra.
[Below: Conductor Piero Bellugi in his 40s, approximately at the time of his 1965 San Francisco Opera performances; edited image, based on a promotional photograph.]
When I conducted the opera, the orchestra applauded me, but Bellugi seemed grumpy. "Oh my God", I thought, "I must have been terrible." He asked me my name. "Nicola", he said, "Why are you here?" "To learn to be a conductor", I replied. "You are already a conductor", Bellugi said. "You are here to show us that you are better than us."
But I replied that I had never conducted an orchestra before, only my church choir. Then Bellugi placed a camera on me, filming me so he could show his classes how to conduct.
The last time Bellugi and I met, a couple of years ago, we talked about those classes and I asked to get lessons from him again. Bellugi said that he would like to come to me for lessons in conducting!
Wm: I actually saw Bellugi conduct three times at the San Francisco Opera – performances of Rossini's "Barber of Seville" and of Puccini's "La Boheme" and "Tosca".
NL: I hadn't known he ever conducted here. It's a great honor for me to learn that such an important mentor also performed at San Francisco Opera.
Wm: Your breakthrough conducting debut was a new production of Verdi's "Il Trovatore" at the Stuttgart Opera. Was your engagement in Stuttgart during the tenure of Pamela Rosenberg there, or did she become familiar with your work subsequent to the "Trovatore"?
NL: My introduction to Germany came through Eytan Pessen, at the moment the artistic director of the Dresden Semperoper. He came to Messina in Sicily, looking for singers, where I was conducting Boito's "Mefistofele" at the Teatro Vittorio Emmanuele. He was at that time the Artistic Director at the Stuttgart Staatsoper and invited me to make my German debut there in "Il Trovatore".
Pamela Rosenberg heard me perform it and signed me to make my San Francisco Opera debut in 2005 conducting Verdi's "La Forza del Destino".
Wm: In 2005, some of the promotional information about you, as well as the website of baritone Peter Strummer indicated that San Francisco Opera would mount a new production of Puccini's "La Fanciulla del West", an opera you have said is Puccini's greatest creation. "Fanciulla" apparently was first considered to be the opera for your conducting debut with the San Francisco Opera, yet instead both you and Strummer took part in a controversial production of Verdi's "La Forza del Destino". What is the story behind the change of operas?
NL: Any change of the opera from "Fanciulla" to "Forza" happened long before I was personally involved. I do recall that after I arrived in San Francisco, we made a change from the original Saint Petersburg version of "Forza" to the second, and more familiar, version of the opera.
[Below: Nicola Luisotti conducting a rehearsal of the San Francisco Opera Orchestra; edited image, based on a Terrence McCarthy photograph, courtesy of the San Francisco Opera.]
Wm: When David Gockley announced your appointment as music director, he said it was his intention to restore San Francisco Opera's reputation as an great "Italian House"? Now that you are in your fourth season as Music Director of the San Francisco Opera, how do you assess the progress towards Gockley's stated goal?
NL: I think that David is right. Opera was born in Italy. When you say opera, except for Wagner, it is based on this Italian art form, just as musical theater is basically an American art form, whether it's done in the United States or Italy or elsewhere.
David's idea is to make certain that the Italian core of opera is done well. We, of course, will do Richard Strauss and Massenet and the rest, but this house will be centered, as it was during the era of its founder Gaetano Merola, in Italian opera.
Today, I'm very impressed with the quality of performances of all kinds of opera. Also, I strongly believe that the United States is building an American school of opera that will be very important.
Wm: What are your thoughts about this emerging American style of opera?
NL: I think that over the next 30 years that the American houses will show to the world that the American operas will become core parts of the operatic performance repertory, and will be as viable as the French, Russian and Italian repertories. There will always be a Wagnerian repertory, but there will be new schools added to the standard operatic repertory.
Wm: Which of these American operas impress you especially?
NL: Those of John Adams, for example.
I'm very impressed by Jake Heggie's "Moby Dick", which is not about a whale all, but is the musical presentation of philosophical issues, such as the fight between and man and the attempt to master nature. The opera's libretto was wonderful, and the opera had many beautiful moments. You can now say that American opera has arrived. I especially liked Stephen Costello's performance as the Greenhorn.
Wm: You are now music director of two great opera companies, San Francisco Opera and San Carlo in Naples. The Neapolitan company was the place in which several important operas of Rossini and Donizetti had their premieres, and Italian opera has been popular in San Francisco since the Gold Rush days of the 1850s. You have already been involved in projects that have linked San Francisco with the opera companies of Milan and Palermo. Will you be encouraging joint projects between your home companies of Naples and San Francisco?
NL: I certainly will, and have already have begun some discussions on specific ideas. Keep your fingers crossed!
[Below: From left to right, Nicola Luisotti, wife Rita Luisotti and San Francisco Opera General Director David Gockley; edited image, based on a Cory Weaver photograph, courtesy of the San Francisco Opera.]
Wm: The music director of the Los Angeles Opera, James Conlon, has said that there are certain operas that are so treasured as conducting assignments – such as Mozart's three Da Ponte operas and the works of Wagner and Richard Strauss – that one has to be a major opera company's music director to be sure of ever getting to conduct them. Since you have been Music Director you have conducted or scheduled all three Da Ponte Operas, as well as Richard Strauss' "Salome" and Wagner's "Lohengrin". Were these special choices for you and are there other treasures that you would like to conduct – in San Francisco and/or Naples?
NL: I think that Maestro Conlon is right. Every operatic conductor should know the major symphonic works, and should do most of the possible operatic repertory, including contemporary works.
I don't think it's important that you perform everything at the same level. Each of us does some things very well. What is important is that we approach every opera and every composer with the same passion, that we are conscious that we are responsible to those who come to the performance who trust us to present the composer's ideas properly.
Wm: How would you describe the conductor's responsibility to the composer?
NL: For me, each composer has created a garden that lives on beyond his life. The composer has arranged the garden's flowers, and it is the responsibility of the conductor to be the gardener. The conductor can guide people through the garden, shining lights to highlight the beauty of each flower, maybe giving more light to the red flowers or to the white, or perhaps arranging the garden furniture. But it is the composer's garden, not the conductor's.
The conductor's life is very complicated. People think that we conductors can do anything, but we cannot. You could think of each of us as a medium who is in contact with a composer who lived in another time. Each score is like a time machine, created in a different kind of world.
Take Mozart's operas. The music creates a passage between the time that he lived and when we live.
[Below: Conductor Nicola Luisotti greets students after the concert at "San Francisco Opera in the Park"; edited image, based on a Cory Weaver photograph, courtesy of the San Francisco Opera.]
Wm: You currently are engaged in rehearsals of Wagner's "Lohengrin". How does the historic time period in which it was created affect your approach to conducting the opera?
NL: The music of "Lohengrin" is from the middle of the 19th century, but the conductor suddenly becomes the same person who first played the music in Weimar. I am like Franz Liszt, conducting the music while Wagner listens to it in Vienna from the wings, hearing the score 13 years after he composed it.
Wagner was a great conductor in Dresden for a period of seven years. Then, with the hand of God, he composed this wonderful music. We must separate Wagner, the creator of this music, from the stupid things he wrote. Wagner's music was kissed by the lips of God. We cannot associate him with Hitler, who was a monster.
Wm: In the late 20th century, there was an exploration of the operas of Rossini, Bellini, Donizetti and of Verdi's early years that had disappeared from the performance repertories of opera companies, many of these vehicles for a half dozen star sopranos. In the 21st century, there have been notable new productions of these previously "lost" operas, like Donizetti's "Anna Bolena", "Lucrezia Borgia" and "Maria Stuarda", Bellini's "Capuleti e I Montecchi" and Verdi's "I Due Foscari"; as well as "Attila" and "I Masnadieri" with which you are personally involved. Do you believe its now safe to regard the works mentioned as repertory works and are there others that you would wish to see revived?
NL: I think there is more music that could be saved. However, I think it is important to revive the operas as written. I have been at houses in which the music was being rewritten to accommodate the wishes of a star soprano and tenor. I do not agree that the composer's notes should be changed to adjust the scores to the voices who wish to perform them.
[Below: Soprano Leah Crocetto, left, conducted by Nicola Luisotti; edited image, based on a Cory Weaver photograph, courtesy of the San Francisco Opera.]
However, that does not mean that the fashions of a period won't affect how the scores are played. If you listen to the recording of Mascagni's "Cavalleria Rusticana" that Mascagni himself conducted, it is so slow that, if you followed his tempi these days, people would think you were crazy.
I think it is a good idea to let some operas be reborn. Verdi's "Attila" is a great opera with such energy and Verdi's "I Masnadieri" is even a step above "Attila".
Wm: You've had some experience conducting "Masnadieri" already. What are your thoughts on reviving that opera?
NL: There's a story that when Verdi decided to create an opera for London, he had wanted to create an opera based on "King Lear", but there was resistance to the idea of that opera having a feminine lead role (the Fool). An opera on Byron's "Il Corsaro" was suggested, but Verdi did not want to do that in London. Verdi and the London opera management finally agreed on "Masnadieri", with Verdi saying he had some of the music for it already written.
In my opinion, a part of "Masnadieri" is music that Verdi originally wrote for "Lear". Consider Francesco's dream in "Masnadieri". Francesco has in fact the most beautiful music in the opera. I believe that Francesco's Dream originally was written as Lear's dream. but was transferred to "Masnadieri" for its London premiere. I think that Francesco is Lear transformed.
Wm: The expansion of the repertory to encompass baroque operas and early 19th century works appears to have been at the expense of Puccini's contemporaries, and such verismo era operas as Montemezzi's "L'Amore dei Tre Re". Do you regard this as the result of fewer artists training as spinto singers, or the changing tastes of audiences and opera impresarios, or can this be considered as just a temporary absence of these operas?
NL: I have answer for that. For the successful rebirth of an opera, you have to have several opera companies as partners. You need principal singers, but you won't find principals if they have to spend a year learning a role that they will sing only seven times or so. But with other opera companies as partners, you can offer a principal singer a role that they can perform over 20 times. This will help the "reborn" opera's chances.
Wm: You have described by both by San Francisco Opera chorus master and by one of the baritones who has performed under your baton as seeking an Italian sound. How do you describe an "Italian sound" in opera and is there a way to sing to achieve that objective?
NL: I don't know how to describe an Italian sound. If I do this (gesturing with his hand) and people say the music sounds Italian, I know I'm doing something, but I don't know what that is. I think I'm just conducting the music as it is supposed to be done.
Every rehearsal is different. It depends on what they artists give me. I know I love my job and I'm so proud to be a musician and to have a sense of music within me. A lot of the time I will wake up with a musical line that I had in my head before I went to sleep.
Wm: When one is a close observer of an opera orchestra, it becomes evident when a conductor has established a special rapport with that orchestra. Over the years, the San Francisco Opera Orchestra seemed to have bonded particularly with the Italian conductors Maurizio Arena and Nello Santi, with Sir Charles Mackerras and yourself. Is there an approach you follow with orchestras that you conduct that causes you to be the recipient of such obvious love from your orchestra?
NL: I always want to be well-prepared when I go in front of an orchestra. For whatever show we are working on, the music is a message, not a job. I have good relationships with each orchestra I work with, including those in Berlin and London and at La Scala in Milan.
I study a lot as how to interpret a piece. I have an personal idea of how to interpret the music. But I don't try to stand before them, believing I'm their teacher. If you are a pedant in front of an orchestra, they get bored in ten minutes. They are paid to play, but you will be lost if they aren't in love with the music.
Love for the music is something you have to share with the orchestra and chorus. If the conductor and orchestra both love the music, there will be a chemistry like love for a woman. The dress rehearsals and performances will be memorable.
Wm: Over the past half-century, I've seen most of the most famous opera recording opera stars in live performance, and feel that today's opera singers, productions, and performances are better than they have ever been. Do you agree that the current era is a great time to attend live opera performance?
[Below: From left to right, David Gockley, coloratura soprano Albina Shagimuratova, and Nicola Luisotti at San Francisco's Sigmund Stern Grove; edited image, based on a Cory Weaver photograph, courtesy of the San Francisco Opera.]
NL: I think that every period has its own great artists. I'm not a guy who thinks the past is greater than now. Callas, Di Stefano, Bastianini and Corelli made their time great, but we have singers today that are great. You have to learn from the past. We are what we are. I have to say in opera we had a glorious past.
I think we can make wonderful music today like we did in the past. The past is useful, but we live in the present. The future is too complicated to worry about. I am happy to be working in the present time.
Wm: Is there a question that I should have asked you, and, if so, what is its answer?
NL: Yes, you should ask me what profession I would choose, if I could not be a musician. The answer is, that, if I were reborn, I would like to be a good and famous painter – like a Picasso, but not the Picasso who has already lived, but a new Picasso. That has been my secret dream.
As a musician I've done all that I have wanted to do. But as a conductor, my freedom to create ended when the composer finished his work. You are in the gold, diamond or platinum cage that the composer constructed.
A painter, Domenico Montefiori, a friend of mine had a wonderful exhibition in San Francisco. I watch him create, putting color here and there. That is what I would love to do if were not a musician.
Wm: Thank you for your time.
NL: Thank you.