After an engaging first act of Puccini's Tosca" in which Rumanian soprano Angela Gheorghiu sympathetically and even coquettishly portrayed the jealous diva, San Francisco Opera General Director stepped in front of the curtains to announce that Mme Gheorghiu was suffering from intestinal flu and was leaving for the hospital in an ambulance.
[Below: Angela Gheorghiu as Tosca in Act I; edited image, based on a Cory Weaver photograph, courtesy of the San Francisco Opera.]
Melody Moore's Tosca
After a lengthened first intermission to permit soprano Melody Moore to don Tosca's makeup and festive second act costume, the performance commenced. Although this was Moore's role debut, as the cover for Tosca in both casts that are alternating performances, she had rehearsed Jose Maria Condemi's inspired staging.
[Below: Melody Moore as Tosca in Act 2, after she has fatally stabbed the Baron Scarpia (Roberto Frontali, right, lying on stage); edited image, based on a Kristen Loken photograph, courtesy of the San Francisco Opera.]
Moore appears comfortable on the War Memorial Opera stage, on which she created the role of Susan, the hero's wife in the world premiere of a Theofanidis opera [see Hampson's Heroic "Heart of a Soldier" at the War Memorial – San Francisco Opera, September 10, 2011] and in her years as an Adler Fellow, the premiere San Francisco Opera young artist's program.
She had already impressed audiences in London at English National Opera's new production of Gounod's "Faust" [see Toby Spence Stars in Des McAnuff's Rousing ENO Production of Gounod's "Faust" – London, October 14, 2010]. In the latter review, I had said, prophetically, that Melody Moore was a soprano from whom we would hear a lot more in coming years.
Moore was able to step into Gheorghiu's shoes (metaphorically) admirably, winning the hearts of the audience with a nicely sung Vissi d'Arte and acting with such seeming confidence that one could have imagined this to be her hundredth Tosca, rather than her first.
Melodrama at the War Memorial
The events of the evening were surely momentous for the career of Melody Moore. As disruptive as it may have been to the musical performance planned by Conductor Nicola Luisotti or the dramatic one planned by Stage Director Jose Maria Condemi, it was all-in-all a very good performance of "Tosca".
The evening was the San Francisco Opera debut of tenor Massimo Giordano as Tosca's lover, Cavaradossi. Giordano proved to have the vocal beauty and spinto power that the War Memorial Opera House effectively enhances.
[Below: Massimo Giordano as Mario Cavaradossi; edited image, based on a Cory Weaver photograph, courtesy of the San Francisco Opera.]
I've already praised Giordano's Alfredo (See A New Verdian Golden Age? – Poplavskaya, Giordano in Elegant Agostinucci "Traviata": Los Angeles Opera, May 21, 2009), but am equally impressed by his performance of the vocally heavier role of Mario Cavaradossi.
The opera's third principal, Roberto Frontali, met the vocal and histrionic requirements of the villainous Scarpia. He had already teamed with Conductor Luisotti for the centenary celebration of Puccini's "Fanciulla" [see Voigt, Licitra Lead Sizzling San Francisco Centennial Celebration for "Girl of the Golden West" – June 9, 2010] and brought his solid interpretation of another iconic Puccini dramatic baritone role.
[Below: Roberto Frontali as the Baron Scarpia; edited image, based on a Cory Weaver photograph, courtesy of the San Francisco Opera.]
The rest of the cast was admirable. Christian Van Horn was the Angelotti, whose first act encounter with Cavaradossi, starts a chain of events that leads to their deaths and those of Tosca and Scarpia before the next day's dawn. Joel Sorensen was the Spoletta, Ao Li the Sciarrone, Dale Travis the Sacristan, and Ryan Kuster the Jailer.
Notes on the Production
Thierry Bosquet's still serviceable sets are the 1993 production that is based on a original Armando Agnini production that opened the War Memorial Opera House in 1932. What is especially praiseworthy is the stage direction of Jose Maria Condemi, as was his staging of this production's last revival in 2009 [See House of Puccini: Striking San Francisco Opera "Tosca" with Pieczonka, Ataneli and Ventre – June 14, 2009.]
[Below: a Papal mass takes place as Scarpia (Roberto Frontali, front right) kneels ostentatiously; edited image, based on a Cory Weaver photograph, courtesy of the San Francisco Opera.]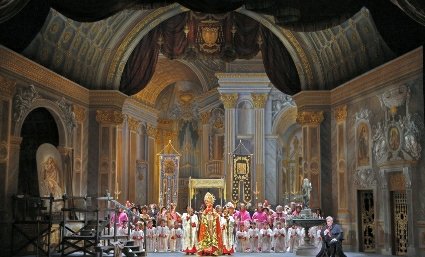 Condemi's staging of standard works is always imaginative, while remaining faithful to the composer's intentions. In the Act I church scene, he fills the spaces with individual characterizations, with nuns, prelates and parishioners, each tending to their own business. Notably, there were substantial changes from his 2009 mounting of the first act.
Two boys pester the Sacristan, but he responds by giving them each coins, while admonishing them to pay their respects when passing the altar. Spoletta literally runs across the church floor to the exit to carry out Scarpia's order, but while doing it he too takes a momentary nod in the altar's direction. The entrance of the Vatican's Swiss Guards lets us know that this is no low-level parish priest that will conduct this Mass.
[Below: Mario Cavaradossi (Massimo Giordano) is resigned to death by firing squad atop the Castel Sant' Angelo; edited image, based on a Cory Weaver photograph, courtesy of the San Francisco Opera.]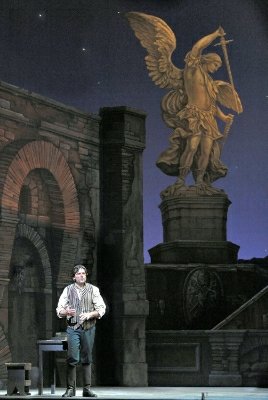 Recommendation
I have called the War Memorial Opera House the "House of Puccini", because of the importance of that composer's works to the history of the San Francisco Opera and because the opera company performs Puccini's works so well. The opera house itself, with its open orchestra pit, is a perfect place acoustically for enjoying the big works of Wagner and of Puccini, the major Italian composer most inspired by Wagner's orchestrations.
I was able to report on one of the two casts that will alternate performances of this work. Despite the misfortune of Gheorghiu's sudden illness in the first performance, I recommend the cast in its subsequent performances. I'm appreciative of the conducting of Nicola Luisotti of any operatic work, and I believe that there are but a few conductors who could match him in such a core Italian masterpiece as "Tosca".
An upcoming tour of European opera houses precluded me from attending the alternate cast, although I have reported on performances elsewhere of the second cast's Tosca (Patricia Racette) [see A New "Tosca" for Houston Grand Opera – January 30, 2010] and its Cavaradossi (Brian Jagde) [see Echalaz, Jagde, Aceto Open Santa Fe Opera Season in Wonderfully Sung "Tosca" – June 29, 2012.] Although I have never seen Mark Delavan, the Scarpia, perform that role, it has been my experience that if an artist is superb as Wagner's Wotan, as is Delavan, he will prove to be an effective Scarpia as well.
Thus, my recommendation is to see "Tosca" this season in the very hospitable surroundings of the War Memorial.