The following interview was conducted under the auspices of the San Diego Opera, whose facilitation is gratefully acknowledged:
Wm: What are your earliest memories of opera. How did you become interested in pursuing an operatic career?
CC: For me, besides hearing themes from Rossini's "Barber of Seville" in Bugs Bunny cartoons, I did not know opera. I was born in Queens, but I grew up in Rancho Cucamonga, California, just East of Los Angeles.
[Below: Tenor Charles Castronovo as Alfredo Germont in Verdi's "La Traviata"; edited image, based on a Cory Weaver photograph, courtesy of the San Francisco Opera.]
My father was from Sicily, but not from a musician's family. My father immigrated to the United States at age 16, and he used a bit of Italian at home, but my family was very much into integrating. Even so, I picked up a little Italian.
I first heard opera when I was in choir in school. My teacher said I should listen to a CD of classical music. I heard Placido Domingo singing the entrance of Otello in Verdi's opera. This virile sound from opera hooked me.
When I was in high school in choir, I found singing to be very natural for me, although I really wanted to be a rockstar. I was in a three man rock band. We had good harmony, but my voice was too clean for rock and roll.
I starred in the school musicals. The reaction I got as a 16 year old boy singing lead parts – the girls screaming – became addictive. I loved the reaction and I loved the music.
Wm: What were the steps that you followed in pursuing your vocal training? Who were your teachers? When was it decided that you were a lyric tenor?
CC: When I went to college at Cal State Fullerton, I studied music. At Cal State, I was Curly in Rodgers and Hammerstein's "Oklahoma" and also was in Lerner and Loewe's "Brigadoon" and Bernstein's "West Side Story".
I started studying with Tenor Mark Goodrich. My audition aria was the "Flower Song", Don Jose's aria La fleur que tu m'avais jetée from Bizet's "Carmen". That aria is basically a lyric piece, even though the role of Don Jose is of heavier weight. In those days, I did not know much about fach.
I studied the role of Nemorino in Donizetti's "L'Elisir d'Amore" with Goodrich. I even learned art songs. That was the first step. I was basically a constant listener to all these arias from operas. I was always walking with headphones and vocal scores. I learned all my roles that way.
Wm: Your repertory is concentrated in the roles written by Mozart, Italian roles of the first half of the 19th century, and the lyric tenor roles of mid- and late 19th century France. There is currently an impressive crop of tenors able to sing the lyric roles of Bellini, Donizetti, Gounod and Massenet? Which of these roles most appeal to you?
CC: To be honest with you, the French repertory suits me the best and I feel the happiest when I'm singing it. I feel that roles like Romeo and Faust in Gounod's two operas best fit my voice at the present time. I haven't done Werther in Massenet's opera, but this would be a dream role for me.
I've sung a lot of French opera in France, but most of the French repertory should be done more often in the United States.
Wm: In France, you sing Mylio in Lalo's "Le Roi d'Ys" and you starred in the first production of Nicolas Joel's tenure as general director of the Opera National de Paris as Vincent in Gounod's "Mirielle". Are these operas that you believe American audiences would enjoy?
CC: Gounod's "Mirielle" was a big deal in Paris, and I believe it would be a fantastic choice for American audiences.The opera is really romantic with traditional music.
[Below: Charles Castronovo (left) is Vincent and Inva Mula (right) is Mirielle in Gounod's "Mirielle"; edited image of a photograph for the Opera National de Paris.]
"Le Roi d'Ys" has a fantastic element to it. Unfortunately, I think that opera company general directors – who might consider Massenet's "Manon" or "Werther" a hard sell – would not want to risk it.
Wm: And, of course, Delibes' "Lakme", which so exemplifies French operatic exoticism, is another opera that audiences discover they like, once they have a chance to see it. The success of Bizet's "Pearlfishers" over the past decade, suggests that the exotic French operas could be more popular in the U. S. if they were offered.
CC: Every time that I perform Nadir in "The Pearlfishers", people go crazy for it. It would be great to do more of the exotic French repertory. Companies are nervous to put on "Lakme" and other French operas not well known to their audiences. With times being hard, it's much easier and safer to do another "Traviata".
[Below: Charles Castronovo as Nadir in Bizet's "Pearlfishers" at the Kennedy Center; edited image of a photograph for the Washington National Opera.]
Wm: Speaking of Nadir, over the past 15 years there has been a emphasis on the male physique in operatic performance, and you seem to be one of the tenors whom costume designers like to design for. In an era where opera websites exist to glorify the male physique, does this put pressure on you to schedule time in the gym?
CC: For sure, it's a reality. I don't have a problem with the emphasis on physique. I understand where it comes from.
My physique is not perfect. It takes scheduling time in the gym. I'm working with an ex-Marine, which is not the most fun thing to do, but it keeps me disciplined, and I sing better when I'm working out and am in shape.
Wm: You recently replaced Vittorio Grigolo as Romeo in Director Ian Judge's production of Gounod's "Romeo et Juliette" for one performance at the Los Angeles Opera. Judge had created a notorious, but brilliant, production of Wagner's "Tannhauser" for the Los Angeles Opera in which there was a lot of nudity and what the movies call "sexual content". And, of course, the same could be said of his "Romeo et Juliette" as well. Would you want to work with a director like Judge who emphasizes the sex in opera?
[Below: Juliet (Nino Machaidze, above) bids farewell to her husband, Romeo (Charles Castronovo, below) after spending her wedding night with him; edited image, based on a photograph from the Los Angeles Opera.]
CC: I don't think I would agree to appear fully nude. But I don't mind appearing in something sexy when the production calls for it in the right way.
I think that its understandable that there's a push for opera singers to look good, but there's a fine line between appreciating an attractive physique if it helps with the believability of the role, and placing a higher value on looks than the actual singing.
Wm: You met your wife, soprano Ekaterina Siurina, in a series of performances of Donizetti's "L'Elisir d'Amore". Has that become a special opera for you as a couple? What operas have you sung together, and which ones do you expect to sing together in the future?
CC: Whenever we tell the story we say that we drank the elixir of love and it worked. Believe it or not, we've only sung in "L'Elisir" together one time since then. We've both done the production of "L'Elisir" in Paris and Vienna at different times.
[Below: Amina (Ekaterina Siurina, left) together with her lover, Elvino (Charles Castronovo, right); resized image, based on a John Grigaitis photograph for the Michigan Opera Theater.]
We have quite a few things coming up. In most future years we have one opera together. In Madrid we will be singing together in Monteverdi's "Coronation of Poppea", she singing Drusilla. I was so interested in singing Nerone in Madrid, where they prefer to use lyric tenors in that part, because I had not done baroque opera.
Drusilla is a good role, even though Poppea is the lead. But I have a feeling that she'll love it. In the end it will pay off and we will appear in a DVD that will be made of the production. Then we have Stravinsky's "Rake's Progess" in Paris, the first role she's ever sung in English. I never have had more fun dramatically than performing the Tom Rakewell role. I love all these Faustian characters.
After that, we will do Don Ottavio and Zerlina in Mozart's "Don Giovanni". [For a review of the two together in performance: Castronovo, Siurina Lead Magical San Diego Opera "Pearl Fishers" – May 9, 2008.]
Wm: You starred as Mario the Postman in Los Angeles Opera's "Il Postino". What was it like working with Placido Domingo in Catan's opera?
CC: Well, obviously since that first time I heard his voice, Domingo been one of my gods. We first worked together at the Los Angeles Opera, after I left school. I had a small role in Giordano's "Fedora". He was singing the lead male role.
I've been around him since I first started performing. He took under his wing and has always been supportive of me. He watched me as I went through the Metropolitan Opera's Lindemann Young Artists' Program. I seemed to have gained his respect for my work over time.
He invited me to sing at concerts, and then at the Washington National Opera and the Los Angeles Opera.
[Below: Pablo Neruda (Placido Domingo, left) is continually fascinated by his conversations with his postman, Mario (Charles Castronovo, right); edited image of a copyrighted Robert Millard photograph, courtesy of the Los Angeles Opera. For the review, see: Audience Ovation for Domingo, Castronovo in Catan's "Postino" – Los Angeles Opera, September 29, 2010.]
When I signed on to do "Postino", I never thought that our characters would sing two duets with each other. In the opera, these two characters grow in their friendship. It's special for me, that the lines I sing in the opera about Domingo's character Pablo Neruda should be so close to what I feel personally about Placido himself.
Wm: The role of Ernesto in Donizetti's "Don Pasquale", your assignment this season at San Diego Opera, is notorious for the amount of time a tenor has to sing in the upper one-third of his range. Are there any special preparations that you make when you are scheduled to sing roles with such a high tessitura?
CC: This San Diego Opera production is very funny. I've never had so many laughs. I sang Ernesto in 2001 in Boston. It was one of my first roles in the Met program.
[Below: Ernesto (Charles Castronovo, soaking in tub), now homeless, visits a local establishment; edited image, based on a Ken Howard photograph, courtesy of the San Diego Opera. See the review at De Niese, Castronovo, Del Carlo Delight in a Delirously Daffy "Don Pasquale" – San Diego Opera, March 10, 2012.]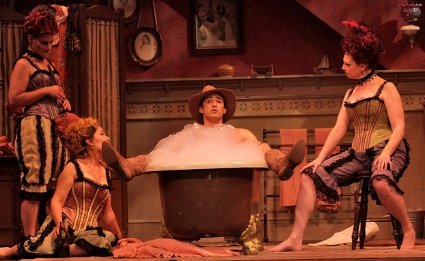 I think now I would say over the past two years, my voice has changed quite a bit, and is now much fuller and darker. For me, the role of Ernesto is not as comfortable for me as it was in 2001.
It took me about a week to get the role of Ernesto back into my voice. I slowly kept trying to adjust to it. I'm not one of the tenors who thinks about upcoming roles too much. I do everything that I normally do. I eat some pasta. Vocally, I enjoy singing Ernesto a little less than before. You have to stay on top of the role.
Wm: Are there characters in opera that you play with whom you feel a special rapport? Are there any roles in which you feel you don't "get" the character?
CC: Since we are talking about Ernesto in "Don Pasquale", that character basically does everything I would not do. He accepts his fate, but that's not me. It's just the opposite of me.
I can understand Gounod's characters Romeo and Faust. I'm a little bit more positive but with a capacity to brood. But I feel that the Gounod roles are more natural to me – especially Romeo. I feel I have the most in common with that character.
Wm: Are there roles that you will no longer do?
CC: I will not sing Belmonte in Mozart's "Abduction from the Seraglio" any more. It's way too much work, for not having too much bang for your buck. The first aria is beautiful, but the cabaletta that follows it is horrible.
Wm: But you will still maintain other Mozart roles in your repertory. Do you approach Mozart in a different way than other opera composers?
CC: I still will sing Ferrando in "Cosi fan Tutte" and most of the other Mozart tenor roles, in which the singing has to be very controlled. In Mozart, you cannot be too greedy with letting that warm sound out. Because I have to exercise so much breath control, I find it less satisfying. But it's a great way to discipline myself. I'm able to do it pretty well. If I can keep my voice in a basically high place, it makes me feel that I am doing something right.
Wm: Where do you see your career going now?
CC: For me, the biggest thing is what's been happening to my voice. I was talking with baritone Dmitri Hvorostovsky, about how our bodies change and our voices change. Sometimes once a year, Hvorostovsky takes time out to work with his coach and teacher to decide what is working and what isn't.
Its hard for me to find the time to do this. Yet, I feel that I wasn't singing at my potential. I was able to sing just with the top part of my body, from the mask up in such lyric roles as in Mozart and lighter bel canto operas. I sang the "happy way" and I sang well, but I feel that I want to work on the bottom part of my sound. I felt my voice wanted to do something more.
I enlisted Allan Green my manager, and I started working with Arthur Levy in New York. In my lessons with Levy, I got reconfirmation of what I was discovering myself. I need to sing a little bit more in a deeper way, not in an unnatural way, but one that realizes the full sound I am able to sing. In America they always teach placement, It's helpful, safe, but it doesn't realize the full voice.
The full spectrum of sound is in a yawn position, of having the whole sound come out. I ask other ears to listen to me, and tell me whether they are sure that my sound is not too dark. But my voice feels full, and there's no no tension. So what will happen, is that I want to put this voice into roles for which I am now ready. Roles like Tamino in Mozart's "Magic Flute", Ferrando in "Cosi" or Ernesto in "Don Pasquale" are too controlled for what I feel I need to do.
In a way I believe that the surprise performance of Romeo in Los Angeles happened on purpose.I feel I should be singing Romeo, and should be experimenting with my voice to let it grow, and to remind myself to let myself go.
Wm: I recall when you sang Alfredo to Anna Netrebko's Violetta in Verdi's "La Traviata" at the San Francisco Opera three years ago. She's now singing with this full spinto power voice and you were still approaching Alfredo as a more controlled lyric role.
CC: Well, you'll never have a more lyric Alfredo. Anna, by then, had such a big voice and hers was the right sound at that time for that large opera house. [See the review at Runnicles' Conducting, Netrebko's Glamorous Violetta Inspire San Francisco Opera "Traviata" – June 28, 2009.] Voices develop at different rates, and schedules are made years ahead. You don't know what voices will sound right together years in advance.
But I've been singing Alfredo for a while and am ready for singing it and the Duca in Verdi's "Rigoletto" with a darker, deeper sound. However, I really really think my real future is going to be centered in the French operas.
Wm: Thank you, Charles.
CC: And thank you.
For other performance reviews, see: Kwiecien Excels in McVicar's Dark Side "Don Giovanni" – S. F. June 2, 2007, and also,
A new look for Bizet's "Pearl Fishers": Zandra Rhodes in San Diego & S. F.