I am reporting on the second performance of the Santa Fe Opera's first mounting of Dvorak's "Rusalka" in its history. It is a new production from British-Polish director Sir David Pountney.
Although Santa Fe Opera's production is new, it incorporates the main elements of Pountney's 1983 "Rusalka", created when Pountney was English National Opera's newly installed Director of Productions. "Rusalka" dates from the last half-decade of Queen Victoria's reign, soon after Sigmund Freud's Interpretation of Dreams was first published. Pountney devised a telling of "Rusalka's" story in which the opera's fairy-tale and surreal elements shift into a Victorian girl's dreamworld. Rusalka's three sisters are wood-sprites and her wheelchair-bound grandfather becomes the Rusalka's father, the water-goblin Vodnik.
All of these "Rusalka" revisions, in Santa Fe, take place in a mysterious institutional setting, which Rusalka, her sisters, Vodnik, the Prince and Jezibaba all inhabit (or at least travel through), and where functionaries in laboratory coats move walls and display cabinets as the story unfolds.
Ailyn Pérez' Rusalka
Illinois soprano Ailyn Pérez showed total command of the demanding role of Rusalka, one requiring a soprano's vocal maturity. Early in the first act, Rusalka sings the most famous passage of the opera, the iconic "Song of the Moon". Pérez sang with elegant expressiveness, in a staging in which her posture was changing throughout the aria.
Below: Ailyn Pérez as Rusalka; edited image, based on a Curtis Brown photograph, courtesy of the Santa Fe Opera.]
In the opera, and, especially in this production, Pérez' character is rarely offstage, testing Pérez' stamina as both singer and actor. Over the course of the evening, Pérez sings four additional arias beyond "Song of the Moon" (all sung beautifully).
This is Pérez' third role performed at Santa Fe Opera. Each role in an opera that had never been performed in Santa Fe Opera's history. She has the distinction of being the first artist to sing the role of Marguerite [Review: Santa Fe Opera Gets Gounod At Last – Hymel, Pérez Soar in Spectacular New Production of "Faust" – July 1, 2011]. She was also the first Juliette [Review: A Surprise at Santa Fe Opera – Joshua Guerrero joins Pérez, Aceto in Gounod's "Roméo et Juliette", July 29, 2016].
Raehann Bryce-Davis' Jezibaba
Texas mezzo-soprano Raehann Bryce-Davis proved a formidable presence as the witch Jezibaba. Bryce-Davis displayed secure vocal control throughout the mezzo-soprano range, including its lower depths. Through vocal power and physicality, Bryce-Davis created a vivid portrait of a sorceress of immense power – as fine a portrayal of evil witchcraft as one encounters in opera performance.
[Below: Raehann Bryce-Davis as Jezibaba; edited image, based on a Curtis Young photograph, courtesy of the Santa Fe Opera.]
In this production, Jezibaba has much to do, beginning as a functionary in an institution in which Pountney's version of "Rusalka's" characters reside. Once Rusalka has determined that she wishes to become human to pursue a romance with The Prince, she seeks out Jezibaba's aid. Bryce-Davis' Jezibaba explains to Pérez' Rusalka the spell's treacherous rules that affect both Rusalka and The Prince. Pérez' Rusalka agrees to these rules (unbeknownst to The Prince). The spell is created to some of the most brilliant of Dvorak's accompanying orchestration.
When The Prince's callous indifference to the mute Rusalka causes her to regret becoming human, Jezibaba reappears in the final act, in yet another showcase for Bryce-Davis' abundant vocal and dramatic talents.
I had previously praised Bryce-Davis' performances at the Los Angeles Opera [Streamed Performance Review: Azucena-Centered "Trovatore" Stars Pulliam, Bryce-Davis, Yu and Stoyanov – Los Angeles Opera, October 3, 2021 and World Premiere Review: Matthew Aucoin's "Eurydice" at the Los Angeles Opera, February 1, 2020]. Her Jezibaba is a worthy addition to her performance repertory.
Robert Watson's The Prince
Kansas tenor Robert Watson's large spinto voice proved right-sized for the role of The Prince. Watson's character is unlucky enough to be spellbound for the last two-thirds of the opera. Unlike Wagner's spellbound knights like Lohengrin (who can warn Elsa not to ask him his name), The Prince has no knowledge of the rules that the witch Jezibaba imposes on him as part of Rusalka's spell.
In the opera's second act, Watson's Prince has proposed marriage to the now human, but mysteriously mute Rusalka. In a monologue, impressively performed by Watson, The Prince confirms his wavering interest in fidelity to Rusalka during the many weeks in which she could not speak. The Prince's attraction to another woman dooms him to death.
[Below: Robert Watson as The Prince; edited image, based on a Curtis Brown photograph, courtesy of the Santa Fe Opera.]
Watson was at his most affecting in his beautifully sung final aria in which the Prince expresses his willingness to die, rather than live without Rusalka. Pérez' Rusalka, with her kiss, fulfills his wish.
[Below: Rusalka (Ailyn Pérez, above) assures the death of The Prince (Robert Watson, below) with a final kiss; edited image, based on a Curtis Brown photograph, courtesy of the Santa Fe Opera.]
James Creswell's Vodnik
District of Columbia bass James Creswell was cast as Rusalka's father, Vodnik. Dissonately costumed in green bedclothes and confined to an ancient wheelchair, Creswell's Vodnik does not project the image of a water-goblin, but Creswell's sonorous bass, soaring above Dvorak's richly-textured orchestral accompaniment, was vocally persuasive that this was truly the water-goblin of our expectations.
[Below: James Creswell as Vodnik, the water-goblin; edited image, based on a Curtis Brown photograph, courtesy of the Santa Fe Opera.]
s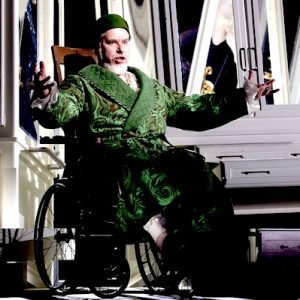 I have reported on Creswell's performances in a wide range of operas. My earliest impressions of Creswell were from 12 years ago when he sang the role of Prince Gremin at Los Angeles Opera [Review: Ovations for Oksana Dyka, Dalibor Jenis, James Conlon – "Eugene Onegin", Los Angeles Opera, September 17, 2011], a role he repeated here a decade later [Review: Santa Fe Opera's "Eugene Onegin", Musically Appealing, Visually Striking – July 24, 2021]. My favorite Creswell roles include his Daland [A Second Look Review: Lehnhoff's Production of "Flying Dutchman" at Los Angeles Opera – March 24, 2013.]
Mary Elizabeth Williams' The Foreign Princess
Pennsylvania soprano Mary Elizabeth Williams provided another thrilling female performance as The Foreign Princess. Possessing a dramatic soprano voice of power, Williams portrayed an imperiously aggressive rival to the mute Rusalka. Williams brought star power to this important comprimario role.
[Below: Mary Elizabeth Williams as The Foreign Princess astride the statue of a horse; edited image, based on a Curtis Brown photograph, courtesy of the Santa Fe Opera.]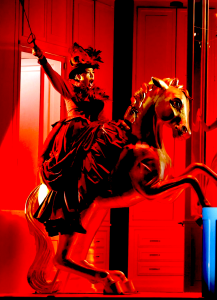 I have long admired Williams'.appearances at the Seattle Opera in works of George Gershwin [Review: Seattle Opera's Worthy "Porgy and Bess", July 30, 2011], of Verdi [Review: Mary Elizabeth Williams' Beautifully Sung Abigaille, Deep Casting Enrich New "Nabucco" – Seattle Opera, August 8, 2015 ] and of Donizetti [Review: Seattle Opera's "Mary Stuart" – Joyce El-Khoury's, Mary Elizabeth Williams' Regal Confrontation – February 27, 2016].
Ilanah Lobel-Torres', Lydia Grindetto's and Meridian Prall's Wood Sprites
Three 2023 Santa Fe Opera Apprentices, New York soprano Ilanah Lobel-Torres (First Wood Sprite), New Mexico soprano Lydia Grindetto (Second Wood Sprite) and Michigan mezzo-soprano Meridian Prall (Third Wood Sprite) performed the roles of Rusalka's wood-sprite sisters.
Each of them displayed an attractive voice, that blended beautifully when the three sang together. Their stage movements were nicely choreographed in scenes that recurred throughout the opera.
[Below: the wood sprites (left to right, Ilanah Lobel-Torres, Meridian Prall aand Lydia Grindetto) step out of their display cases; edited image, based on a Curtis Brown photograph, courtesy of the Santa Fe Opera.]
Jordan Loyd's Gamekeeper, Kaylee Nichols' Kitchen Girl and Spencer Reichman's Hunter
Three more 2023 Santa Fe Opera Apprentices completed the cast. The little comic relief afforded in the telling of "Rusalka's" dark story is provided by the gossipy Gamekeeper, humorously performed by Ohio tenor Jordan Loyd and his character's niece, the Kitchen Girl, sung by Ohio mezzo-soprano Kaylee Nichols
[Below: the Gamekeeper (Justin Loyd, left) cavorts with the Gamekeeper's niece, the Kitchen Girl (Kaylee Nichols (right); edited image, based on a Curtis Brown photograph, courtesy of the Santa Fe Opera.]
Texas baritone Spencer Reichman sang the small role of a Hunter who accompanied The Prince.
Maestra Lidiya Yankovskaya and the Santa Fe Opera Orchestra and Chorus
The Santa Fe Orchestra brilliantly performed Dvorak's arrestingly melodic, richly rhythmic orchestration under the masterful baton of Maestra Lidiya Yankovskaya. music director of the innovative Chicago Opera Theater. An advocate for Czech and Russian opera, Yankovskaya's conducting displayed her insights into Dvorak's complex structure of leitmotivs.
[Below: Maestra Lidiya Yankovskaya; edited image of a publicity photo from www.lidiyayankovskaya.com.]
This was my second opportunity to witness a performance by Yankovskaya, who is often associated with discovering the beauties of rarely performed operatic works [Review: Donizetti's "Pia de' Tolomei" at Spoleto Festival-USA, June 3, 2018].
Sir David Pountney's Production and Leslie Travers
"Rusalka" provides the vehicle for Sir David Pountney's Santa Fe Opera debut as director. He received Queen's Honors and a knighthood four years previously. Although his approach to Dvorak's masterpiece is idiosyncratic, it abounds in theatrical interest.
[Below: the Dancers (Santa Fe Opera Apprentices) in a scene from The Prince's Ball; edited image, based on a Curtis Brown photograph, courtsy of the Santa Fe Opera.]
In subsequent years, other directors have restored the idea of a surreal "natural" where rusalki and water-goblins exist, to the opera's advantage. Even so, Pountney's importance in the history of opera production, especially in Great Britain, cannot be overstated. His advocacy for producing Czech works in the last decades of the 20th century helped popularize the works of Janacek as well as "Rusalka".
[Below: Sir David Pountney; edited image from a publicity photograph from Welsh National Opera].
This is the fourth of Pountney's works I have reviewed, that previously included works by Verdi [Review: Hampson Transcends Quirky "Macbeth" – San Francisco Opera, November 18, 2007] and Wagner [Review: Chicago's Imaginative New "Walküre": Goerke, Owens, Jovanovich, Strid Excel – Lyric Opera, November 30, 2017 and Review: Explosive Ovations for Chicago's Spectacular New "Siegfried" – Lyric Opera, November 3, 2018]. His works can arouse controversy, but never lack interest.
British designer Leslie Travers incorporated most of Pountney's ideas for the Santa Fe Opera production, with various changes negotiated in conversations with Pountney.
Recommendation
I recommend the Santa Fe Opera's new production of Dvorak's "Rusalka" for the excellence of its vocal and orchestral performances and the production's inherent theatricality.
'