I am reporting on the second of five scheduled performances in the world premiere run of composer Huang Ruo's and librettist David Henry Hwang's opera "M. Butterfly", based on Hwang's 1988 Tony-award winning play of the same name.
Both play and opera were inspired by the notoriety surroundng the sexual relationship of a man working for the French diplomatic service in Beijing in the mid-1960s with a Chinese male actor who performed women's roles in Chinese opera.
The opera is a complex one, which moves backwards and forwards in time, but is always comprehensible and smooth-flowing. The story has three poles, around which sub-plots are centered – the Gallimard and Song Liling relationship, the Cultural Revolution's operatives and the associated espionage they encourage, and the Parisian justice system. The historical background of play and opera are well-documented.
Mark Stone's Rene Gallimard
After an absence of 15 years, British baritone Mark Stone returns to the Santa Fe Opera to create the role of René Gallimard.
[Below: Mark Stone as Gallimard; edited image, based on a Curtis Brown photograph, courtesy of the Santa Fe Opera.]
Stone's performance as Gallimard, among the longest operatic baritone roles ever performed, proved to a tour de force. From Gallimard's first soliloquy in which he describes his lover as "the perfect woman". Stone displays a firm grasp of his character's demons, including a long-standing self-deception.
Much of Stone's performance is centered in two time periods – his active pursuit of Song Liling in the 1960s and the judicial proceedings and his jailing after his arrest for espionage in the early 1980s.
Whereas Song Liling, the character portrayed by Stone's co-star Kangmin Kim, has many facets for an operatic actor to explore, Stone's character Gallimard remain single-mindedly in pursuit of Liling as his "perfect woman". Stone, however, effectively retains audience empathy for his character over virtually the entire opera, heightening the emotion of the denouement of the Gallimard-Song Liling relationship near the opera's end.
[Below: An agent (Andrew Turner, left) arrests Rene Gallimard (Mark Stone, right) for espionage; edited image, based on a Curtis Brown photograph, courtesy of the Santa Fe Opera.]
Kangmin Justin Kim's Song Liling
Korean-born American countertenor Kangmin Justin Kim, in a remarkable performance throughout the evening, as the male artist Song Liling portraying a female so convincingly that Gallimard could believe Song was his "perfect woman".
Kim's Song Liling first attracts the attention of Gallimard at a function in which he is dressed as Puccini's heroine. Song then convinces Gallimard to see him perform as a singer in a butterfly-themed Chinese opera.
[Below: Kangmin Justin Kim as Song Liling, in costume for the lead role of a butterfly in a Chinese opera; edited image based on a Curtis Brown photograph, courtesy of the Santa Fe Opera.]
Early in the opera Kim demonstrates a rich soprano voice by singing Puccini's "Madama Butterfly" most beloved aria Un bel di, vedremo. These are the passages in which the operatic format is most illuminating and Kim's ethereally beautiful voice persuasively enchants Stone's Gallimard. They also provide opportunities for the characters to discuss how Puccini's B. F. Pinkerton's and Cio Cio-San's relationships can be viewed from various Eastern and Western perspectives.
[Below: Song Lilong (Kangmin Justin Kim, left) insists that modesty requires that Song not appear naked, even during sexual intimacy, to Gallimard (Mark Stone, right); edited image, based on a Curtis Brown photograph, courtesy of the Santa Fe Opera.]
Kim received a mid-performance audience ovation for beautifully presenting Song Liling's revelatory butterfly-themed soliloquy.
The opera focus changes from butterflies to Red Guards. Geopolitical forces intrude upon the relationship. Maoist forces take control of the communities in which Song Liling lives and works. Song's relationship with a French diplomat is exploited by the Revolution. Now Kangmin Kim is costumed as a woman for Gallimard and as a man for the Revolution.
[Below: Song Lilong (Kangmin Justin Kim) as a French prisoner, dressed in men's clothes; edited image, based on a Curtis Brown photograph, courtesy of the Santa Fe Opera.]
Kim's effectiveness as an operatic actor is first recognized in his performance in female dress. It is displayed further in his appearances in male dress in Paris in the scenes relating to the espionage charges that French authorities have leveled against himself and Gallimard.
After Gallimard still refuses to believe that Song Liling is a man, in a coup de théâtre, Song displays himself totally naked to Gallimard (and the audience) then attempts to rekindle the deeply shocked Gallimard's feelings for him.
[Below: Having finally revealed himself naked as a man, Song Liling, right) insists that he and the shocked Gallimard (Mark Stone, left) are still lovers; edited image, based on a Curtis Brown photograph, courtesy of the Santa Fe Opera.]
Hongni Wu's Comrade Chin
Chinese mezzo-soprano Hongni Wu was convincing as a funtionary in the Red Guards, who has become adept at manipulating Song Liling into service to Mao's Revolution. Wu exhibited a vocally secure, expressive mezzo and eye-catching stage presence.
[Below: Hongni Wu as Comrade Chin; edited image, based on a Curtis Brown photograph, courtesy of the Santa Fe Opera.]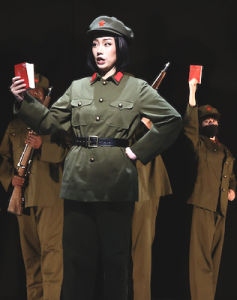 This is the second time Hongni Wu has performed in an opera with a Chinese-themed David Henry Hwang libretto in less than two months [See Review: A Pleasing Revival of "Dream of the Red Chamber" at San Francisco Opera, June 14, 2022]. As a Metropolitan National Council Awards winner and as a member of the Britain's Royal Opera House's Jette Parker Young Artists program, her future in opera seems secure.
Kevin Burdette's Judge and his Manuel Toulon
Two small roles were performed by the multi-talanted Tennessee bass-baritone Kevin Burdette, whose principal 2022 Santa Fe Opera season assignment is as a hilarious Doctor Bartolo in Rossini's "Barber of Seville". The versatile Burdette often takes on the roles of official functionaries – in this opera, the Judge presiding over the espionage charges and, most conspicuously, as the gossipy French consul Manuel Toulon.
Any Burdette role is an effectively drawn character. In this opera, especially, Burdette portrays Toulon's mixture of affable friendship and sneering condescension, depending on Toulon's momentary thoughts about Gallimard's usefulness to him.
[Below: Kevin Burdette as the French diplomat Manuel Toulon; edited image, based on a Curtis Brown photograph, courtesy of the Santa Fe Opera.]
Joshua Dennis' Marc and other cast members
A "dream sequence" introduces Marc, Gallimard's close friend from his all-male school. Marc, played by California tenor Joshua Dennis, prides himself as a "ladies' man". One must assume that the "dream scene" is included in the opera to provide some context to Gallimard's search for the "perfect woman", even though the purpose of the scene in not self-evident.
[Below: Joshua Dennis as Marc; edited image, based on a Curtis Brown photograph, courtesy of the Santa Fe Opera.]
Marc's continuous physical touching of Gallimard and his encouragment that Gallimard learn to become comfortable with females in the dream sequence appears to encourage Gallimard's interest in pursuing the affair with Liling. It suggests also that Marc's intimate relationships were not confined to his dates with women.
Joshua Dennis' pleasing lyric tenor and engaging stage presence added interest to the brief scene. In recent years, Dennis has been associated with new opera, including the creation of the role of Prince Frederic in a new Ruders' opera [World Premiere Review: Poul Ruders' "Thirteenth Child" – Santa Fe Opera, July 27, 2019] and an appearance in a filmed world premiere [Opera World Premiere Review: Vanessa Becerra Stars in Dramatically Persuasive "Copper Queen" Film – Arizona Opera, October 29, 2021].
Washington mezzo-soprano Lucy Evans and Washington tenor Andrew Turner were the Arresting Agents.
Composer Huang Ruo
Chinese-born New York composer Huang Ruo exhibits an eclectic musical style that incorporates a wide range of Western and Asian influences. The dramatic relationship between Puccini's "Madama Butterfly" and composer Ruo's and librettist David Henry Hwang "M. Butterfly" manifests itself in Ruo's music. Some of Puccini's most famous melodies from the opera are heard in whole (Un bel di, vedremo) or in fragments (the love music from the end of the first act and Pinkerton's call for "Butterfly" at the finale). Additionally, other themes from Puccini's opera inspire Ruo's original passages, including inverting the Puccini opera's opening musical phrase to create an echoing theme. Ruo, composing with an often tense and emotional musical style, has proven to be an effective partner to Hwang in transforming his spoken play into a musical format.
This is the second Huang Ruo opera performed at the Santa Fe Opera, both with subject matter that incorporate Mao's Cultural Revolution, which had a profound effect on Ruo's family. "M. Butterfly: was preceded by a new production of a 2011 Ruo opera [see Review: Santa Fe Opera Shows its Mettle in Mounting Huang Ruo's "Doctor Sun Yat-Sen" – July 30, 2014].
In large measure, the crew that created the "Sun Yat-Sen" new production – conductor, stage director, set and costume designers and choreographer – was reassembled for "M. Butterfly".
Maestra Carolyn Kuan and the Santa Fe Opera Orchestra
Conducting the Santa Fe Opera was Connecticut Maestra Carolyn Kuan, who presided over a brilliant performance. [See my previous interview with Maestra Kuan, Rising Stars – An Interview with Conductor Carolyn Kuan, in which she discusses the Eastern and Western influences in Ruo's orchestration].
Chorus Master Susanne Sheston and the Santa Fe Apprentice Chorus
Utah Chorus Master Susanne Sheston was responsible for the chorus, comprised of Santa Fe Opera apprentices. Especially noteworthy were the episodes of chattering Parisians, gossiping about their incredulity of Gallimard's having an ongoing affair with a man he thought was a woman. Sheston's chorus effectively displayed so much malice towards Gallimard as to elicit sympathy for the character.
Choreographer Seán Curran
Seán Curran dances form an integral part of the opera's dramatic flow. As in Ruo's "Sun Yat-Sen" opera, there were Revolutionary episodes in which the Maoist functionaries were portrayed by dancers, and the Curran's choreography for the Maoist dancers was both aggressive and effective.
[Below: the Revolutionaries (dancers) torment Song Lilong (Kangmin Justin Kim, seated, center left with dunce cap; edited image, based on a Curtis Brown photograph, courtesy of the Santa Fe Opera.]
Earlier in the opera, the dancers performed Curran's beautiful choreography of the butterfly-themed Chinese opera exquisitely.
Director James Robinson, Scenic Designer Allen Moyer and Costume Designer James Schuette
Director James Robinson's production, utilizing Allen Moyer's sets, moved effectively between Paris, the Beijing consulate and places in Beijing controlled by the Cultural Revolutionaries. James Schuette designed elegant costumes for Song Liling and authentic looking costumes for the Maoists.
Librettist David Henry Hwang
This is the third opera I have reviewed whose libretto was written by David Henry Hwang, author of the 1988 play of the same name as the opera, including Sheng's "The Dream of the Red Chamber" referenced earlier in the section on Hongwi Nu's Comrade Chin.
[Below: David Henry Hwang (second from right) attends stage rehearsals with composer Ruo and Maestra Kuan; edited image, based on a Curtis Brown photograph, courtesy of the Santa Fe Opera.]
Much of Hwang's work relates to the relationships between Asian and Western influences. Of obvious special significance are the relationships between two Puccini characters, B. F. Pinkerton and Cio-Cio San, the latter referred to as Madame Butterfly. Hwang took a real-life example of the consequences of a minor French diplomat's affair with a male (whom the diplomat thought was a woman) to fashion a play in which Hwang could translate his ideas of East-West relationships into a play.
The play M. Butterfly was made into a 1993 movie, directed by David Cronenberg, who in 1997 directed the movie, The Fly. The latter film was subsequently made into an opera, whose libretto, by Hwang [See Review: Dissecting "The Fly" – the American Premiere of Shore's Opera, Los Angeles Opera, September 7, 2008] addresssed some of the East vs West artistic issues that occur also in his "M. Butterfly" opera libretto.
Recommendation
I recommend the opera, both to the opera veteran and person new to opera, as a successful adaptation into an absorbing operatic format, of the material in David Henry Hwang's 1988 play (and 1993 movie).