Note from William: This post continues my series of observances of historic performances that I attended at San Francisco Opera during the general directorship of Kurt Herbert Adler. This is the first of three such observances of performances from the company's 1967 Spring Opera Theater [SPOT] season.
My first performance ever of Pietro Mascagni's "Cavalleria Rusticana" took place at San Franciscso Opera's Spring Opera Theater [SPOT] in the War Memorial Opera House, the second of two performances of the opera scheduled that season. As dictated by long-standing tradition, it was the first part of an evening's operatic double-bill, to be followed by Leoncavallo's "Pagliacci".
The company's general director, Kurt Herbert Adler, continued his use of SPOT to give opportunities to young artists, especially Americans, that had amassed sufficient credentials of the kind that interested Adler, but who lacked the European reputations or operatic recording contracts that distinguished many of the main San Francisco Opera season cast members.
Francesca Roberto's Santuzza and Nicholas di VIrgilio's Turiddu
Adler, who showed interest in artists who had Broadway experience and other signs of artistic recognition, cast soprano Francesca Roberto as Santuzza. Roberto had been a member of the choral ensemble of Menotti's "The Saint of Bleecker Street", had performed the title role of Barber's "Vanessa" for the Washington National Opera and had appeared on television's Bell Telephone Hour. The previous year she had won the New York Metropolitan Opera's regional additions and subsequently performed the role of Cio-Cio San in Puccini's "Madama Butterfly" for the company.
I was strongly impressed by Roberto's Santuzza. Regrettably, the two Santuzza performances she sang for SPOT were the only times she ever sang for the San Francisco Opera. Although she remained active at the New York City Opera, Seattle Opera and elsewhere, I never saw her perform again.
[Below: Francesca Roberto (left) with baritone Roald Reitan (right) in a Seattle Opera performance; edited image of a Margaret Marshall photograph for the Seattle Opera.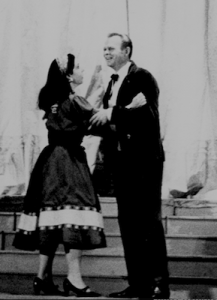 Tenor Nicholas di Virgilio had been one of the brightest stars of the previous SPOT season in the lyric role of Edgardo in Donizetti's "Lucia di Lammermoor" [Historical Performances: San Francisco Spring Opera's "Lucia di Lammermoor" – May 31, 1966 ]. Di Virgilio's success in "Lucia" led to an invitation to perform in SPOT's 1967 season to perform Turiddu and the principal role in Offenbach's "Tales of Hoffmann".
[Below: Tenor Nicholas di Virgilio; edited image, based on a publicity photograph.]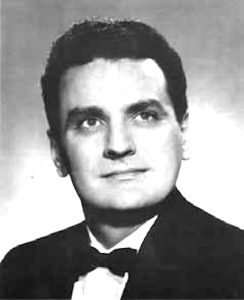 Dominic Cossa's Alfio, Carol Kirkpatrick's Lola and Donna Petersen's Mamma Lucia
Baritone Dominic Cossa performed the role of the dangerous Alfio, with whose wife, Lola, di Virgilio's Turiddu recklessly pursues an affair. At that time a member of the New York City Opera roster, Cossa would subsequently join the New York Metropolitan Opera roster. I had been unable to schedule Cossa's SPOT debut a few days earlier as Zurga in Gounod's "The Pearl Fishers", and this evening was Cossa's final SPOT performance. Three years later he would sing the role of Valentin in Gounod's "Faust" in the San Francisco Opera's main season, his only subsequent venture with the company.
[Below: baritone Dominic Cossa; edited image, based on a publicity photograph.]
Cossa was the only member of the cast to perform in both halves of the evening's operatic double bill. Ironically, his "Cavalleria" character, the jealous husband Alfio, kills the man who inspires his wife's infidelity, while his "Pagliacci" character, Silvio, is killed by a jealous husband reacting to Silvio's affair with his wife.
The 1967 SPOT season provided the opportunity for soprano Carol Kirkpatrick, who so often had shone in small roles in both SPOT [Historical Performances: San Francisco Spring Opera's "Lucia di Lammermoor" – May 31, 1966] and the main season, to take on important roles in both "Cavalleria Rusticana" (Lola) and "Tales of Hoffmann" (Giulietta). Her Lola alone justified the company's confidence that she was ready for larger roles.
[Below: Soprano Carol Kirkpatrick; edited image of a publicity photograph.]
Mezzo-soprano Donna Petersen was unquestionably the reigning "character mezzo" for over four decades, with 97 entries of cast assignments between 1953 and 1995 amassed for San Francisco Opera performances at the War Memorial, on tour and for the Spring Opera Theater.
Mamma Lucia is one of the prize assignments for such a character mezzo, a role that Petersen performed with distinction. Her historic association with the company began with a year in the San Francisco Opera Chorus, and included her membership in the founding class of 1957 of the company's Merola Opera Program for young artists.
Maestro Herbert Grossman and the San Francicso Spring Opera Theater Orchestra
The San Francisco Spring Theater Opera Orchestra was authoritavely conducted by Maestro Herbert Grossman. In the previous SPOT season, I had reported on his conducting the premiere of composer Douglas Moore's most recent opera [Historical Performances: Douglas Moore's "Carry Nation" with Wolff, Faull, Smith and Fredricks – San Francisco Spring Opera, June 13, 1966.]
Director Ghita Hager
"Cavalleria Rusticana" was the first opportunity of San Francisco Opera audiences to assess the stagecraft of Ghita Hager in her first official directorial assignment for the company. Born in Estonia and married to San Francisco Opera's resident stage director Paul Hager, she had performed for the company as a dancer in Wagner's "Tannhauser", then as choreographer for several productions, as assistant stage director, then co-director with her husband.
[Below: Ghita Hager, here among the spinning wheels of the Jean-Pierre Ponnelle production of Wagner's "Flying Dutchman"; edited image, based on a a publicity photograph.]
Her "Cavalleria" drew audience appreciation and critical raves, for such widely discussed innovations as placing Turiddu (whose first aria was designated by Mascagani and his librettists) as an offstage voice) onstage to sing his aria in front of the church.
The performance, for me, proved to be a brilliant introduction to "Cavalleria Rusticana", whose highlights were the Santuzza of Francesca Roberto, surrounded by an impressive cast, Grossman's conducting and the staging by Ghita Hager. But as happens most often with performances of "Cavalleria Rusticana", the evening was not done. Less than a half hour later, I was to experience my first performance ever of Leoncavallo's "Pagliacci".