Wagner's "Tannhäuser" returned to the Los Angeles Opera after a absence of a decade and a half. Many of the elements of British director Ian Judge's original concept for the opera's "Paris version" remained – the most significant change between 2007 and 2021 occuring in the Venusberg ballet that opens that Paris version.
I reviewed Judge's original version when it was new and post it here for reference (see at bottom of review).
Issachah Savage's Tannhäuser
Pennsylvania dramatic tenor Issachah Savage, who had swept the main prize awards in the 2014 Seattle International Wagner Competition, assumed the heldentenor role of Tannhäuser.
A German knight and minnesinger (a troubador who creates songs about love), his attraction to the passionate, sexual side of love has led him to journey to the Venusberg, home of the goddess of love. The Wartburg, the minnesinger community from which Tannhäuser hailed, espoused a chivalric, woman-idealizing view of love. The other minnesingers were shocked by Tannhäuser's long visit to Venus' lair, regarding it as violating their community's taboos.
Vocally, much of what an artist performing Tannhäuser has to sing lies high in the tenor range. Savage proved his mastery of the range required for his major arias – Dir töne Lob! sung to Venus in her lair and his lengthy third act monologue Inbrunst im Herzen, detailing the hardships and disappointments he encountered on his pilgrimage to ask the Pope's forgiveness. Savage proved he has the vocal power and stamina required for the role's musical challenges.
[Below: Tannhäuser (Issachah Savage) agrees to participate in the minnesinger's song contest; edited image, based on a Cory Weaver photograph, courtesy of the Los Angeles Opera.]
I had praised Savage as Radames in Verdi's "Aida" at the Houston Grand Opera [Review: Liudmyla Monastyrska, Issachah Savage Lead Strong "Aida" Cast – Houston Grand Opera, November 1, 2013]. His success as Tannhäuser in Los Angeles is further evidence that an important career is ahead of him.
Sara Jakubiak's Elisabeth
Michigan soprano Sara Jakubiak portrayed Elisabeth, the "pure of heart" woman who loves Tannhäuser, despite the actions that brought him into disrepute. Her self-sacrificial death redeems the man she loves, repeating a familiar theme of Wagnerian opera.
Elisabeth's arias illuminate different aspects of Jakubiak's art. Her joyous second act Dich teure Halle displays Jakubiak's vocal brilliance. Her third act prayer for Tannhauser's redemption Allmächtige Jungfrau, hör mein Flehen! showcases her voice's sweetness and expressiveness.
[Below: Sara Jakubiak as Elisabeth; edited image of a Cory Weaver photograph, courtesy of the Los Angeles Opera.]
Jakubiak's career has had a meteoric rise in Continental Europe where she has taken on a wide variety of dramatic soprano roles. Only three months ago, I reported on Jakubiak's Tatyana in Santa Fe opposite the Onegin of Lucas Meachem, who is this performance's Wolfram. Jakubiak's performances in Santa Fe and Los Angeles have confirmed for me that she is an exciting performer and a vocally impressive artist deserving of her ascending reputation.
Lucas Meachem's Wolfram
North Carolina baritone Lucas Meachem sang the role of Wolfram, who is in love with Elisabeth, but recognizes her heart is devoted to his friend, Tannhäuser. Meachem's Wolfram sings the opera's best known aria, O du mein holder, Abendstern, a love song directed to the evening star, Venus. Meachem sung the iconic aria beautifully, and brought a sense of humanity to the appealing character.
Wagner based that character on the medieval German poet (and minnesinger) Wolfram von Eschenbach, whose best known work is the German romance Parzival (the source of Wagner's last opera, "Parsifal".)
[Below: Baritone Lucas Meachem as Wolfram; edited image, based on a Cory Weaver photograph, courtesy of the Los Angeles Opera.]
The Santa Fe Opera "Onegin" review of a performance in which Meachem and Jakubiak were the two principals [Review: Santa Fe Opera's "Eugene Onegin", Musically Appealing, Visually Striking – July 24, 2021] provides additional information on Meachem, one of the most sought after lyric baritones of our day.
Yulia Matochkina's Venus
The goddess Venus was performed with appropriate voluptuousness by Russian mezzo-soprano Yulia Matochkina,in her Los Angeles Opera debut.
[Below: Yulia Matochkina as Venus; edited image, based on a Cory Weaver photograph, courtesy of the Los Angeles Opera.]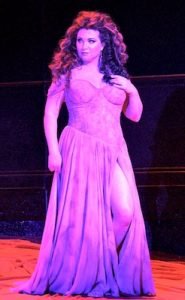 Matochkina is he only member of the principal cast whom I had not seen perform previously, She made a strong impression with the exotically seductive aria Geliebter, komm! I look forward to seeing her secure mezzo voice and dramatic flair used for other major roles in the mezzo category.
Morris Robinson's Landgrave Hermann and other cast members
Georgia bass Morris Robinson brought authority and sonority to the role of the Wartburg's sovereign, the Landgrave Hermann. Robinson, who has become a Los Angeles Opera mainstay in the bass repertory, has performed impressively in both of the first two mainstage offerings of company's 2021-22 season. [See also Streamed Performance Review: Azucena-Centered "Trovatore" Stars Pulliam, Bryce-Davis, Yu and Stoyanov – Los Angeles Opera, October 3, 2021].
[Below: the Landgrave Hermann (Morris Robinson, right] escorts Elisabeth (Sara Jakubiak, left) to the Minnesinger Song Competition; edited image, based on a Cory Weaver photograph, courtesy oseef the Los Angeles Opera.]
Robinson's character Hermann, as a landgrave, has the special relationship that all titled landgraves had to the Roman papacy. That fact explains why Hermann demands that Tannhäuser join pilgrims leaving for Rome to ask forgiveness of the Pope – a logical reaction to the revelation of Tannhäuser's Venusberg visit.
There are four other minnesingers participating in the singing contests besides Tannhäuser and Wolfram. The most argumentative is Biterolf, performed by veteran New York character tenor Phiip Cokorinos, who assaults Tannhäuser for insisting on a different definition of love than accepted by their community.
[Below: Biterolf (Philip Cokorinos, right) assaults Tannhäuser (Issachah Savage, left) because of differences in opinion on the role of sexual passion in love; edited image based on a Cory Weaver photograph, courtesy of the Los Angeles Opera.]
i
The one minnesinger other than Wolfram and Tannhäuser and Wolfram, who actually performs in the song contest is Walther, a role sung by Massachusetts tenor Robert Stahley, whom I praised three months ago for his creation of the role of the Captain in Corigliano's "Lord of Cries" [Review: Anthony Roth Costanzo, Jarrett Ott and Kathryn Henry Lead Strong Cast for Corigliano's New "Lord of Cries" – Santa Fe Opera, July 21, 2021].
[Below: Robert Stahley as Walther; edited image, based on a Cory Weaver photograph, courtesy of Los Angeles Opera.]
THe other mimnesingers were Florida tenor Anthony Ciaramitaro as Heinrich and New York bass Patrick Blackwell as Reinmar.
[Below: Landgrave Hermann (Morris Robinson, front right) stands beside song contest participants (from left to right) Tannhäuser (Issachah Savage) Heinrich (Anthony Ciaramitaro), Wolfram (Lucas Meachem), Biterolf (Philip Cokorinos), Reinmar (Patrick Blackwell) and Walther (Robert Stahley); edited image, based on a Cory Weaver photograph, courtesy of the Los Angeles Opera.]
The role of the Shepherd, who is present when Tannhäuser emerges from the Venusberg, was sung with distinction by Rhode Island soprano Erica Petrocelli.
[Below: Soprano Erica Petrocelli performed the role of the Shepherd; edited image based on a pubicity photograph.]
d
Maestro James Conlon and the Los Angeles Opera Orchestra and Chorus Director Grant Gershon and the Los Angeles Opera Chorus
Maestro James Conlon, who has recently extended his contract as musical director of the Los Angeles Opera until 2025, is one of the finest contemporary conductors of the Wagnerian operatic repertory. His deep understanding of "Tannhäuser's" music, drama and its place in musical history is evident from his excellent pre-performance lecture (presented virtually rather than in person as a concession to Covid-19 health and safety practices).
His conducting and the performance of the Los Angeles Opera Orchestra of the extended Paris version both were masterful.
[Below: Conductor James Conlon leads the Los Angeles Opera Orchestra; resized image from jamesconlon.com.]
THe chorus master, Grant Gershon, presided over another excellent performance of the Los Angeles Opera Chorus, who were both pilgrims and the audience for the minnesinger song contest.
[Below: the pilgirims (Los Angeles Opera Chorus) gather at a Wartburg cross; edited image, based on a Cory Weaver photograph, courtesy of the Los Angeles Opera.]

Original Director Ian Judge and Revival Director Louisa Muller
The vocal performances in 2021 were uniformly of high quality, so opera patrons who are seeing and hearing the performance experienced excellent singing and most of British director Ian Judge's ideas for the original Wartburg scenes.
[Below:  Original production creator Ian Judge; edited image of a publicity photograph.]
My interpretation of Judge's original production – and the choice of the less often performed Paris version that opens with a ballet in the Venusberg – is that Judge was deliberately contrasting an openly sexual Venusberg with a puritanical Wartburg. The ballet contained 18 dancers who were utilized, not just for dancing, but for simulation of a wide variety of both opposite-sex and same- sex acts. In my 2007 review (see below) I suggested that the Venusberg ballet had a similar shock effect on the very sophisticated Los Angeles audiences as that of the Wartburg minnesingers when they learned about Tannhauser's visit to the Venusberg.
The changes from the original 2007 production all made sense when considering how best to stage this opera in an era in which Covid-19 infection remains a major concern. The revival was originally announced for Fall 2020. I don't have "inside information" on what changes might have been planned for the production if the Covid-19 pandemic had not required its postponement for a year.
[Below: Revival director Louisa Muller; edited image of a publicity photograph.]       
What is most different between 2007 and 2021 is the Venusberg dancing.
Choreographer Aszure Barton and the Los Angeles Opera Ballet
The Paris version of the opera is Wagner's compromise with the Paris Opera (of that day) that had a rule that any opera performed had to have a ballet in the second act. Wagner finally agreed to to insert a ballet at the opera's beginning and created an extended version of the overture's Venusberg music for a bacchanalian scene. Judge, in this 2007 original production exploited this extended musical scene to make his point.
For the revival, choreographer Aszure Barton, in her first operatic assignment, brought together an eight person dance troupe, and devised choreography intended to represent the bacchanalian Venusberg.
[Below: Choreographer Aszure Barton; edited image, based on a publicity photograph from @aszurebarton.]
The four men and four women that were her dancers each wore the same androgynous type of costume. (This reminded me of Athol Farmer's choreography of certain dances in the Santa Fe Opera's production July 2021 production of "Eugene Onegin" – referenced above – in which all dancers, male and female, wore elaborate ball gowns.]
[Below: Venus (Yulia Matochkina, center left) is surrounded by denizens of the Venusberg (Los Angeles Opera Ballet)].
Barton and her dancers provided what was asked of them. However, having seen Judge's elaborate 2007 Venusberg scheme, I believe that the much less ambitious dancing of the 2021 revival calls into question the logic of mounting the Paris version with ballet at all. Without Judge's Venusberg, "Tannhäuser" could as well have been presented in Wagner's original version.
For my review of Ian Judge's original 2007 production, see: Review: Powerful, Edgy "Tannhäuser" at Los Angeles Opera – February 28, 2007.