After cancellation of the Santa Fe Opera's 2020 season due to the Covid-19 pandemic, a four-opera 2021 session opened with Mozart's "The Marriage of Figaro (Le Nozze di Figaro)". I attended the third of its ten scheduled performances.
Although the Santa Fe Opera season began on schedule, the impact of Covid-19 on its 2021 season continued. Neither the production's French director Laurent Pelly nor his longtime collaborator, set designer Chantal Thomas, were able to secure the proper visas to travel from their homes in France to New Mexico. Arrangements were made for California director Laurie Feldman to "midwife" the show, communicating with the French production team remotely. Some members of the originally announced cast also found themselves unable to travel and had to be replaced with artists able to get to Santa Fe.
The performance's audience members were required to be appropriately masked on Santa Fe Opera premises. The audience itself was "socially distanced", a rule enforced by having seats between pairs (or small groups) of ticket buyers made physically unusable.
The performance itself, however, was worth the effort – with an enchanting physical production forming the backdrop for a consistently fine cast.
Beaumarchais, the French Revolution and the Laurent Pelly production
In preparation for the current production, Pelly studied the life and works of Pierre-Augustin Caron, who was a watchmaker's son and apprentice. Caron purchased a title of nobility from the revenue-hungry French crown and chose to be called the Comte de Beaumarchais. Caron/Beaumarchais' life inspired the production's (and some of the opera's) main themes. The production's most visible symbols are the gears and wheels of a watchmaker's trade.
Caron's revolutionary politics and propensity for extramarital affairs are embedded in his trilogy of "Figaro" plays. The "marriage" of the opera's title refers to the planned nuptials of Figaro, the former barber of Seville to his fiancé, Susanna. The opera's plot revolves around Figaro's employer's (the Count Almaviva) frustration at having to renounce – to keep peace with his Countess – one of his nobleman's "rights".
In Beaumarchais' satirical work a nobleman – through what Beaumarchais called the droit du seigneur –  could precede the bridegroom in enjoying the sexual favors of the bride. The Invention of this (fictional) "right" in the opera's source material (that also included an inflammatory speech against aristocratic privilege from Figaro) disquieted the raw nerves of pre-Revolutionary French authorities. The drama so unleashed anti-monarchical passions among the general public that the historian Simon Schama devotes several pages of his epic history "Citizens" to explain how Beaumarchais' "Marriage of Figaro" became a contributing factor to the French Revolution.
A work based on themes considered potentially dangerous and even incendiary led to official disapproval of the "Marriage of Figaro" (including by King Louis XVI himself).  Mozart and his librettist Lorenzo da Ponte knew they were treading into potentially dangerous waters when they chose their source material.
Nicholas Brownlee's Figaro 
Alabama bass-baritone Nicholas Brownlee proved to be an adept Mozartian. He creditably sang each of Figaro's familiar first act arias, whose highlight is Mozart's mega-hit Non piu andrai.  Brownlee memorably delivered Figaro's fourth act aria Aprite un po' quegli occhi – Figaro's warning to the men in the audience to beware the scheming of women. (If Figaro was mistaken that he was the object of such scheming, his suspicions were correct that his fiancé and her mistress, the Countess Almaviva, were up to something.)
Figaro [Below: Nicholas Brownlee as Figaro; edited image, based on a Curtis Brown photograph, courtesy of the Santa Fe Opera.]
Brownlee's career continues on an upward path, he having already assumed major comprimario bass roles, such as Nourabad [Review: Los Angeles Opera's Beautifully Sung "Pearl Fishers" – October 15, 2017] and Colline [Review: A Beautifully Sung "La Boheme" with Saimir Pirgu and Marina Costa-Jackson – Los Angeles Opera, September 14, 2019].
Ying Fang's Susanna
This was my first opportunity to observe Chinese soprano Ying Fang performing live. Her role, Susanna, is the longest in the opera and one of the longest soprano roles in the standard operatic repertory. Fang's performance was eye-catching and ear-pleasing.
[Below: Ying Fang as Susanna; edited image, based on a Curtis Brown photograph, courtesy of the Santa Fe Opera.]
Fang's Susanna, central to almost everything that takes place in the opera, projected the strong will and presence of mind at the character's core. In an opera abounding in funny situations that continue to draw laughter 235 years after its premiere, Fang showed the right comic touches. Fang's performance of Susanna's heartfelt last act aria Deh vieni, non tardar was confirmation of her mastery of the role.
Samuel Dale Johnson's and Vanessa Vasquez' Count and Countess Almaviva
The Count Almaviva was performed by Australian baritone Samuel Dale Johnson, another artist whose work I had not encountered previously, but whose Almaviva I immensely enjoyed. Johnson was an imposing presence when he affected the dignity of an ancien régime lord, even though for most of the opera he was a scheming, but unsuccessful womanizer – deeply regretting his forfeiture of a nobleman's "right" to ravage the virginity of any bride who was unlucky enough to be his subject. Johnson performed Almaviva's great third act aria Vedro mentr'io sospiro triumphantly.
[Below: Samuel Dale Johnson as the Count Almaviva; edited image, based on a Curtis Brown photograph, courtesy of the Santa Fe Opera.]
Arizona soprano Vanessa Vasquez was his aggrieved Countess. A soprano assuming this role is entrusted with two of Mozart's greatest arias, the introspective Porgi, amor and the plaintive Dove sono, both of which Vasquez sang with consummate beauty.
[Below: Vanessa Vasquez as the Countess Almaviva; edited image, based on a Curtis Brown photograph, courtesy of the Santa Fe Opera.]
Just as Beaumarchais' watchmaker origins inspired the production's large clockworks, so too the Count's carrying a rifle into his wife's bedroom to deal with a man he suspected was locked in her closet, suggested another fact about Beaumarchais' life – that he was at times a dealer in guns and military weapons.
[The Countess Almaviva (Vanessa Vasquez, left) is upset that the Count (Samuel Dale Johnson, right) has brought a rifle into her bedroom; edited image, based on a Curtis Brown photograph, courtesy of the Santa Fe Opera.]
Megan Marino's Cherubino
The lovesick page Cherubino was sung by South Carolina mezzo-soprano Megan Marino. Her sparkling portrayal of the page's irrepressible spirit was complemented by nicely done performances of Cherubino's famous arias Non so piu, cosa son, cosa faccio and Voi, che sapete.
[Below: Cherubino (Megan Marino) stands on a gear wheel; edited image, based on a Curtis Brown photograph, courtesy of the Santa Fe Opera.]
I have praised elsewhere Megan Marino's attractive voice and brilliant comic timing – attributes that make her a joy to watch. [Review: World Class Performances and Rollicking Fun in The Dallas Oper"Falstaff" – April 28, 2019.]
Patrick Carfizzi's Doctor Bartolo, Susanne Mentzer's Marcellina, and Brenton Ryan's Don Basilio
New York bass-baritone Patrick Carfizzi, was Doctor Bartolo. He gave a stellar performance of Bartolo's great aria La vendetta, then proceeded to conspire with his compatriots Marcellina and Don Basilio, until a surprise twist results in a commitment to the "The Marriage of Doctor Bartolo" by opera's end.
An accomplished artist in the buffo repertory, Carfizzi is a standout performer of such roles in the comedies of opera's bel canto era, including Doctor Dulcamara [see Pittas a Sparkler in Lawless' Deft "L'Elisir d'Amore" – Santa Fe July 4, 2009 and Review: Engaging "Elixir of Love" at Houston Grand Opera, October 29, 2016] and Taddeo [see Review: Santa Fe Opera's Delightful "Italian Girl in Algiers" – July 25, 2018].
Bartolo's fellow conspirator, Marcelllina, is performed by mezzo-soprano Susanne Mentzer. I have a deep appreciation of Mentzer's illustrious career. I first saw her at the San Francisco Opera in 1987 as Rosina in Rossini's "Barber of Seville" (with an incomparable cast that included Leo Nucci's Figaro, Renato Capecchi's Bartolo and Nicolai Ghiaurov's Basilio.)
In recent years, Mentzer has brought her stage experience to important character roles. This was my third time to have heard Mentzer as Marcellina, once in an earlier performance in Santa Fe [Santa Fe Opera Reverentially Revives "Nozze di Figaro" – June 29, 2013] and also later in San Diego [Review: A Captivating "Marriage of Figaro" Opens San Diego Opera's 54th Season – October 20, 2018], although an allergy-indisposition compromised the latter performance. She also appeared in Santa Fe as Grandmother Buryjovka [Review: Wilde, Racette, Lewis in Dramatically Intense, Melodic "Jenufa" – Santa Fe Opera, July 24, 2019],
[Below: Doctor Bartolo (Patrick Carfizzi, left) and Marcellina (Susanne Mentzer, right) make plans to prevent a marriage; edited image, based on a Curtis Brown photograph, courtesy of the Santa Fe Opera.]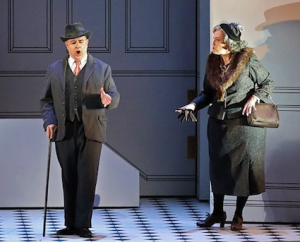 Missouri tenor Brenton Ryan brought the requisite humor to the role of Don Basilio, the accomplice of Bartolo and Marcellina. He also has in his repertory another role from a 20th century opera inspired by Beaumarchais that carries on the "Figaro" story-line: Ryan performs the role of Leon, a love-child of Cherubino and the Countess Almaviva [See Review: Los Angeles Opera Launches Ambitious New Production of "Ghosts of Versailles" – February 7, 2015.]
[Below: Brenton Ryan as Don Basilio); edited image, based on a Curtis Brown photograph, courtesy of the Santa Fe Opera.]
Cheyanne Coss' Barbarina, James Creswell's Antonio and Other Cast Members
Sometimes a comparatively small role is one that young artists vie for. One such role is Cherubino's girlfriend Barbarina who sings the brief, but exquisitely beautiful aria L'ho perduta, me meschina. Michigan soprano Cheyanne Coss performed Barbarina's aria magnificently, despite staging that required some energetic physical activity in the moments before her aria began.
[Below: Cheyanne Coss as Barbarina; edited image, based on a Curtis Brown photograph, courtesy of the Santa Fe Opera.]
In luxury casting, Barbarina's father, Almaviva's gardener Antonio, was played by Washington State bass-baritone James Creswell. Creswell's Antonio adds to the chaos and hilarity of the Act II scene in the Countess' bedroom. Not an early fan of the idea of the page Cherubino marrying his daughter, Antonio is finally persuaded to give his paternal consent.
[Below: the Almaviva's gardener Antonio (James Creswell, center) finally agrees to the marriage of his daughter Barbarina (Cheyanne Coss, left) and the page Cherubino (Megan Marino, right); edited image, based on a Curtis Brown photograph, courtesy of the Santa Fe Opera.]
Michigan tenor Thomas Cilluffo was Don Curzio. New York soprano Alaysha Fox and Maryland mezzo-soprano Ruby Dibble were the bridesmaids.
Maestro Harry Bicket and the Santa Fe Opera Orchestra and Chorus
Santa Fe Opera's music director, Maestro Harry Bicket was an authoritative conductor, leading the Santa Fe Opera Orchestra in a superb performance of one of the greatest musical masterworks.
[Below: Maestro Harry Bicket; edited image of a publicity photograph.]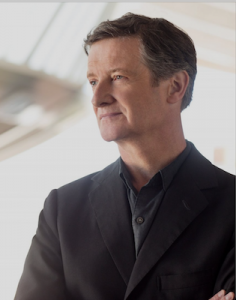 The Santa Fe Opera Apprentice Artists comprised the Chorus. Susanne Sheston was Chorus Master.
Laurent Pelly's Production and Costume Design, Laurie Feldman's Staging and Chantal Thomas's Scenic Design
Pelly is one of my favorite directors, whose productions I have reviewed in Paris [Hayseed Hilarity: The Pelly "L'Elisir" – Opéra National de Paris, September 16, 2007], San Francisco [Matthew Polenzani Triumphs in Pelly's Take on "Tales of Hoffmann" – San Francisco Opera, June 5, 2013] and, most often, in Santa Fe [Dessay's Scintillating Role Debut as Violetta in Pelly's Imaginative Santa Fe "Traviata" – July 3, 2009].
Laurent Pelly's "Marriage of Figaro" for Santa Fe Opera is futher evidence of the fertility of Pelly's imagination.
[Below: French director Laurent Pelly; edited image of a publicity photograph.]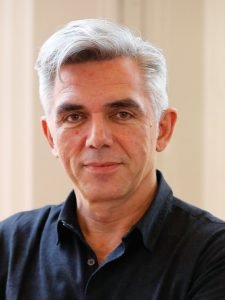 The person most often tasked to realize the fruits of Pelly's imagination is his frequent collaborator, set designer Chantal Thomas. It is she who developed the production's extraordinary set – created to sit atop a turntable which, towards the end of each scene would begin to rotate while mechanisms comprised of interlocking gears would themselves be set in motion.
[Below: Set designer Chantal Thomas; edited image, based on a publicity photograph, courtesy of the Los Angeles Opera.]
Designer Duane Schuler created the lighting.
[Below: Count Almaviva (left) stands next to the gear wheels that turn at the conclusion of each scene; edited image, based on a Curtis Brown photograph, courtesy of the Santa Fe Opera.]
[
I have appreciated director Laurie Feldman's successful revival of classic opera productions, – the "Carmen" of the late French director Jean-Pierre Ponnelle [Halevy Triumphs in Ponnelle "Carmen" – S. F. December 3, 2006] and the "Traviata" or British director John Copley [Luisotti Leads Triumphant "Traviata" Starring Cabell and Pirgu – San Francisco Opera, June 11, 2014],
Feldman's role in mounting this "Marriage of Figaro" production, however, was without precedent. Realizing another director's production, who is eight time zones away and actively participating in the process, adds many levels of complexity. That the effort worked so well has to be one of the operatic success stories of 2021.
[Below: Director Laurie Feldman; edited image of a publciity photograph; courtesy of the Santa Fe Opera.]
Recommendation
I enthusiastically recommend the production, cast and musical performance of "The Marriage of Figaro" to the veteran opera-goer and to persons new to opera.