Santa Fe Opera, in its second week of resuming performances after cancellation of its 2020 season, assayed the world premiere of John Corigliano's and Mark Adamo's opera "Lord of Cries". The opera combines select characters of Euripides' "The Bacchae" and Stoker's "Dracula" and loosely weaves together bits of plot from each work. I attended the second of six scheduled performances in its world premiere run.
Anthony Roth Costanzo's Dionysius
The role of the demi-god Dionysius, son of the god Zeus and the mortal Semele, was created for North Carolina counter-tenor Anthony Roth Costanzo. A leading artist in his vocal category, Costanzo is famous for his interpretation of roles written for high male voices by classical and contemporary composers. Composer John Conigliaro provided the opportunity for Costanzo to premiere a work whose vocal lines have been composed specifically for his voice, including the ability of Costanzo to improvise certain passages.
The result was extraordinary, Costanzo's vocal prowess was evident throughout the evening – its otherworldly sonic quality evoking the mysterious supernatural being that, in this opera, Dionysius is intended to be.
[Below: North Carolina countertenor Anthony Roth Costanzo; edited image, based on a Curtis Brown photograph, courtesy of the Santa Fe Opera.]
I have long admired Costanzo's assumption of the castrato roles of baroque opera [See Superlative: Anthony Roth Costanzo, Nadine Sierra, Ensemble Dancers Superb in Jessica Lang's Visualization of Pergolesi's Stabat Mater – Glimmerglass Festival, July 20, 2013 and Review: An Engaging Cast, Handel's Seductive Music, and Christopher Alden's Surreal Staging Enliven San Francisco Opera's "Partenope" – San Francisco Opera, October 15, 2014 and Review: Houston Grand Opera's Resilient "Julius Caesar" Showcases Anthony Roth Costanzo and Stellar Cast – October 27, 2017].
Costanzo's performances in "Lord of Cries" is yet another triumph in a distinguished career. [See also Rising Stars: An Interview with Anthony Roth Costanzo.]
Jarrett Ott's John Seward
The role of asylum director John Seward is performed by Pennsylvania baritone Jarrett Ott. Seward is an official determined to enforce Victorian behavioral standards. Dionysius and the three Ancient Greek sisters who accompany him are determined to unleash the dark inner passions of Seward (eventually succeeding). 
Ott gives a masterful performance that encompasses intensely dramatic arias and multiple ensembles. Ott's Seward is onstage for the significant part of the two and a half hours of singing divided into two acts.
[Below: John Seward (Jarrett Ott, center) is surrounded by the Greek sisters Agave (Leah Brzyski), Autonome (Rachel Blaustein) and Ino (Megan Moore); edited image, based on a Curtis Brown photograph, courtesy of the Santa Fe Opera.]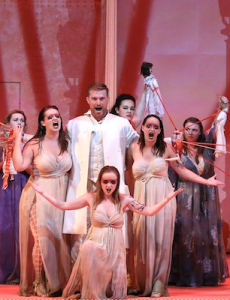 Ott is currently a member of the Stuttgart (Germany) Opera. I have previously reviewed Ott's Santa Fe Opera forays into Mozart [Review: "Cosi Fan Tutte" – World Class Singing, Deconstructed Staging – Santa Fe Opera, July 26, 2019] and Richard Strauss [Review: Santa Fe Opera's Delectable New "Ariadne auf Naxos" – Santa Fe Opera, July 28, 2018] at Santa Fe Opera. Elsewhere, he was the lead role in Rogers' and Hammerstein's "Oklahoma" [Review: Glimmerglass Festival's Rip-Roaring "Oklahoma!" – July 14, 2017]. All were admirable performances, but the dramatic power of the Seward role is beyond anything I've seen Ott perform to date. [See Rising Stars: An Interview with Jarrett Ott.]
Kathryn Henry's Lucy Harkness and David Portillo's Jonathan Harkness
"Lord of Cries" and the Stoker novel share a "Mr and Mrs Harkness" (although there are only tangential relationships between each characters' plot arcs in the opera and the novel). In the opera Mrs Harkness (here named Lucy and performed by Wisconsin soprano Kathryn Henry) is the object of deeply repressed desire of asylum director Seward.
Kathryn Henry possesses the large voice required for Corigliano's highly dramatic vocal line for Lucy Harkness. It is another lengthy role, encompassing both sweetly beautiful melodies and passages seeming to require the power and stamina of a Wagnerian soprano.
[Below: Wisconsin soprano Kathryn Henry as Lucy Harkness; edited image, based on a Curtis Brown photograph, courtesy of the Santa Fe Opera.]
Jonathan Harkness is performed by Texas tenor David Portillo, an artist whose work in Mozart tenor roles I have praised. [See Review: Craig Verm Leads The Dallas Opera's Compelling "Don Giovanni" Cast, April 27, 2018 and Review: Matthew Polenzani Stars in Jean-Pierre Ponnelle "World Treasure" Production of Mozart's "Idomeneo" – Lyric Opera, Chicago, November 2, 2018.]
[Below: Texas tenor David Portillo as the strait-jacketed Jonathan Harker; edited image, based on a Curtis Brown photograph, courtesy of the Santa Fe Opera]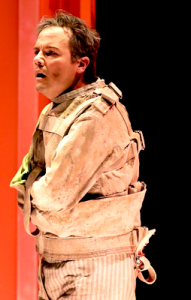 B
The role of Jonathan Harkness is as far from Mozartian lyricism as is imaginable, containing an extended mad scene in which Portillo exhibits the hallucinations and howls of a man whose Transylvanian travel has resulted in his being scared into a mental breakdown. Portillo's performance was yet another highlight of the evening.
Leah Bryzki's Agave, Rachel Blaustein's Autonome and Megan Moore's Ino
The evil forces lurking on the dark streets of Victorian London are represented by three sisters of Ancient Greek mythology – Agave, Autonome and Ino – sung respectively by sopranos Leah Bryzski, Rachel Blaustein and Megan Moore.
[Michigan soprano Leah Bryzski as Agave, Maryland soprano Rachel Blaustein as Autonome ] and Ohio soprano Megan Moore as Ino; edited image, based on a Curtis Brown photograph, courtesy of the Santa Fe Opera.]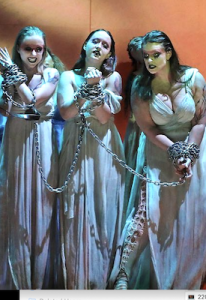 The sisters are intertwined in the affairs of the opera's other principal characters. They are onstage much of the evening, and sing and act impressively.
Matt Boehler's Van Helsing and Kevin Burdette's Correspondent
Minneapolis bass-baritone Matt Boehler, in his Santa Fe Opera debut, performs the role of Doctor Van Helsing. A central character in Stoker's novel, van Helsing takes on a more peripheral, and principally expositional, role in the opera. Boehler possesses a deep bass voice which brings authority to such as roles as Osmin [Review: Kathryn Lewek Leads Strong Cast for "Abduction from the Seraglio" – Lyric Opera of Kansas City, September 27, 2019] and the Mark Adamo Christmas opera [World Premiere Review: A Lavish Dallas Opera Production for Mark Adamo's "Becoming Santa Claus" – December 4, 2015].
[Below: Van Helsing (Matt Boehler, left) and Jon Seward (Jarrett Ott, right) discuss the affairs of London's Carfax Abbey and Asylum; edited image, based on a Curtis Brown photograph, courtesy of the Santa Fe Opera.]
The opera contains one role that is spoken, rather than sung – that of a Correspondent for the Westminster Gazette. The Correspondent reports the news of mysterious events in a fast-paced expositionary style reminding one of comic opera patter. Accordingly, bass-baritone Kevin Burdette, an artist who is both an internationally respected master of operatic patter and a Santa Fe Opera favorite, played the part with distinction.
[Below: Tennessee bass-baritone Kevin Burdette as the Reporter; edited image, based on a Curtis Brown photograph, courtesy of the Santa Fe Opera.]
Robert Stahley's Captain, and Chorusmaster Susanne Sheston and the Santa Fe Opera Apprentices
One other named part remained, that of the Captain, who received a spirited performance from Massachusetts tenor Robert Stahley.
[Below: Massachusetts tenor Robert Stahley (left) as the Captain, with a model of the sailing ship "Semele" at right; edited image, based on a Curtis Brown photograph, courtesy of the Santa Fe Opera.]
The opera utilizes a chorus, comprised of Santa Fe Opera Apprentice Artists under the direction of Susanne Sheston. The bright-sounding Apprentice Chorus, whose members are all capable of holding their own as opera soloists, had many opportunities to display their acting, as well as vocal skills.
John Corigliano's Musical Composition and Mark Adamo's Libretto
I often begin any review of a new opera with the observation that virtually every opera ever written has been a failure, if the criterion for success is the opera's successful integration, long-term, into the performance repertory of opera companies throughout the world. The life partnership (including their marriage in 2008) of composer John Corigliano and composer-librettist Mark Adamo is unique in that each partner has composed an opera – Corigliano's "The Ghosts of Versailles", Adamo's "Little Women" – that continues to be performed and revived in new productions during their lifetimes.
[Below: New York composer librettist Mark Adamo, left, and his husband New York composer John Corigliano, right, pose in Santa Fe, with the Sangue de Christo mountain range appearing in thie distance; edited image, based on a Curtis Brown photograph, courtesy of the Santa Fe Opera.]
Corigliano, who teaches musical composition at Juilliard, has a compositional style that incorporates classical musical forms and melodic structures with contemporary atonalism and non-traditional scoring for orchestral instruments. What results, as is heard in his opera "Ghosts of Versailles" and in the sound track to Ken Russell's 1980 movie Altered States, is a ghostly sound palette appropriate to the "Lord of Cries" supernatural theme.
Both artists speak to their particular styles of composing operatic music and lyrics. Corigliano plans the organization of an opera's musical structure before beginning setting the lyrics to music. Adamo similarly plans the structure of the opera's libretto before beginning the process of writing it. The effort first to plan and then to complete the opera took several years. The result is one in which the creative pair appears to be satisfied and invested.
Maestro Johannes Debus and the Santa Fe Opera Orchestra
Any new work requires special attention from the conductor who is to premiere it and the instrumentalists who will be the first to bring the score's musical notes into sonic reality. For a composer like Corigliano whose instrumental writing can be considered avant-garde, the conductor and instrumentalists may find special challenges.
[Below: Maestro Johannes Debus; edited image of a publicity photograph.]
German Maestro Johannes Debus and the Santa Fe Opera orchestra performed the new work brilliantly.
Director James Darrah's Production Team and Adam Larsen's Projections
California director James Darrah addressed the intracacies of the complex work with a smoothly flowing integration of the separate worlds of mortals and immortals.
This is the second time that I have seen Darrah tackle the interrelationships of gods and humans – the first, remarkably, Handel's "Semele", an opera which concerns Dionysius' birth and the fate of his mother, Semele [Review: Handel's "Semele" Excels with Amanda Forsythe, Daniela Mack and Alek Shrader, Opera Philadelphia, September 19, 2019.]
[Below: California director James Darrah; edited image, based on a publicity photograph.] ]
James Darrah's frequent collaborator, North Carolina projection designer Adam Larsen, created a heightened sense of the supernatural in his projections used throughout the opera. The projections were particularly striking in the second act, when shadows of women would transform into shadows of wolves.
[Below: North Carolina projection designer Adam Larsen; edited image of a publicity photograph, courtesy of the Los Angeles Opera.]
The costumes were created by California designer Chrisi Karvoonides-Dushenko, the sound design by California designer Mark Grey and the lighting by Mexican designer Pablo Santiago.
Thoughts on the Opera and the Production
Perhaps more than any of the new works I have reviewed on this website, "Lord of Cries" can be thought of as a succession of set pieces, musical scenes that flow like a Shakespearean play. My preceding positive remarks on the opera's principal performers were formed by their part in these set pieces. I can imagine a wellspring of arias from "Lord of Cries" that show up as Internet performances. From these might build a wider curiosity about the new work.
Audience reaction was unquestionably divided. A chunk of folks left for their cars at the end of the 90 minute first act. But far greater numbers remained for the 55 minute second act and applauded enthusiastically at opera's end, including an ovation for an onstage appearance by Corigiliano and Adamo.
One can offer criticisms (or, certainly, hear them expressed) of "Lord of Cries". There is hardly any fidelity to Stoker's "Dracula". Events recur that might be excised which would lead to an earlier denouement. Et cetera. But I would not be surprised if the reply of the opera's composers is "What you hear in the orchestra and what is sung on stage is what we want you to hear. What happens on stage is what we want to happen." [See also Redemption for Mary Magdalene: An Interview with Mark Adamo.]