Note from William: This post continues my series of observances of historic performances that I attended at San Francisco Opera during the general directorship of Kurt Herbert Adler. This is the seventh of fourteen such observances of performances from the company's 1966 Fall season.
In 1961, the San Francisco Opera premiered director Dino Yannopoulos' production of Mussorgsky's "Boris Godunov" [Historical Performances: An American "Boris Godunov" Starring Tozzi and Dalis – San Francisco Opera, September 21, 1961]. The opera was sung in English by a predominantly English speaking cast, led by Illinois bass Giorgio Tozzi as Boris, Australian tenor Albert Lance as Dmitri and California mezzo-soprano Irene Dalis as Marina.
A "Boris" Revival Planned for George London
A revival of the Yannopoulos production, again to be sung in English, was announced for the 1966 season as a vehicle for pre-eminent Canadian-born California bass-baritone George London. His reputation was so respected that, in 1960, London became the first North American to perform as Boris at Moscow's Bolshoi Theater and three years later to return to Moscow to sing Boris again for the Bolshoi Opera's complete recording of the opera.
Disastrously, in the months before the San Francisco Opera season, severe problems with his vocal chords required surgical interventions from which London was not able to recover vocally. London not only had to withdraw from his 1966 San Francisco Opera commitments, but, only 46 years of age, to announce his retirement from performing.
[Below: Bass-baritone George London as Boris Godunov; edited image of a production photograph.]
Casting San Francisco Opera Performances in the 1960s
The San Francisco Opera had had a long history of hosting international opera stars, often for one, two or three performances in a season. The invention of vinyl long-playing records in 1948 resulted in the major companies with classical music divisions competing to secure opera stars for complete opera recordings. The opportunities for opera singers to appear for short stays in San Francisco and other "opera cities" in roles they had recorded, like the Bolshoi "Boris", mutually benefitted the artists, their recording labels and the opera companies.
London had made his San Francisco Opera debut at the War Memorial Opera House in 1959 in a single performance of the title role of Mozart's "Don Giovanni". As a result of London's premature retirement from opera seven years later, London's San Francisco Opera career consisted of the single Don Giovanni performance in San Francisco and two opera performances during the company's tour of Los Angeles.
Opera tickets sales are important and those operas starring big name recording stars would have particular box office appeal. For these reasons, George London's withdrawal from the "Boris" production revived for him was a huge disappointment for the company. The large and expensive "Boris" cast lacked the star power of such 1966 season offerings as Bellini's "Puritani" with Joan Sutherland and Alfredo Kraus, Verdi's "Don Carlo" with Jon Vickers and Marilyn Horne, or Wagner's "Tannhauser" with Jess Thomas and Regine Crespin.
Yet, the lack of "A" level recording stars did not mean it could not be a strong performance. "Boris" is a melodious and dramatically stirring opera, crammed full of extraordinary characters, who come alive with performers with vocal prowess and dramatic instinct. Such performers were available for all of the production's major roles.
Chester Ludgin's Boris Godunov
George London's cover, New York bass-baritone Chester Ludgin, proved a worthy replacement. A workhorse for the San Francisco Opera during the years 1965 to 1967, in which he assayed both lead and comprimario roles, Ludgin showed the vocal and acting skills for which I admired his Jack Rance [Historical Performances: "La Fanciulla del West" with Marie Collier and João Gibin – San Francisco Opera, September 26, 1965.]
[Below: Baritone Chester Ludgin; edited image of a publicity photograph.]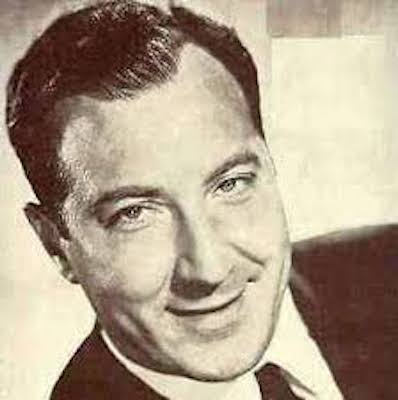 Richard Cassilly's Grigori, Janis Martin's Marina and Morley Meredith's Rangoni
District of Columbia tenor Richard Cassilly's reputation for vocal excellence was confirmed for me five weeks earlier at his San Francisco Opera main season debut as Aegisth [Historical Performances – Deep Casting, Siercke's Set Design, Result in A Brilliant "Elektra", San Francisco Opera, September 24, 1966]. I was even more impressed by Cassilly in the much longer role of the monk Grigori, the royal Pretender who, as the False Dmitri topples Boris' tsardom.
[Below: tenor Richard Cassilly; here as Florestan in a 1968 Hamburg Staatsoper production of Beethoven's "Fidelio".]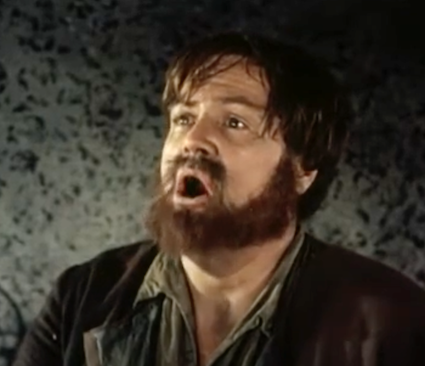 California mezzo-soprano Janis Martin's rising star at the San Francisco Opera had already been confirmed by her assignment in the principal role of Venus [Historical Performances: Jess Thomas' "Tannhäuser" with Régine Crespin, Janis Martin and Thomas Stewart – San Francisco Opera, October 22, 1966]. Alternating with her performances as the seductive goddess of love were Martin's "Boris Godunov" performances as the ambitious Marina Mnischek, who encourages the False Dmitri in his quest for political power. That love duet sung by Cassilly's Pretender and Martin's Marina was both sublimely beautiful and dramatically persuasive.
Below: Mezzo-soprano Janis Martin as Marina; edited image, based on a publicity photograph.]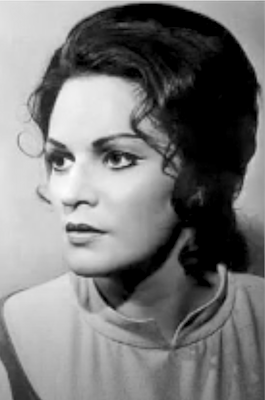 The love duet is preceded by a scene in which the Catholic priest Rangoni intends to persuade Marina as to why she should pursue the geopolitical interests of the Roman Catholic Church in Russia.
Canadian-born baritone Morley Meredith presented an arresting portrait of the Catholic priest, Rangoni, who, in the "Polish act" acted as a spiritual (and political) advisor to Marina. Meredith, associated with a wide range of roles, inclucing Rangoni at the New York Metropolitan Opera, had only four career San Francisco Opera performances, all the four 1966 Rangoni performances.
[Below: Baritone Morley Meredith; edited image, based on a publicity photograph.]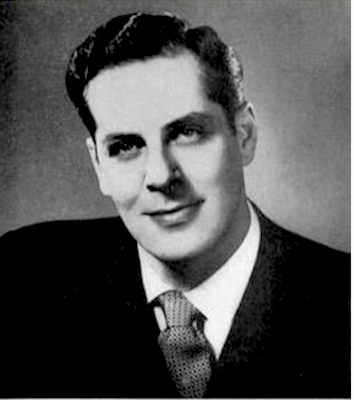 Though the text of Rangoni's scene referenced his Church's strategic objectives, the eroticism of the music and Meredith's delivery of it, suggested sexual subtexts in the messages Morley's character was conveying.
Ramon Vinay's Varlaam, Michael Langdon's Missail, Ara Berberian's Pimen and Sona Cervena's Innkeeper
The most famous member of the cast, Chilean baritone Ramon Vinay, a reigning dramatic tenor of the late 1940s, during the 1949-1951 San Francisco Opera seasons had appeared as Samson to Blanche Thebom's Dalila, as Tristan (role debut) to Kirsten Flagstad's Isolde and as Otello to Renata Tebaldi's Desdemona.
A decade and a half later he had returned to the San Francisco Opera as a baritone, in both dramatic [Historical Performances: "Tosca" with Marie Collier, Jess Thomas and Ramon Vinay – San Francisco Opera, October 21, 1965] and buffo roles [Historical Performances: "Barber of Seville" with Meneguzzer, Blankenburg, Vinay, Trama – San Francisco Opera, October 24, 1965]
[Below: Ramon Vinay was Varlaam; edited image of a publicity photograph.]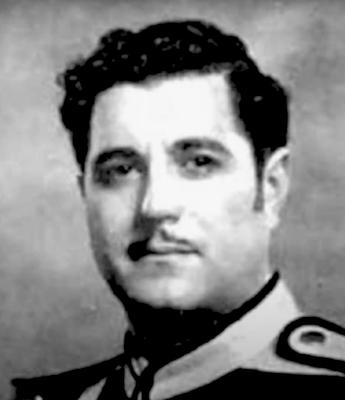 The role of the scurrilous and often drunk monk, Varlaam, is one in which an artist's skills at dramatic action and comedy can be usefully employed. and Vinay used those skills impressively to create a vivid portrait of the extraordinary character.
Varlaam's fellow traveler, the monk Missail, was sung with authority by Scottish bass Michael Langdon, who nicely complemented Vinay's performance. (Seven years later, in the next San Francisco revival of "Boris Godunov", Langdon would take over the role of Varlaam.)
[Below: Michael Langdon was Missail; edited image, based on a publicity photograph.]
Ara Berberian, in one of his most memorable San Francisco Opera performances I had seen to date, was the historian chronicler monk, Pimen.
The Czech mezzo-soprano Sona Cervena, still near the beginning of a San Francisco Opera career that spanned 18 years, performed the seconda donna role of the Innkeeper, bringing interest to the character's suggestive aria about a capturing a duck (which it seems obvious is a metaphor for a sexual encounter with a male).
[Below: Sona Cervena was the Innkeeper; edited image of a publicity photograph.]
Cervena's long, distinguished career was most associated with the opera companies of San Francisco and Frankfurt, Germany, In San Francisco her two dozen cast assignments included principal roles such as the title role of Bizet's "Carmen", character roles such as Countess Gershwitz in Berg's "Lulu" and comprimario roles such as Flora in Verdi's "La Traviata"
Maestro Horst Stein and the San Francisco Opera Orchestra and Chorus
German Maestro Horst Stein presided over the San Francisco Opera Orchestra. Although "Boris" was approaching the century mark of the first performances in 1869 of Mussorgky's original version of the work, for most of the opera's performance history Mussorgsky's original orchestration was deemed to be too "primitive", incorporating "mistakes" impermissable by the rules of orthodox rules of the musical discipline of Harmony.
In the performance I reported on a half decade earlier (as with all previous performances in the Boris' then 16 year San Francisco Opera history) Rimsky-Korsakov's bright-sounding orchestration was used, reminding one of the Romantic era symphonic tone poems. The performance edition in 1966 was Shostakovich's, whose iconoclastic early 20th century orchestral works were more harmonically adventurous than Rimsky-Korsakov's. Though arguably closer to Mussorgsky, Shostakovich's edition was unambiguously more Shostakovich than Mussorgsky.
Seven years in the future, a performance edition would be presented at the San Francisco Opera, that was designed to create the sound that Mussorgsky intended audiences to hear, but that discussion is for the future.