The following interview was conducted with American director Francisco Negrin, whose productions of operas by Handel, Gluck and Massenet I reviewed for this website, but whose scheduled Fall 2020 productions of Verdi's 'Il Trovatore" at the Los Angeles Opera was postponed for a year and of Massenet's "Werther" at the Houston Grand Opera was canceled, both as a result of the Covid-19 pandemic.
.
[Director Francisco Negrin; resized image of a Xavi Montojo photograph, courtesy ofhos Francisco Negrin.]
Wm: Francisco, what were the early influences on your interest in music and in theater?
FN: My paternal grandmother was an actress and my father had worked in theatre, TV and Film. My mother was a fashion designer. So, the performing arts were totally part of my childhood. My parents took me to concerts and shows and plays from as early as I can remember. The first film I remember going to see was Yellow Submarine, by the Beatles. An incredible feast of visual, narrative and musical invention. A pretty stimulating start, I would say!
Wm: What direct experiences did you have that encouraged your attraction to music?
FN: My parents took me to group music classes very early on and then I had piano lessons too. My father listened to a lot of music. I remember him playing records of everything from Jazz and Soul to the Rolling Stones. And my grandfather had boxed sets of classical music vinyls that were literally a structured introduction to the history of music. I was fascinated by those. I remember being given a record player one Christmas and with it an LP of extracts from Swan Lake and the Let it Be LP by the Beatles. The first album I bought for myself with my pocket money savings was Bach's Brandenburg Concerti but then progressive rock soon took over in my teenage years, blending as it did popular forms and instruments with the intent, virtuosity and structures of classical music! So, it is clear why I have never understood nor been interested in, nor in fact had any respect for the artificial divide most people seem to place between popular music and the incorrectly termed "classical" music. It has always seemed an ignorant position to me, from both sides.
Wm: And what direct experiences did you have encouraging your attraction to the dramatic arts?
FN: As for shows, the fusion of genres was there from the start too. I especially remember enjoying being taken to see dance companies of all types. My father loved dance in general. And I certainly remember being very impressed by Holiday on Ice when I was four or five. It was my first big arena-based event. The size, the effects, the myriad costumes and the physical virtuosity certainly marked me.
My grandmother, who lived in New York City, took me to see musicals on Broadway and opera at the Met. I remember thinking at nine years old that except for the vocal aspect, the performances in the musicals seemed much more professional and skilled than the ones in the operas I saw. It is quite amusing that after directing 60 opera productions, I could not resist the fun of creating an opera-and-pop-music based epic ice show in the Roman arena at Verona… The ultimate crazy blending of all my early experiences into one!
[Below: Francisco Negrin's 2014 Verona Roman Arena ice show "Intimissimi on Ice-OPERA POP" created for Balich Worldwide Shows; edited image, based on a photograph, courtesy of Francisco Negrin.]
I think this explains too why in opera the periods that have most fascinated me and in which I think I have done my most personal and interesting work have been the baroque/early classical and contemporary eras. Both thrive in fusion. In both it is natural to blend humor, spectacle and drama and to use other media like dance and technology. And in both, rhythm is prevalent. Pulse. And sensuality. Which are what is most lacking in the romantic repertoire. As is metaphysical thought, which to me is what is most effectively and profoundly expressed by music and dance, which are the most abstract art forms and yet they are the ones that use the physical body as instruments. A beautiful duality.
What was your earliest exposure to opera? What were the steps that led to your becoming an opera director?
FN: My first opera was the Zeffirelli production of Bizet's "Carmen" at the Met with Marilyn Horne in the title role. I was nine. I was not impressed. Everything seemed low energy and fake. The night before, I had seen Sondheim's Pacific Overtures which had blown my young mind…. Stodgy opera could not compete with sheer invention. I wanted to play at making shows but shows in which people danced, sung, acted and did amazing things. Then nearly a decade later I saw Pizzi's production of Rossini's "Semiramide" at the Aix en Provence festival, with Montserrat Caballé and…Marilyn Horne again! Did not do much to change my perception of opera: It was vocally thrilling but scenically lazy.
Wm: Interestingly, one year later I saw the San Francisco Opera present Pizzi's production of "Semiramide"(rebuilding Pizzi's curious white set designs in the opera company's scenery shop). The performance also starred Caballé and Horne (with James Morris). It had been my introduction to Rossini opera seria. I concur with your judgment that the singing was at a much higher level than the production.
[Below: the Assyrian military commander Arsace (Marilyn Horne, center left, in red costume). summoned to appear before Queen Semiramide (Montserrat Caballe, center right, in white costume at base of stairs) is unaware that the queen is his mother, in San Francisco Opera's 1981 Pier Luigi Pizzi production of Rossini's "Semiramide"; edited image, based on a Ron Scherl photograph, courtesy of the San Francisco Opera Archives.]
What changed your mind about the dramatic possibilities of opera?
FN: I saw, on TV, Patrice Chéreau's and Pierre Boulez's production of Berg's "Lulu" live from the Opera in Paris and a whole series of doors and windows opened. Suddenly opera could be as powerful as any other live performance. It could be more than "just" singing. It made me investigate and Boulez became my guide. From Stockhausen to Berg and Bartok, Debussy and on to the Ring (Chéreau again) …. I discovered opera backwards. It made me want to work in opera. And so, I did.
As I was studying in Aix en Provence I worked at the festival there, and that year it was dedicated to Rameau. The unexpected mix of Jose van Dam and Jessye Norman in Rameau's "Hyppolite et Aricie", conducted by John Eliot Gardiner and Rameau's "Les Boréades" with amazing baroque singer/actors like Jennifer Smith showed me how opera could be anything one wanted it to be. And sensual and fun too. And it could dance! And now I knew first hand that there were whole universes of music theatre before and after the 19th century.
Later, seeing Stravinsky's "Rake's Progress" at the Royal Opera House in London and Handel's "Xerxes" at English National Opera, with Ann Murray, it became clear to me that this could be my medium. The one medium that brought it all together at the highest level of skill and emotional impact in every part of it. My previous perception of opera as the Pavarotti/Puccini version of it was finally replaced by something seemingly limitless… Only much, much later on would I start to crave the few possibilities opera did not offer, which were given to me when I was given the opportunity to learn to "speak" the epic language of stadium and arena shows and thus to reach audiences way more varied than those I could reach via opera. The opportunity to create the same sense of awe I had experienced as a child.
[Below: A scene from Francisco Negrin's largest arena show to date, the 2017 Asian Indoor and Martial Arts Games in Turkmenistan, created for Balich Worldwide Shows; edited image, based on a production photograph, courtesy of Francisco Negrin.]
Wm: Your career in opera began with the Aix en Provence Festival. What were the career milestones following your work there that led to being hired as a stage director and a production designer?
FN: Well, after initial work on a production of Debussy's "Fall of the House of Usher", my first "real" production was Massenet's "Werther" at the opera in Nice in which I expressed all my more germanic influences. While it was a critical hit, the very traditional audience in Nice detested it. I could feel the wind from the booing on stage. Good training. I have never been upset by any of the much milder booing I have sometimes experience after that!
The next milestone would be "Una Cosa Rara" by Martin y Soler that Elisabeth Söderström and Nicholas McGegan asked me to direct at the Drottningholm baroque theatre. That was a major step for me towards understanding where opera comes from and what it was intended to achieve originally and in what conditions.
Then came the production that made me well known: Handel's "Julius Caesar" in Sydney.
[Below: the cover of a DVD of an acclaimed Francisco Negrin production, Handel's "Julius Caesar" at the the Sydney Opera House]
Together with Handel's "Partenope" at the Glimmerglass Festival a few years later and a new version of "Julius Caesar" and a new "Partenope" both in Copenhagen, these are the four productions that really cemented my career and through which I refined my approach to that repertoire. "Beatrix Cenci" by Ginastera in Geneva is the production with which I proved myself with contemporary music and subject matter. I think it is to date my strongest and most inner reaching show.
[Below: a scene from the Royal Danish Opera Copenhagen's Francisco Negrin production of Janacek's "The Cunning Little Vixen; edited image, based on a photograph from francisco.negrin.com.]
The production that I would next single out is Janacek's "Cunning Little Vixen" in Copenhagen which was the show I most innovated with in terms of telling the story and expressing the music through new technologies, which brings us to Abrahamsen's "Snow Queen", also in Copenhagen, with which I have furthered that research into new theatre language.
Other than those, of course, the opening of the Fifth Asian Indoor and Martial Arts Games (AIMAG) in Ashgabat, Turkmenistan in 2017, the third largest stadium ceremony ever staged anywhere to date, with over 6000 performers and 60 horses is an unrepeatable experience.
[Below: a scene from the opening ceremony of the 2017 AIMAG in Turkmenistan, created for Balich Worldwide Shows; edited image, based on a production photograph, courtesy of Francisco Negrin.]
Emotionally it was surpassed by the very special magic that happened when I directed the opening of the Panamerican games in Lima last year. That was the show I have done that has had the most powerful and palpable effect on its audience. And its audience was no less than one out of every ten Peruvians and many more people all over Latin America. It was extraordinary to be part of a huge team that truly collaborated to create a theatrical event that would represent a culture as truthfully as possible and that actually affected and instilled pride in a whole nation.
[Below: a scene from the opening of the 2019 Panamerican Games in Lima, Peru, created for Balich Worldwide Shows; edited image of a production photograph, courtesy of Francisco Negrin.]
Wm: I'd like to discuss your productions that I have reviewed, beginning with the first composed of the three operas – Handel's "Rinaldo" at the Lyric Opera of Chicago. "Rinaldo" is a fanciful opera about the Crusades that is very loosely based on an historical event – the 12th century's First Crusade (although, as I point out in the review, its only real tie to that Crusade is to name two of "Rinaldo's" characters after historical persons who actually took part in that event).
I wrote in my "Rinaldo" review [Handel's "Rinaldo" in Chicago: Francisco Negrin's Finely Sung, Fun-filled Fantasy – Lyric Opera, March 16, 2012]. "I find these baroque stories simply barren of any modern meanings. I'm much more inclined to go with Negrin's presentation of absorbing, even if fantastical, frameworks for piecing together Handel's supremely beautiful music. Negrin's 18th century opera fantasy world works."
[Below: the entrance of the Crusaders into Jerusalem; edited image, based on a production photograph for the Lyric Opera of Chicago, courtesy of Francisco Negrin.]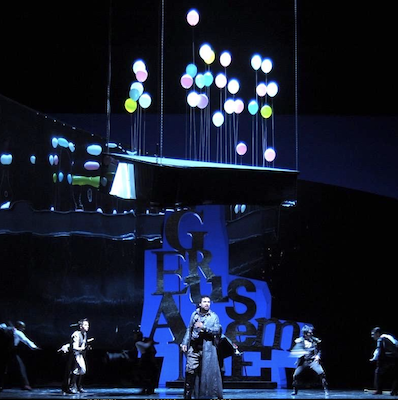 FN: Thanks for that. I have really spent many years thinking about where the beauty of that repertoire lies and how to put it forward to an audience. I am glad it works. But I do have to say that these pieces are not in my view barren of modern meanings. To me they address relationships in a much more relatable way than the romantic repertoire does. Real relationships. Not larger than life exaggerations or idealizations of relationships. And they also address universal metaphysical archetypes, which interest us more than ever now. Look at what the favored subject matter is of films and TV series nowadays. Fantasy and metaphor prevail. You will find great similarities there with the heroic, antiheroic and magical operas of Handel and other pre-classical composers.
Wm: We are not in disagreement on this. The context of my "Rinaldo" review quote was comparing your approach on this opera with my critiques of another director familiar to Chicago audiences whose intention to find contemporary relevance to specific Handel and Vivaldi operas I found unconvincing. Over the years I have reviewed many of Handel's operas and regard myself as somewhat of an agnostic as to whether they should be staged as taking place in a historical or mythological time period specified or inferred by the libretto, in the early 18th century in which the opera is composed, or a time period shifted to the present day or some other time not envisioned by Handel.
The next production I am interested in discussing is your Santa Fe Opera production of Gluck's "Alceste". [My review is at: Christine Brewer, Paul Groves Lead Elegantly Sung "Alceste": Santa Fe – August 1, 2009.]
To summarize my review, your "Alceste" was a success because of Gluck's music, the vocal performances of Christine Brewer, Paul Groves and others in the cast, Ana Yepes' choreography, Louis Desire's ingenious sets, interesting costumes for the "immortals" and the beautiful surroundings in which Santa Fe Opera productions take place.
FN: Obviously the piece itself, the wonderful cast I was lucky to collaborate with in vocal, musical, dramaturgical and physical terms and the conductor's work with me, with the singers and band, were all key. But I would have hoped my work with my choreographer, designers and the cast on the piece that lead to the specific, hopefully integrated, blocking, costume, psychological, structural and aesthetic choices that informed the aspects you enjoyed, and yes, the special magic of the venue, might all have somewhat contributed to the performance you saw being a success. At least from your perspective and from that of some of the audience. They all no doubt equally contributed to it also being a flop from the perspective of some other reviewers and another part of the audience.
[Below: Creatures of the alien world, Apollo (Apprentice singer Matthew Morris, on top of sphere) and an infernal divinity (dancer-choreographer Ana Yepes); edited image, based on a Ken Howard photograph, courtesy of the Santa Fe Opera.]
So I am not sure how I can assess the term "success" in what was a very mixed reaction to what I intended to be a very caring and genuine approach to the piece and to its genre. I intended that the beauty and relevance of that very particular and little-known subset of music theatre that especially resonates with me could be enjoyed by the audience in the best possible conditions.
Wm: I've seen you dive deep into the pyschological complexities of a worklike Massenet's "Werther" with profoundly innovative, transformative presentations of the material ["Werther" Re-invented, Yet Again – Francisco Negrin's New Production at San Francisco Opera, September 15, 2010], yet I suspect there are some operas where the material isn't sufficiently robust to "innovate".
FN: Thank you for saying I dove deep into the piece. Makes all the work worth while! And your question opens up all sorts of avenues of thought.
[Below: a scene from the San Francisco Opera's 2012 Francisco Negrin production of Massenet's "Werther"; edited image, based on a production photograph, courtesy of Francisco Negrin.]
First of all we need to define "innovative".
If that means that I have used new theatrical language tools, then I do not think I have in "Werther". I have in other stagings, like in the "Cunning Little Vixen" (video mapping on a kinetic three-dimensional set) or Abrahamsen's "Snow Queen" (pixel mapping of LEDs embedded in the set). But by using those tools I did not in any way alter the intent of the piece or the expectation of what it "should be" that an opera critic or regular opera goer might have. So "innovative" in that sense does not necessarily go hand in hand with "transformative".
[Below: a scene from Francisco Negrin's world premiere production of Abrahamsen's "Snow Queen"; edited image, based on a Francsico Negrin photograph.]
And who can really say what that original intent was anyway? I have done so many contemporary pieces in which my "solutions" have interested the living librettist and composer and they have consistently told me I was hitting the mark way more by doing it my way rather than the way they had imagined.
Puccini added the placing by Tosca of the chandeliers on either side of Scarpia's corpse, not because it was in the play, but because he saw Sarah Bernhardt do that in a performance. She was not following stage directions by the author. So Puccini himself was not averse to a performance not respecting the author when it is a creative and meaningful gesture, in line with the intent of the piece.
"Werther" is not sufficiently performed worldwide to have any strong performance traditions attached to it. Those traditions themselves are often misunderstood anyway. For example, in the case of "Alceste", in the composer's own time the "tradition" would have been to use heightened contemporary styling for the costumes, not "ancient Greek' , though that is what people would mostly expect now (except at Versailles or Drottninholm where an academic historic reconstruction of the original performance style might be expected though few in the audience are equipped to understand it.)
Then we have to define "transformative". I believe any piece of theatrical literature, be it music-based or not, exists in two forms. One is its form on paper which is immutable and no one can alter or harm, but it is a mere reference point. And then it exists when it comes alive in performance.
There is no way to achieve a live performance without a certain degree of interpretation and reinvention of what the paper form of the piece provides. Unless you count perceived tradition as explained above. So I personally do not believe any staging can transform a piece. It can present it to you in a way you personally are not used to seeing it if you already know it, but the piece is no way altered or transformed. The printed version is still there, as virginal as the day it was published.
So then we can come to your actual question; but we have to define "robust" in terms of sustaining more imaginative stagings or not. That is a hard one. A weak libretto (as in one that has logic errors or incomplete character portraits or that is superficial in its insight) or a weak score (as in one which contains music that is formulaic, or awkward or superficial and adds nothing to or even contradicts the text) or both can in fact be way more liberating in terms of being creative in staging them, than a piece that is already strong in its paper form and requires little effort to bring to life…
So all in all I think all that matters is if on any given evening the ephemeral performance proposed by the creative team and the performers is coherent, has been caringly and respectfully thought out and executed and offers a rich experience for the audience, or not. Everything else is moot. And everything is possible. Trying to Impose rules on what is acceptable or not in art has never been a fruitful endeavor and invariably ends up being one that is derided by other rule makers. Even critics criticize earlier critics for whatever their criteria might have been. I think the audience and press have the same duty of respect for the years of work put into a show by the team proposing it as the show's team has for the piece and the audience.
As anyone should have respect for anyone else in every situation in life. And both sides should listen openly and without prejudice. Without that two-way respect, the dialogue that is live art is impossible and becomes sterile as is the case for civilization in general.
Wm: Thank you, Francisco, for sharing your ideas and insights. I look forward to seeing more of your productions in the future.