Note from William: This post continues my series of observances of historic performances that I attended at San Francisco Opera during the general directorship of Kurt Herbert Adler. This is the second of fourteen such observances of performances from the company's 1966 Fall season.
My second performance of the San Francisco Opera's Fall 1966 season was the opening night of a three performance run of Richard Strauss' "Elektra". The performance starred British dramatic soprano Amy Shuard in the title role, leading a uniformly excellent cast for the five principal roles and large supporting cast.
Amy Shuard's Elektra and Regina Resnik's Klytemnestra
British dramatic soprano sustained vocal power and intensity throughout the evening.
[Below: Amy Shuard as Elektra in the 1966 San Francisco Opera production of Richard Strauss' "Elektra"; edited image, based on a Carolyn Mason Jones photograph, courtesy of the San Francisco Opera.]
This was my second Amy Shuard performance, three years after she performed Brünnhilde [Historical Performances: Vickers, Shuard, Resnik in "Die Walküre" – San Francisco Opera, October 10, 1963]. Shuard and mezzo-soprano Regina Resnik (the Fricka to Shuard's Brünnhilde in the previous performance), presented another searing interfamilial pyschological struggle between strong-willed women.
Resnik, the former soprano turned mezzo, had previously excelled at the War Memorial Opera House in such iconic mezzo roles as Carmen [Historical Performances: Bizet's "Carmen" with Regina Resnik, Jon Vickers and Pilar Lorengar – San Francisco Opera, October 9, 1964] and Amneris [Historical Performances: "Aida" with Price, Konya, Resnik, Shaw and Tozzi – San Francisco Opera, September 21, 1963],
Notably, Resnik was adding to her repertory a group of outsized character roles that included insightful portraits of not only Klytemnestra, but the aged "Pikovaia Dama" Countess [Historical Performances: "Queen of Spades" with McCracken, Kirsten, Resnik – San Francisco Opera, October 5, 1963]. Ultimately, it is these dramatically persuasive Resnik portraits of aged women of power that would become a centerpiece of her legacy. Later, Resnik would assume the role of stage director for the 1984 San Francisco Opera revival of this production in which Janis Martin was Elektra and VIorica Cortez was Klytemnestra.
The three performances of "Elektra" coincided with a new Decca recording in which Resnik performed Klytemnestra Birgit Nilsson's Elektra and Gwyneth Jones' Chrysothemis.
[Below: Decca Records advertisement for a new recording of "Elektra" starring Birgit Nilsson, Regina Resnik and Gwyneth Jones that appeared in the performance's program; edited image, courtesy of the San Francisco Opera.]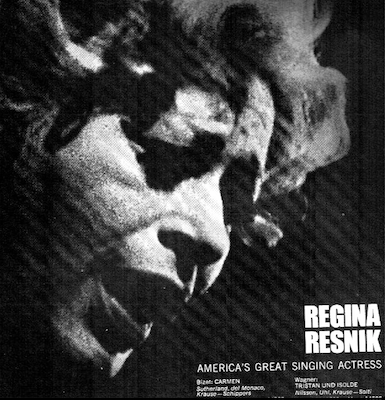 I previously have discussed the advantageous arrangement for both San Francisco Opera and the Decca, RCA Victor and EMI record companies, each seeking to invest the rich profits from rock'n roll superstars with whom they had exclusive contracts into their classical music divisions [See the discussion of rockstars and opera recordings at Expanding 1955's Standard Repertory.]
Often an opera would be mounted for two or three performances, permitting the artist to have the insights that come from stage experience with a role they were about to record, or, conversely, to make the artist available for performances of operas that the record company is promoting. San Francisco Opera, under the General Directorship of Maestro Kurt Herbert Adler, availed itself of advantageous relationships with record companies that were investing heavily in complete opera recordings.
[Below: the Goldstein and Company design for the costume for Klytemnestra; edited image, based on a drawing, courtesy of the San Francisco Opera.]
Enriquetta Tarrés' Chrysothemis, Thomas Stewart's Orestes and Richard Cassilly's Aegisthus
The performance I attended was the American operatic debut of the bright-voiced Spanish soprano Eriquetta Tarrés, who was appealing both vocally and dramatically.
[Below: Soprano Enriqueta Tarrés was Chrysothemis; edited image, based on a publicity photograph.]
I would see Tarrés one additional time, as Donna Elvira in Mozart's "Don GIovanni" at San Francisco Opera two seasons later, her only other performance run for the company.
The evening was also the main season San Francisco Opera debut of heldentenor Richard Cassilly. Cassilly made a strong impression in the relatively brief role fo Aegisth, who had replaced the slain king Agamenon in Klytemnestra's bed.
[Below: Richard Cassilly was Aegisth; edited image, based on a publicity photograph.]
Cassilly had previously appeared with San Francisco Opera's budget-priced Spring Opera Theater as Sam Polk in Floyd's "Susannah" and Max in Weber's "Freischutz". A month later he would perform the role of the pretender Grigori, the False Dmitri in Mussorgsky's "Boris Godunov". After the 1966 season, I would see him only once, as Radames in "Aida" in 1972, although he appeared in other performances in the 1972 and 1983 San Francisco Opera seasons.
Of the principal artists, it was Scottish baritone Thomas Stewart, singing the role of Elektra's brother Orest, who is most associated with the mid-century history of the San Francisco Opera. This was the 12th role he performed for the company, beginning with the 1962 season. He would perform a total of 26 roles, some performed in more than one season, through 1991.
Prior to performing Orest, Stewart's San Francisco Opera assignments consisted of roles in operas by Mozart [Historical Performances: "Don Giovanni" with Leontyne Price's Donna Anna – San Francisco Opera, October 15, 1965]. Verdi [Historical Performances: Konya, Tozzi, Dalis, Thomas Stewart in "Don Carlo" at San Francisco Opera – September 22, 1962], Gounod, Tchaikovsky, Bizet, Tchaikovsky and Debussy [Historical Performances: "Pelléas et Mélisande" with Pilar Lorengar, André Jobin, Thomas Stewart – San Francisco Opera, November 3, 1965] as well as Falke in Johann Strauss' "Die Fledermaus" and the Count in Richard Strauss' "Capriccio".
The vocal power he showed as Orest gave a hint of Stewart's coming emergence as the company's leading heldenbariton, which would include principal roles in each of the four operas of Wagner's "Ring of the Nibelung" and the lead bartione roles in Wagner's "Tristan und Isolde", 'Parsifal" and, later in the 1966 season, "Tannhäuser".
Alfred Siercke's set design
Among the notable achievements of Viennese-born Adler's General Directorship of the San Francisco Opera was his establishment of close relationships with the major opera companies of Europe, so many of which required years to emerge from the devastation caused by World War II. As Adler sought to expand the San Francisco Opera's performance repertory and upgrade the quality of its physical productions, he reached out to European directors and designers.
His association with German production designer Günther Rennert and Rennert's frequent collaborator, set designer Alfred Siercke, led to one of the most San Francisco Opera productions of the 20th century [Historical Performances: Grist, Valletti, Prey in "Barbiere di Siviglia" – San Francisco Opera, September 28, 1963].
[Below: the half-spherical Mycenean tomb of Elektra's father Agamenon, the centerpiece of Alfred Siercke's set for "Elektra"; edited image, based on a photograph, courtesy of the San Franicisco Opera Archives.]
The Siercke production was used during San Francisco Opera "Elektra" revivals of 1973, 1979, 1984. Two decades later, San Francisco Opera's Kurt Herbert Adler, as part of an oral history project, stated that he had purchased Siercke's set, because it was so structured as to provide the best possible sound for the performers.
Adler also provided an interesting vignette on the problems encountered in getting the set to San Francisco. It had to be disassembled, and the resulting parts had to be reconfigured to the shape of the airplane that had been contracted to deliver it. But that airplane's airline was hit by a strike, so the sets had to be reconfigured again to fit the shape of the second airplane.
Maestro Horst Stein's Conducting and Paul Hager's Direction
The conductor was German Maestro Horst Stein who had several San Franccsco Opera conducting assignments during four consecutive sseasons begining in 1965. The staging was by Austrian-born director Paul Hager, who had been the companhy's resident director since 1954. This was my thirdd performance conducted by Stein and my 33rd performance directed by Hager.