This is the second of two discussions of DVDs of productions of classic American musicals performed by the San Francisco Opera, following DVD Review: Francesca Zambello, the American Musical and the San Francisco Opera, Part I: "Show Boat". Each DVD is of a production conceived and staged by director Francesca Zambello.\
David Gockley, San Francisco Opera's general director between 2006 and 2016, had held that position previously at the Houston Grand Opera, where he had commissioned a stunning operatic production of George Gershwin and DuBose Heyward's 1935 classsic mus ical "Porgy and Bess".
In 2005, Francesca Zambello created a new "Porgy and Bess" production in 2005 for Washington National Opera, subsequently seen in Los Angeles (2007), Chicago (2008) and San Francisco (2009).
The San Francisco performances were the occasion for the role debuts of bass-baritone Eric Owens as Porgy and soprano Laquita Mitchell as Bess. For my performance review of the San Francisco Opera cast of the Zambello production, Eric Owens, Laquita Mitchell Lead Powerful "Porgy and Bess" at San Francisco Opera – June 21, 2009.
Later, I interviewed Eric Owens [Rising Stars – An Interview with Eric Owens] and invited his comments about the Zambello production. He replied "It's a production that I love. There is a lot of heart to it as with everything that Francesca brings to it. The production is fantastic. It's the only "Porgy" that I've done, but I've done it three times. The piece is glorious music."
[Below: Eric Owens (left) as Porgy and Laquita Mitchell (right) as Bess; edited image, based on a Terrence McCarthy photograph, courtesy of the San Francisco Opera.]
Owens continued with his assessment of the George Gershwin's musical score "Gershwin was not just a jazz guy. He studied classical music. There is quite a bit of Stravinsky influence. When Robbins is killed and when Porgy kills Crown, the Rite of Spring chord plays in the orchestra. When I first heard it – the chord plus one note – I appreciated how intricate and technical Gershwin's writing is. It's quite serious music. It's fantastic."
Sharing the title roles with Owens was Laquita MItchell who told me that "the DVD is the gold standard for a staged production of the piece and should be remembered well."
[Below: Crown (Lester Lynch, left) assaults Bess (Laquita Mitchell, right) at the Kiawah Island picnic; edited image, based on a Terrence McCarthy photograph, courtesy of the San Francisco Opera.]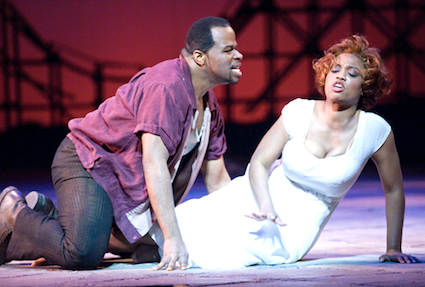 I asked baritone Eric Greene, who had sung the role of Jake on several occasions and the roles of the villain Crown and Porgy as well, about his thoughts on the upwardly mobile fisherman Jake. His reply: "The role of Jake is very dear to my heart. Looking at the role of Jake through the lens of librettist Dubose Heyward and my own research, Jake represented the future of his community and for the generations of African Americans as a whole.
[Below: Jake (Eric Greene, center kneeling, facingfront) is horrified that an argument over a game of dice has resulted in the death of Robbins (Michael Austin, bottom left, on ground)), whose body is covered by his widow Serena (Karen Slack, lower left corner); edited image, based on a Terrence McCarthy photograph, courtesy of the San Francisco Opera.]
Greene continued: "Jake has been educated in America, he owns his own (lucrative) business and has his own money. Most importantly, he has a strong family unit – shown in the reflection of his wife Clara and their new baby – which was not so commonplace. This was definitely the future . Jake and Clara were the light on top of the whole community hill, as it were.
"One of the great payoffs when it comes to performing this opera is the opportunity to work and meet other exceptional artists of color and sometimes you make lasting friendships. This was the case with Angel Blue and me. We met at San Francisco Opera and sang the roles of Jake and Clara, but the real treasure was we became friends."
[Below: Angel Blue as Clara; edited image of the performance from the EuroArts DVD.]
Another one of the opera's most unforgettable characters is that of Sportin' Life, a role in which Chauncey Packer makes a vivid impression.
[Below: Chauncey Packer as Sportin' Life; edited image, based on a production photograph.]
Others in the cast include Michael Austin as Robbins, Karen Slack as his wife Serena and Alteouise DeVaughn as Maria, Michael Bragg is Mingo, Calvin Lee as the honey man Peter, Amber Mercomes as Peter's wife, Kenneth Overton as Frazier, Malesha Jessie as Annie, Samantha McElhaney as the Strawberry Woman, Earl Hazell as Jim, Darren K. Stokes as the Undertaker, Ashley Faatoalila as the Crab Man, Richard Farrell as the Detecctive, Louis Landman as the Policeman, John Minagro as the Coroner and Frederick Matthews as Nelson.
Maestro John DeMain conducted. Francesca Zambello was Director, Rita DiAngelo Tikador as Associate Director and Garnett Bruce as Assistant Stage Director. The sets were designed by Peter J. Davison, the costumes by Paul Tazewell. Mark McCullough was Lighting Director, Denni Sayers was Choreographer and Lawrence Pech was Dance Master.
Recommendation: I strongly recommend the EuroArts DVD of the San Francisco Opera performances of Francesca Zambello's production of George Gershwin's and Dubose Heyward's "Porgy and Bess".