This is the ninth installment in a series of conversations between myself and British opera director John Pascoe, regarding operas for which he created the whole production, or a production's sets or costumes. This conversation follows: A Conversation with John Pascoe, Part 8: Memorializing "Radically Authentic" Conductor and Baroque Music Scholar Alan Curtis.
Wm: John, during this period spent at home and observing "social distancing" as a response to the Covid-19 pandemic, we have the opportunity to resume our series of conversations about opera production. I understand you are in good health in your home in Italy, observing the preventive health precautions that those of us who live in California are also expected to follow.
JP: Indeed, living alone in Italy under the shut down that has lasted for almost three months has meant a level of isolation I've never before experienced, and with all my opera and mural – decor projects on hold, I knew that I had to find something else that would allow me to look back at this as a positive time for me.
Wm: What is the subject matter of your paintings?
JP: First off, the state of our world which we seem to be destroying, so I painted "All Eternity?"
It is an image of the magical circle taken by water as it sustains life on our world. As the giver of all life, it falls from the skies onto our mountains, then cascades down to nurture our sacred forests and having done so then flows out into our oceans. Once there, it evaporates forming clouds which then drop their moisture onto the mountains, cascades down to nurture our sacred forests, etc.
[Below: "All Eternity?"; resized image from "Mythology" at www.john-pascoe-artist.com; courtesy of John Pascoe.]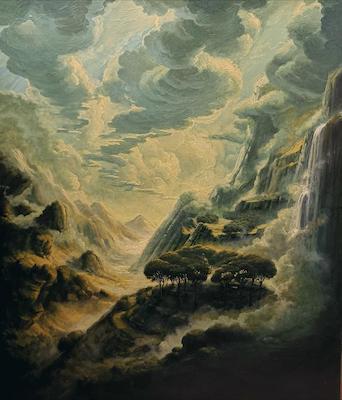 But we all know that with the industrialisation of the last 150 years, we are breaking this sublime circle through massive deforestation, pollution of our oceans, depletion of the ozone layer, etc. So how long will this endless renewal of life actually last? Hence the question mark in the title.
Wm: What else have you been painting?
As I do when creating an opera production, I was thinking of the past in relation to today and in this period of total isolation my thoughts turned inexorably to my situation as a gay man. Looking at today's world, especially given the enormous strides the West has recently made in gay liberation, I am, however, aware of the fact that the mythological, sacred underpinning of male same-sex love is basically non-existant in the popular immagination.
These include my creating a painting of Zeus' pursuit of Ganymede, as a marvelous eagle grappling with a young man flying through the skies on the way to Olympus. I also painted Narcissus, a handsome young man being so  in love with himself that he gazed at his reflection until he turned to stone.
[Note: to see the Ganymede/Zeus and Narcissus paintings, see the "Mythology" section of www.john-pascoe-artist.com.]
But above all, I wanted to paint Achilles and Patroklus, the most famous example of two male warrior lovers, who accept death rather than live without each other. Their relationship is a crucial part of the ancient world's view of homosexuality. Another was, of course, the so called Sacred Band of Thebes, made up of 150 male gay couples and who were known as one of the greatest fighting forces of the ancient world.
[Below: "Eternal Love – Achilles and Patroklus; resized image from "Mythology" at www.john-pascoe-artist.com; courtesy of John Pascoe.]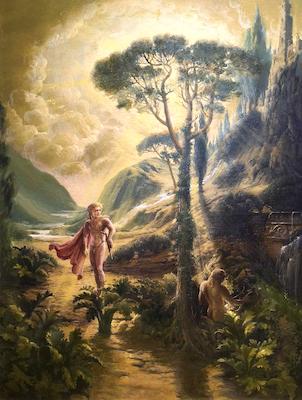 Wm: Your discussion of eternal love between two males, both of whom are warriors, brings to mind my very first review of one of your opera directorial projects, your production of Donizetti's "Lucrezia Borgia" at the Washington National Opera (repeated subsequently at the San Francisco Opera).
In your production, you proposed a gay relationship between two men, Lucrezia's son Gennaro and his fellow soldier, Maffio Orsini. Although it is unlikely that such a relationship would have occurred to Donizetti or his librettist, in my estimation your changing the men's sexual orientation clarified their motivations in what is otherwise a murky plot.
[Below: Lucrezia Borgia (Renée Fleming, right) is hostile to the love affair between Gennaro (Vittorio Grigolo, center) and his lover, Maffio Orsini (Kate Aldrich, left); edited image, based on a production photograph, courtesy of the Washington National Opera.]
In a previous part of our ongoing conversations [A Conversation with Director-Designer John Pascoe, Part 1], you explained the insights into the work that led you to the conclusion that the Venetian soldiers Gennaro and Orsini are lovers. You found this to be inherent in the work, and were not proposing it as simply an attempt to add a gay theme that was not in the performance tradition without any justification.
JP: Absolutely William. As we've previously discussed, the idea came from my reaction to the text but, above all, to the music in their final duet, with its arpeggios that they sing in unison of the word 'Ah'. For me, it had an almost orgasmic sexuality to it, so it felt to me like a love duet. This combined with their text of being "Two flowers on a single stem" and then swearing to die together, (which they then do!) told me this was inescapably a love story. Not the affection of two wartime buddies!
Wm: For me, experiencing your production for the first time at the Kennedy Center, I was struck by how everything in Donizetti's opera's much maligned plot suddenly made sense. Lucrezia and her husband Alfonso are hostile to Gennaro's gay relationship with Orsini. Gennaro's gay friends join Orsini in defacing Borgia monuments. Lucrezia arranges the poisoning of all Gennaro's friends, but is dismayed to find he has joined them and refuses her antidote for the poison.
JP: The fact that my view was received so positively by the audiences and by so many of the critics, speaks volumes. But sadly we are all seeing an ever increasing number of productions where what is being placed on stage makes no sense with text or music. But maybe that's the subject of a whole different "Conversation" between us?
Wm: Vittorio Grigolo, and later Michael Fabiano, performed the role of Gennaro. Subsequently, you designed the settings for Grigolo's Italian tour. Let's talk about that tour in the next installment of our conversation, and, yes, let's discuss the difference between productions whose changes from the performance tradition creates new insights into the work, and those productions that do the work a disservice.
Thanks, John. I look forward to continuing our conversation.
[For my reviews of three performances of the Pascoe production of "Lucrezia Borgia", and of the DVD of the production, see: The Donizetti Revival, Second Stage: Radvanovsky, Grigolo in Pascoe's WNO "Lucrezia Borgia" – November 17, 2008, and
Fleming, Fabiano, Frizza Fuel San Francisco Opera's Flaming, Fulfilling First "Lucrezia Borgia" – September 23, 2011, and
A Second Look: "Lucrezia Borgia" at the San Francisco Opera – October 2, 2011, and
DVD Review: Dramatically, Visually Exciting EuroArts DVD of San Francisco Opera Performance of Donizetti's "Lucrezia Borgia".]