Note from William: The following conversation took place between myself and Director Paul Curran, following up on our previous interview [Telling the Story: An Interview with Director Paul Curran].
[Below: Director Paul Curran; edited image, based on a Dietmar Schulz photograph, courtesy of paulcurrandirector.com.]
Wm: It's been three years since my interview with you at the Santa Fe Opera, during your preparations for your production of RImsky-Korsakov's "Golden Cockerel". I understand in the interim you have become a fellow resident of California. How did this come to be?
PC: My husband, Dr Mike Rosco, is a resident eye surgeon in San Francisco so we very happily moved back to California after 5 years in New York. Since we both love California, and he's from here, it's been working out fantastically well. I don't think we'll be willfully seeking out snow again unless it comes under skis!!
[Below: a scene from Paul Curran's Santa Fe Production of Rimsky-Korsakov's "Le Coq d'Or; edited image, based on an Evalyn Bemis photograph, courtesy of the Santa Fe Opera. For my performance review, see: Review: Santa Fe Opera's Glistening "Golden Cockerel" Starring Venera Gimadieva – July 28, 2017.]
Wm: California, like much of the world, is currently on "lockdown" in response to the Covid-19 pandemic. As one of the many consequences of efforts to promote "social distancing" and discourage or prohibit crowds of people, it has resulted in the cancellations of live opera performances throughout the world. I notice that just this month you experienced the cancellation of the performances of Britten's "Midsummer Night's Dream" at the Grange Festival in Hampshire, England. You have upcoming projects that I suspect also are under review.
PC: Nearly a year of work has been wiped out. I was just about to open Bizet's "Carmen" in Dublin, a coproduction with Opera Philadelphia and Seattle Opera,, when the virus hit. The Grange "Dream" went next, then productions of Lerner and Loewe's "My Fair Lady" in Italy and Verdi's "Falstaff" in Russia. Several teaching courses have also had to be cancelled in various countries.
Right now I'm working on Verdi's "Macbeth" for Opera Philadelphia – a new production for my old friend Sondra Radvanovsky. Cannot tell you how much I'm looking forward to it, but as of today, late April, we have no idea if it will survive or be cancelled. Rehearsals are in August, so it's possible things will be open by then, but the real problem is the lead up time we need for a production: sets need to be built, costumes sewn etc… and that takes months.
The whole situation reminds me of a similar time after 9/11 when theatres closed and lots was cancelled. That year was supposed to be my West End debut with a Musical! But.. we survive and live to fight another day…
[Below: a scene from The Dallas Opera's Paul Curran world premiere production of Mark Adamo's "Becoming Santa Claus" featuring (from left to right) Hila Pittman as Yan, Keith Jameson as Yab, Jonathan Blalock as Prince Claus, Lucy Schaufer as Ib and Kevin Burdette as Ob; edited image, based on a Karen Almond photograph, courtesy of The Dallas Opera. For my performance review, see: World Premiere Review: A Lavish Dallas Opera Production for Mark Adamo's "Becoming Santa Claus" – December 4, 2015.]
Wm: What projects are you working on during these difficult times?
PC: I have been teaching online. It's a challenge for sure, bt been enormously fruitful and satisfying. I did three weeks of classes with the San Francisco Opera Adler Fellows here in San Francisco – the first time in my life I have had a gig literally two blocks from home… and ended up doing it remotely anyway! I will also teach classes in directing for the Academy of the Arena di Verona – a fascinating multilingual challenge in Italian, English and Russian! So it keeps me busy.
But mainly I have been using the time to catch up on a lot of things I never have the time for: such as rereading as much Shakespeare as I can (I know I could do that on a plane but, really…). I do lots of Zoom calls with colleagues and friends and I have to say I think it has made us all a bit closer and more communicative in a much better way: texting is no longer quite enough.
Wm: It's hard to imagine opera productions taking place in an era when social distancing is still prescribed by the health authorities. Orchestras and operatic staging require the opposite of social distancing.
[Below: Lulu (Marlis Petersen, above) attempts to distract Doctor Schoen (Wolfgang Schoene. seated ) in a scene from the Lyric Opera of Chicago production of Berg's "Lulu"; edited image, based on a Dan Rest photograph, courtesy of the Lyric Opera of Chicago. For my performance review, see: Review:"Lulu" at the Lyric – Chicago, November 19, 2008.]
PC: It's possible audiences could sit two seats apart, even orchestras could spread out – though only on a platform not a pit and there is usually too little room for big pieces already. It will be interesting to see how audiences react when things open up. It has always fascinated me that in time of crisis some of the first things to go are live theatre, music etc… and some of the last to be considered are the very same. BUT… when a tragedy or major event strikes it is always music and theatre that is called into play to relieve, grieve or celebrate. Worth looking at what the social/financial values are behind such decisions.
Looking around the world at how certain governments have reacted to the crisis it is fascinating to see which ones have seen the arts as vital to be helped… and which not. I read an overseas politician's speech telling people they wouldn't be spending tax payer money on bailing out the arts and people should just say at home and watch TV and movies. Who does this guy think is creating these movies and shows? The actors , directors, singers, designers, lighting designers, stage managers… to name just a few… are the very ones he's proporting to "dump" at the same time as expecting them to be the clowns entertaining his increasingly red and frustrated population. A fascinating dichotomy.
[Below: Elena, the Lady of the Lake (Joyce DiDonato) in a scene from the Santa Fe Opera Paul Curran production of Rossini's "La Donna del Lago"; edited image, based on a Ken Howard photograph, courtesy of the Santa Fe Opera. For my performance review, see: Rossini Royalty: DiDonato, Brownlee, Pizzolato and Barbera in Curran's Staging of "Donna Del Lago" – Santa Fe Opera, July 26, 2013.]
Wm: At some point, one expects that all of the necessary tests, vaccines and other therapies to successfully overcome the pandemic will be in place, and opera performances everywhere could resume. Before that time, do you see operas being performed in some venues, but performances being prohibited in other jurisdictions.
PC: I'm not sure. I don't know if the public will have to confidence to sit so closely together for long periods without the full reassurance of the medical profession through all governments that it is safe to do so. I do remember that post 9/11 it took a while to fill houses.
Wm: The performing arts can be a financially risky career even during periods when national economies are doing well. It has to be a very scary time for both the opera companies and the artists who create and perform the opera productions.
PC: As with most of my colleagues, one of my biggest concerns right now is, being freelance, I have zero income and am not covered by anything to fill the gap. We're talking about tens, if not hundreds, of thousands of people worldwide who are left completely bereft. I am one of the lucky ones who has been teaching for many years and can teach online , so I have a little income able to come in. I cannot imagine how this is for my colleagues with families. Must be terrifying.
The bigger issue though is that a domino effect has meant many productions have been cancelled for the upcoming years, so the effect will be much longer for all of us. Thankfully singers can do concerts which, we hope, will be the first shows to bounce back. Directors? – not much we can "jump into" at short notice.
[ Below: Alek Shrader is Albert Herring in a scene from the Santa Fe Opera production of Britten's "Albert Herring"; edited image, based on a Ken Howard photograph, courtesy of the Santa Fe opera. For reviews of this production in Santa Fe and Los Angeles, see: Superlative: Britten's "Albert Herring" Brings Big Time Laugh-in to Santa Fe Opera – August 25, 2010 and Countdown to the Britten Centennial: Conductor James Conlon, Director Paul Curran in Reverential Mounting of Britten's "Albert Herring" – Los Angeles Opera, February 25, 2012.]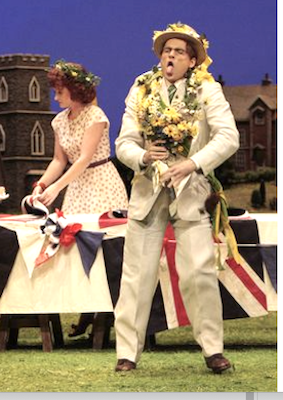 Wm: The first Paul Curran production I ever experienced was your conceptualization of Britten's "Billy Budd" at the Santa Fe Opera [see Superlative: Original 1951 "Billy Budd" Catches the Santa Fe Wind – August 14, 2008]. Since we are both currently "locked down", perhaps you would be willing to engage in another "conversation" to discuss your thoughts about "Billy Budd" and other operas by Britten and other opera composers.
PC: I'd love to have a conversation about Billy Budd and Britten in general – I was supposed to start directing A Midsummer Night's Dream tomorrow…
All best.