Sarasota Opera mounted Alfredo Catalani's masterwork, "La Wally", one of the core works created as part of the Italian verismo movement that began in the 1890s.
Caitlin Crabill's La Wally
Like his Italian contemporaries Pietro Mascagni and Giacomo Puccini, Catalani was a disciple of the composer Richard Wagner, whose influence can be discerned in the Tristanesque chromatic harmonies and the vocal power and endurance required to perform the music composed for the lead character, La Wally.
Sarasota Opera was fortunate to have among its Studio Artists and Apprentices Ohio soprano Caitlin Crabill, who assumed the role a few days before opening night when the originally announced soprano withdrew due to illness. Crabill was vocally persuasive in defining La Wally, a character who is deeply attracted to the huntsman Hagenbach, a man who too late recognizes that he has repressed his love for her.
[Below: Caitlin Crabill as La Wally; edited image, based on a Rod Millington photograph, courtesy of the Sarasota Opera.]
Crabill's affecting performance of Wally's ethereally beautiful first act showpiece aria Ebben? Ne andro lontana was one of the evening's highlights. Crabill also exhibited mastery of vocally demanding arias in each of the other acts, notably the final act's Eterne a me d'intorno repeating a poignant theme from the act's orchestral introduction.
Rafael Davila's Giuseppe Hagenbach
Puerto Rican tenor Rafael Davila was Hagenbach. Davila's gleaming spinto tenor was enlisted to portray the hunter's complexities. Although betrothed to Afra, Hagenbach insincerely invites Wally to join him in a ländler "kissing dance", having wagered with his friends that he would obtain a "first kiss" from the virginal protagonist.
[Below: Giuseppe Hagenbach (Rafael Davila, right) and La Wally (Caitlin Crabill, left), dancing a ländler, find themselves attracted to each other; edited image, based on a Rod Millington photograph, courtesy of the Sarasota Opera.]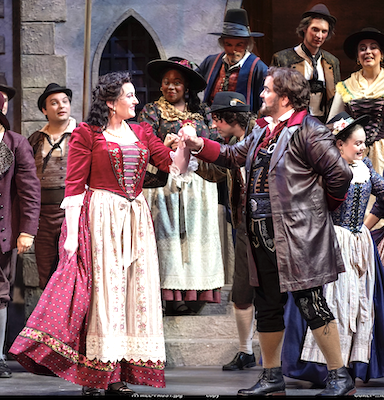 Unexpectedly, the dance and the kiss arouse romantic passions in both Hagenbach and Wally, which are dashed for Wally who is humiliated when the villagers laugh about Hagenbach winning his wager.
[Below: Hagenbach, consumed by love (Rafael Davila, left) pursues La Wally (Caitlin Crabill, right) to the snowbound cabin where she lives alone; edited image, based on a Rod Millington photograph, courtesy of the Sarasota Opera.]
I had admired Davila's performance as Pollione in Bellini's "Norma" [Legend Making at the Kennedy Center: Angela Meade's First Norma – Washington National Opera, March 9, 2013]. Davila's Hagenbach further demonstrates the wide range of Davila's vocal talents.
Jessica Sandidge's Walter
California soprano Jessica Sandidge sang the lyric coloratura trouser role of Walter, La Wally's young companion and admirer. Sandidge's Walter, who like Crabill's Wally and Davila's Hagenbach, appears in all four acts, displayed vocal virtuosity (including a touch of Tyrolean yodeling) in a vivid portrait of a young adolescent boy.
[Below: Jessica Sandidge as Walter; edited image, based on a Rod Millington photograph, courtesy of the Sarasota Opera. ]
Sandidge is performing two principal roles in the four operas that constitute the Sarasota Opera season. In addition to the role of Walter, she plays Musetta in "La Boheme" – another highly successful performance.
Sean Anderson's Vincenzo Gellner and Young Bok Kim's Stromminger
New York baritone Sean Anderson performs the role of Vincenzo Gellner, who is Hagenbach's unsuccessful rival for Wally's affections. Anderson's voice has the weight of a dramatic baritone, appropriate for Gellner's arias of the second and third acts. The latter aria includes the ferocious passages in which Gellner's love for Wally leads him to attempt the murder of Hagenbach, an act of vengeance he believes that Wally desires.
[Below: Gellner (Sean Anderson, right) expresses his desire to Stromminger (Young Bok Kim, left) to become his son-in-law; edited image, based on a Rod Millington photograph, courtesy of the Sarasota Opera.]
South Korean bass Young Bok Kim was a sonorous Stromminger, Wally's spiteful father. Stromminger banishes Wally for disobeying his orders that she marry Gellner, even though she does not love him.
I had previously admired Kim as Oroveso [Review: Sarasota Opera's "Norma", Maestro DeRenzi Presides – March 17, 2018]. This season Kim is also singing the role of Colline in Sarasota Opera's "La Boheme"
Lisa Chavez' Afra and Ricardo Lugo's Foot Soldier
California soprano Lisa Chavez is a leading mezzo of the Sarasota Opera both in principal roles, such as Carmen [Review: Sarasota Opera "Carmen" with Lisa Chavez, Cody Austin, Hanna Brammer – March 16, 2018] and in smaller character parts, such as Hagenbach's fiancée Afra. The practical Afra, who warns Hagenbach not to trifle with Wally's affections, is portrayed by Chavez with dignity and vocal security.
[Below: Afra (Lisa Chavez, right, standing behind table) listens to her fiance, Giuseppe Hagenbach (Rafael Davia, center front); edited image, based on a Rod Millington photograph, courtesy of the Sarasota Opera.]
In luxury casting, Puerto Rican bass Ricardo Lugo, who is also performing the principal role of Frère Laurent in Sarasota Opera's presentation of "Romèo et Juliette", in "La Wally" took on, with distinction, the important comprimario role of the Foot Soldier .
[Below: Ricardo Lugo as the Foot Soldier; edited image, based on a Rod Millington photograph, courtesy of the Sarasota Opera.]
Maestro Victor DeRenzi and the Sarasota Opera and Chorus
New York Maestro Victor DeRenzi, Sarasota Opera's Music Director, conducted an affectionate reading of a work he obviously cherishes. The Sarasota Opera Orchestra performed Catalani's "local color" orchestral music brilliantly.
The Sarasota Opera Chorus, comprised of Apprentice and Studio artists, created a portrait of life in a remote alpine village for the first three of the four acts. The rousing first act huntsmen's chorus Su, cacciator, ritorna, accompanied by French horns, was especially memorable.
Director Stephanie Sundine, Designers Steven C. Kemp and Howard Tevi Kaplan and Choreographer Tania Vergara
Illinois director Stephanie Sundine, who herself had sung the role of La Wally at the Sarasota Opera 31 years ago, created a fast-moving, authoritative staging of Catalani's work. The final scene, in which the lovers Hagenbach and Wally succumb respectively to avalanche and suicide, in Sundine's presentation, worked theatrically.
[Below: Giuseppe Hagenbach (Rafael Davia) in Act II of "La Wally"; edited image, based on a Rod Millington photograph, courtesy of the Sarasota Opera.]
Texas scenic designer Steven C. Kemp, who had designed the sets for "Tiefland" two seasons earlier [Review: Sarasota Opera's Triumphant "Tiefland" Stars Kara Shay Thomson, Ben Gulley – March 18, 2018] created colorful, visually attractive sets. Those sets were complemented by the costumes of New York designer Howard Tsvi Kaplan
[Below: La Wally (Caitlin Crabill) is surrounded by precarious slopes of ice and snow; edited image, based on a Rod Millington photograph, courtesy of the Sarasota Opera.]
Thoughts "La Wally" ans on Alfredo Catalani's place in opera
Alfredo Catalani, set his best known opera, "La Wally" in the area around two small villages (both of which actually exist high in the Austrian Tyrolean Alps) through which the River Ache cuts. It is one of the highest inhabitable places in Europe, and the avalanche to which the character Hagenbach succumbs is a familiar phenomenon to the region's inhabitants. It is the precise area in which, decades after the opera's premiere, the mummy of the Iceman Ötzi was discovered.
Although the opera takes place high up in the Austrian Alps, its characters display many of the violent passions that one associates with Italy's two most famous verismo operas that appeared in the first three years of the 1890s. The character of Wally shares with the vengeful Santuzza in Mascagni's "Cavalleria Rusticana", which premiered 16 months before "La Wally", the determination to obtain revenge for the infidelities of the man she loves. The character of Gellner shares with Canio in Leoncavallo's "Pagliacci", which premiered four months after "La Wally", the idea that murder is the appropriate remedy for a man who has crossed a line that cannot be forgiven.
"La Wally" abounds in "program music" that effectively conveys the spirit of these villages. Catalani's vocal and orchestral writing was admired by the esteemed conductor Arturo Toscanini, who regarded Alfredo Catalani as the greatest post-Verdian Italian opera composer (and named his daughter Wally). Toscanini's career was well-established in the 1890s, when operatic verismo was in its ascendancy.
Whatever Catalani might have contributed to the operatic repertory beyond his operas "Loreley" and "La Wally", his death at age 39 places him with a pantheon of operatic talents – Mozart, Weber, Bellini, Donizetti, Gershwin – each of whom died in their 30s or 40s.
Recommendation
I enthusiastically recommend the performance both to the newcomer to opera and to veteran opera goer, especially to those who wish to experience a less-often performed verismo masterwork.