The San Francisco Opera has unveiled the first part of a trilogy of new opera productions for the three Mozart operas of which Lorenzo da Ponte was librettist. The first of these productions, "The Marriage of Figaro" introduces two of the themes that underlie the three productions. The first of these themes is that all three operas take place in the U. S. A. The second theme is that each opera is located in the same house "somewhere in the heart of a brand-new America" (perhaps located in the vicinity of Philadelphia), with a century and a half separating the era in which each opera's production is set. "Figaro" takes place in 1786, the year of the opera's premiere and just after America won its independence. "Cosi fan Tutte" takes place during the Great Depression of the 1930s and "Don Giovanni" takes place seven decades into the future.
The Marriage of Figaro (1786)
One striking image establishes the production's Revolutionary era American location. At the end of Figaro's most famous aria Non piu andrai – sung to the page Cherubino, who has just learned he is being banished to Count Almaviva's regimental troops – Figaro, Susanna and Cherubino assume the marching positions of the subjects of Willard's iconic painting, "The Spirit of 1776".
[Below: Figaro (Michael Sumuel, second from right) sings of the future military career of Cherubino (Serena Malfi, center left) as they join Susanna (Jeanine De Bique, right) in an homage to Archibald MacNeal Willard's painting "The Spirit of 1776" painting; edited image, based on a Cory Weaver photograph, courtesy of the San Francisco Opera.]
The production contains other, more subtle Revolutionary Era references (some described below), but nothing in the production changes the Mozart/da Ponte plot.
Michael Sumuel's Figaro and Jeanine De Bique's Susanna
Texas bass-baritone Michael Sumuel was outstanding in the title role, his "big number" Non piu andrai memorable for his singing as much as its coup de théâtre ending. His final scene's angry warning to all males Aprite un po' quegl'occhi was effectively seething, Sumuel displaying the vocal expressiveness and control one needs to be a successful Mozartean.
[Below: Michael Sumuel as Figaro; edited image, based on a Cory Weaver photograph, courtesy of the San Francisco Opera.]
Sumuel shines in roles that allow great operatic actors to unleash their comic instincts. San Francisco Opera audiences had a hint of Sumuel's comic flair as Elviro in Handel's "Xerxes" seven years ago, and as the angry Masetto in Mozart's "Don Giovanni" three seasons prior. As Figaro, Sumuel's abilities at physical comedy are fully realized.
Houston Grand Opera audiences have experienced the full range of Sumuel talents in performances of such iconic roles as Marcello in Puccini's 'La Boheme" [Review: Back Home for "Bohème" – Houston Grand Opera, November 10, 2018 ] and Sergeant Belcore in Donizetti's "L'Elisir d'Amore" [Review: Engaging "Elixir of Love" at Houston Grand Opera, October 29, 2016], in both of which he co-starred with Nicole Heaston, this performance's Countess Almaviva.
Barbados lyric soprano Jeanine Di Bique, in her San Francisco Opera debut season, was an engaging Susanna. The longest role in "Marriage of Figaro", Susanna is at the center of most of the opera's action, and Di Bique distinguished herself vocally in the opera's many ensembles and especially in her affecting performance of her final aria Deh vieni, non tardar.
[Below: Jeanine Di Bique as Susanna; edited image, based on a Cory Weaver photograph, courtesy of the San Francisco Opera.]
In all enduring classic comedies, the funny situations continue to be funny, no matter how many times one sees them. Di Bique obviously enjoyed her opportunities to evoke audience laughter in her first act banter with her supposed rival Marcellina, and especially in the hilarious sua madre? scene when Susanna belatedly learns that Marcellina and Figaro have unexpectedly discovered their mother- son relationship.
Levente Molnár's Count Almaviva and Nicole Heaston's Countess Almaviva
Also celebrating their San Francisco Opera debuts were Hungarian baritone Levente Molnár and Illinois lyric soprano Nicole Heaston.
Molnár is a physical actor with comic instincts. His powerful lyric baritone and dramatic skills proved effective in portraying both the Count's sexual scheming and his contrition when those schemes go awry. A big man, Molnár is light on his feet with the gestures of a classical dancer.
[Below: Levente Molnár as the Count Almaviva; edited image, based on a Cory Weaver photograph, courtesy of the San Francisco Opera.]
Illinois lyric soprano Nicole Heaston brought the requisite dignity (and conspiratorial mischievousness) to the role of the Countess. Heaston's vocal expressiveness and pleasant, controlled vibrato were beautifully employed for the Countess' great arias Porgi amor and Dove sono.
(The source material for Da Ponte's libretto, Beaumarchais' Figaro trilogy, is comprised not only of Le Barbiere de Seville and Le Mariage de Figaro, whose stories are familiar to opera goers, but also La Mere coupable, where we learn that the Countess and the page Cherubino have an illegitimate child together as does the Count and another woman, so we are aware that the ceremony of contrition and forgiveness that end this opera are not the end of the Almavivas' marital "issues".)
[Below: the Countess Almaviva (Nicole Heaston, left) receives the attention of the page Cherubino (Serena Malfi right; edited image, based on a Cory Weaver photograph, courtesy of the San Francisco Opera.]
James Creswell's Doctor Bartolo, Catherine Cook's Marcellina and Greg Fedderly's Don Basilio
Washington bass James Creswell was hilarious and musically superb as Doctor Bartolo, providing a powerful performance of Doctor Bartolo's big aria La Vendetta. California mezzo-soprano Catherine Cook, soon to be celebrating her 30th anniversary of her association with the San Francisco Opera, was a lively Marcellina.
[Below: Marcellina (Catherine Cook, left) receives some advice from Doctor Bartolo (James Creswell, right); edited image, based on a Cory Weaver photograph, courtesy of the San Francisco Opera.]
The estimable North Carolina character tenor Greg Fedderly brilliantly portrayed Bartolo's and Marcellina's effete co-conspirator, Don Basilio.
[Below: Greg Fedderly as Don Basilio; edited image, based on a Cory Weaver photograph, courtesy of the San Francisco Opera.]
Serena Malfi's Cherubino, Natalie Image's Barbarina and Other Cast Members
Like Molnár and Heaston, this production marks the San Francisco debut of Italian mezzo-soprano Serena Malfi. Always in character, Malfi onstage movements created a portrait of the page that was both dramatically persuasive and musically convincing.
[Below: Serena Malfi as Cherubino; edited image, based on a Cory Weaver photograph, courtesy of the San Francisco Opera.]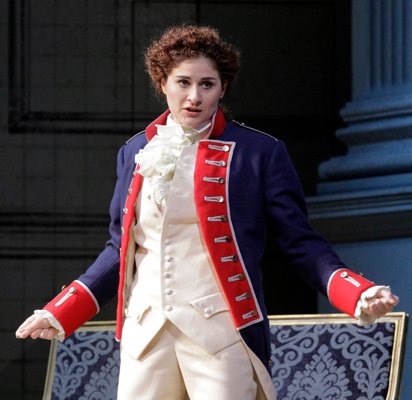 Cherubino's girlfriend Barbarina was sung with distinction by Canadian soprano and San Francisco Adler Fellow Natalie Image. Barbarina is a comparatively brief role (augmented in this production by restoration of some of her music that is often cut in performance), but contains the aria L'ho perduta, me meschina, built around one of Mozart's haunting melodies. Image sang it beautifully.
[Below: Natalie Image as Barbarina; edited image, based on a Cory Weaver photograph, courtesy of the San Francisco Opera.]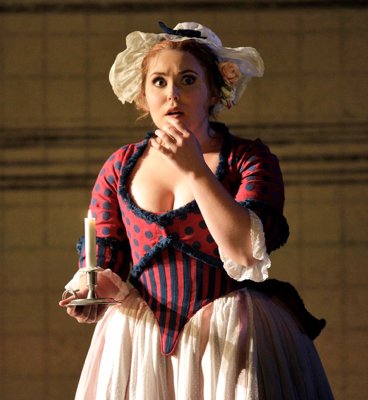 The cast of principal artists included Missouri tenor Brenton Ryan, an excellent artist whose presence in the comprimario role of the notary, Don Curzio, is luxury casting.
Former San Francisco Opera Adler Fellow, Serbian bass-baritone Bojan Knezevic, has owned the part of the gardener Antonio at this company for decades. His performance is eye-catching, both funny and sympathetic.
The two bridesmaids were sung by Jesslyn Thomas and Laurel Cameron Porter.
Maestro Henrik Nánási and the Musical Performance
Presiding over the excellent performances by the San Francisco Opera Orchestra and Chorus was Hungarian conductor Henrik Nánási, who had been so impressive in his company debut, conducting Richard Strauss' "Elektra" [Review: San Francisco Opera's "Elektra" – Goerke, Pieczonka in a Gory, Gloriously Sung Night at the Museum – September 9, 2017.]
Maestro Nánási is a physical conductor, who seems to dance on the conductor's platform as he conducts. The musical outcome was spectacular, particularly the big orchestral passages – the opera's famous overture and the grand third act's wedding march (the 18th century's greatest operatic wedding march and the second most famous in the operatic repertory).
The San Francisco Opera Chorus is under the directorship of Scottish Chorus master Ian Robinson.
Michael Cavanagh's New Production
The new production by Canadian director Michael Cavanagh transfers the locale of the opera from Spain to the newly created United States. The geographical transfer proved to be a logical one, in that the ideas of abolishing hereditary classes and their privileges – inherent in Beaumarchais' source material – had taken hold in America and would soon transform France.
Except for the homage to the famous Willard painting, and the brief appearance of a bust of George Washington, the references to America's post-colonial decade are subtle. The costuming by California designer Constance Hoffman reflect colonial styles and fabrics. The choreography for the third act minuet created by California choreographer Lawrence Pech incorporates steps from American dances derived from the minuet (the Virginia reel, the grapevine and the predecessors of the square dance).
The idea of centering all three of the Mozart/Da Ponte operas in a single mansion in three different periods over three centuries is an intriguing one, underscoring the fact that there is no "local color" in any of the three operas, and the themes are universal.
The sets by Washington designer Erhard Rom were elegant, evoking a majestic edifice with an attractively landscaped garden area. Irish designer Jane Cox created the production's lighting.
[Below: the Almavivas' mansion is being renovated to place the bedroom in which Susanna (Janine Di Bique, center right, next to wing chair) is to sleep to be nearer to the bedroom of the Count Almaviva (Leverte Molnár) seated in wing chair); edited image, based on a Cory Weaver photograph, courtesy of the San Francisco Opera.]
The production opened many traditional cuts (except for the rarely heard solo arias for Marcellina and Don Basilio), each of the restorations adding to the production's dramatic logic.
Recommendation
I enthusiastically recommend the new production, cast, and musical performance to both the veteran opera goer and the person new to opera.