Opera Philadelphia, mounting Handel's opera "Semele", assembled a superb cast of principals led by Amanda Forsythe, Daniela Mack and Alek Shrader. The principal singers were supported by a large chorus, a team of dancers and an orchestra able to do justice to Handel's hauntingly beautiful baroque harmonies.
Handel wrote technically difficult, richly melodic vocal lines for each of "Semele's" principals. The opera contains several of Handel's most popular operatic arias.
Amanda Forsythe's Semele
The title character, Semele (charmingly sung by Massachusetts soprano Amanda Forsythe), is a mortal dazzled by the romantic attentions of Jupiter, the king of the gods.
[Below: the mortal Semele (Amanda Forsythe, center) has arrived in the realm of the gods to the curiosity of the realm's immortal inhabitants; edited image, based on a Dominic M. Mercier photograph, courtesy of the Opera Philadelphia.]
Although every Handel aria is a gem, the role of Semele includes two of the opera's "showstoppers". Endless pleasure, Endless love, the aria that closes the opera's first act, celebrates Semele's ascension into Jupiter's realm. The opera's most famous aria, Myself I Shall Adore is Semele's injudicious display of hubris. Forsythe sang the aria with technical brilliance, surrounded by myriads of Semele images, created by North Carolina Projection Designer Adam Larsen.
[Below: Semele (Amanda Forsythe) expresses her self-adoration; edited image, based on a Dominic M. Mercier photograph, courtesy of the Opera Philadelphia.]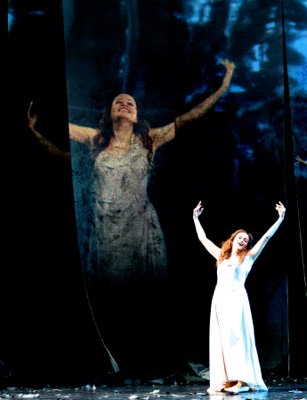 I had last seen Forsythe in Tomer Zvulun's 2015 production of "Semele" at the Seattle Opera in which she performed the substantive role of Juno's streetwise companion, Iris.
Daniela Mack's Juno and Ino and Alek Shrader's Jupiter and Apollo
Opera Philadelphia's immortal married couple Juno and Jupiter were performed by the real-life husband and wife team of Argentinian soprano Daniela Mack and Ohio tenor Alek Shrader (who sang Jupiter in the Seattle Opera performances in which Forsythe appeared [Review: Blythe, Rae, Shrader Sizzle in Seattle Opera's Saucy "Semele" – February 25, 2015.]
Mack assumed the most complicated role in the opera, in which she plays Semele's sister Ino, then the goddess Juno, and, later, Juno shapeshifting to become Ino. Mack is convincing in each of these three roles which drive the opera's plot. The mortal Semele is obviously mismatched in her battle with a goddess who has had countless eons to devise strategies to keep her errant husband in line. Juno, through a dreamworld created by Somnus, god of sleep, manipulates both Jupiter and Semele. As Juno and Ino, Mack once again showed mastery of baroque opera and the coloratura fireworks of such iconic arias as Hence Iris, hence away!
Juno knows that Jupiter can only make love to Semele when he is in human form. If Jupiter appears to Semele in his form as the god of lightning and thunder, his presence would destroy her.
[Below: Juno (Daniela Mack, right) demands the services of Somnus, god of sleep (Alex Rosen, left) to further her plot; edited image, based on a Dominic M. Mercier photograph, courtesy of the Opera Philadelphia ]
At Juno's insistence, Somnus creates a sex dream for Jupiter so intense that he will recklessly agree to any demand Semele makes.
[Below: Ino (Daniela Mack, right) embraces Ino's avatar (dancer Lindsey Matthies, left); edited image, based on a Dominic M. Mercier photograph, courtesy of the Opera Philadelphia ]
With Jupiter bound by an irrevocable oath, Juno appears to Semele as her sister Ino, persuading Semele to demand, in exchange for the promise of sex, that Jupiter appear to her, not as a human, but as a god, which the deceptive Juno as Ino suggests will result in Semele becoming immortal.
[Below: Jupiter (Alek Shrader, standing right) is so attracted to Semele (Amanda Forsythe, standing left) that he will injudiciously make an unbreakable vow to give her whatever she wishes; edited image, based on a Dominic M. Mercier photograph, courtesy of the Opera Philadelphia ]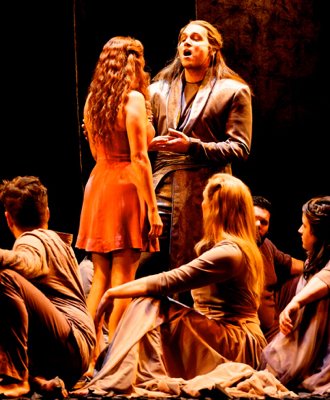 Shrader proved an ideal Handel tenor, richly lyrical for Jupiter's gentle aria Where'er you walk, cool gales shall fan the glade. He mastered the role's challenging coloratura of his aria of reassurance Lay your doubts and fears aside and the fear and dramatic ferocity of Ah, take heed what you press.
[Below: Ino (Daniela Mack, left, holding two globes) joins her sister Semele (Amanda Forsythe, right) in the realm of the gods; edited image, based on a Dominic M. Mercier photograph, courtesy of the Opera Philadelphia.]
Mack has appeared with Shrader in other Handel masterpieces [see Review – Santa Fe Opera's "Alcina": Beautifully Sung Enchantment – July 29, 2017 and Review: An Engaging Cast, Handel's Seductive Music, and Christopher Alden's Surreal Staging Enliven San Francisco Opera's "Partenope" – San Francisco Opera, October 15, 2014].
By opera's end, balance has been restored between the mortal and immortal realms. The aggrieved wife, Juno, has outwitted the "other woman". Semele's I burn, I burn, I faint marks her demise, although out of her ashes arise the god Bacchus. Mack's Ino becomes the wife of her deceased sister's fiancé Athamus and Mack's Juno has thwarted the sexual escapes of her immortal husband Jupiter.
[Below: Juno (Daniela Mack, left) appears with the god Apollo (Alek Shrader, right) to celebrate the birth of her stepson Bacchus (dancer, center) out of Semele's ashes; edited image, based on a Dominic M. Mercier photograph, courtesy of the Opera Philadelphia.]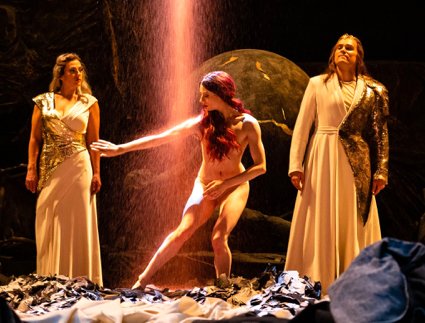 See also my interviews with Rising Stars – An Interview with Alek Shrader and Rising Stars: An Interview with Daniela Mack and "Opera Acting Without Music" – A Conversation with Alek Shrader.
Sarah Shafer's Iris, Alex Rosen's Cadmus and Somnus and Tim Mead's Athamus
Pennsylvania soprano Sarah Shafer sang the role of Juno's operative, Iris, making a strong impression in her narrative Hear, mighty Queen, of the dragons Jupiter employs to guard his hideaway with Semele.
I have admired Sarah Shafer's appearances in such Mozart roles as Susanna in "Marriage of Figaro" at the San Diego Opera and Zerlina in "Don Giovanni" and Pamina in "The Magic Flute" at the San Francisco Opera, as well as her creation of the role of in a recent world premiere [World Premiere Review: Tutino's Melodic, Melodramatic "Two Women (La Ciociara)" Makes a Strong First Impression – San Francisco Opera, June 13, 2015.] As "Semele's" Iris, Shafer proved to be an accomplished singer of baroque opera as well.
[Below: Iris (Sarah Shafer, standing) assesses whether Somnus (Alez Rosen, left) can do what is expected of him; edited image, edited image, based on a Dominic M. Mercier photograph, courtesy of the Opera Philadelphia.]
California bass Alex Rosen was a distinguished presence in each of the opera's two bass roles, as Semele's father Cadmus and as Somnus, god of sleep. Both are formidable roles, and the latter has one of Handel's most luxurious melodies for bass, More sweet is that name, which Rosen performed with eloquence.
As Somnus, Rosen was called upon to writhe on the stage floor with four dancers, who collectively conjured the image of how the god of sleep himself sleeps.
British counter-tenor Tim Mead sang the role of Prince Athamus, whose marriage to Semele, Cadmus had arranged. Mead's Athamus performed the jaunty aria Hymen haste, thy torch prepare, whose coloratura passages become more complex in succeeding verses – a bravura performance appropriately receiving an audience ovation.
[Below: Cadmus (Alex Rosen, left) shares his distress at the day's events with the aggrieved Athamus (Tim Mead, right); edited image, based on a Dominic M. Mercier photograph, courtesy of the Opera Philadelphia]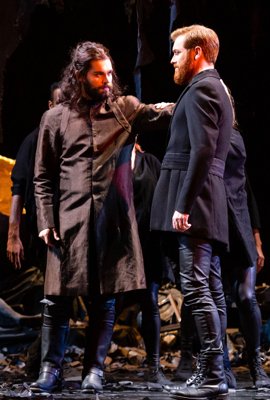 Maestro Gary Thor Wedow and the Opera Philadelphia Orchestra and Chorus
The Opera Philadelphia Orchestra was led authoritatively by baroque and classical era specialist, Maestro Gary Thor Wedow. Under his leadership, the Opera Philadelphia's orchestra, supplemented by baroque instruments, created the exquisite melodic sound that is the heart of "Semele".
[Below: Maestri Gary Thor Wedow; edited image, based on a publicity photograph.]
In addition to my report on Maestro Wedow's 2015 Seattle Opera "Semele", I was also impressed by Wedow's leadership in an elegant performance of a Gluck opera [William Burden Triumphs in Gluck's "Orphee et Eurydice" – Seattle Opera, February 29, 2012], another example of Wedow's command of contemporary performances of 18th century operas.
The Opera Philadelphia chorus, under the direction of Pennsylvania Chorus Master Elizabeth Braden, sang (and acted) admirably.
James Darrah's Direction, Sarah Schuessler's Costume Design and Gustavo Ramirez Sansano's Choreography
"Semele" had much going against it in 1740s London. It was sung in English, defying the opera establishment's dictate that operas should be sung in Italian, and it had a "profane" theme, a jarring contrast to the religious solemnity of the Lenten season in which it was first presented.
What the opera needed, to be truly successful, were audiences with 21st century sensibilities – audiences open to Handel's dazzling vocal lines and the evocative sounds of a supportive orchestra comprised of baroque-era inspired instruments – an audience unconcerned with conventional ideas as to what subject matter operas should and should not contain.
Opera Philadelphia mounted what began as a joint production between Opera Omaha and Opera Philadelphia. The production, conceived by California director James Darrah, in collaboration with Illinois costume designer Sarah Schuessler was presented in Omaha in 2016. That production was preceded by a 2014 Darrah-Schuessler "Semele" created for Pacific MusicWorks, a Seattle-based musical theater company whose "Semele" was in collaboration with the University of Washington's Department of Music.
Darrah's and Schuessler's ideas have subsequently evolved, so much that the 2019 Philadelphia version differs substantively from what was seen in Omaha. An innovation of the Omaha performance was the creation of a dancer who represents Semele's sister Ino. When Ino is onstage, she is sometimes herself and sometimes Juno assuming Ino's form. Having a dancer (strikingly performed in Philadelphia by dancer Lindsey Matthies) as Ino's avatar, allows for a clearer depiction of when Ino is herself and when she is not.
[Below: Director James Darrah; edited image, based on a publicity photograph, courtesy of Opera Philadelphia.]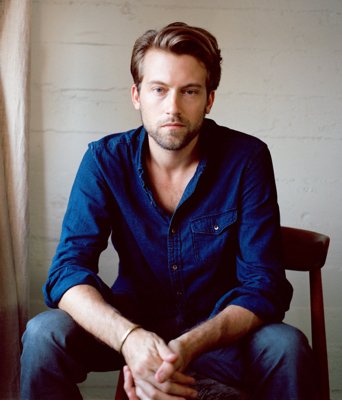 Schuessler, who worked with Darrah on the production's concepts, took the lead on the costume, promoting a "look" in which the goddesses Juno and Iris were in elegant draped dresses, and the gods Jupiter and Apollo in golden-hued noble finery.
The mortals, who dominate the opera's first act were dressed in dark colors. To emphasize the creepy, cultish community of arranged marriages and pagan rites in which the mortals Cadmus and his daughters Semele and Ino existed, the chorus members engaged in grotesque gestures.
[Below: Costume designer Susab Schuessler; edited image of a publicity photograph courtesy of Opera Philadelphia.]
The success of the dancer-avatar representing Ino in the 2016 Omaham production led Darrah and Schuessler to an important change for Opera Philadelphia. Spanish Choreographer Gustavo Ramirez Sansano was enlisted to incorporate four dancers into each scene of the opera. The results were spectacular, as impressive an integration of dance and drama as I have seen in live opera performance.
[Below: Choreographer Gustavo Ramirez Sansano; edited image of a Jonathan Sackoff photograph, courtesy of Opera Philadelphia.]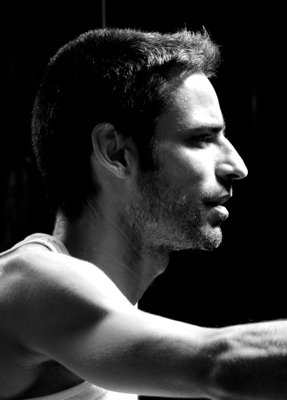 The chorus was choreographed into elaborate hand and body movements, creating a powerful visual impression whose dramatic impact was sustained throughout the evening.
[Below: the men and women (the Opera Philadelphia Chorus) of the cult surround their leader Cadmus (Alex Rosen, center); edited image, based on a Dominic M. Mercier photograph, courtesy of the Opera Philadelphia.]
Recommendation
I recommend Opera Philadelphia's cast and production of Handel's "Semele" both for the veteran opera-goer and the person interested in or open to baroque music.