The Santa Fe Opera has announced three consecutive years of opera world premieres for the company's 2019, 2020 and 2021 seasons.
2019's new opera, Poul Ruders' "The Thirteenth Child", is based on the Brother Grimm's Fairy Tale "The Twelve Brothers".
David Leigh's King Hjarne, Tamara Mumford's Gertrude and Bradley Garvin's Drokan
In "The Thirteenth Child" Drokan (Illinois bass-baritone Bradley Garvin), with evil intent, convinces his cousin, King Hjarne of Frohagord (New York bass David Leigh) that his 12 sons are conspiring to usurp his throne.
Much of the music that Ruders' composed for David Leigh's role of King Hjarne lies deep in the bass range. and both the vocal lines of both Leigh's Hjarne and Bradley Garvin's Drokan occasionally include phrases sung in falsetto, representing respectively the king's emotional distress and Drokan's malice.
[Below: Drokan (Bradley Garvin, left) warns King Hjarne (David Leigh, right) that his 12 sons are plotting to overthrow him; edited image, based on a Ken Howard photograph, courtesy of the Santa Fe Opera.]
The music Ruders composed for King Hjarne includes a sweeping symphonic introduction to Hjarne's plaintive The night air groans, I know not what is true, which would not have been seemed out of place in orchestral interludes from operas of the late 19th century romantic era.
Utah mezzo-soprano Tamara Mumford made a striking impression as Queen Gertrude. It is Mumford's Gertrude who introduces the opera's most distinctive melodic leitmotiv representing her maternal need to protect her sons and suggesting Gertrude's beating heart. The leitmotiv is first heard in Gertrude's aria That night I sent them off, plainly dressed and in disguise. Lying deep in the mezzo range, the letimotiv returns in the second act, sung with emotion in different contexts by Jessica Jones' Lyra and Joshua Dennis' Frederic.
[Below: King Gertrude (Tamara Mumford) is expecting her 13th child, who will be her first daughter; edited image, based on a Ken Howard photograph, courtesy of the Santa Fe Opera.]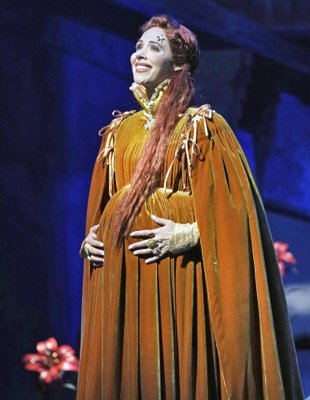 In the opera's second act, Queen Gertrude returns as a ghost, singing high in her range with instructions as how her daughter, Lyra, can rectify a supernatural faux pas.
[Below: the Ghost of Queen Gertrude (Tamara Mumford, right) explains how Lyra (Jessica E. Jones, left) can make things right; edited image, based on a Ken Howard photograph, courtesy of the Santa Fe Opera.]
I had previously reported on Bradley Garvin as the Banker in Berg's "Lulu" ["Lulu" at the Lyric – November 19, 2008] and on David Leigh as Zuniga in "Carmen" [Review: Francesca Zambello's Theatrically Compelling "Carmen" – San Francisco Opera, June 5, 2019].
This performance was formally designated as the Santa Fe Opera debuts for Garvin, Mumford and Leigh, although it is the company's policy not to count onstage appearances by Santa Fe Opera Apprentice singers (even in what are considered principal roles) as "debuts". Leigh was a 2016 Apprentice.
Jessica E. Jones' Lyra and Joshua Dennis' Frederic
Idaho soprano Jessica E. Jones was an engaging Lyra, whose mother Gertrude reveals to her that she has 12 brothers that Lyra has not previously known about, who are hidden in a forest in fear of their lives.
Jones' Lyra was elegantly sung, Lyra's vocal line also benefits from the richly lyrical orchestration supporting it.
[Below: Jessica E. Jones as the 13th child, Lyra; edited image, based on a Ken Howard photograph, courtesy of the Santa Fe Opera.]
California tenor Joshua Dennis was Prince Frederic, whose consort Lyra is to become. Dennis is the only member of the cast to have previously "debuted" officially at the Santa Fe Opera – as Jacquino in Beethoven's "Fidelio" [Review: A Finely Crafted "Fidelio" from Stephen Wadsworth – Santa Fe Opera, July 31, 2014.] Dennis previously had been an Apprentice in the 2012 and 2013 seasons.
One of the distinctive passages of the opera is Frederic's lament of King Hjarne's death in Act I's second scene, in which he is accompanied by a chorus of mourners.
[Below: Joshua Dennis as Prince Frederic; edited image, based on a Ken Howard photograph, courtesy of the Santa Fe Opera.]
Bille Bruley's Benjamin, Antony Ciaramitaro's Toke and David Leigh's Corbin and other Cast Members
Texas tenor Bille Bruley was affecting as the grown youngest brother, Benjamin, whose death (after which the opera abruptly – arguably too abruptly – ends) is the story's final tragedy.
His two eldest brothers, Corbin and Toke, were played respectively by David Leigh (now resurrected as King Hjarne's son) and Florida tenor Anthony Ciaramitaro.
Playing the remaining nine brothers were Iowa tenor Alec Carlson, California tenor Duke Kim, South Korea bass-baritone Seungyun Kim, Virginia bass William Meinert, New Jersey bass-baritone Andrew Moore, Texas tenor Angel Romero, Michigan bass Brent Michael Smith, New York tenor Joseph Tancredi and Utah tenor Eric Taylor.
Other male parts were played by Florida baritone Ian Burns, Virginia bass Cory McGee, Massachusetts tenor Robert Stahley and Maryland baritone Benjamin Taylor.
Also in the cast were New York soprano Danielle Beckvermit, Michigan soprano Cheyanne Coss, Texas soprano Sylvia D'Eramo, Michigan mezzo-soprano Katherine DeYoung, Missouri mezzo-soprano Ruby Dibble, Maryland mezzo-soprano Kate Farrar, Kentucky soprano Mary-Hollis Hundley, New York soprano Grace Kahl, California soprano Jana McIntyre, Florida mezzo-soprano Kaitlyn McMonigle, New York mezzo-soprano Kathleen Reveille and New York mezzo-soprano Elizabeth Sarian,
[Below: the Twelve Brothers and the thirteenth child, from left to right, first row, Brent Michael Smith, Angel Romero, Bille Bruley, Jessica E. Jones (center, in blue tunic)\ Alec Carlson, Anthony Ciaramataro, David Leigh; second row. left, partially or completely obscured are Joseph Tancredi, Andrew Moore and Eric Taylor; second row center, Seung-Yun Kim, William Meinert and Duke Kim; edited image, based on a Ken Howard photograph, courtesy of the Santa Fe Opera.]
[Below: Lyra (Jessica E. Jones, left center) holds the dying Benjamin (Bille Bruley, lying on ground) as Corbin (David Leigh, left), Frederic (Joshua Dennis, second from right) and Toke (Anthony Ciaramataro, right) look on; edited image, based on a Ken Howard photograph, courtesy of the Santa Fe Opera.]
Maestro Paul Daniel and the Santa Fe Opera Orchestra
English conductor Maestro Paul Daniel led the Santa Fe Opera Orchestra in a lyrical reading of Ruders' score. The Santa Fe Opera Chorus, comprised of Apprentice Artists, was led by Chorus Master Susanne Sheston.
Darko Tresnjak's Direction, Alexander Dodge's Scenic Design, Rita Ryack's Costumes, York Kennedy's Lighting and Aaron Rhyne's Projections
Tony-award winning (for A Gentleman's Guide to Love and Murder) New York director Darko Tresnjak created the opera's absorbing staging. This was the second Tresnjak operatic project which I have reviewed [see also Review: Los Angeles Opera Launches Ambitious New Production of "Ghosts of Versailles" – February 7, 2015.]
Also noteworthy were the costumes – ranging from regal robes to jerkins reminding me of Robin Hood's Merry Men – from Massachusetts designer Rita Ryack.
The impact of the projections of New York designer Aaron Rhyne and the lighting of California designer York Kennedy were immeasurible.
Thoughts on "The Thirteenth Child"
This relatively short opera is filled with beautifully conceived musical ideas presented in a visually pleasing production. One of several operas to explore the classic Central European fairy tales, it a worthy contribution to this genre.
Recommendation
I recommend the opera for its cast and production to adventuresome audiences, who wish to hear melodically substantive contemporary operas.