The Santa Fe Opera imported David Alden's English National Opera production for the company's first ever performances of Janacek's "Jenufa".
Laura Wilde's Jenufa
South Dakota soprano Laura Wilde brought a voice of power and dramatic intensity to the opera's title role, successfully negotiating the range of emotions expressed by the ill-fated character. Wilde clearly has a major career in dramatic soprano roles ahead of her.
Although I had seen Wilde perform one of Brünnhilde's valkyrie sisters in the Lyric Chicago's "Die Walküre" in 2017, this was my first opportunity to hear her in a principal role, singing in Czech in one of opera's most daunting soprano assignments.
Jenufa constitutes Wilde's official Santa Fe Opera debut, although she appeared previously as a 2012 Santa Fe Opera Apprentice Artist. Wilde's performance as Jenufa reprised the role she performed when David Alden's production was unveiled at the London Coliseum in 2016 – a career milestone.
[Below: Laura Wilde as Jenufa; edited image, based on a Ken Howard photograph, courtesy of the Santa Fe Opera.]
Wilde's character is an ultimate operatic survivor – abandoned by a man (Steva) who impregnated her, accidentally disfigured by the man (Laca) who loves her, her infant child killed by her emotionally distraught stepmother (Kostelnicka). At opera's end, in a duet with her character's fiance Laca and accompanied by some of Janacek's most luxurious melody, Jenufa finally is promised a happier life.
Patricia Racette's Kostelnicka
New Hampshire soprano Patricia Racette, whom I had seen perform the role of Jenufa at the San Francisco Opera 17 years earlier, was cast as Jenufa's stepmother Kostelnicka.
Racette is a consummate operatic actor. Every role I have seen her perform is totally believable. Racette brought credibility and a even a degree of sympathy for a character whose concern about her reputation and that of her daughter's was more important than an infant's life. Racette's dramatic soprano voice (singing Janacek's powerful music) is itself worth the effort to get to Santa Fe to see her performance.
[Below: Kostelnicka (Patricia Racette, right), having confessed to infanticide to the stunned villagers (Santa Fe Opera apprentice singers, left) briefly considers suicide, but decides instead to let justice take its course; edited image, based on a Ken Howard photograph, courtesy of the Santa Fe opera..]
This is the third Racette performance at Santa Fe Opera I have reviewed in the past decade, most recently as Minnie [Review: Impressive, Compelling – "Girl of the Golden West" at Santa Fe Opera, July 1, 2016.]
As occasionally occurs at a Santa Fe Opera performance, lightning was visible from the Crosby Theater's open sides followed by audible thunder, reminding me of a stormy Santa Fe Opera performance in which Racette starred a decade earlier [21st by Century Maugham: Morevac, Racette Reopen "The Letter" in Santa Fe – July 29, 2009],
Alexander Lewis' Laca Klemen
Australian tenor Alexander Lewis impressively performed the role of the frustrated mill worker Laca. It is his character's half-brother Steva has inherited the mill Laca's family owns and runs. In Alden's staging the hapless Laca seems to be an unlikely victor in any contest for Jenufa's hand with the dashing, popular and economically well off Steva. But Lewis' performance evokes audience sympathy for a man who is both selfless and devoted to Jenufa.
[Below: Laca Klemen (Alexander Lewis, left) reacts in fear to the shadow of the Mill Foreman (Will Liverman, right); edited image, based on a Ken Howard photograph, courtesy of the Santa Fe Opera.]
As the opera's plot evolves, Laca becomes the only viable husband for Jenufa. The duet between Wilde's Jenufa and Alexander's Laca that forms the opera's denouement is one of the highlights of an overall superb performance.
[Below: Laca (Alexander Lewis, center) has won the consent of Kostelnicka (Patricia Racette, right) to marry Jenufa (Laura Wilde, left) although Kostenicka has failed to tell either the truth about what she has done; edited image, based on a Ken Howard photograph, courtesy of the Santa Fe Opera.]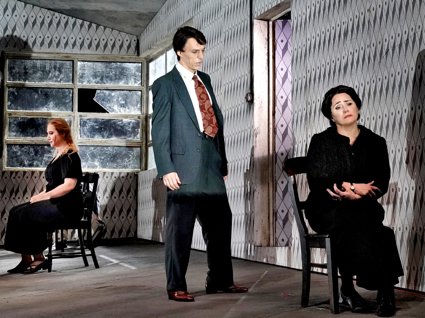 In the heartfelt duet, Laca, now fully aware of all the bad things that have happened to the woman he loves (beyond the disfigurement that he himself caused) expresses his unconditional love for her and his inability to imagine life without her.
Richard Trey Smagur's Steva
Georgia tenor Richard Trey Smagur brilliantly portrayed Steva, the man whom Jenufa had loved and whose baby she carried. Smagur's tall, handsome Steva made him a believable object of the affections of Wilde's Jenufa. Smagur embodied Steva's swagger, accompanied by a rousing Janacek chorus celebrating that Steva had avoided being drafted into the army.
Smagur also effectively delineated Steva's defects – excessive drunkeness, a disinclination to accept responsibility and a weakness of will.
[Below: Jenufa (Laura Wilde, right) erroneously expects Steva (Richard Trey Smagur, left), the father of her unborn child, to set a date to marry her; edited image, based on a Ken Howard photograph, courtesy of the Santa Fe Opera.]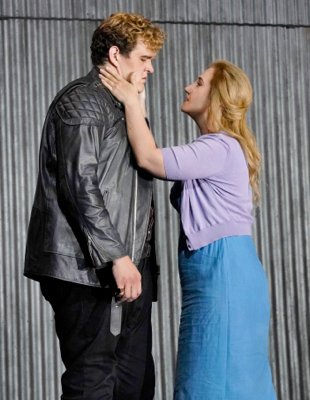 I had admired Smagur's perofrmance as one of King Dodon's sons two seasons earlier [Review: Santa Fe Opera's Glistening "Golden Cockerel" Starring Venera Gimadieva – July 28, 2017], and had seen him in comprimario roles in Houston Grand Opera performances of Verdi's "La Traviata" and Puccini's "La Boheme".
As Steva, Smagur showed an expressive, attractive tenor voice. I look forward to seeing Smagur in lead tenor roles in the future.
Susanne Mentzer's Grandmother Buryjovka, Will Liverman's Mill Foreman and Other Cast Members
New Mexico soprano Susanne Mentzer showed feisty spirit playing the part of the elderly Grandmother Buryjovka. Illinois baritone Will Liverman made a strong positive impression in the role of the Mill Foreman.
The other roles were each performed by a Santa Fe Opera Apprentice Artist. Florida bass-baritone Alan Higgs was the Mayor. New York soprano Kathleen Reveille was the Mayor's wife. Vermont mezzo-soprano Katherine Beck was their daughter and Steva's fiancé Karolka.
[Below: Grandmother Buryjovka (Susanne Mentzer, left) takes exception to a remark uttered by the Mayor's Wife (Kathleen Reveille, standing center) as the Mayor (Alan Higgs, right) react and Jenufa (Laura Wilde, seated center) sits quietly; edited image, based on a Ken Howard photograph, courtesy of the Santa Fe Opera.]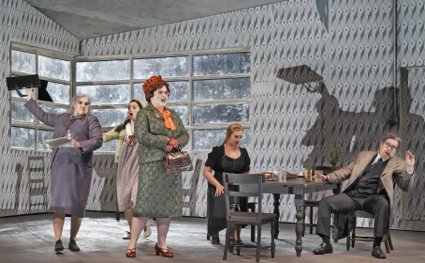 California soprano Jana McIntrye was the shepherd boy, Jano. Delaware mezzo-soprano Gina Pellegrino was a Herdswoman. Texas soprano Sylvia D'Eramo was the servant, Barena. Florida mezzo-soprano Kaitlyn McMonigle was an Aunt. New York soprano Danielle Beckvermit was a Woman's Voice; Maryland baritone Benjamin Taylor was a Man's Voice.
Maestro Johannes Debus and the Santa Fe Opera Orchestra
Janacek's seductive melodies were beautifully realized by the Santa Fe Opera Orchestra under the baton of German conductor (and Music Director of Toronto's Canadian Opera Company) Maestro Johannes Debus.
David Alden's Direction, Charles Edwards' Scenic Design and Duane Schuler's Lighting Design
David Alden's conceptualization for staging Jenufa proved to be dramatically effective. English director Charles Edwards set designs revolved around an open space representing the mill for Act I and the interior of Kostelnicka's house for Acts II and III. At a moment in Act III when the infant child's body has been found, the walls break away as a mob of people pours in.
[Below: Jenufa (Laura Wilde, front, left) holds the blanket and garments belonging to her infant boy as the townspeople pour into the house in the English National Opera 2016 David Alden production of "Jenufa"; edited image, based on a Donald Cooper photograph for the English National Opera.]
Both the mill's walls and the interior of the house provided spaces to project shadows of the main characters, which add immeasurably to the opera's dramatic impact.
[Below: An example of lighting designer Duane Schuler's use of shadows in Act III of "Jenufa"; edited image, based on a Ken Howard photograph, courtesy of the Santa Fe Opera.]
Also notable were the effects of stormy weather on the window panes in Kolstelnicka's house, adding elements of terror to dramatic moments.
The English National Opera has had a successful relationship with the Santa Fe Opera, that included the importation of a David Alden Santa Fe Opera productions to the London Coliseum. [See my review at: London, Handel, and David Alden: ENO's "Radamisto" – October 13, 2010.]
Recommendation
I enthusiastically recommend the Santa Fe Opera cast and production of "Jenufa", both to the veteran opera-goer and to the adventuresome newcomers to opera.
See also: Review: A Beautifully Performed "Jenufa" by Byström, Mattila and Burden, San Francisco Opera, June 19, 2016.