The Seattle Opera mounted an adventurous production of Verdi's "Il Trovatore" with two commanding casts. This review chronicles the production's opening night, led by the Leonora of Leah Crocetto, the Manrico of Arnold Rawls, the Count di Luna of Lester Lynch and the Azucena of Elena Gabouri, scheduled to repeat January 16, 20 and 25, 2019. For my review of the alternate cast, see: Review, "Il Trovatore": Impressive Seattle Opera debuts for Meade, Muehle, Mayes and Sourouzian – January 13, 2019.
Leah Crocetto's Leonora
Michigan soprano Leah Crocetto, who performed the title role of Verdi's "Aida" at the Seattle Opera in 2018, continued her exposition of the Verdi repertory as Leonora, which she has performed in recent years at both the Opera di Verona (Italy) and Opera Frankfurt (Germany) [See Taking on Opera's Great Soprano Roles: A Conversation with Leah Crocetto].
[Leah Crocetto as Leonora; edited image, based on a Jacob Lucas photograph, courtesy of the Seattle Opera.]
From her first double aria, the serene Tacea la notte placida followed by the rapid-fire cabaletta Di tale amor, Crocetto's vocal power and technique were evident. Her power and technique continued throughout the evening, where Crocetto enlisted her soaring range for Leonora's last act showpieces D'amor sull'ali rosee and Vivra! Contende il giubilo.
Arnold Rawls' Manrico
Although Crocetto had begun rehearsals with another artist cast as Manrico, that colleague's withdrawal resulted in Manrico being entrusted to Louisiana spinto tenor Arnold Rawls.
[Manrico (Arnold Rawls, left) has a brief moment of happiness with his new bride, Leonora (Leah Crocetto, right); edited image, based on a Jacob Lucas photograph, courtesy of the Seattle Opera.]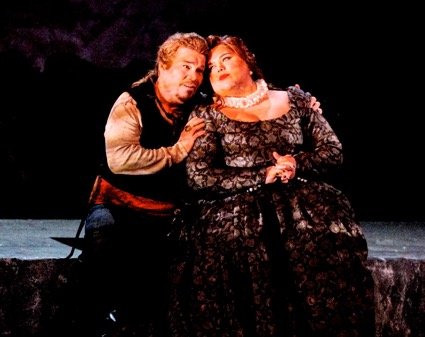 Well-known for the heroic tenor roles such as Manrico, Rawls happens also to be Crocetto's voice teacher, whom he has taught since she was 18 years old. [For Crocetto's description of Rawls' importance to her career, see Rising Stars: An interview with Leah Crocetto.]

As Manrico the troubadour (il trovatore), Rawls sings in six of the opera's eight scenes. Rawls performed spectacularly in the duets with mezzo-soprano Elena Gabouri, who played his mother Azucena.

[Manrico (Arnold Rawls, front left,in red sash) leads the rebel forces; edited image, based on a Jacob Lucas photograph, courtesy of the Seattle Opera.]
Rawls brilliantly performed the role's most challenging assignment – Manrico's double aria that begins with the sensitive love ballad Ah si, ben mio to his new bride, Leonora and concludes with the rousing war cry Di Quella Pira as Manrico rallies his troops in an effort to save the captive Azucena.
Lester Lynch's Count di Luna
Baritone Lester Lynch's international repertory ranges from lyrical bel canto roles to iconic dramatic roles like Iago in Verdi's "Otello". Lynch first performed the Count di Luna at the Seattle Opera over 20 years ago. The Count has been a signature role for him both in Seattle and worldwide.

[Lester Lynch as the Count di Luna; edited image, based on a Philip Newton photograph, courtesy of the Seattle Opera.]
As di Luna, Lynch displayed exquisite vocal control in the Count's introspective aria Il balen.
In contrast, Lynch as di Luna also encompassed the explosive villainy that we associate with Lynch portraying Crown in the most popular 20th century American opera – George Gershwin's "Porgy and Bess" [Eric Owens, Laquita Mitchell Lead Powerful "Porgy and Bess" at San Francisco Opera – June 21, 2009 ].
[Leonora (Leah Crocetto, center) intercedes in the fight between the Count di Luna (Lester Lynch, left) and Manrico (Arnold Rawls, right); edited image, based on a Jacob Lucas photograph, courtesy of the Seattle Opera.]
Elena Gabouri's Azucena
French mezzo-soprano Elena Gabouri performed the role of the gypsy (or, in this staging the rebel) Azucena. Instead of portraying Azucena and the gypsies she lives among as social outcasts, this staging suggests she has a leadership role in a revolutionary movement.
The music Verdi wrote for Azucena exudes power, strategic purpose, as well as a desire for vengeance. That music in Gabouri's dramatic mezzo voice portrays a secure and purposeful leader.
[Elena Gabouri as the rebel leader, Azucena; edited image, based on a Philip Newton photograph, courtesy of the Seattle Opera.]
Adam Lau's Ferrando and Other Cast Members
Over the years I have watched bass Adam Lau's career progress. Correctly identifying himself as a basso cantante he has prepared himself for the challenges of the great operatic bass roles of the Italian and French repertories.
Seattle Opera General Director Aidan Lang, stepping before the curtain just prior to the opera's beginning, announced Lau's indisposition, but his agreement to perform anyway. Despite occasional evidence of vocal discomfort, Lau soldiered on (as he would for the next afternoon's matinee performance 18 hours later).
[Adam Lau as Ferrando; edited image, based on a Philip Newton photograph, courtesy of the Seattle Opera.]
Welsh mezzo-soprano Nerys Jones was Inez. Washington State tenor John Marzano was Ruiz.
Maestro Carlo Montanaro and the Seattle Opera Orchestra and Chorus
The Seattle Opera Orchestra, under the secure direction of Italian Maestro Carlo Montanaro performed magnificently, as did the Seattle Opera Chorus (directed by Pennsylvania chorus master John Keene).
The Production's Origins and Dan Wallace Miller's Stage Direction
The production, currently owned by the Cincinnati Opera, has Seattle Opera roots. The sets and some of the costumes had been created by John Conklin – the sets for the company's 1994 production of Bellini's "Norma" and selected costumes (most distinctively Manrico's) for the company's 1997 production of "Trovatore".
The stage direction was by Washington State director Dan Wallace Miller in his most important Seattle Opera assignment to date. Inheriting physical sets conceived for a different opera entirely (and, with those sets, the fiery circular image of the sun's corona during a solar eclipse), Miller re-oriented the story to subtly de-emphasize the "gypsy" elements. What Verdi and his librettist Salvatore Cammarona called zingari (gypsies) are for Miller, insurrectionists who reside in a rebel camp.
With revised translations by Seattle Opera dramaturg Jonathan Dean appearing in the supertitles above stage, and hints from Miller appearing at the beginning of each of the opera's eight scenes as to that scene's "location", we, the audience, use our imagination to fill out Miller's concept.
Azucena and Manrico are part of an insurrection of long duration. The "anvil chorus" is concerned with repairing and sharpening weapons for the insurgents.
[The rebels' encampment; edited image, based on a Jacob Lucas photograph, courtesy of the Seattle Opera.]

The Counts di Luna have been agents of the sovereign to command forces to battle, and, if possible, crush the rebellion. The current Count is as cruel as his counterparts in other operas – e.g,. Scarpia in Puccini's "Tosca", Claggart in Britten's "Billy Budd" – to use torture or murder to protect the sovereign's interests.
The violence never ceases, as each side's cruelties multiply. If di Luna's forces seize a rebel and burns her at the stake, that rebel's daughter kidnaps the count's infant son and intends the infant's murder by fire, even if a fatal mistake results in the wrong infant dying. Consequentially, the Count's infant son is raised, not as a di Luna, but as a rebel, himself to be killed by his brother's orders to end the opera.

[The rebel Azucena (Elena Gabouri, backstage center) has her revenge against the Count di Luna (Lester Lynch, foreground right) as Leonora (Leah Crocetto, foreground, center, lying on ground) lies dead; edited image, based on a Philip Newton photograph, courtesy of the Seattle Opera.]
Ohio's Christopher Mumaw as Associate Set Designer. Washington State designer Candace Frank created new costumes, French designer Christophe Forey created the lighting. Washington State's Geoffrey Alm directed the fight sequences.
Recommendation
I enthusiastically recommend the opera, vocal performances and staging of the Seattle Opera's "Il Trovatore" both for the veteran opera goer and the person new to opera.