I attended the fourth of nine scheduled War Memorial Opera House performances of Jake Heggie's opera "It's a Wonderful Life", an adaptation, by Heggie and librettist Gene Scheer, of Frank Capra's 1946 postwar movie of the same name.
Previously, I had reported on the opera's world premiere [see World Premiere Review: Jake Heggie's Celestial Transformation of "It's a Wonderful Life" – Houston Grand Opera, December 2, 2016]. Since its launch in Houston two years earlier, the opera has been extensively rewritten. Substantive changes have been made to the production's staging.
William Burden's George Bailey and Golda Schultz' Clara
New Jersey tenor William Burden, who had created the role in Houston two years earlier, gave a sympathetic portrait of the lead character, George Bailey, the scion and inheritor of Bedford Falls' financially troubled Bailey Building and Loan.
A strong proponent of modern opera, Burden had previously participated in two San Francisco Opera world premieres [see Hampson's Heroic "Heart of a Soldier" at the War Memorial – San Francisco Opera, September 10, 2011 and Warm Reception for Adamo's "Mary Magdalene" – San Francisco Opera, June 19, 2013.
Burden's mellifluous lyric tenor [American Orpheus: An Interview with William Burden] was enlisted in a vocally strong, dramatically effective performance in the most ambitious of the three 21st century roles he has performed at the War Memorial Opera House.
[Below: Guardian angel Clara (Golda Schultz, right) converses with George Bailey (William Burden, left); edited image, based on a Cory Weaver photograph, courtesy of the San Francisco Opera.]
South African soprano Golda Schultz took over the role of Clara, George Bailey's Guardian Angel (Second Class) in the San Francisco revival. Schultz was vocally secure despite the role's physical demands, which included singing from a swing high above the War Memorial Opera House Stage.
[Below: at opera's end, Clara (Golda Schultz, center) becomes an Angel, First Class, earning her wings.]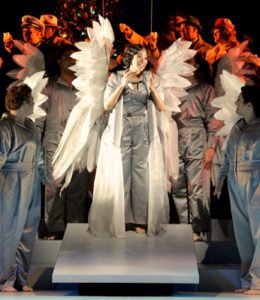 This was my first opportunity to hear sing Schultz sing since a performance as Micaela in Munich [Review: An Engaging "Carmen" with Maximova, Jovanovich, Schultz and d'Arcangelo – Bayerische Staatsoper, May 13, 2016]. She proved to be an appealing Clara.
Andriana Churchman's Mary Hatch and Joshua Hopkins' Harry Bailey
Canadian soprano Andriana Churchman was an engaging Mary Hatch. An alumna of San Francisco Opera's summer Merola Program, this was Churchman's San Francisco Opera debut.
Churchman's wide-ranging operatic repertory includes such lead roles as Queen Guinevere in classic musical comedies [A Lively Lerner and Loewe "Camelot" at Glimmerglass Festival – July 19, 2013]. Her spirited performance of Bailey's childhood sweetheart and spouse showed her comfort with the American musical style.
[Below: Mary Hatch (Andriana Churchman, left) dances the Mekee-Mekee with George Bailey (William Burden, right); edited image, based on a Cory Weaver photograph, courtesy of the San Francisco Opera.]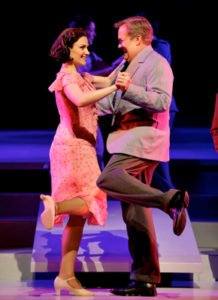 Canadian baritone Joshua Hopkins created the role of George's younger brother Harry. Hopkins, like Churchman, is a prolific operatic artist with musical comedy roots [Rising Stars – Interview with Baritone Joshua Hopkins].
[Below: Joshua Hopkins as Harry Bailey; edited image, based on a Cory Weaver photograph, courtesy of the San Francisco Opera.]
Having admired Hopkins' work in Houston [Review: World Class Singing in Classic "Faust" – Fabiano, Martinez, Pisaroni, Hopkins at Houston Grand Opera, October 28, 2016], Santa Fe and Glimmerglass [Review: Zambello's Zany "Barber of Seville" – Glimmerglass Festival, July 20, 2018], it was a pleasure to hear his lyric baritone in the War Memorial Opera House.
Keith Jameson's Uncle Billy and Rod Gilfry's Mr Potter
One of the most accomplished contemporary American character tenors, South Carolina's Keith Jameson was making a belated San Francisco Opera debut in the role of the absent-minded Uncle Billy, whose misplacing of a large cash deposit nearly sank the Bailey enterprise.
Jameson, as one expects of him, was convincing vocally and dramatically in the role.
[Below: Uncle Bailey (Keith Jameson, right) enjoys a happier moment with his nephews Harry (Joshua Hopkins, left) and George (William Burden center); edited image, based on a Cory Weaver photograph, courtesy of the San Francisco Opera.]
California baritone Rod Gilfry, like Burden and Hopkins, a world premiere cast member, reprised the opera's villain role, the ruthless businessman Mr Potter.
Gilfry's part, though dramatically significant, was relatively short vocally, despite, in the San Francisco revival, the addition of a duet with Burden's George Bailey. Gilfry's participation is an example of the luxury casting that Heggie's operas attract.
[Below: Mr Potter (Rod Gilfry, left, in wheelchair) shakes hands with George Bailey (William Burden, right); edited image, based on a Karen Almond photograph, courtesy of the Houston Grand Opera.]
Gilfry, absent from the San Francisco Opera for a dozen years, last appeared with the San Francisco as Lionel in Tchaikovsky's "Orleanskaya Deva" (see Zajick is Victor in S. F. Opera "Maid of Orleans" – June 18, 2006.
Elsewhere Gilfry has assayed character roles as distinctive as Frank Butler [Deborah Voigt, Rod Gilfry Romp in Irving Berlin's "Annie Get Your Gun" – Glimmerglass Festival, August 12, 2011] and the Music Master [Review: Santa Fe Opera's Delectable New "Ariadne auf Naxos" – Santa Fe Opera, July 28, 2018] with great distinction.
The Four Angels First Class and Other Cast Members
The Four Angels First Class, who spend much of their time suspended on wires, were sung by Canadian soprano Sarah Cambidge, Georgia mezzo-soprano Ashley Dixon, New Zealand tenor Amitai Pati and California bass-baritone Christian Pursell.
[Below: Clara (Golda Schultz, on swing, center top) hovers above George Bailey (William Burden, on stage floor, below) as the four Angels First Class (Sarah Cambidge, Amitai Pati, Christian Pursell and Ashley Dixon, suspended above stage) supervise her work; edited image, based on a Cory Weaver photograph, courtesy of the San Francisco Opera. ]
Illinois mezzo-soprano Catherine Cook, a 27 season veteran of the San Francisco Opera, performed the role of Mother Bailey.
Several San Francisco Opera choristers performed the roles of Ernie (Rhode Island bass-baritone William O'Neill), Helen Bailey (California soprano Carole Schaffer), Ed and Sam Wainwright (Connecticut bass-baritone Anders Frohlich) and Missouri tenor Chester Pidduck was Mr Martini.
Heggie's opera has five child roles, each of which is performed by Northern Californians. Pablo Gracia is Young Harry and Tommy. Cadence Goblirsch is Zuzu, Violet Pasmooji is Young Mary and Janie. Benjamin Drever is Young George and Joshua Partlow is Young Sam.
Maestro Patrick Summers and the San Francisco Opera Orchestra and Chorus
Houston Grand Opera's music director, Maestro Patrick Summers led excellent performances by the San Francisco Opera Orchestra and Chorus (the latter under Scottish chorus director Ian Robertson).
Summers, a conductor closely associated with Heggie, has conducted the majority of the world premiere of Heggie's operas (including the three Heggie world premieres on which I reported previously.)
[Below: Mary Hatch Bailey (Andriana Churchman, front, left), George Bailey (William Burden, front, second from left), Harry Bailey (Keith Jameson, front, second from right) and Mother Bailey (Catherine Cook, front right) sing together in a concluding scene of "It's a Wonderful Life"; edited image, based on a Cory Weaver photograph, courtesy of the San Francisco Opera.]
Director Leonard Foglia, Designer Robert Brill and the Production Team
In my remarks about the staging and set designs for the opera at its Houston Grand Opera world premiere, I wondered how a production designed for the smaller Cullen Theater in Houston would translate onto the much larger War Memorial stage. In fact, the sets and staging were radically revised, in ways that enhanced the theatrical experience.
Massachusetts director Leonard Foglia was responsible for the overall production, California designer Robert Brill redesigned the sets and designer New York Brian Nason revised the lighting. Massachusetts designer Elaine J. McCarthy created the projections. Illinois choreographer Keturah Stickann choreographed the elaborate "mekee-mekee" and other dance numbers. California choreographer Lawrence Pech was Dance Master.
Thoughts on "It's a Wonderful Life" and Other Heggie Operas
Jake Heggie's body of work demonstrates how effectively a palette of musical styles can advance story telling in a musical work. In my review of "Moby Dick" [World Premiere: Heggie's Theatrically Brilliant, Melodic "Moby Dick" at Dallas Opera – April 30, 2010], I wrote that "Heggie's melodies are effusive, his orchestration as densely textured as it is sonorously beautiful".
For "Great Scott" [World Premiere Review: Heggie's "Great Scott" is a Great New Opera, Hilarious, Endearing, Sophisticated, Profound – The Dallas Opera, October 30, 2015], I wrote that the opera "contains broad, but affectionate, parodies of musical styles".
As a composer, Heggie defies those critics who insist that all modern opera must be devoid of "tonality" and musically formulaic, comprised of patterns of notes entirely original to that composer.
Of the Heggie operas I've reviewed, my only reservations are about "It's a Wonderful Life". I'm not convinced that Capra's film is ultimately a good source for a "holiday opera" (as Heggie has written was the reason behind the Houston Grand Opera's original commission). The theme of George's despair and planned suicide is very dark, nor is there, in Heggie'a and Scheer's rewrite of Capra's story, anything about "the holiday season" itself remaining.
The changes in the plot from Capra's film, I believe, do not truly succeed. The four angels supervising Clara add a weighty superstructure to an opera already lengthened by the concentrated attention on the course of George Bailey's life.
I am aware that much, if not most, of the audience enjoyed the performance. Whether those who enjoyed the opera would return for future performances remains to be seen.
Operas that have found a place in the repertory depend on opera-goers returning for repeat performances of favorite works, seeing them again with different casts and productions. Virtually every opera ever written over the centuries, except for a few hundred or so, can be regarded as failures in meeting that criterion.
This is not to say that "It's a Wonderful Life" couldn't be improved by even more revisions. Gene Scheer is a masterful librettist and both he and Heggie have involved themselves in the past in working towards more perfect artistic products.
Recommendation
I recommend the San Francisco Opera performances of "It's a Wonderful Life" for those opera-goers who have become fans of Heggie's operas, who are interested in how the spirit and traditions of the American musical can be incorporated into an opera, and those who are curious about how Capra's film can be reconceputalized as a musical drama.