Since 2016, Lyric Opera each season has premiered an opera a year of David Pountney's new production of Wagner's four opera "Ring of the Nibelungs".
Pountney's new staging of "Siegfried" proved to be one of the most rewarding operatic evenings I have attended. Originally conceptualized by the late German designer Johan Engels, Pountney's realization of Engels' ideas was a triumph of imagination.
As the first act ended, the sold-out Lyric Opera audience erupted in a sustained roar of approval, such that I've rarely heard in any opera house. At opera's end the audience leapt to a standing ovation.
A clever production can carry the day, even with lesser voices. But Lyric Opera's cast was uniformly top rate.
Burkhard Fritz' Siegfried
Cast in the title role was 47-year old German dramatic tenor Burkhard Fritz, in his American operatic stage debut. Fritz' bright sound, heldentenor power and impressive stamina demonstrated his mastery of this challenging role.
[Below: Siegfried (Burkhard Fritz), having just slain a dragon, relaxes with the Nibelung treasure and the tarnhelm; edited image, based on a Todd Rosenberg photograph, courtesy of the Lyric Opera of Chicago.]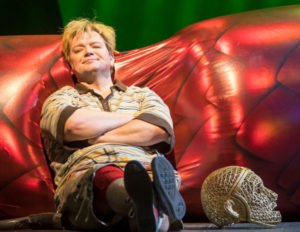 Unlike other Siegfrieds of the past, the production's directors do not costume him as an unsophisticated youth, but instead (in the opera's first act) as a pre-kindergartener, who plays with blocks, stuffed animals and other toys.
[Below: Mime (Matthias Klink, left, inside playpen) and Siegfried (Burkhard Fritz, right, outside playpen) find matters about which to argue; edited image, based on a Todd Rosenberg photograph, courtesy of the Lyric Opera of Chicago.]
Of all of the production's ideas, the most striking is the staging of Siegfried's rhythmic sword-forging scene. A group of uniformed delivery men identified as from the German firm Rhein Logistik (with abundant product placement) deliver the anvil, ovens, cooling tub and other equipment needed to successfully meld the fragments of Siegmund's sword Nothung (shattered in the previous "Ring" opera, "Die Walküre") into Siegfried's powerful new weapon.
Lest Siegfried not understand a step in the sword-making process, detailed diagrams for forging appear on a child's art easel, each instruction ripped off the easel board as a process is completed. (I will argue later that Pountney's production reveals that almost everything that happens in "Siegfried" was plotted by Wotan, whom I suspect ordered the Rhein Logistik deliveries and the helpful deliverymen.)
[Below: Siegfried (Burkhard Fritz, right) is operating the bellows required to forge the sword Nothung; edited image, based on a Todd Rosenberg photograph, courtesy of the Lyric Opera of Chicago.]
Siegfried, despite his boyish ways and sandbox shenanigans, so evident in the opera's first act, rapidly matures in the opera's last two acts. Siegfried slays a dragon, gains magical powers, destroys the power of the king of the gods, and awakens Brünnhilde (who will later save the world through her self-sacrifice) from a decades-long sleep.
Soon Siegfried, only recently a child, will move to deeper emotional levels. He will explore the meaning of adulthood with Brünnhilde, whose prior life experience had been as her father's servant and companion. In a scene in which Siegfried and Brünnhilde each have an individual playhouse at the right and left edges of the stage, the two of them work out why they should surrender their mutual virginities. They leave their playhouses for a mutual embrace and love duet at opera's end.
The vivid images of chldren's toys from Siegfried's early boyhood contrast with the psychological symbolism of the final scene. The existential questions that Siegfried raises in his tense Act I conversations with the deceitful Mime contrast with the conversations between the lovers at opera's end.
Christine Goerke's Brünnhilde
Of the three operas in which Brünnhilde appears, her shortest part is the "Siegfried" Brünnhilde in which she appears only in the final scene. The "Siegfried" love duet, however, is so ethereally beautiful and the psychological drama of her bonding with Siegfried so extraordinary that the scene ranks as one of Wagner's finest creations.
[Below: Brünnhilde (Christine Goerke) weighs the possible advantages and disadvantages of losing her virginity to the hero who has awakened her; edited image, based on a Todd Rosenberg photograph, courtesy of the Lyric Opera of Chicago.]
Christine Goerke has emerged as one of the contemporary world's greatest interpreters of this iconic role, in an era in which interest in and appreciation of Wagnerian opera in general and the "Ring of the Nibelungs" in particular is unprecedented.
I'm a great admirer of Goerke's singing, yet have never heard her sound better nor her acting more persuasive than this evening. In Pountney's charming staging, her Brünnhilde exuded a youthful glow, especially in the joyous love duet.
Matthias Klink's Mime
Mime, the second longest role in "Siegfried", was assigned to German tenor Matthias Klink, who gave a spirited performance in his Lyric Opera debut. There are comedic elements that are inherent in the role. Those elements were accentuated by the first scene being conceived as taking place in Siegfried's nursery with Mime as Siegfried's flustered guardian.
The nursery setting enhanced Klink's Mime's opportunities to teach Siegfried fear (or "furcht" as he writes on the easel board's butcher paper), including the sudden animation of a drawing of a dragon on the playroom's wall.
Those who have examined the photograph of Elisabeth Strid as Sieglinde in Pountney's new production of Wagner's "Die Walküre" last fall may have noticed that the dress she is wearing is the same one that Mime wears in "Siegfried" [see Review: Chicago's Imaginative New "Walküre": Goerke, Owens, Jovanovich, Strid Excel – Lyric Opera, November 30, 2017].
[Below: Matthias Klink as Mime; edited image, based on a Todd Rosenberg photograph, courtesy of the Lyric Opera of Chicago.]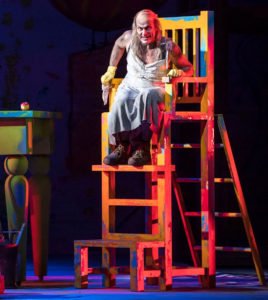 One reflects that Sieglinde left Hunding's house secretly and was subsequently rescued by Brünnhilde after Siegmund's death and advised by the valkyries to hide herself in the area of Fafner's cave, so that there never was an opportunity for her to change her dress, before dying in childbirth in Mime's presence. It is this level of detail and imagination that makes the Pountney production so extraordinary.
Eric Owens' Wanderer/Wotan
Bass-baritone Eric Owens brought heldenbariton authority and acting savvy to the role of Wotan, appearing as the unrecognized Wanderer in the scenes with Mime and Siegfried and as himself in scenes with Alberich and Erda.
[Below: Eric Owens as the Wanderer; edited image, based on a Todd Rosenberg photograph, courtesy of the Lyric Opera of Chicago.]
More than any other production I've seen, Pountney emphasizes Wotan's determination throughout "Siegfried" to reverse the effects of Alberich's curse, even though he knows it means the end of his power and the reign of the gods.
(I regard the four opera "Ring" as comprised of two parts – the first comprising all that happens up to Act II of "Walküre" when Fricka points out the contradictions in Wotan's strategy and the second all that happens until Brünnhilde returns the cursed ring to the Rhinemaidens at the end of "Götterdämmerung").
Ronnita Miller's Erda
The role of Erda in "Das Rheingold" and "Siegfried" envisions the presence of a contralto with power in the lowest registers of the female voice. Over the past decade, Ronnita Miller has fulfilled that expectation in major productions in Europe and North America [see Down and Out in Zambello's American Ring: Sly, Theatrically-Centered "Siegfried" Satisfies – San Francisco Opera, June 17, 2011]. This was Miller's Lyric Opera debut.
[Below: Ronnita Miller as the goddess Erda; edited image, based on a Todd Rosenberg photograph, courtesy of the Lyric Opera of Chicago.]
Pountney's production effectively underscores the idea that most of what happens in "Siegfried" has been orchestrated by Wotan. Erda, mother of Brünnhilde, is summoned from her sleep by Wotan. He reveals to her his resignation to the fact that the end of the gods is near and his actions are hastening it deliberately. Erda, after scolding Wotan for not availing himself of Brünnhilde's wisdom, returns to sleep.
Samuel Youn's Alberich
Bass-baritone Samuel Youn had performed Alberich in the Pountney "Das Rheingold", returning for the character's reappearance in "Siegfried". He was in excellent voice, making a fine impression in the sinister role.
[Below: Samuel Youn as Alberich; edited image, based on a Todd Rosenberg photograph, courtesy of the Lyric Opera of Chicago.]
(Giving Alberich a grocery cart in which to carry his possessions was the only detail of the Pountney production that I had seen used by other production designers elsewhere.)
Patrick Guetti's Fafner
The final cast member was Patrick Guetti, who appears in the form of the dying Giant Fafner, when the dragon into which he has transformed himself is killed by Siegfried.
[Below: Siegfried (Burkhard Fritz, bottom left center) battles the Giant, Fafner, who is transformed into a dragon; edited image, based on a Todd Rosenberg photograph, courtesy of the Lyric Opera of Chicago.]
I previously have seen Guetti in comprimario performances at both Lyric Opera and at the Santa Fe Opera. His sympathetic portrayal of the dying giant makes one wish to see him in larger roles in the future.
[Below: Fafner (Patrick Guetti) briefly returns to his Giant form to die after his form as a Dragon is dealt a mortal blow; edited image, based on a Todd Rosenberg photograph, courtesy of the Lyric Opera of Chicago.]
Diana Newman's Forest Bird
Wotan uses strategies to guide Siegfried towards the paths Wotan wants him to travel. An operative he uses to advance such a strategy is the Forest Bird (beautifully sung by lyric coloratura Diana Newman) .
Pountney provides us with two perspectives of the Forest Bird – the one that Siegfried sees, soaring elegantly above his head; the other as Newman herself, appearing as a puppet perched on the railing of Wotan's Valhalla office, obviously being controlled by Wotan himself, who stands nearby.
[Below: Siegfried (Burkhard Fritz, bottom center), surrounded by elements of the forest murmers (the production actors) a forest bird soars overhead (operated by a puppeteer, whose arm is seen behind Siegfried's head); edited image, based on a Todd Rosenberg photograph, courtesy of the Lyric Opera of Chicago.]
Sir Andrew Davis and the Lyric Opera Orchestra
Sir Andrew Davis presided over a majestically-sounding Lyric Opera Orchestra.
Davis and the Orchestra performed memorably in the third act – an act composed and orchestrated many years after the first two acts, at a time when Wagner had achieved the heights of orchestral composition.
David Pountney's Production and Johan Engels' Conceptualization
Pountney's "Ring" is ceaselessly inventive, with numerous elements that Wagner never could have conceived and probably some of which he would have never approved. Yet, everything that happens in Pountney's "Ring" is consistent with Wagner's epic story and deepens our understanding of Wagner's genius as a story-teller.
The 17 black-uniformed actors, whose constant interventions in the action are an integral part of the production's success, were Brian J. Barber, Jon Beal, Nicholas Harazin, Chris Lafferty, Joshua Lee, John B. Leen, David Lintzenich, Richard Manera, Joshua Moaney, Michael Saubert, Jr., Laurence Stepney, Kai Young; Katherine Coyl, Michelle Ford, Kelly Maryanski, Maggie Clennon Reberg and Sarah Sapperstein.
Recommendation
I enthusiastically recommend the Pountney production and the Lyric Opera cast both to the veteran Wagnerian opera-goer and anyone who would wish to experience this most accessible of Wagner's operas, beautifully sung, intelligently acted and engagingly staged.