Earlier this month, I reviewed the opening performance of San Francisco Opera's mounting of the Stephen Lawless production of Donizetti's "Roberto Devereux" [Review: World's Best Ever "Roberto Devereux" Performance: Radvanovsky, Thomas, Barton, Frizza – San Francisco Opera, September 8, 2018].
In that review, I suggested that the four principals (Illinois soprano Sondra Radvanovsky, Florida tenor Russell Thomas, Georgia mezzo-soprano Jamie Barton, Michigan baritone Andrew G. Manea), the conductor (Maestro Riccardo Frizza) and the director (Stephen Lawless) had created the best performance of "Roberto Devereux" in the opera's 181-year history.
Subsequently, I had the opportunity to review the production and principal cast for a second time (with a change of cast in an important comprimario role), which allows me to reassess my first reactions to the performance and to further discuss my thoughts on Lawless' staging of Donizetti's opera, as well as on the opera itself.
[Below: William Shakespeare (front center, wearing donkey head, assumes the role of Bottom in the play "Midsummer Night's Dream" for Queen Elizabeth (Sondra Radvanovsky, center, in her bedclothes without wig, behind Bottom) as the Queen's handmaidens appear as fairies; edited image, based on a Cory Weaver photograph, courtesy of the San Francisco Opera.]
What is the Opera About?
Donizetti's plot devices might be characterized as trivial – the Duke of Nottingham is shown an embroidered scarf that causes him to change from being the advocate for Roberto Devereux, Earl of Essex, to his enemy instantaneously; the Duchess of Nottingham is unable to return a ring to Queen Elizabeth I in time to stop Devereux' beheading.
I consider these plot devices merely as metaphors for the political forces that raged in England in the closing years of the 16th century and of Elizabeth's reign. "Devereux" is not a historical documentary; it is a work of the imagination. The opera imagines the emotions that Elizabeth felt at the end of her life. There is no need to delve into the historical events of Elizabeth's reign to appreciate the power of this opera.
[Below: in a fantasy pantomime, Lord Cecil (here, Amitai Pati, kneeling, left), presents a pistol to Queen Elizabeth I (Sondra Radvanovsky, right, standing), who symbolically destroys the Spanish Armada; edited image, based on a Cory Weaver photograph, courtesy of the San Francisco Opera.]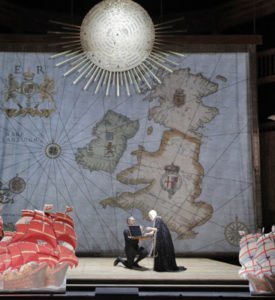 The Melodic Structure of "Roberto Devereux"
In my essays on Donizetti's operas [see Gaetano Donizetti: European Romanticism and The Pathway to Verdi] I have argued that Donizetti, while observing most of the conventions of Italian operas regarding structure and format of arias, enlisted those very conventions to create a dramatic new style of storytelling.
"Roberto Devereux" is built around double arias – those created for Queen Elizabeth, Devereux and Nottingham are especially persuasive – in which a gentle cavatina is followed by an exchange between characters and chorus, then a rousing cabaletta, a stretta in which bit of stage action takes place, then a repeat of the cabaletta, usually with added ornamentation and melodic variation.
This style came to be considered old-fashioned by the second half of the 19th century, when most Donizetti operas began to drop out of the performance repertory. Even with the mid-20th century revival of interest in Donizetti's operas, strettas and cabaletta repeats were excised from many performances.
It is the 21st century that has discovered the inherent dramatic power of the double arias as written. Conductors, such as Italian Donizetti expert Maestro Riccardo Frizza; directors, such as Britain's Stephen Lawless; and singers such as those in this performance's casts, are demonstrating what powerful experiences Donizetti operas, properly performed, can be.
The Stephen Lawless "Devereux"
This is the fourth time that I've reviewed Lawless' "Roberto Devereux", including previous performances in Dallas [The Donizetti Revival, Second Stage: Papian, Costello in Lawless' Dallas "Devereux" – January 23, 2009] and Toronto [Sondra Radvanovsky's Astounding Virgin Queen in Donizetti's "Roberto Devereux" – Canadian Opera Company, Toronto, April 25, 2014].
Lawless' "Devereux" is part of a trio of operatic productions of Donizetti operas – the others being "Anna Bolena" and "Maria Stuarda", each of which relate to persons whose life and death (each by beheading) resulted in an emotional toll for Queen Elizabeth I. [See Opera as Drama: An Interview with Director Stephen Lawless for his thoughts on staging these three operas.]
Even before the orchestra begins, Radvanovsky appears as Elizabeth I, without the iconic wig and gown, dressed in her bedclothes, searching through baskets until she finds a momento of Robert Devereux, Earl of Essex.
[Below: Sondra Radvanovsky as the aged Queen Elizabeth; edited image, based on a production photograph for the San Francisco Opera.]
Within a few moments, we see three display cases. Inside of each are actors. One represent Elizabeth the child in the center case, with her father Henry VIII and her mother Ann Boleyn at either side, obviously warring over their child.
Soon we begin a fantasy pantomime in which we explore several of the images of Elizabeth that have been associated with the Virgin Queen through the centuries.
The Queen interacts with Sir Walter Raleigh, the founder of Virginia. William Shakespeare invites Elizabeth to act as Queen Tytania in A Midsummer Night's Dream. Then Shakespeare, acting the character of Bottom, dons a donkey head, as Elizabeth's handmaidens appear as fairies.
The Queen's advisor, Lord Cecil, provides the Queen with a pistol to defend England against the invading Spanish Armada.
The production's set design (created by the late Belgian designer Benoit Dugardyn) is inspired by the "Wooden O" that constitutes the Elizabethan Globe Theater, with movable staircases that can represent Elizabeth's council chambers or the residence of the Duke and Duchess of Nottingham, or can disappear in the wings, allowing the empty stage to become the Tower of London cell that holds Devereux.
[Below: Roberto Devereux, the Earl of Essex (Russell Thomas, left) and Sara, the Duchess of Nottingham (Jamie Barton, right) express affection for one another; edited image, based on a Cory Weaver photograph, courtesy of the San Francisco Opera.]
Under Lawless' direction, movement is stylized through much of the opera. Lawless cleverly choreographs the movements of Queen's large group of ladies-in-waiting, forming a half circle behind the Queen, who simultaneously lean forward to listen intently at one point. At another point, the ladies-in-waiting engage in synchronized embroidery motions.
Donizetti 's music, Lawless' direction and German designer Ingeborg Bernerth's costumes highlight the contrast between the Queen's projection of power and the obvious insecurity and emotional distress that she feels. Elizabeth engages in a continuous, conscious effort to project an image of power and vitality, assisted by four handmaidens who hold mirrors enabling the Queen to be constantly aware of how she looks.
[Below: Queen Elizabeth (Sondra Radvanovsky, center) examines her image in the mirrors held by her handmaidens; edited image, based on a Cory Weaver photograph, courtesy of the San Francisco Opera.]
The Musical Performance
The role of Elizabeth, that Donizetti composed for the prima donna assoluta Giuseppina Ronzi, in the hands of a major artist, can be an especially memorable experience.
Radvanovsky demonstrates a secure command of the vocal fireworks that Donizetti wrote for Ronzi. She also has a special affinity for the Lawless production, which permits her to display the wide range of her dramatic skills, making Radvanovsky;s Quel sangue versato, Elizabeth's final cabaletta, as brilliant a performance as I've seen in the decades that I've been attending San Francisco Opera performances.
Radvanovsky, Thomas and Barton constitute a trio of opera singers who have often performed together, including at the San Francisco Opera [See A Second Look: "Norma" at the San Francisco Opera – September 14, 2014] and have a particular affinity for bel canto opera and each others skills. Each of the three performed superbly and were deserving of the sustained ovations each of them received during the performance and at its end.
The newcomer in the quartet of principal roles is a young artist, Michigan Adler Fellow Andrew G. Manea who played the Duke of Nottingham. In the earlier performance I witnessed (his role debut) he made a strong impression and seemed not to be affected by the nervousness one would expect of an artist assuming a potentially career-advancing assignment. In this second performance he showed a poise and confidence of an artist who has held his own in a round of performances with established artists of international reputation.
[Below: Andrew G. Manea as the Duke of Nottingham displaying his hands that were bloodied at the execution; edited image, based on a Cory Weaver photograph, courtesy of the San Francisco Opera.]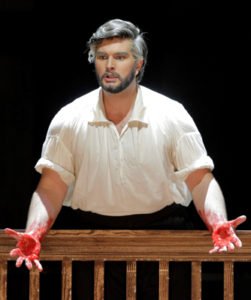 There was a change in the role of Cecil, in which the excellent tenor Scott Quinn, in town for rehearsals of next month's San Francisco Opera performances of Richard Strauss' "Arabella", replaced the indisposed Amitai Pati.
I've been an admirer of Quinn's performances, in which I have reviewed his roles as diverse as Pirelli in the Houston Grand Opera production of Sondheim's "Sweeney Todd", Steva in the San Francisco Opera production of Janacek's "Jenufa" and Boris in the Seattle Opera "Katya Kabanova".
Quinn showed that he the ability to step into a role on short notice, requiring quick mastery of Lawless' complex stage directions, and performing the role with distinction.
[Below: Scott Quinn in costume as Lord Cecil; edited image, based on a dressing room photograph from Facebook/Scott Quinn.]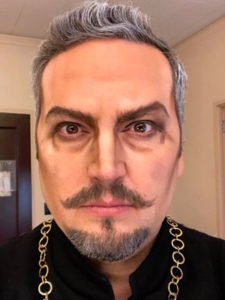 The rest of the cast was uniformly excellent, with strong voices for all the smaller roles, notably California bass-baritone Christian Pursell. Igor Viera was Nottingham's servant. Ben Brady was a Page.
[Below: With the courtiers watching from the upper balconies, Queen Elizabeth (Sondra Radvanovsky, center, in bedclothes and without wig) contemplates the executions of three persons close to her, Anna Bolena, Maria Stuarda and Roberto Devereux, whose images appear in three display cases that move around her; edited image, based on a Cory Weaver photograph, courtesy of the San Francisco Opera.]
San Francisco Opera's superb performances of Donizetti's "Roberto Devereux" demonstrate the company's commitment to both fine singing and highly effective drama. General Director Matthew Shilvock has made his own imprint on the San Francisco Opera, which includes bringing together the best performance of "Roberto Devereux" in the opera's history.