I reviewed San Francisco Opera's 2018-19 season opening night performance of Jose Cura's fascinating production of 's "Cavalleria Rusticana" on a double bill with Cura's production of Leoncavallo's "I Pagliacci" [see Review, Part I: San Francisco Opera Season Opening "Cavalleria Rusticana/Pagliacci", Nicely Sung, Brilliantly Staged, September 7, 2018.]
I discussed the musical performance of the cast, orchestra and chorus of "Cavalleria Rusticana", but promised to discuss the production design, stage directions and choreography in detail in this review of the September 16 Sunday matinee performance.
Jose Cura and his Artistic Vision
Argentinean spinto tenor Jose Cura over the course of his distinguished career in vocal performance has pursued parallel careers in conducting, composing, directing and set design. The achievements of each of his career paths obviously influence the directions of the others.
As a performer, both the roles of Turiddu in "Cavalleria Rusticana" and Canio in "Pagliacci" represent career milestones. It was as Turiddu that he made his New York Metropolitan Opera debut in 1999, the first lead tenor to have a Metropolitan Opera debut on the season's opening night performance since Enrico Caruso did so 97 seasons earlier.
[Below: Turiddu (Jose Cura) impatiently listens to the pleas of Santuzza (Dolora Zajick) to abandon his pursuit of a married woman and to return to her instead; edited image, based on a production photograph for the New York Metropolitan Opera.]
Jose Cura, La Boca, Caminito, the Tango and the Argentinean Influence
As mentioned in the previous review, Cura conceptualized both operas as taking place in the same village within a short period of time. The events of "Cavalleria" outlined in Mascagni's opera are augmented by the appearance of the troupe of pagliacci. Nedda's lover Silvio in Leoncavallo's "I Pagliacci" becomes a "Cavalleria" character also.
[Below: the caminito in the La Boca section of Buenose Aires; edited image of a wikipedia.com photograph.]
Cura's village reflects the culture of the urban La Boca neighborhood of Buenos Aires, dominated by Italian-Argentineans whose ancestors came from Southern Italy, and whose Argentinean generations strongly influenced the evolution of the tango.
[Below: the main street of the village in which "Cavalleria Rusticana" takes place; edited image, based on a photograph for the Royal Opera de Wallonie-Liege.]
"Cavalleria's" rural village reflects La Boca. The tango infuses Cura's production. Before "Cavalleria" begins, Carlos Gardel's iconic 1926 version of the song Caminito is heard. Mamma Lucia's tavern is prominently identified as Caminito.
Jose Maria Condemi's Staging of the Production Revival
Argentinean-American director Jose Maria Condemi was responsible for taking the staging that Cura created for Belgium's Royal Opera de Wallonie-Liege and producing it on the War Memorial Opera House stage. In general, Condemi showed fidelity to all of the details of Cura's staging (which is documented in a video of the Belgian production that can be seen on YouTube).
San Francisco Opera's casting decisions required Condemi to deviate from Cura's staging of the characters of Alfio ("Cavalleria"), and of Leoncavallo and Tonio ("Pagliacci"). In Liege, the parts were played by three different artists. In San Francisco, all three roles were assigned to Greek baritone Dimitri Platanias. As a result, there was no opportunity for the implementation of a few of Cura's ideas ("Cavalleria's" Alfio and Lola struggling in "Pagliacci" to repair a relationship that had been shattered by Lola's infidelity and Alfio's slaying of Turiddu; "Pagliacci's" composer Leoncavallo involving himself in stage business after singing the opera's Prologue).
My mind is open as to whether or not Cura's original concept is superior to Condemi's changes (which Condemi told me that Cura approved) that were required by San Francisco Opera's casting decision. I personally have no particular interest in seeing Lola and Alfio resolving their "issues". Discussing my thoughts on portraying composer Leoncavallo as a character in "I Pagliacci" should await my "second look" remarks on that opera's staging.
Mascagni, the Village Townsfolk, and Details of the "Cavalleria" Staging
A central idea of Cura's staging is that the composer Pietro Mascagni is present throughout most of "Cavalleria" and returns in "Pagliacci". Mascagni (played by David Whatley) spends much of his time onstage standing around, often chain smoking.
[Below: David Whatley as Pietro Mascagni; edited image, based on a personal photograph, courtesy of David Whatley Zepeda.]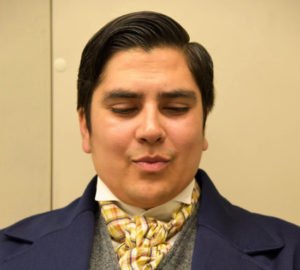 Mamma Lucia's waiter, Silvio (David Pershall) opens her tavern. Mascagni makes observations, and takes notes as the villagers go about their business. That business begins in the dark hours before dawn, illuminated by the electric streetlights. It includes much that is routine, but some unusual activities as well. Canio's troupe of pagliacci has arrived and Mamma Lucia's waiter, Silvio, gets a moment to embrace his lover, Nedda, the troupe's prima donna.
We hear the offstage serenade by Turiddu (Roberto Aronica) with its prophetic words making clear that Turiddu fully understands the dangers he faces by pursuing a married woman in a small community.
When Alfio (Dimitri Platanias) sings of his teamster business, his wife Lola (Laura Krumm) observes him out of a second floor apartment window.
[Below: Lola (Laura Krumm) observes the events occurring on the street below from her second floor apartment; edited image, based on a Cory Weaver photograph, courtesy of the San Francisco Opera.]
When Santuzza (Ekaterina Semenchuk) explains to Mamma Lucia (Jill Grove) the history of Lola's illicit relationship with Turiddu in the aria Voi lo sapete, Mascagni stands within earshot, obviously absorbing the information for the plot of his opera.
A priest puts a religious statue in an alcove next to Mamma Lucia's tavern. The "Cavalleria" story continues with Santuzza's revelation to Alfio of his wife's infidelity, Alfio's deliberately insulting rejection of Turiddu's invitation for Alfio to join Turiddu and his mates in a round of drinks, and Turiddu's challenge to Alfio of a fight to the death.
For Mascagni's orchestral Intermezzo which bridges the opera's two action scenes, two dancers who represent Turiddu (Colombian dancer Jekyns Pelaez) and Lola (California dancer Alexandra Fitzgibbon) represents the passion of the torrid Turridu-Lola love affair and hints at Turiddu's impending death.
[Below: Turiddu (Jekyris Pelaez, below) lifts Lola (Alexandra Fitzgibbon, above) in a dance that reenacts their love affair and Turiddu's death; edited image, based on a Cory Weaver photograph, courtesy of the San Francisco Opera.]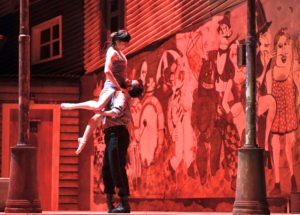 The tango ends with Pelaez' Turiddu's death, Fitzgibbon's Lola leaving his body on the ground. (At the Intermezzo's end, it is Mascagni that attends to the body, arranging for the dancer's departure into the wings.)
Turiddu's ensuing challenge to Alfio leads to a fatal offstage knifefight. In another Cura deviation from traditional productions of the opera, the fight's outcome is announced not by a young villager, but first by Santuzza and then by Lola. Silvio comforts the distraught Mamma Lucia.
Thoughts on the Cura "Cavalleria Rusticana"
Jose Cura has merged the communities in which Mascagni's and Leoncavallo's operas take place. Cura's single new village reflects the energy of Buenos Aires' La Boca neighborhood.
Cura has thereby created a rich environment. The action moves cinematically. Every member of the chorus acts as an individual with a unique story and place in the community. Cura's vision, as realized by Condemi in the revival, has led to an absorbing retelling of the "Cavalleria Rusticana" story.