The following interview took place on the Santa Fe Opera "Ranch" with the much-appreciated facilitation of the Santa Fe Opera:
[Below: Mezzo-soprano Daniela Mack; edited image, based on a Shervin Lainez photograph.]
Wm: Tell me your earliest memories of music and of opera!
DM: I was born in Buenos Aires, Argentina and lived there until I was six years old. My grandmother had a friend who was a piano teacher. I would mess around on her piano.
Then, at at age six, after we moved to Texas, I started taken lessons from a piano teacher.
My parents were always very supportive. My father was a physician and my mother a stay at home mom. My father played piano and organ in church. I wouldn't say I was a huge fan of classical music, but I did develop an ear for it.
At age seven my family took me to see Verdi's "La Traviata". I was upset that Violetta dies. Although it was a college production in Austin, it impressed me as a huge spectacle with the singers and orchestra, and I got to dress up for it.
Wm: How did you become interested in vocal performance?
DM: I grew up watching "Rodgers and Hammerstein" musicals. I started singing around the house. My piano teacher found out I liked to sing when I was about 13 or 14. He began reserving the last 15 minutes of our piano lesson for me to learn to sing ballads.
When I was age 15, I began taking lessons from Kristina Driskill, a teacher at Rice University. She told me that I could do well as a voice major in college. She was instrumental in showing me where to apply to find a good teacher. She encouraged me to apply to Louisiana State University, where I worked with Terry Patrick-Harris and Lori Bade.
Wm: Tell me about LSU's voice program.
DM: LSU has a fine program, with excellent teachers and much emphasis on stage training through the opera program. When I was applying, the school also had lots of scholarship money to give, which made it possible for me to go.
After my senior academic year, I spent each summer in various young artist programs around the country.
Wm: In which young artists programs did you take part?
DM: While I was still a student I did summer programs at Des Moines Metro Opera, then at the Chautauqua Opera Company, then the Sarasota Opera.
The audition season was always painful for me. For one summer I did 14 young artist auditions before I was accepted into San Francisco Opera's Merola program.
Wm: Tell me about your experiences in the Merola program.
DM: I took part in the Summer of 2007 Merola program. I was cast as Angelina in Rossini's "Cenerentola [Cinderella]". It was there that I met my future husband, Alek Shrader. He was cast as Ramiro, my Prince Charming. Many of the connections I made there have lasted through the past decade, and it was a summer that absolutely changed the course of my career.
Wm: I recall from my interview with Alek that the two of you hit it off. The San Francisco Opera seems to have had some sort of a "fairy godmother" role in your Cinderella story.
DM: The director was Jose Maria Condemi, and the conductor was Martin Katz, both of whom take credit for bringing Alek and me together.
[Below: the finale of the 2007 Merola Opera Program's performance of Rossini's "La Cenerentola", with Daniela Mack (first row second from right as Angelina (Cenerentola) and Alek Shrader (far right) as Don Ramiro; with, from left to center, first row, Daveda Karanas (Tisbe), Sam Handley (Don Magnifico), Ani Maldjian (Clorinda) and Paul LaRosa (Dandini), and, second row, holding fruit above their heads,Tom Corbeil and Kenneth Kellogg; edited image, based on a Kristen Loken photograph for the Merola Opera Program.]
What happened after your summer Merola program ended?
DM: After that summer, I did a short gig at the Virginia Opera, covering Niklausse in Offenbach's "Tales of Hoffmann". Then the San Francisco Opera offered full-time Adler Fellowships to both Alek and me. He still had a year to finish at Juilliard, so I started the Fellowship before him, but we both completed the two-year program together.
Wm: Tell me about your Adler Fellowship.
DM: The San Francisco Opera was a special place to be. I had so many wonderful opportunities, the first of which was covering the incomparable Susan Graham in the title role of Handel's "Ariodante". I think one of the most valuable and informative aspects of being there was having the chance to watch the process of every star professional up close.
Wm: As you are aware, I happened to be reviewing the performance of Mozart's "Idomeneo" at the San Francisco Opera at a Sunday matinee performance that you were covering the singer scheduled to sing the important role of Idomeneo's Idamante.
Apparently all the other press and media had reviewed one of the first two performances, so I became aware of high level opera administration interest in that fact that I would be the only one reviewing your unexpected San Francisco Opera debut in a principal role. I took it as quite a responsibility. [An "Idomeneo" Surprise in San Francisco – Daniela Mack's Princely Idamante – October 26, 2008.]
Let me get your account of that afternoon.
DM: Just before that third performance there had been a Halloween party. I got a call from the company's Artistic Director, Gregory Henkel. He asked calmly: "How are you? How are you feeling? We know you are ready for what is going to happen.
"Alice Coote threw out her back and is in intense pain. We need you to take over today's 'Idomeneo' performance." As it turned out, she had to return to England because of her injury, and I completed the run of performances as Idamante.
This was the biggest thing I had ever done. I still have post-traumatic stress syndrome from that performance. I went into autopilot. I remember having brush-up coachings that day, and going to the theater to get into costume/makeup. Then, I remember looking off into the wings and getting signals from the assistant director when I was unsure of the next move. I am so grateful to the generosity of my colleagues who helped me get through that performance.
My musical home is the San Francsico Opera. I owe them so much. They are also really good at championing the graduates of their Merola program and Adler Fellowships.
Wm: Let's talk about a couple of your other San Francisco Opera roles. You performed the role of Siebel in Gounod's "Faust".
DM: That was my first engagement after my Adler Fellowship. I knew the role already. It's such a sweet character to portray and one with low pressure. It was so much fun to play Siebel along with Brian Mulligan as Valentin and Patricia Racette as Marguerite, both of whom were lovely and supportive. I had the great joy of performing alongside Racette again in a similar capacity in Washington National Opera debut as the Madrigal Singer in "Manon Lescaut".
Wm: I reviewed your WNO performance in that wonderful production created and directed by my dear friend, John Pascoe [Surreal Verismo: Pascoe, Racette and Chanev Offer a Marvelously Melodramatic "Manon Lescaut" – Washington National Opera, March 8, 2013.]
You were part of two casts that shared the creation of a new Emilio Sagi production of Rossini's "Barber of Seville" at the San Francisco Opera, with Alek as Almaviva and Lucas Meachem as Figaro. A couple of years later you were the Rosina in all performances of its revival in San Francisco. [See Daniela Mack, Alek Shrader, Audun Iversen and Maurizio Muraro Sparkle in San Francisco Opera "Barber of Seville" – November 14, 2013 and Lucas Meachem, René Barbera, Daniela Mack in a Beguiling "Barber of Seville" – San Francisco Opera, November 29, 2015.]
[Below: The Count Almaviva (Rene Barbera, right) disguised as Lindoro, disguised as a music teacher, finds an opportunity to talk privately with Rosina (Daniela Mack, left) in the San Francisco Opera's 2015 revival of the Emilio Sagi production of Rossini's "Barber of Seville"; edited image, based on a Cory Weaver photograph, courtesy of the San Francisco Opera.]
DM: I worked so well with Emilio Sagi. He helped me craft a Rosina that reminded me daily of my Spanish grandmother, full of sass and spunk, sporting a smile colored with razor-sharp determination. Lucas, Alek and I had such much fun in our roles and will be back together in "Barber" at the Michigan Opera Theater in November 2018.
Wm: You've had a chance to work with some of the great British opera directors, including John Pascoe, Paul Curran, Sir David McVicar and Stephen Lawless.
Let me ask you about Paul Curran. He directed you and Alek in Britten's "Albert Herring" at the Los Angeles Opera. [Countdown to the Britten Centennial: Conductor James Conlon, Director Paul Curran in Reverential Mounting of Britten's "Albert Herring" – Los Angeles Opera, February 25, 2012.]
DM: I think Paul Curran is one of the most brilliant directors around. His attention to detail in "Albert Herring" was amazing. He recently directed me again in "Carmen" at Opera Philadelphia, which was just as wonderful an experience. He is interested in exploring the gritty realism in these classic pieces, and absolutely fighting against tradition that turns the characters into caricatures.
Wm: You were the Kitchen Boy in Sir David McVicar's production of Dvorak's "Rusalka" at the Lyric Opera of Chicago [Martinez, Jovanovich Lead Brilliant Cast for McVicar's Exotic "Rusalka" Dreamworld – Lyric Opera of Chicago, March 10, 2014]. What was that experience like?
[Below: the Gameskeeper (Alan Opie, standing) gives instructions to the Kitchen Boy (Daniela Mack, kneeling); edited image, based on a Beth Bergnun photograph for the New York Metropolitan Opera.]
DM: Oh my God! That was crazy. He is another brilliant mind, and there are no small characters for him. He had me sticking my entire forearm up into a turkey. Everything in the kitchen was real, and our scenes were fast-paced and full of nervous energy. I performed the role later at the Met as well. I enjoy playing that kid very much.
Wm: You opened the Santa Fe Opera's 2014 season in the title role of a new production of Bizet's "Carmen", directed by Stephen Lawless. What are your thoughts about that experience? [Review: Stephen Lawless' Creative New "Carmen" Production Opens 2014 Santa Fe Opera Season – June 27, 2014.]
DM: The production was so cool. This was my role debut as Carmen and Lawless wanted his Carmen to be a strong feminist, which suits my personality. He wanted to avoid portraying Carmen as a kitschy femme fatale. He said to me, preemptively: "Think Amy Winehouse". We were trying to channel Winehouse's utter disregard for public opinion, and her deep connection with music, both of which apply to Carmen.
Wm: Let's talk about your role of Rosmira in Christopher Alden's production of Handel's "Partenope" at the San Francisco Opera. This was another opportunity for you and Alek to perform together. [See Review: An Engaging Cast, Handel's Seductive Music, and Christopher Alden's Surreal Staging Enliven San Francisco Opera's "Partenope" – San Francisco Opera, October 15, 2014 and A Second Look: "Partenope" at the San Francisco Opera – October 24, 2014].
DM: Baroque operas are sometimes not an easy sell, but the positive audience to that production of "Partenope" was surprising in the best possible way.. Christopher Alden's production was a really good one, quirky, different, and always smart. It was a joy to be a part of that.
Wm: I reviewed your performance at the world premiere of Little and Vavrek's "JFK" at the Fort Worth Opera. [World Premiere Review: "JFK", a Fort Worth Fantasy – April 23, 2016]. What was it like creating the part of Jackie Kennedy?
[Below: Jackie Kennedy (Daniel Mack, left) relaxes with Jack Kennedy (Matthew Worth, right); edited image, based on a Nine Photography photograph, courtesy of the Fort Worth Opera.]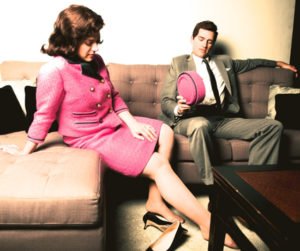 DM: It's an amazing process creating a role. I was so fortunate that the composer David T. Little and his librettist Royce Vavrek were so generous with their time and so willing to collaborate. Portraying the role of such a cultural icon was both daunting and amazing, and it was an experience I won't forget.
I had a similarly positive experience with composer Kevin Puts and librettist Mark Campbell for their "Elizabeth Cree" at Opera Philadelphia.
[Below: Daniela Mack as Elizabeth Cree at the Opera Philadelphia; edited image, based on a production photograph for Opera Philadelphia.]
I think it must be very hard to learn to write for the voice. I'm very impressed with the products of the composers and librettists I've worked with.
Wm: You were able to return to Handel last season at Santa Fe Opera as Bradamante in Handel's "Alcina", again with Alek, this time with Christopher Alden's twin brother, David [Review – Santa Fe Opera's "Alcina": Beautifully Sung Enchantment – July 29, 2017.]
DM: This was one of my favorite productions ever. There is a DVD of the production when it was done in Bordeaux. It's nonstop action. I'm a big fan of Handel however it is presented, even when chased by a tenor in a full-body ape suit.
[Below: Bradamante (Daniela Mack, left) rebuilds her relationship with her fiancé Ruggiero (Paula Murrihy, right) who has been under a magic spell; in a Santa Fe Opera performance of David Alden's production of Handel's "Alcina:; edited image, based on a Ken Howard photograph, courtesy of the Santa Fe Opera.]
Wm: One of the most extraordinary new productions I've reviewed in recent months was the performances of Berlioz' "Beatrice and Benedict" at the Seattle Opera in which large sections of Shakespeare's "Much Ado About Nothing" were introduced as speaking roles for the singers who were performing the roles in Berlioz' opera.
It was quite effective having you and Alek as Beatrice and Benedict and Craig Verm as Claudio acting those scenes with critical plot points that Berlioz discarded in constructing his work. The whole evening was more "operatic" as a result.
DM: Berlioz' Beatrice was a role I was itching to do. I sang her music in the San Francisco Opera's "Brown Bag" lunchtime community concerts. I performed the duet a million times, and I'm a huge fan of Berlioz' music.
I never had done straight theater before. All of us were on a steep learning curve, alternating spoken Shakespeare with Berlioz' sung music. It was great that Alek was there with me, and we both loved diving into the experience of using our voice in a different and equally supported way.
Wm: Let me congratulate you on your performance in the lead role in Santa Fe Opera's revival of their popular production of Rossini's "The Italian Girl in Algiers". I very much enjoyed your performance [Review: Santa Fe Opera's Delightful "Italian Girl in Algiers" – July 25, 2018].
I also liked the Shawna Lucey's direction of the revival. In a review of a previous performance of this production, I suggested that there could be missteps moving the time of this particular comedy into early 20th Algeria (after all, Isabella is an aviatrix), which puts this production in a time just before the French-Algerian war. This comedy needs to stay in a fantasy land of pashas and characters like one finds in Aladdin.
DM: I loved working with Shawna again (I knew her from "Partenope" in San Francisco.) This was not her original production, but she was thankfully given the license to take a new look at things. There are elements of cultural ridicule written into this piece from 1813 that are not present in this revival, because they are not integral to the story she was interested in telling. It was silliness at its best, and we all loved being part of it.
[Below: Isabella (Daniela Mack, center), who has landed her plane in Algeria, is surrounded by a band of pirates (Santa Fe Opera Apprentices); edited image, based on a Ken Howard photograph, courtesy of the Santa Fe Opera.]
Wm: You now have sung all three of Rossini's great opera buffo heroines – Rosina, Isabella and "Cenerentola's" Angelina. Do you have some thoughts on the three?
DM: I have great respect for Isabella who takes it upon herself to venture into a hostile environment to save her man. She succeeds in that task, against all odds.
The other women have permitted men to basically imprison them, and depend on other men to rescue them from their situations.
Wm: Rosina in her big aria warns the world to "beware her viper's sting"!
DM: She does say that, and has the inner strength and smarts to figure out a way out of her situation. She does, however, ultimately still rely on the men in her life to save her, though she does manipulate the situation well. Isabella is the role I most identify with personally.
Wm: Alek has been busy this summer at Santa Fe Opera singing the title role of Bernstein's "Candide". But he has sung Lindoro in "Italian Girl in Algiers" in the past with you.
DM: I think he's done with singing Lindoro. It lies high in his voice and has 20 or so high B flats. There are other roles that interest him more at this point in his life.
Wm: Are there roles that interest you that you'd like to perform?
DM: Lots more Handel. I'd like to do Romeo in Bellini's "I Capuleti e i Montecchi" and Orphee in Gluck's "Orphee et Eurydice" I also am planning to add Charlotte in Massenet's "Werther". I speak French and feel a special affinity for French opera.
Wm: Same here! By the way, in the realm of French comic opera, I would love seeing you and Alek do Périchole and Piquillo in Offenbach's "La Périchole".
Several years ago when I first interviewed Alek Shrader he indicated that the two of you had not chosen a permanent residence yet. Are you settled now in one place?
DM: Yes, when Alek accepted the job as head of the opera program at University of Notre Dame (when he's not performing), we bought a home in South Bend, Indiana.
Thank you for your time. It was a very enjoyable hour!
DM: Thank you!