The following interview with baritone Brian Vu took place at the Glimmerglass Festival with the Festival's much appreciated facilitation:
[Below: Baritone Brian Vu; edited image of a Karli Cadel photograph.]
Wm: I usually ask my interviewees their earliest childhood  memories of music, and of opera. What are yours?
BV: I've always been surrounded by it. My family was professionally involved with sciences and data. My dad is a civil engineer. But my mom had read that if you enroll kids in athletics and arts classes, it sharpens the mind.
Before the Orange County archdiocese took over the Reformed Church's Crystal Cathedral, it had a school that I attended. From the third grade on, I always took music and drama classes.
Wm: When were your first experiences with opera?
BV: I started taking classical voice lessons when I was 16, but did not think opera was a real thing for me, until I was asked to cover the role of the Minskman in Jonathan Dove's opera "Flight".
I had to learn the role quickly and be able to perform it with a full orchestra. This was when I felt the rush of singing with no microphone.
Wm: Did your family encourage your interest in singing?
BV: To an extent. I was gearing up for college applications. Scholastically, I was achieving a 4.0 grade point. That's when I got the idea of auditioning for college as a vocal performance major.
My family was under the assumption that I would enter college as a voice major and then shift to something else.
Wm: How did your idea work out?
BV: I was accepted as a voice major at UCLA. I technically auditioned for the music education section, with the idea of a vocal performance emphasis within the music education curriculum. That way I would have the flexibility to do opera or whatever I wished. I fell in love with the voice faculty and I've been singing ever since.
Wm: Tell me about how you were influenced by the UCLA voice faculty.
BV: I am indebted to all of my voice teachers. If I were to name a specific voice teacher that opened my eyes to technique, it would be Trish McCaffery.
However, for me the best teacher has been my stage experience. It is in the heat of the moment that I've learned what my voice can and cannot do.
[Below: Brian Vu in the UCLA Opera production of Monteverdi's "The Coronation of Poppea; edited image, based on a David Schneiderman photograph.]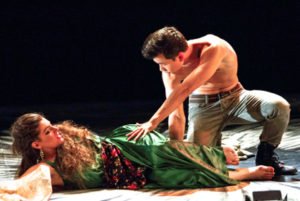 Wm: You graduated as a voice major from UCLA, then what happened next?
BV: At certain points in my early career as a singer, I would play a game with myself. I would make a goal. If I achieved that goal, I would continue singing. My first goal was to be accepted into an East Coast conservatory. I got accepted by the Yale School of Music.
My second goal was to get into a Young Artists program. I auditioned for Michael Heaston to become a Glimmerglass Festival Young Artist and was accepted that summer program. Then, for the remainder of the year I was accepted into the Pittsburgh Opera Young Artists program.
My third goal was to receive a contract to sing opera. I received one from Francesca Zambello to be Riff in "West Side Story".
Wm: I have a bunch of questions about Riff. Let's start with how much background you have in dance.
BV: I always dabbled in dance in high school. It was mostly hiphop and modern dance. When I was in the senior year of college, I took ballet and a modern dance class in the Dance and Theater department. It caused people to see me in another light.
As a Glimmerglass Festival Young Artist, I was cast in Puccini's "La Boheme" in the role of Schaunard.
[Below: The Bohemians, left to right, Colline (Rhys Lloyd Talbot), Schaunard (Brian Vu), Marcello (Hunter Enoc), Rodolfo (Michael Brandenburg), and Mimi () enjoy the festivities surrounding the Cafe Momus; edited image, based on a Karli Cadel photograph courtesy of the Glimmerglass Festival.]
The opera's director Loren Meeker and its choreographer Eric Sean Fogle created a  a dance for Schaunard. I believe it was because of that that Eric got a call from Francesca asking if I could dance. Eric said that I was not technically trained, but had some promise.
Wm: In my review of your Glimmerglass Festival Schaunard I reported that you were "an impressive Schaunard, who delivered an arresting, vocally strong and secure, athletic performance, suggesting a Young Artist ready for even bigger roles." [See Review: The Glimmerglass Festival Mounts a Youthful "La Boheme" – August 6, 2016.]
Apparently others also thought you were ready. What happened next?
BV: Heaston offered me the role of Riff in Francesca's planned new production of Bernstein's "West Side Story".  I thought, Riff sings the Jet Song and Cool. That should work just fine for me.
Eric Fogle had done "West Side Story". After talking with him about it, I I knew I had to get back into dance classes. During my time with the Pittsburgh Opera Young Artists, I took classes at the Pittsburgh Ballet. I took four dance classes a week.
I also took a lot of physical training, lifting, yoga through a CrossFit program. That preparation took a year and a half.
Wm: Tell me about your other experiences in the Pittsburgh Opera Young Artists program.
BV: I had wonderful time in Pittsbugh. I was given a lot of stage assignments, a lot of little roles and some bigger ones. That's where I learned to sing opera. I did one performance of Figaro in Rossini's "Barber of Seville" and was John Brooke in Adamo's "Little Women" .
Wm: I've interviewed both Pittsburgh Opera's General Director Christopher Hahn and its Music Director Maestro Antony Walker and am very impressed with what they are doing there.
BV: Maestro Walker has been a big supporter of mine.
Wm: The Zambello's production opened in Houston, in the HGO Resilience Theater, created in the George R. Brown Convention Center, during the season that the Houston Grand Opera had to vacate its opera house because of damage from Hurricane Harvey. What was the HGO "West Side Story" like?
BV: The first day of rehearsal in Houston was a monumental experience. The Sharks and Jets of the cast were made of theater dancers and actors. When they found out I was principally a singer, rather than a dancer, they all helped me get me through that opening night.
[Below: Riff, leader of the Jets (Brian Vu, right) squares off at the high school dance with Bernardo, leader of the Sharks (D. J. Petrosino, left); edited image, based on a Lynn Lane photograph, courtesy of the Houston Grand Opera.]
Wm: I thought you did an excellent job, reporting in my Houston Grand Opera review that "Vu exemplifies one of the Zambello's artistic goals for the Glimmerglass Young Artists' program, creating a pool of artists that are accomplished in singing opera, but who also have the acting and dancing skills that many American musical theater roles require. His performance as Riff showed extraordinary dancing skill." [See Review: Francesca Zambello's Spirited Mounting of Bernstein's "West Side Story" – Houston Grand Opera, April 28, 2018.]
BV: Francesca believes in her young artists. She sees something in each of us. She said to me "I hired you as Riff, because you are Riff to me."
Wm: Well, obviously you are Riff to her for the Glimmerglass Festival performances also (all 15 of which are sold out). [See: Review – Glimmerglass Festival's Dazzling "West Side Story": Youthful Artistry, Theatrical Authenticity, July 19, 2018.]
[Below: At the planning meeting for the rumble between Bernardo (Corey Bourbonierre, left) and Riff (Brian Vu, right), Tony (Joe Leppek, center) pleads for peace; edited image, based on a Karli Cadel photograph, courtesy of the Glimmerglass Festival.]
You are scheduled to be her Riff when the production goes to Atlanta and Kansas City. Are there more Riffs beyond that?
BV: That's all that's been announced, so far.
Wm: Since Riff has become your early career signature role, how do you relate to him as a  character?
BV: You know, I would like to say I'm acting, but mostly I'm not. Riff is very much like me. He is like the man of the people. The Jets are his brothers and friends. They take care of one another. Riff is a dazzler, a showoff and I like to play around with my friends. He is a leader, and that is what I aspire to be.
I have a very close group of friends, and we would all do anything to be there for each other.
Wm: Even though you are performing in the same production at the Glimmerglass Festival as you did at the Houston Grand Opera, there are some striking differences between the Houston and Glimmerglass performances. 
The first is the obvious difference between performing opera on the floor of a conference center as opposed to performing it on an opera house stage. This was obviously a "show must go on" response to the disasters of the hurricane, even though everyone understood that the performing venue was suboptimal.
A second difference was that the HGO Resilience Theater was amplified whereas the Glimmerglass Festival is an "acoustic", or unmiked, performance. 
Stephen Sondheim, who wrote the lyrics for "West Side Story" as well as his own musicals, believes music theater performances should be miked. What are your thoughts, having performed in the same role and production with and without amplification.
BV: The Houston Grand Opera "West Side Story" was the first time I had sung with amplification since high school. All of my other opera roles have been acoustic, but I can make the case for amplification.
I'm going to agree with Sondheim about the desirability of amplifying text-heavy musicals. As an opera singer you have to use from five to 10 percent less voice when you are amplified. This gives you the opportunity to play with so many more colors and textures than if you are trying to sing such a text-heavy role as Riff unamplified.
Musical theater is a text-driven art form. The singer who plays, say, Mrs Lovett in Sondheim's "Sweeney Todd", has to work hard to project the character of Mrs Lovett, and should not have the extra work of trying to project her voice in a way that her words can be understood by the audience. That kind of musical theater should be amplified.
Wm: But for Glimmerglass' Alice Busch Theater the decision was made not to amplify.
BV: In a small hall like the Busch Theater, it's a different story. I believe it's only possible to perform "West Side Story" without amplification in a small house. It can be successful there, because the music drives the story as much as the text.
[Below: the Glimmerglass Festival's Alice Busch Theater; edited image, based on a publicity photograph, courtesy of the Glimmerglass Festival.]
Stylistically, "West Side Story" seems to me to be more "popular music" and theater than operatic singing. It's not operatic enough to be considered "opera" per se, although it's much more like opera than most musical theater.
Wm: I think that Francesca has shown that it belongs in an opera house. It certainly does well at the box office.
BV: And American opera singers have grown up with it!
Wm: You've gained recognition in both traditional opera and opera company-produced musical theater. Do you see your career going one or the other direction?
BV: I would want to be that artist that can perform anything. I've realized that it doesn't have to be just opera. As long as I'm performing to an audience, I will be happy.
Wm: Let's say you were able to choose a few opera roles to perform. What would they be?
BV: When my operatic career starts again, I would love to sing Onegin in Tchaikovsky's "Eugene Onegin". I think he's an interesting character and his music is cerebral.
He initially brushes Tatiana off as a little girl attracted to the "wrong man" – himself – but as soon as he sees her gain power, be becomes obsessed with her.
Wm: How about a second role?
BV: Marcello in "La Boheme", which is such a timeless classic. Every artist has been in the same situation as him, consumed by fiery, passionate, tender love, reignited when that love reappears to him. It's Marcello's passion that draws me to that role.
Wm: Who else interests you?
BV: Count Almaviva! I've recently gained a big appreciation for Mozart. I think the Count is not "the sharpest tool". He's a such a big baby. The music Mozart wrote for him is just the reflection of his mind reacting to what he is doing. To play the rich spoiled Count would be a dream.
Finally, I would add Posa in Verdi's "Don Carlo".
Wm: That's an ambitious foursome! 
Let me ask, what are your feelings about the Glimmerglass Festival and the campus here?
BV: Glimmerglass is an interesting place. The folks here are not just interested in your voice, but have a holistic approach to your well-being. The Young Artists program is based on the premise that the artist should be versatile and able to do as many things as the art form calls upon them to do.
All the artists, of course, can sing. Everyone can act. A lot of the artists are dancers or are learning how to dance. There were some people in the Houston Grand Opera's "West Side Story" who are primarily dancers. At Glimmerglass, much of the "West Side Story" cast were taught them how to sing and act by the company's Young Artists Program.
Wm: What's it like being directed by Francesca?
BV: Francesca doesn't say much, but when she speaks everyone listens. She knows how to make a scene work. She knows what she wants out of the production and how to connect with each person in the cast.
Wm: What's it like being a Glimmerglass Young Artist?
BV: When you are here as a Young Artist, it is your whole life. I work very hard.
I think about when I'm done being a Young Artist, what will I do? I cultivate friends for that time.
The friends I keep in touch with are mostly those from college . The social group I've cultivated includes many "non-opera singers".  I'm big on brutal CrossFit workouts, so those who are experiencing CrossFit with me become friends.
Wm: You work hard as a Glimmerglass Festival Young Artist, then do CrossFit workouts as a change of pace!
Let me ask, has you family had a chance to see you perform?
BV: They came to Houston to see "West Side Story". I stay in touch with the. I get back to Orange County, California as often as I can.
Wm: Thank you, Brian for sharing your time with me.
BV: My pleasure!