The 2018 Glimmerglass Festival mainstage offerings include 19th and 20th century works of Rossini, Janacek and Bernstein, and Kevin Puts' 2011 opera "Silent Night", with libretto by Mark Campbell. "Silent Night" proved to be a dramatically impactful, emotionally absorbing work, in a powerful production created by Israeli-born director Tomer Zvulun.
Glimmerglass became the 14th opera company in eight years to perform "Silent Night", an extraordinary record for a 21st century work. The opera's success is its appeal to human decency, even as it focuses on the madness of a savage and ultimately pointless war.
[Below: The multi-tiered sets for "Silent Night" representing the trenches of, respectively, troops from France (top), Scotland (middle) and Germany (bottom); edited image, based on a Karli Cadel photograph, courtesy of the Glimmerglass Festival.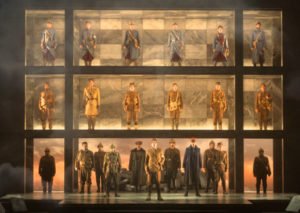 The opera weaves together three story lines. One is of a French lieutenant, forced to leave his pregnant wife. The second is of two Scottish brothers (one who is an early war casualty) and the minister of their local church, each who has joined the army out of patriotism. The third is of a German opera singer, whose career is put on hold as he is conscripted into the German army. Their lives are briefly interconnected when a spontaneous truce occurs among the German, French and Scottish forces on Christmas Eve of 1914.
The Germans
The opera's opening scene is the stage of a opera house during a baroque opera performance, starring Nikolaus Sprink (Washington State tenor Arnold Livingston Geis) and his co-principal opera singer and lover Anna Sorensen (New York soprano Mary Evelyn Hangley).
It's tricky to find the words to describe opera performances in which opera singers are portraying opera singers performing. I was impressed with the attractive voices of both Geis and Hangley and of the artists – Sprink and Sorensen – that they portray.
[Below: German soldier Nikolaus Sprink (Arnold Livingston Geis) takes it upon himself to move into the hostile "no-man's land" between military trenches on Christmas eve, holding a Christmas tree; edited image, based on a Karli Cadel photograph, courtesy of the Glimmerglass Festival.]
Sprink's relationship with Anna leads to an important plot point. Anna arranges a safe-passage for Sprink on Christmas Eve to a nearby town to entertain Germany's Crown Prince (sung by Michigan tenor Stephen Martin). But Sprink wants to return to his wartime comrades, so Anna decides to travel with him to entertain the German troops.
[Below: Anna Sorensen (Mary Evelyn Hangley, standing) sings to the troops as the Scottish Father Palmer (William Clay Thompson, left) leads them in church services; edited image, based on a Karli Cadel photograph, courtesy of the Glimmerglass Festival.]
Mark Campbell's nicely constructed libretto turns on unexpected events – the sound of bagpipes from the Scottish trench and stage-savvy German opera celebrities taking events into their own hands – to cause deeply suspicious, war-weary officers and their men to lay aside their arms for a few hours.
Although Sprink might well have been shot, his gesture of moving into a hostile zone with a conciliatory Christmas tree transformed Christmas eve for the men of the opposing forces.
The Germans were led by Colorado baritone Michael Hewitt's Lieutenant Horstmeyer (in yet another excellent Glimmerglass Festival performance by Hewitt). Horstmeyer's soldiers were New York bass-baritone Maxwell Levy (who also played the wounded Scotsman William Dale, who died early in the opera), Minnesota tenor Brian Wallin and Connecticut baritone Charles H. Eaton. New York bass Michael Pitocchi and Colorado baritone (and harmonica player) Schyler Vargas were the German chorus.
The Scots
The lead characters in the Scottish trenches are Jonathan Dale (persuasively sung by Virginia tenor Christian Sanders), his parish priest Father Palmer (Kentucky bass William Clay Thompson) and their commanding officer Lieutenant Gordon (Texas baritone Jonathan Bryan).
Other Scottish troops are New York baritone Jawan Cliff-Morris, Michigan tenor Joey Leppek and New York performer Andrew Ryan. Canadian performer Tyler Whitaker and Massachusetts baritone Matthew Steriti were the Scottish chorus.
[Below: An embittered Jonathan Dale (Christian Sanders, center) grieves his brother's death in combat; edited image, based on a Karli Cadel photograph, courtesy of the Glimmerglass Festival]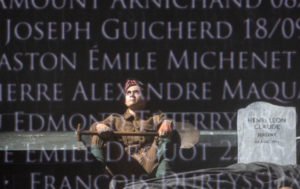 Arriving after the evening's truce to chew out officers and troops for fraternization with the enemy is the British Major, sung by veteran New Jersey bass-baritone Dale Travis.
Travis is the only cast member who is not part of the Glimmerglass Young Artist Program, whose members sing 27 of the 28 roles.
The French
The interwoven French story is poignant. Lieutenant Audebert (Pennsylvania baritone Michael Miller) is depressed at having to leave his pregnant wife (Iowa mezzo-soprano Kayla Siembieda).
Audebert is somewhat cheered by the young soldier Ponchet (an affecting performance by Minnesota baritone Conor McDonald), whose mother, whom he wishes to visit for coffee, lives in the vicinity of the trenches. He does, in time, visit his mother for coffee in the day after the truce only to be shot dead as the hostilities resume.
[Below: Ponchet (Conor McDonald, right) brings some cheer to the life of Lieutenant Audebert (Michael Miller, left); edited image, based on a Karli Cadel photograph, courtesy of the Glimmerglass Festival.]
The French General is performed by Pennsylvania bass Timothy Bruno. The French soldiers are Iowa baritone Ben Schaefer, Canadian tenor Spencer Britten and Texas baritone Michael Pandolfo. The French chorus was sung by Pennsylvania tenor Tucker Reed Breder and Vermont bass-baritone Christopher Carbin.
The Truce
The impetus for a Christmas truce came from the subordinates of German, Scottish and French officers, but the three lieutenants, despite official discouragement of fraternization with enemy forces, at first warily, then cautiously, began to speak with each other.
[Below: Lieutenant Gordon (Jonathan Bryan, right, carrying a white flag) meets Lieutenant Audebert (Michael Miller) and Lieutenant Horstmeyer (Michael Hewitt, center); edited image, based on a Karli Cadel photograph, courtesy of the Glimmerglass Festival.]
The crux of the opera comes is the humanizing impact of the interactions between the men of the three nations at war – who exchange Christmas greetings, sing songs, play games, and take the time to bury their dead. To quote librettist Mark Campbell, "War is not sustainable when you come to know your enemy as a person".
[Below: the men of the French, Scottish and German forces mingle for Christmas eve; edited image, based on a Karli Cadel photograph, courtesy of the Glimmerglass Festival.]
Director Tomer Zvulun and Scenery Designer Erhard Rom
This production was created by Atlanta Opera's General Director, Tomer Zvulun, for the 2016 Wexford Opera Festival and for the Atlanta Opera. His collaborator was scenic designer Erhard Rom, with whom he designed the Seattle Opera's production of Handel's "Semele" [Review: Blythe, Rae, Shrader Sizzle in Seattle Opera's Saucy "Semele" – February 25, 2015.]
[Below: Director Tomer Zvulun; edited image of a publicity photograph from the Wexford Festival Opera.]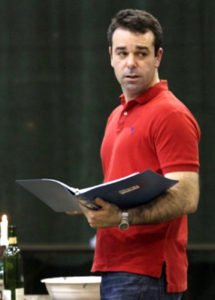 Zvulun's personal experiences as a medic in an Israeli combat infantry unit obviously gave him insights into the opera's complexities. In his essay Seeking Humanity in War he writes "As a young 18-year old, I learned . . about violence, fear, loss, and the constant brush with death. I learned to shoot, fight, run, hide – not only physically, but also emotionally. . . That is the most fundamental aspect of being a soldier: missing the one you love, your family, your home, your innocence, your youth. Those may be lost forever as soon as you put on uniforms . . ."
[Below: A monument to those who served in World War I that closes the opera; edited image, based on a Karli Cadel photograph, courtesy of the Glimmerglass Festival. ]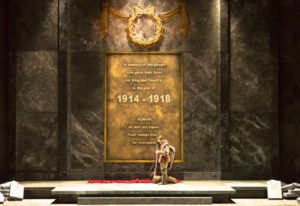 The multi-tiered sets of Tomer's collaborator Erhard Rom were a strikingly effective image, encased by the Alice Busch Theater's relatively small stage.
Maestra Nicole Paiement and the Musical Performance
The Glimmerglass Festival Orchestra was authoritatively conducted by Maestra Nicole Paiement, who is a strong advocate for new operas, as well as for earlier masterpieces that deserve rediscovery [see Review: Mulligan, Barton, Zambello, Paiement Make the Case for "The Crucible" – Glimmerglass Festival, August 5, 2016.]
[Maestra Nicole Paiement; edited image of a publicity photograph from Opera Sarasota.]
The Glimmerglass Festival Orchestra impressively performed Puts' always interesting score, which although often beautifully melodic, effectively conveys the impact of war on the young men of the opposing sides.
Recommendation
I enthusiastically recommend the production and cast, both for the veteran opera-goer and the person new to opera.