The San Francisco Opera's presentation of Francesca Zambello's production of Wagner's "Ring of the Nibelungs" continued with "Die Walküre", the second of the four-opera cycle.
This review will concentrate on this season's cast, as this is my fifth time reviewing the Zambello "Walküre". Most of my observations and commentaries on the production contained in the previous reviews (each hyperlinked at the end of this review) continue to be relevant.
Greer Grimsley's Wotan
Louisiana bass-baritone Greer Grimsley projected a forceful presence as Wotan, king of the gods. Of the three "Ring" operas in which his character appears, it is "Die Walküre" that contains Wotan's best known passages.
Grimsley was vocally replendent in Wotan's farewell to his daughter Brünnhilde. He was equally impressive when summoning the Magic Fire to protect Brünnhilde during the decades she will be asleep.
[Below: Greer Grimsley as Wotan; edited image, based on a Cory Weaver photograph, courtesy of the San Francisco Opera.]
An alumnus of the Houston Grand Opera Studio, Grimsley has had long experience in plumbing Wotan's psychological depths. Notably, Grimsley was Wotan in the 2005, 2009 and 2013 cycles of Stephen Wadsworth's esteemed "Ring" for the Seattle Opera [Seattle Opera's Memorable "Walküre" Revival – August 10, 2009].
Grimsley has been a strong advocate for seeking a deeper understanding the character relationships in Wagner's "Ring", as one would seek to understand the characters in classical Greek drama [see Ambassador for Opera: An Interview with Bass-Baritone Greer Grimsley].
Iréne Theorin's Brünnhilde
Swedish dramatic soprano Iréne Theorin, who had appeared at the San Francisco Opera previously as an ice princess [Luisotti Leads Superb "Turandot" Cast In David Hockney's Treasured Production – San Francisco Opera, September 9, 2011] was afire as Wotan's favorite daughter and chief operative, Brünnhilde.
Theorin was a vocally expressive Brünnhilde. She had the power and vocal weight that is a prerequisite to the role. She was outstanding in the lyrical passages that frame the Todesverkundigung, telling Siegmund he will die in battle the next morning.
Especially effective (and affecting) is the slow march of uniformed soldiers across the stage, each carrying the portrait of an American serviceman who died in combat, as Brünnhilde announces Siegmund's fate.
[Below: Iréne Theorin as Brünnhilde; edited image, based on a Cory Weaver photograph, courtesy of the San Francisco Opera.]
In her San Francisco Opera engagement, Theorin has demonstrated the endurance required for singing the role of Brünnhilde in a "six day Ring". Brünnhilde appears in three consecutive operas ("Walküre" on day two, "Siegfried" on day four and "Gotterdammerung" on day six) requiring her to perform three times in a five day period with only a day of rest between each opera.
Theorin had finished that feat three days prior to this evening's performance, now beginning the second of these successive marathons (with another scheduled "six day Ring" in the following week).
Brandon Jovanovich's Siegmund
Montana tenor Brandon Jovanovich brought heroic bearing and a bright spinto tenor to the role of Siegmund.
A skilled actor, whose innate dramatic instincts prosper under Zambello's direction, Jovanovich masterfully portrayed the conflicted character, raised in a wild forest.
Great Siegmunds are judged by their delivery of Wagner's melodic Winterstürme wichen dem Wonnemond and the Todesverkundigung, the powerful second act scene in which Siegmund refuses to follow Brünnhilde to Valhalla. Jovanovich performed Winterstürme passionately and the second reverentially.
Jovanovich has been an audience favorite at the War Memorial Opera House for over a decade [see Rising Stars: An Interview with Brandon Jovanovich], and it is here that Jovanovich's career turn into Wagnerian opera took place, including four jugendlicher role debuts.
Beginning with the characters of Froh in "Rheingold" and Siegmund in "Walküre" in San Francisco Opera's 2011 "Ring", Jovanovich's role debuts include Lohengrin [Jovanovich is a Joy in Luisotti's Luminous "Lohengrin" – San Francisco Opera, October 20, 2012] and Walther [Review: McVicar's Magical, Masterful "Meistersinger" – San Francisco Opera, November 18, 2015].
After these San Francisco role debuts, he has performed Walther at the Opéra National de Paris, Lohengrin at the Zurich Oper, Lohengrin and Walther at the Deutsche Oper Berlin and Siegmund at the Lyric Opera of Chicago [Review: Chicago's Imaginative New "Walküre": Goerke, Owens, Jovanovich, Strid Excel – Lyric Opera, November 30, 2017].
Karita Mattila's Sieglinde
Finnish soprano Karita Mattila's expansive, dramatic voice and keen theatrical sense were employed for a sympathetic portrayal of Siegmund's twin sister Sieglinde.
Throughout the Zambello "Ring", shifting scenes from Wagner's vaguely mythical setting in Europe's Dark Ages to contemporary situations heightens the dramatic force of the story for 21st century audiences.
Mattila delivered a emotional performance that helped realize Zambello's concept for the opera's first act, in which Sieglinde's husband Hunding is an Appalachian backwoodsman. Sieglinde keeps a tidy house and over the years seems to have accommodated to a man who is both a steady provider and controlling.
[Below: Karita Mattila as Sieglinde; edited image, based on a Cory Weaver photograph, courtesy of the San Francisco Opera.]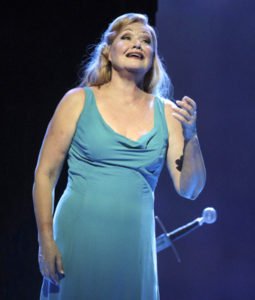 The affection Mattila brought to Sieglinde's first act Du bist der Lenz, the dramatic poignancy to Sieglinde's second act expressions of grief as her husband and brother prepare for battle, and the joy proclaimed in the third act O hehrstes wunder remind us of the importance of having a great artist as Sieglinde, the only character to appear in all three "Walküre" acts.
Mattila is one of the most sought after of artists performing this role [See Review: Houston "Walküre" Showcases Christine Goerke's Astonishing Brünnhilde, Karita Mattila's Stunning Sieglinde – Houston Grand Opera, April 25, 2015]. The addition of Mattila to the San Francisco "Ring's" already distinguished cast excited international interest.
Jamie Barton's Fricka
Georgia mezzo-soprano Jamie Barton was another welcome addition to the stellar cast as Fricka, the character who, taking a stand on principal, completely changes the course of the story. The "Ring" story works best, when Fricka in "Walkure" is dramatically persuasive. I found Barton's portrayal to be completely convincing.
[Below: Jamie Barton as Fricka; edited image, based on a Cory Weaver photograph, courtesy of the San Francisco Opera.]
I described Barton's "lusciously rich, warm voice" in my review of her "Rheingold" Fricka, a woman (albeit a goddess) not yet sure of her place in the world of the gods.
As the "Walküre" Fricka, Barton's rich, warm voice portrays a woman who has gained self-confidence and who asserts her power. Barton's Fricka plays with the emotions of Grimsley's Wotan, exuding a combination of charm, anger and logic to derail Wotan's long-term plans for recovering the cursed Nibelung Ring.
[Below: A flustered Wotan (Greer Grimsley, left) finds that he has to abandon decades of strategic actions to placate his wife, Fricka (Jamie Barton, right); edited image, based on a Cory Weaver photograph.]
Over a dozen years I've seen, four different artists sing the Fricka role. Barton, hands down, is my favorite.
Raymond Aceto's Hunding
Ohio bass Raymond Aceto plays the brutish hunter Hunding.
Zambello's change of locale from Wagner's European Dark Ages to 20th century Appalachia resulted in a deeper complexity for the Hunding character and its potential analogy to contemporary society.
Aceto does not appear as a barbarian in animal furs, as a traditional Hunding might. He portrays a man who is a member of a community and a provider to his wife, but who is controlling and potentially abusive.
Aceto's elegant bass voice and impressive acting skills make him a superb choice for the "Modern Hunding" role.
[Below: Raymond Aceto as Hunding; edited image, based on a Cory Weaver photograph, courtesy of the San Francisco Opera.]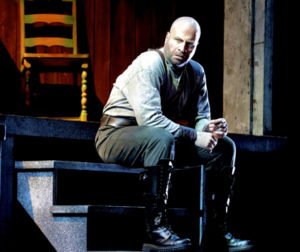 [For my conversation with Aceto, including his thoughts on the role of Hunding, the Zambello production and the War Memorial Opera House, see: A Conversation with Raymond Aceto – San Francisco Opera's Timur in "Turandot".]
Brünnhilde's Eight Valkyrie Sisters
The most striking image in the entire Zambello "Ring" is the first scene of the "Walküre" third act, in which eight valkyries, adorned in paratrooper outfits, rapidly enter the stage, most appearing to parachute in.
The valkyries sort out the dead heroes they are retrieving from the battlefield who will become Wotan's soldiers, stationed in Valhalla.
[Below: the eight valkyries await the arrival of a ninth sister; edited image, based on a Cory Weaver photograph, courtesy of the San Francisco Opera.]
Illinois soprano Melissa Citro (who performs the role of Gutrune in "Götterdämmerung") is the valkyr Helmwige, California soprano Julie Adams (who performs the role of Freia in "Das Rheingold") is Gerhilde; Oklahoma mezzo-soprano Lauren McNeese (who performs the role of the Rhinemaiden Wellgunde in "Das Rheingold" and "Götterdämmerung") is Rossweisse; California mezzo-soprano Renee Tatum (who performs the role of the Rhinemaiden Flosshilde in "Das Rheingold") is Waltraute; Canadian soprano Sarah Cambidge (who is also the Third Norn in "Götterdämmerung" is Ortlinde.
Iowa mezzo-soprano Laura Krumm is Siegrune; Iowa mezzo-soprano Renee Rapier is Grimgerde and Iowa soprano Nicole Birkland os Schwertleite.
The collective performance of the eight artists portraying the valkyries was another of the highlights of the Zambello "Ring".
Maestro Donald Runnicles and the San Francisco Opera Orchestra
The San Francisco Opera Orchestra has over the decades become one of the world's great opera orchestras, and a portion of the credit for their success should be shared with Maestro Donald Runnicles, who was the San Francisco Opera music director in the decades ending the 20th century and beginning the 21st.
The Orchestra, performing under Runnicles' inspired conducting, produced the brilliant "wall of sound" that makes the War Memorial Opera House such a felicitous place to enjoy Wagnerian opera.
Francesca Zambello's Production, Michael Yeargan's Sets and Jan Hartley's and S. Katy Tucker's Projections
Among the many features that make the Zambello "Ring" production such a satisfactory experience are Zambello's inventive choices for setting each scene, enhanced by clever set designs realized by veteran designer Michael Yeargan.
There are four scenes in "Walküre". Zambello places Act I in an Appalachian cottage.
[Below: Siegmund (Brandon Jovanovich, center) has arrived at Hunding's house; edited image, based on a Cory Weaver photograph, courtesy of the San Francisco Opera.]
Act II Scene 1 in the luxurious penthouse offices of what must be Valhalla, Inc., Act II Scene 2 is in the littered surroundings at the base of a freeway overpass.
Act III is an industrial factory space that serves as Brunnhilde's Rock, the meeting place for valkyries (and for Brunnhilde's imposed years of sleep).
[Below: As punishment for disobeying him, Wotan (Greer Grimsley, top) has transformed Brünnhilde (Iréne Theorin, below on disc) into a mortal, who must sleep until awakened by a mortal man; edited image, based on a Cory Weaver photograph, courtesy of the San Francisco Opera.]
Florida projection designer Jan Hartley's projections were a distinctive feature of the first operas of the Zambello "Ring", that premiered at the Washington National Opera and whose "Rheingold" and "Walküre" were seen in San Francisco in 2009 and 2010. Hartley designed the "Siegfried" projections as well.
The projections for the "Götterdämmerung" projections, that debuted in San Francisco in 2011 (as part of the first complete Zambello "Ring"), were created by Kentucky projection designer S. Katy Tucker.
The projections, all of which are displayed concurrently with the swirling music that provide interludes between changing scenes, are stunning and spectacular. They add immeasurably to one's enjoyment of the Zambello "Ring".
[Below: the magic fire surrounds Brünnhilde's rock; edited image, based on a Cory Weaver photograph, courtesy of the San Francisco Opera.]
Recommendation
I enthusiastically recommend the Francesca Zambello production of Wagner's "Die Walkure" both for the veteran opera-goer and the person new to opera.
For my previous reviews of the Francesca Zambello production of "Die Walküre", see:
Zambello's Dazzling "American Ring "Walküre" at Kennedy Center – March 28, 2007, and also,
An American "Walküre": Runnicles, Wagner and Zambello At San Francisco Opera – June 10, 2010, and also,