In the fourth of six scheduled performances of Giuseppe Verdi's "Rigoletto", the Los Angeles Opera introduced new cast members for the opera's three principal roles that included two impressive company debuts.
Michael Fabiano's Duke of Mantua
In his Los Angeles Opera debut, New Jersey tenor Michael Fabiano displayed the vibrant voice and confident stage presence that has made him one of the most sought after international opera stars.
[Below: Michael Fabiano as the Duke of Mantua; edited image, based on a Karen Almond photograph, courtesy of the Los Angeles Opera.]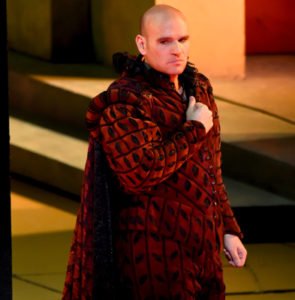 Fabiano's Duke, whose music includes La donna e mobile and the opening phrase of the "Rigoletto Quartet", two of the most familiar melodies in all of opera, was mesmerizing in the role.
Fabiano instantly bonded with the Los Angeles audience – evident from the big ovation given his second act double aria Parmi veder le lagrime, whose cabaletta Possente amor mi chiama included both verses and the connecting stretta.
Having seen Fabiano as the Duke of Mantua role two years ago in Paris, [Review: A "Rigoletto" Surprise in Paris: Ludovic Tézier Subs in Title Role in Claus Guth's Production with Fabiano, Peretyatko, Luisotti – May 5, 2016] and in other roles in the past few months [see, for example, Review: An Exquisitely Sung "Manon" with Ellie Dehn and Michael Fabiano – San Francisco Opera, November 4, 2017], I am impressed by how Fabiano's voice continues to grow in size and power, while maintaining its beautiful lyric quality.
Adela Zaharia's Gilda
Any aspiring Gilda is judged by her great aria Caro Nome, which Romanian soprano Adela Zaharia sang exquisitely. Zaharia was convincing as an actress, with an appealing lyric-coloratura voice that confirms her as an artist at the beginning of an important career.
[Below: Adela Zaharia as Gilda; edited image, based on a Karen Almond photograph, courtesy of the Los Angeles Opera.]
As a winner of the 2017 Operalia contest, the international competition created by Los Angeles Opera's General Director Plácido Domingo, Zaharia had been announced for a 2019 Los Angeles Opera debut as Violetta in Verdi's "La Traviata". The withdrawal of another artist provided an opportunity for her American debut as Gilda.
Ambrogio Maestri's Rigoletto
Italian baritone Ambrogio Maestri brought sensitivity to the role of the Rigoletto, portraying the Duke's jester as deeply depressed and soulful. (The similarity of the characterization to that of George Gagnidze's in the 2010 Mark Lamos -directed Los Angeles Opera mounting of "Rigoletto" suggests that it is a preference of director Lamos.)
[Below: Ambrogio Maestri as Rigoletto; edited image, based on a Karen Almond photograph, courtesy of the Los Angeles Opera.]
Maestri was persuasive in the great third act Cortigiani, eliciting a well-deserved ovation from the Los Angeles Opera audience.
Morris Robinson's Sparafucile, Ginger Costa-Jackson's Maddalena and Other Cast Members
"Rigoletto" contains two of opera's most iconic comprimario characters, the assassin-for-hire Sparafucile and his amoral sister Maddalena.
Georgia bass Morris Robinson made a strong impression as Sparafucile, his sonorous basso reinforcing the character's sinister persona.
[Below: Sparafucile (Morris Robinson, right) is ineffective in trying to persuade his sister Maddalena (Ginger Costa-Jackson, left) not to get involved in details of his murder contracts; edited image, based on a Ken Howard photograph, courtesy of the Los Angeles Opera.]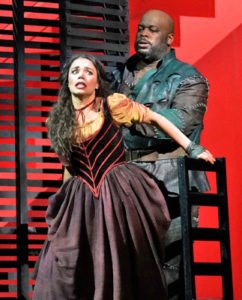 Maddalena sings only in the final scene, but a great singing actor can be a dominant presence in it. Sicilian-born Ginger Costa-Jackson exuded sex appeal in her encounter with Fabiano's Duke. Costa-Jackson's lustrous mezzo-soprano helped make the "Quartet" with Fabiano, Zaharia and Maestri a memorable experience.
California bass-baritone Craig Colclough was Monterone. Ohio tenor Joshua Wheeker was Borsa, Mexico baritone Juan Carlos Heredia was Marullo and Romanian bass Gabriel Vamvelescu was Ceprano.
Minnesota soprano Liv Redpath was Countess Ceprano, California contralto Sharmay Musacchio was Giovanna and Canadian mezzo-soprano Michelle Siemens was a Page.
Maestro Matthew Aucoin and the Musical Performance
Only in his late 20s, Maestro Matthew Aucoin, has been designated as Los Angeles Opera's Artist-in-Residence, this month conducting his own Walt Whitman-inspired operatic composition, "The Crossing", as well as "Rigoletto".
Aucoin led an energetic performance of Verdi's iconic score, inspiring brilliant performances by the Los Angeles Opera's Orchestra and Chorus.
[Below: Maestro Matthew Aucoin, composer and Los Angeles Opera artist-in-residence; edited image, based on a publicity photograph, courtesy of the Los Angeles Opera.]
Michael Yeargan's Sets
San Francisco Opera's 20 year old sets, created by Michael Yeargan, inspired by the early 20th century surrealist artist Giorgio di Chirico, were borrowed by the Los Angeles Opera, as they were in 2010. If overly familiar in San Francisco, the sets worked well in Mark Lamos' staging.
[Below: the di Chirico-inspired Michael Yeargan setting for the court of the duchy of Mantua; edited image, based on a Ken Howard photograph, courtesy of the Los Angeles Opera.]
Mark Lamos' Direction
This is my second opportunity to review Mark Lamos' staging of "Rigoletto" [see also Conlon Conducts Musically Impressive "Rigoletto" – Los Angeles Opera, December 2, 2010]. Lamos shows fidelity to the composer's and librettist's intentions, while presenting a distinctive vision of how the opera should be staged.
One of the notable features of the Lamos staging is the use of a half dozen flamboyantly costumed actor dancers among the Duke's courtiers, whose high jinks are especially notable during a pantomime of Gilda's abduction taking place during the jaunty chorus Scorrendo uniti remota via.
[Below: a few of the Duke of Mantua's raucous courtiers; edited image, based on a Ken Howard photograph, courtesy of the Los Angeles Opera.]
Recommendation
I recommend the Los Angeles Opera's current production of Verdi's "Rigoletto" enthusiastically, both for the veteran opera goer and the person new to opera.