Eugen d'Albert's "Tiefland" is an extraordinary operatic work, the only German language opera written in the verismo style that has held its own in the European opera repertory, yet one that has only been mounted three times in North America in its 115 year old history.
Its luxurious, melodic music frames a Catalonian story that conveys the emotions of three principal characters: 1) Marta, a woman who, as a young girl, was rescued, with her father, from poverty by 2) Sebastiano, a mill-owner who believes that his help for Marta and her father requires that Marta spend her life as Sebastiano's sexual subject; and 3) Pedro, a shepherd, employed by Sebastiano, who Sebastiano connives for Marta to marry with the intent that Sebastiano continue to have sexual access to her.
Kara Shay Thomson's Marta
Ohio soprano Kara Shay Thomson drew audience sympathy for her impassioned portrayal of the abused Marta. Thomson brought power and fierce emotion to this iconic role, that launched the career of Maria Callas and was a favorite of Kirsten Flagstad's.
[Below: Kara Shay Thomson as Marta; edited image, based on a Rod Millington photograph, courtesy of the Sarasota Opera.]
Thomson, on whose impressively sung Agathe I reported previously [Review: Freischütz American Style – Virginia Opera's Praiseworthy "Magic Marksman" – Norfolk, January 27, 2017] has had major dramatic soprano assignments at Sarasota Opera in recent years, including Santuzza in Mascagni's "Cavalleria Rusticana" (2010)  and the title roles of Puccini's "Tosca" (2009 and 2015), of Barber's "Vanessa" (2012) and of Beethoven's "Fidelio" (2016).
Ben Gulley's Pedro
Missouri tenor Ben Gulley performed brilliantly in the role of the unsophisticated shepherd Pedro, a role requiring a heldentenor's power and stamina, and a solid command of Rudolph Lothar's text-heavy libretto.
[Below: Pedro (Ben Gulley, right) explains his dream of angels bringing him a wife to his friend Nando (Andrew Surrena, left); edited image, based on a Rod Millington photograph, courtesy of the Sarasota Opera.]
Gulley was convincing as the naive, good-hearted Pedro. Many commentators compare the character to Wagner's Parsifal.
[Below: Pedro (Ben Gulley, left) and Marta (Kara Shay Thomson, right) have decided to leave the valley – the tiefland – to return to Pedro's mountains; edited image, based on a Rod Millington photograph, courtesy of the Sarasota Opera.]
A Sarasota Opera artist at the early stages of an operatic career, Gulley was a standout in the Artists' Concert that took place later in the evening of the matinee performance I reviewed. He sang a rousing Serenade from Romberg's "The Student Prince", accompanied by the men of the Sarasota Opera's Studio Artists program.
Aleksey Bogdanov's Sebastiano
Ukrainian baritone Aleksey Bogdanov was outstanding in the role of the sinister mill-owner Sebastiano. His Sarasota Opera debut as Sebastiano was dramatically cogent and authoritatively sung.
.Below: Aleksey Bogdanov as Sebastiano; edited image, based on a Rod Millington photograph, courtesy of the Sarasota Opera.]
I have observed the progress of Bogdanov's career over the past half dozen years, starting with small roles during his days as a Washington National Opera Domingo-Cafritz Young Artist and a Glimmerglass Festival Young Artist, followed by the strongly positive impressions he made in such major assignments as Masetto [Ildar Abdrazakov is Don Giovanni in the Pascoe Production's Revival – Washington National Opera, October 7, 2012] and Sharpless [Review: Yunah Lee Leads Impressive Cast in Glimmerglass Festival "Madama Butterfly" – July 17, 2014.]
Hanna Brammer's Nuri, Branch Fields' Tommaso and Other Cast Members
The smaller parts were well-cast. Michigan soprano Hanna Brammer had shown star quality as Micaela [Review: Sarasota Opera "Carmen" with Lisa Chavez, Cody Austin, Hanna Brammer – March 16, 2018] and was again impressive in the role of Marta's companion Nuri.
Texas bass Branch Fields was a sympathetic Tommaso, whose heroic interventions blocked Sebastiano's villainous schemes. Virginia baritone Alexander Charles Boyd was Moruccio.
Studio artists sang the roles of three chattering friends of Marta. French soprano Aura Veruni was Pepa. Ohio mezzo-soprano Annie Chester was Antonia and Texas mezzo-soprano Lara Michole Tillotson was Rosalia. Another studio artist, California tenor Andrew Surrena, was Pedro's fellow shepherd, Nando.
[Below: Andrea Surrena as Nando; edited image, based on a Tracie Lawson photograph, courtesy of the Sarasota Opera.]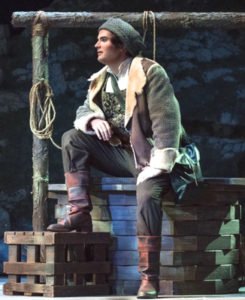 Maestro David Neely and the Sarasota Opera Orchestra and Chorus
Maestro David Neely led a spirited orchestral performance of the symphonically rich score. It was the task of Neely, who is music director of the Des Moines Metro Opera, to advise the cast members on how to approach d'Albert's musical style and to make numerous musical decisions about how each group of instruments should sound. Neely's efforts led to an outstanding experience.
Comments 
Having attended four operas, a conductor's roundtable and a Artists' Concert in a Sarasota Opera Winter Festival three day weekend, I was well aware of the "buzz" that d'Albert's opera created, with many patrons who attended one of the five performances, regarding it as the hit of the Sarasota season.
"Tiefland" was previously heard in the United States only in a six performance run at the New York Metropolitan Opera in the first decade of the 2Oth Century (1908) and in a short run in 1995 at Washington National Opera in that century's last decade (1995).
Various explanations have been offered as to why such an absorbing story in a rich musical context that remains in the repertories of German opera houses has failed to gain a following in North America. I don't find some of the explanations I've heard to be persuasive. Was "Tiefland", with its German libretto, the victim of an anti-German sentiment during the 20th century's two world wars? If so, that sentiment had no lasting impact on the operas of German composers Richard Wagner and Richard Strauss!
The most curious one was offered in 1995 by Roman Terleckyj, the director the Washington National Opera's production – that opera goers disliked operas with strong women who survive at the end of the opera. I simply don't believe that there was a single opera goer in the 1990s or in decades before and after that disliked operas with strong, surviving women. (The reverse might indeed be true, in which case the story of Marta's and Pedro's victory over Marta's abuser might attract audiences.)
I believe the reason for the opera's neglect was the 20th century fashion of musical professionals decrying the unworthiness of "tonal" operas, especially those whose musical idioms are centered around effusive melody. The popularity and box office appeal of Puccini's operas were too powerful to prevent those operas from being performed, while operas by d'Albert, Korngold and Montemezzi were the victims of critical shunning. Sweeping melody, a la Korngold, became the province of the musical scores of Hollywood blockbuster movies, rather than the opera house.
The Sarasota Opera, that has mounted two separate productions of Montemezzi's "Love for Three Kings" in the 21st century and now has introduced "Tiefland" to its performance history, could be leading the way to a reevaluation of d'Albert's "Tiefland" by the wider American operatic community. It is a reevaluation I heartily endorse.