The Seattle Opera chose to participate in a multi-institutional initiative, "Seattle Celebrates Shakespeare", in which 25 cultural organizations came together to present Shakespeare's plays or other artistic endeavors based upon his plays.
For its part in the Shakespeare festivities, the Seattle Opera selected "Beatrice and Benedict", which Berlioz loosely adapted from Shakespeare's "Much Ado About Nothing" – the Seattle Opera's first commitment ever to a Berlioz opera. The work, although filled with Berlioz' brilliant orchestration and infectiously beautiful vocal melodies, has remained on the periphery of world's operatic performance repertory.
[Below: Hector Berlioz, composer and librettist of "Beatrice and Benedict"; edited image, based on an historical photograph.]
In mounting it, the Seattle Opera chose John Langs of Seattle's ACT Theater as director and Ludovic Morlot, the music director of the Seattle Symphony (and Berlioz expert) as conductor.
Langs suggested several fundamental changes in how the opera would be performed, the most radical decision being to restore a major part of "Much Ado" that Berlioz had jettisoned – the deception of Claudio that led him to believe that his fiance Hero was unfaithful. That decision transformed Seattle Opera's production of Berlioz' opera into a work that likely would have astonished both Shakespeare and Berlioz.
[Below: Director John Langs; edited image of a Truman Buffett photograph, courtesy of the Seattle Opera.]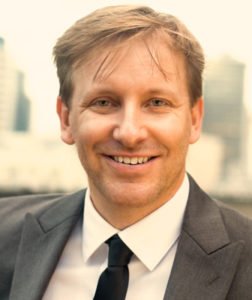 The restoration of the Claudio subplot was accomplished by having the opera singers double as Shakespearean actors, performing much of the "Much Ado" play between Berlioz' arias and ensembles (those translated from Berlioz' French libretto into English). It was further enhanced by creating new ensembles for the operatic cast and a new aria for Claudio out of other Berlioz' vocal music. The results are remarkable.
The principal operatic artists in this endeavor are each required to sing Berlioz' vocal music and to perform Shakespeare's play, which proved to be an extraordinary experience for those performers and for the Seattle audience.
Daniela Mack's Beatrice and Alek Shrader's Benedict
Two pairs of artists alternate the roles of Beatrice and Benedict over the seven scheduled performances. Because I am separately reviewing both the first and second performances, my remarks today relate to Daniela Mack's Beatrice and Alek Shrader's Benedict. (I commented on Hanna Hipp's Beatrice and Andrew Owens' Benedict in my subsequent review of the February 25, 2018 performance.)
[Below: Benedict (Alek Shrader, left) and Beatrice (Daniela Mack, right) engage in a battle of wits in which they purport disdain for each others' opinion; edited image, based on a Jacob Lucas photograph, courtesy of the Seattle Opera.]
As Beatrice and Benedict, Daniela Mack, a coloratura mezzo-soprano, and Alek Shrader, a lyric tenor, were engaging. They masterfully performed Berlioz' jaunty music that so effectively portrays a bickering (and witty) couple who have not yet realized how deeply they care for one another.
Both Shrader and Mack are effective physical comedians and each artists' comic skills are enlisted for the separate scenes in which they overhear (deliberately contrived) reports that each one's adversary has fallen in love with the other.
Even if misinformation, it has the desired effect, leading each of the supposed adversaries to exclaim variations of Berlioz' jubilant arioso "Yes, I am in Love, With Joy I Announce It".
[Below: Don Pedro (Daniel Sumegi, right), Leonato (Marvin Grays, second from left) and Claudio (Craig Verm, center, seated) talk with each other about who is in love with Benedict (Alek Shrader, left), knowing that Benedict is overhearing them; edited image, based on a Jacob Lucas photograph, courtesy of the Seattle Opera.]
Mack's Beatrice also takes part in an exquisitely sung trio with Shelly Traverse's Hero and Avery Amereau's Ursula containing some of Berlioz' most endearing melodies.
I have had the privilege of reviewing Daniela Mack's operatic performances since early in her career [An "Idomeneo" Surprise in San Francisco – Daniela Mack's Princely Idamante – October 26, 2008] and have been impressed by her ability to excel in such different operatic styles as 19th century French romantic opera [Review: Stephen Lawless' Creative New "Carmen" Production Opens 2014 Santa Fe Opera Season – June 27, 2014] and 21st century opera [see World Premiere Review: "JFK", a Fort Worth Fantasy – April 23, 2016.]
It is always a special occasion to see Mack and Shrader, who are married to one another, perform together as they have in Handel [Review – Santa Fe Opera's "Alcina": Beautifully Sung Enchantment – July 29, 2017 and A Second Look: "Partenope" at the San Francisco Opera – October 24, 2014] and Rossini comedy [Daniela Mack, Alek Shrader, Audun Iversen and Maurizio Muraro Sparkle in San Francisco Opera "Barber of Seville" – November 14, 2013 .]
Craig Verm's Claudio
The pairs of artists performing Beatrice and Benedict in this Seattle Opera production are singing the music composed by Berlioz for the roles – those roles augmented by the inclusion of large sections of Shakespeare's play.
The role of Claudio is a quite different situation. The music and libretto Berlioz wrote for him (and his fiancé Hero) was background to the rivalry and later marriage of Beatrice and Benedict. "Much Ado's" subplot of the evil machinations of Don John and his operative Borachio to bring false witness against Hero does not exist in Berlioz' opera.
It's tricky making major structural changes in an opera in which an acknowledged genius has written both the music and libretto. To incorporate a complex subplot into a century and a half-old opera where it does not exist is a virtually unprecedented endeavor. It proved to be more than adding Shakespeare's spoken words to Claudio's role. The decision was made to write new music for Claudio, including an extraordinary "rage aria", itself repurposed from other vocal music that Berlioz wrote.
[Below: Claudio (Craig Verm) observes what he believes is the infidelity of his fiancé ; edited image, based on a Jacob Lucas photograph, courtesy of the Seattle Opera.]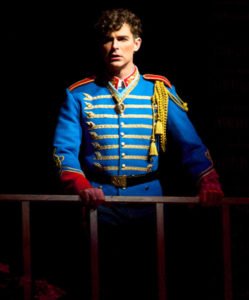 I believe that the expanded role of Claudio highlights the many talents of Craig Verm. He is the secondo uomo in both of Seattle's casts, and sang the greatly expanded role in all seven Seattle performances.
I have reported on other major assignments in Santa Fe [Review: Santa Fe Opera Makes the Case for "Capriccio"- July 27, 2016] and Seattle [Review: Seattle Opera's "Cosi fan Tutte": Costa-Jackson Sisters Lead Convincing Cast – January 13, 2018].
Possessing a fine lyric baritone, handsome, athletic and personable and a convincing actor, Verm appears at the early part of a important operatic career.
Thoughts on the Reinvention of Berlioz' Opera
The resulting amalgam of the Bard's "Much Ado" and Berlioz' "Beatrice" is a fascinating experience, which I believe would be well received – as it was by Seattle Opera audiences – at operatic festivals or in university opera/theatrical arts programs. I also could imagine it being incorporated as a novelty in a regular opera season. Those who have seen Seattle Opera's "Beatrice" have been enriched by it.
My guess is that the complexity of the amalgam and the resources that must be enlisted to bring it off suggests it is not a final solution as to the "authoritative" way to present Berlioz' "Beatrice" to 21st century audiences.
Recommendation
I recommend the Seattle Opera's production of Berlioz' "Beatrice and Benedict" enthusiastically for both the veteran opera-goer and the person new to opera; and also to persons who would like to see an innovative presentation of Shakespeare's "Much Ado About Nothing".
As part of my review of the next day's (February 25) performance, I discuss other cast members (both the operatic and Shakespearean artists), the production, and the conductor and orchestra [See Review: Seattle Opera's Brilliant "Beatrice and Benedict" – February 25, 2018.]