The following conversation with Kevin Burdette was conducted with the cooperation of the Seattle Opera, whose facilitation of the conversation is deeply appreciated.
[Below: Kevin Burdette as Don Alfonso in the Seattle Opera production of Mozart's "Così fan Tutte"; edited image, based on a Philip Newton photograph, courtesy of the Seattle Opera.]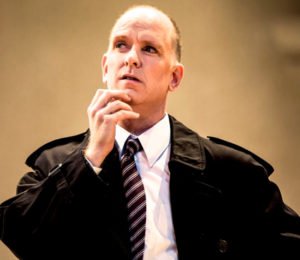 Wm: Hi Kevin. I appreciate these opportunities to check in with you periodically on highlights of your operatic career.
Last month I posted reviews for each of the casts of the Seattle Opera's update of its Jonathan Miller production of Mozart's "Così fan Tutte". You played the part of Don Alfonso, whose bet with the soldiers Ferrando and Guglielmo about the fidelity of their girlfriends is the basis of the opera's plot. I'm also scheduled to review your performances in both casts of the Seattle Opera production of Berlioz' "Beatrice and Benedict".
Before I ask about those two operas, I want to talk about your association with the Seattle Opera. You made your Seattle debut in major roles about a dozen years ago, even before you had made the final choice between opera and law as a career. How did you first come to the attention of the Seattle Opera?
[Below: Seattle Opera General Director Emeritus Speight Jenkins; edited image, based on a publicity photograph, courtesy of the Seattle Opera.]
KB: I auditioned for Speight Jenkins in New York around 2002. I was just starting out in the business, having made my New York City Opera debut in 1999 and graduated Juilliard in 2000, so I was honored that Speight chose to hear me. I was well-aware of Seattle Opera's status as one of the premiere opera companies in the country, and I was eager to introduce myself to Speight.
[Below: Kevin Burdette as Masetto in the 2007 Seattle Opera production of Mozart's "Don Giovanni"; edited image, based on a production photograph, courtesy of the Seattle Opera.]
Interestingly, I had heard from my friend Peter Kazaras, who has a wonderful history with Seattle Opera, that Speight had attended Columbia Law School, where I was deferring enrollment at the time to pursue an opera career. (Peter, himself, has a connection to law, having received a law degree from New York University.)
[Below: Masetto (Kevin Burdette, right) fumes as Don Giovanni (Mariusz Kwiecien, left) attempts to seduce Masetto's bride, Zerlina (Ailish Tynan, second from left) in the 2007 Seattle Opera production of Mozart's "Don Giovanni"; edited image, based on a production photograph for the Seattle Opera.]
And, as I recall, Speight had gone to the University of Texas with Paul Kellogg, who was my biggest supporter when I started out, hiring me for multiple seasons at Glimmerglass and for over 100 performances at NYCO. Speight and I had a lot to talk about! I feel like we did as much conversing in the audition as singing.
[Below: Kevin Burdette (right) is Mustafa and Lawrence Brownlee (left) is Lindoro in the 2006 Seattle Opera production of Rossini's "The Italian Girl in Algiers"; edited image, based on a production photograph, from kevinburdette.com.]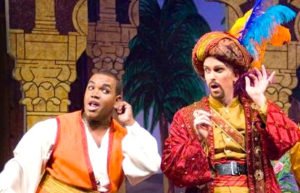 Wm: The revival of the "Così fan Tutte" was directed by Harry Fehr, who will make his San Francisco Opera debut in Summer 2019 directing Handel's "Orlando".
Fehr presided over substantive changes in Miller's production, including moving the action to present day Seattle, with sometimes startling results. What insights did you get into your character of Don Alfonso, working with Fehr?
[Below: Director Harry Fehr; edited image, based on a publicity photograph, courtesy of the San Francisco Opera.]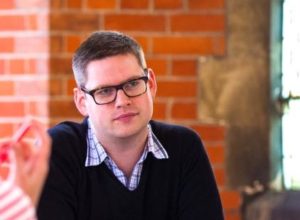 KB: Working with Harry was nothing short of a delight. For one thing, Harry knows this production better than probably any person, outside of Jonathan Miller himself. Harry has assisted Dr. Miller on the production and has directed numerous remounts of the production, including at Covent Garden, where Dr. Miller premiered the production.
And, as you would expect from a Dr. Miller protégé, Harry knows the music and the text of the opera incredibly well, and that knowledge served as a strong foundation for discovery and play.
Don Alfonso is extremely text-driven, and Harry and I spent a lot of our time drilling down on what the text means on the surface, what it could mean alternatively, and what the implications are. It was occasionally like law school, where Harry would "cold call" on me: what are you saying there and why? I actually enjoy that interaction in rehearsal – which could not be said of my Civil Procedure class! This sort of work is always rewarding for me, especially so with a director who has such intimate knowledge of the text and for a role like Alfonso.
Seattle Opera's General Director Aidan Lang asked me once why I thought Mozart and Da Ponte did not write an aria for Alfonso. I wonder if it is because in opera, the arias are where a character stops and thinks—where she is, how she got here, how she can grow or solve a problem—and, as a result of that self-reflection, she changes, grows, and becomes dynamic. Alfonso is the only character in "Così" who does not change – he is not altered by what transpires in the opera. As such, it makes perfect sense that Alfonso would not have an aria.
[Below: Don Alfonso (Kevin Burdette) rests on a sofa in the sisters' apartments; edited image, based on a Philip Newton photograph, courtesy of the Seattle Opera.]
Wm: "Così fan Tutte" is one of the hallowed trinity of Mozart operas with Da Ponte libretti. Many of us who grew up with "Così" thought the well-known 19th century distaste for its subject was a bit priggish.
But centering the story on professional Seattle women in 2018, whose boyfriends have accepted a big money bet that "their women" can't be tricked into betraying them, seems to have caused a lot of discussion.
In fact, all three of the opera's female characters in this production end the opera visibly upset. When was the decision made NOT to end the opera on a happy note?
KB: Thank you for this question, William. Harry and Paul Daniel (the conductor) and the cast spent a great deal of time talking about how to tell this story in the current climate and within the context of an updated, current production.
These discussions affected much of what happened throughout the course of the night: the men's interest in trying to seduce their original partner, rather than the others' partner; the women's proactively – and physically – throwing the men out at the end of Act I, rather than having the men leave laughing while the women remain behind upset; tying Ferrando's dogged pursuit of Fiordiligi in Act II to his own insecurities and jealousies.
All of this discussion and character study occurred over the course of a couple weeks, before we got to the Act II finale. When we arrived at that finale, we had another room-wide discussion on how to undertake the final scene. As I recall, everyone offered an opinion on where they thought their character was at the moment and where they thought the character should go. And, with both casts, we played out multiple options onstage, trying to find what felt right.
[Below: Don Alfonso (Kevin Burdette, second from left) orchestrates the behaviors of Guglielmo (Craig Verm, center, disguised as the Oregonian rocker Tizio) and Ferrando (Tuomas Katajala, left, disguised as the rocker Sempronio) in their quest to seduce Dorabella (Ginger Costa-Jackson, second from right) and Fiordiligi (Marina Costa-Jackson, right); edited image, based on a Tuffer photograph, courtesy of the Seattle Opera.]
Throughout those sessions, where we focused solely on the end of the opera, Harry touched base with each performer, trying to see where they were and what story they were telling.
One discussion I was party to was Despina's. She and Alfonso had been a team up to that point in the opera, but she had not known that Sempronio and Tizio were actually Ferrando and Guglielmo. The wonderful Laura Tatulescu, a spectacular Despina, suggested that Despina, talking about her shame and confusion, would be extremely upset with Alfonso, going so far as to rip up the money he had given her. She had felt on equal level with Don Alfonso through most of the opera, and the realization of still being subordinate, together with her recognition of the cruelty of the undertaking, was too much to stomach.
[Below: Kevin Burdette (left) is Don Alfonso and Laura Tatulescu (right) is Despina in the 2018 Seattle Opera production of Mozart's "Così fan Tutte"; edited image, based on a Philip Newton photograph, courtesy of the Seattle Opera.]
Apologies for rambling on, William! As they say, ask me the time, and I'll tell you how to make a watch…. To answer your question: we made the decision to end the opera on an unhappy note when we arrived at that moment in the staging.
One thing that Aidan Lang said about the staging that struck me as very wise was that, by updating the setting, the story becomes more believable. For instance, period costumes for men tend to be very handsome and dashing: uniforms and narrow waists and long boots. With that as the baseline costume for the lovers, the disguised costumes tend to have nowhere to go but down, with the result being a less-believable storyline for the women.
Accordingly, updating the costumes plays the role of making the story more believable, more real. Which may have been an issue for some people: it is easier to enjoy – or at least be less uncomfortable with – the story of "Così" when it is a farce. When we see someone who could be us or our children or our friends onstage, going down difficult paths, it is a more visceral, and more viscerally painful, experience for us. But that is a vital role that art plays for us, causing us to feel. And that is why Mozart and Da Ponte are immortal – relevant, almost too relevant at times, even in 2018.
[Below: Kevin Burdette with his wife and daughter reveling in the view from the Seattle Space Needle; edited image of a personal photograph, from Kevin Burdette.]
Wm: Your next operatic assignment is also at the Seattle Opera, in Berlioz' "Beatrice and Benedict". That's another subject that involves some deceitful involvement against leading characters, although here the deceit involves proving that two characters who think they hate each other can be coaxed into falling in love.
KB: That is a fantastic observation, William – and a great segue! You must have done a couple of interviews before…. There is quite a bit of deception in Beatrice and Benedict: some of the deception is charming, like the way the people of Messina get Beatrice and Benedict to admit – or, in a sense, simply register – their love for and connection with one another.
Some deceptions are heart-warming, like when the apparently dead Hero reveals herself to Claudio as very much alive. Some are upsetting, like the willingness of Don John, the plain-dealing villain, to build mischief and endeavor anything to cross his brother, Don Pedro, and the young start-up Claudio.
John Langs, who is directing the show and who is extraordinary, mentioned at the beginning of the process, that, in Shakespeare's time, the word "nothing" was pronounced "noting" – which brings into focus what the story is about.
[Below: "Beatrice and Benedict" director John Langs; edited image, based on an Emily Penick photograph for Seattle's A Contemporary Theater (ACT).]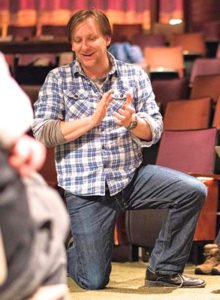 The story is indeed, much ado about noting: Borachio's noting of Claudio's intent to marry Hero, the night guard's noting of Borachio's plan, Beatrice's and Benedict's noting of gossip about the other, even the townsfolks' noting of the undercurrent of love that feeds Beatrice's and Benedict's relationship, with its "merry war" and "skirmishes of wit".
And, if you'll forgive a terrible pun: there is an extra layer of noting in the opera, with Berlioz's literal noting – giving of notes to – the story itself!
Wm: "Beatrice and Benedict" has proven to be an elusive candidate for becoming a repertory staple, yet it's filled with Berlioz' wonderful music and a story based on the Bard's Much Ado About Nothing. Seattle Opera is presenting it in English. What are your thoughts on your preparations for the Seattle Opera production so far?
KB: I think this project is exciting and inventive and terrific, for the opera and for Seattle in general. The idea was birthed as part of the Seattle-wide Shakespeare festival, Seattle Celebrates Shakespeare. With a festival centered around the Seattle arts community, the opera teamed up with the Seattle Symphony and A Contemporary Theater (ACT) to undertake a new production of "Beatrice and Benedict", with Maestro Ludovic Morlot, the Music Director of the Seattle Symphony, conducting and John Langs, the Artistic Director of ACT, directing.
One exciting choice this group, together with Aidan Lang, made was to use the original Shakespeare text, instead of Shakespeare translated into French. Much of the work of cooking Shakespeare into Berlioz fell to Seattle Opera's unparalleled dramaturg, Jonathan Dean.
They also added back into the story certain plot lines that had fallen away for the Berlioz, most notably reintroducing the characters of Don John, Borachio, and Margaret. With these decisions, the story becomes more immediate to the English-speaking listener, especially those already familiar to the Shakespeare text, and adds a new depth to the story, with the introduction of obstacles to ultimate happiness.
One secondary benefit for me to these developments is that my character, Somarone, the choir master, now takes on a larger role, as he becomes more of a town factotum, conducting the choir, being gardener and night guard and constable and even pretend father to Leonato's niece. Not only do I now get to sing Sigh no more, ladies – to the tune of Berlioz's Voici des Roses, no less – I also get to add another Shakespearean clown to my repertoire: Dogberry!
[Below: Claudio (Craig Verm, right) teases the "man-hater" Beatrice (Hanna Hipp, left); edited image, based on a Philip Newton photograph, courtesy of the Seattle Opera.]
Wm: Four members of the "Così" casts will also perform in "Beatrice and Benedict", including Craig Verm who co-starred with you in the world premiere of Joby Talbot's "Everest" at The Dallas Opera.
I would suspect that the experience of having worked with colleagues in other operas in the past helps facilitate the preparation of a work like "Beatrice and Benedict" that will be new to many or most cast members.
KB: You are absolutely right about that, William: having known quantities is very helpful when diving into a new venture. In fact, I would argue that this production has the perfect mix of old friend and new colleague: as nice as it is to have familiar faces in the room, it is also extremely exciting to meet new artists and to have a new pool of energy to draw and learn from.
The learning aspect is especially relevant in this production, as a handful of roles are played by theater actors, not opera singers. It is exhilarating to sit in a room with trained Shakespearean actors, hearing them work their lines and develop their relationships.
Add to that John Langs' exceptional eye and ear, his creative process, and his pearls of wisdom, and you have a room bursting with energy and discovery and play – and you have me dashing off at breaks to write down insights learned, whether they apply now to Somarone or to some other project down the road.
So much of the play and discovery and character interaction we are doing in the rehearsal room calls to my mind one of my favorite quotes from Mary Oliver: "Instructions for living a life: Pay attention. Be astonished. Tell about it." I can think of no better way to approach this story or, ultimately, to approach life.
Wm: I appreciate the opportunity to catch up with you!
KB: Thank you. It is always a pleasure!
For my reviews of the Seattle Opera "Così fan Tutte", see: Review: Seattle Opera's "Cosi fan Tutte": Costa-Jackson Sisters Lead Convincing Cast – January 13, 2018 and Review: Seattle Opera's "Cosi fan Tutte": A Crowd-Pleasing Alternate Cast – January 14, 2018.
For my previous interview and conversations with Kevin Burdette, see: Buff Buffo: An Interview with Kevin Burdette and A Year of Operatic World Premieres: A Conversation with Basso Kevin Burdette and A Year of Operatic World Premieres: Part 2 of a Conversation with Basso Kevin Burdette.