The following conversation with basso Raymond Aceto is in conjunction with the San Francisco Opera's revival of the David Hockney production of Puccini's "Turandot".
[Below: Basso Raymond Aceto; edited image of a publicity photograph, courtesy of Raymond Aceto.]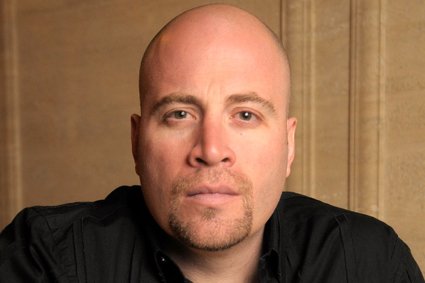 Wm: This fall's performances of Timur in Puccini's 'Turandot" represent the 20th anniversary of your San Francisco Opera debut, as Monterone in Verdi's "Rigoletto", at San Francisco's War Memorial Opera House.
I've called the War Memorial "The House of Puccini" and have the point that its acoustics, open orchestral pit and architectural beauty make the perfect place to enjoy the operas of Wagner, Verdi and Puccini.
RA: I absolutely love the War Memorial! It's truly a classic opera house in every sense.
Having sung here for 20 years now I always look forward to returning to SF Opera. I've made so many friends in the company over the years and in the community as well.
Wm: In recent years, you have appeared at the War Memorial in David Hockney's "world treasure" production of Puccini's "Turandot", which you are repeating this season; in Francesca Zambello's production of Wagner's "Die Walküre", which you will repeat in June 2018; and in Zambello's new production of Verdi's "Aida".
In our past conversations, you have noted the importance of the acoustics of the opera house, the conducting, the sets and costumes are to your performance. What are your thoughts on appearing here in these productions by Hockney and Zambello?
RA: These are actually two of my favorite productions. I really love the Hockney sets as far as the colors and the fantastical atmosphere that it creates. Turandot is such a mystical fable and the production sets the mood of that before you even hear a note of the score.
[Below: the princess' guards have arrested TImur (Raymond Aceto, center); edited image, based on a Cory Weaver photograph, courtesy of the San Francisco Opera.]
The Zambello Ring has more realistic elements combined with the drama. It's intense and striking to see and to perform. Both are kind to the performers as far as acoustics and ease.
Wm: This coming summer, you will be returning to the role of Hunding in Francesca Zambello's production of Wagner's "Ring of the Nibelungs" that you have performed here and at the Kennedy Center for the Washington National Opera.
I believe personally that there are many extraordinarily effective ideas that Francesca has incorporated into her "Ring", not the least being the first act of "Die Walküre" which is set in an Appalachian cottage.
We discussed that scene in the past. When it is performed again in 2018, you will be performing it with two other artists whose performances as Siegmund (Brandon Jovanovich) and Sieglinde (Karita Mattila) I have admired.
[Below: Hunding (Raymond Aceto, center) is suspicious of the appearance of a man unknown to him (Christopher Ventris, left) whose features resemble his wife's (Meghan Miller, right); edited Image, based on a Scott Suchman photograph for the Washington National Opera.]
In an interview I conducted with Francesca, she said her inspiration for the scene was the movie Deliverance, but I think what she created is dramatically profound, and Wagner's characters in her conceptualization have a depth totally missing from the characters in Deliverance.
I wrote in my second review of the 2010 San Francisco Opera mounting of Zambello's review "Walküre" that it is one thing to costume and play Hunding as an oafish barbarian: "But hold on! Zambello's Hunding is no barbarian. He is attentive to his wife, and is obviously proud of her and their neat, knick-knack filled home.
"He shares his beer bottle with her, in a gesture we can imagine she welcomed on a hundred other occasions. He certainly appears to be a good provider, and is loyal and decent to his kinsmen. If his definition of the division of responsibility for tasks within a marriage will not pass muster just anywhere these days, there are plenty of marriages that operate just like the one Zambello portrays, both in America and throughout the world, even in the 21st century." [See An American "Walküre": Runnicles, Wagner and Zambello At San Francisco Opera – June 10, 2010 and A Second Look: Stemme, Delavan, Lead Power Cast of San Francisco Opera "Walküre" – June 13, 2010.]
After another round of Zambello Hundings, do you have further insights into the character and this production?
RA: Every time I have the opportunity to perform this "Die Walküre" (this will be my third time) I try to find more layers to this character. He is a good provider and a loyal kinsmen but I think that's where the good qualities end. He treats Sieglinde more as a possession than a wife.
It's clear she lives in constant fear of him, never knowing what he will do next or what mood she may find him in, especially if the hunt was not a success. I love to play this character but it's not easy. So many aspects of Hunding are completely despicable and grotesque.
However, from a dramatic point of view it's great fun! My favorite reaction is when someone comes up to me after the show and says how much they loved and hated my performance in the same sentence.
Wm: I don't disagree with you that Hunding is possessive and that Mrs. Hunding fears his violent temper, nor do I feel it's a model for a marriage. I do think that there are many marriages – even in our own time – that go on for decades with good times and bad that are not unlike the Hunding-Sieglinde marriage in Francesca's staging.
There is another of the many Zambello "Ring" scenes that is transformed through her reconceptualization This is the relationship between the brothers Fafner and Fasolt. You added the role of Fafner when the Zambello "Ring" played at Washington National Opera and will repeat it with Andrea Silvestrelli as Fasolt in San Francisco in June 2018.
What are your thoughts about her treatment of the brother giants?
[Below: Fafner (Raymond Aceto) and Fasolt (Andrea Silvestrelli) are lowered on iron beams as Froh and Wotan watch; edited image, based on a Scott Suchman photograph for the Washington National Opera.]
RA: I think the Giants are very well conceptualized in this Ring. They first appear being lowered on a girder from above the stage in overall's and work boots. It's clear they've been busy.
Andrea is an old friend and great colleague! I look forward to working with him again on this.
Wm: In a conversation I had with tenor Brian Jagde that I recently posted, he spoke of how amazed he was by the experience of working with Francesca on his character of Radames on her new San Francisco Opera production of Verdi's "Aida" that premiered in November 2016. You were the Ramfis in that production.
Did working with her lead to your having any new insights into that character?
RA: "Aida" has been a very important opera for me. It has been my debut in many opera houses around the world such as Vienna and Berlin. I'm always interested then in ways to bring new ideas to it.
I found many aspects of Francesca's production to be very interesting and well-conceived. Because it was a new production, I very much enjoyed working together with her and finding new ways of telling the story. It was also my pleasure to listen to Brian do his first Radames and how well he handled the very difficult role.
Wm: In our past conversations we have talked about how your voice changes as it matures. I've always felt it to be a basso cantante, especially suited for the big bass roles of Italian opera. I notice you've recently sung Oroveso in Bellini's "Norma" in Barcelona, Zaccaria in Verdi's "Nabucco" and Ramfis in Verona, Banquo in Verdi's "Macbeth" in the Royal Opera Tokyo.
What would you like to do next?
RA: I find these roles to be so well suited to my voice and also my temperment as an artist. I have yet to add, in my opinion, the greatest of these roles, Philip in Don Carlo Hopefully soon…
Wm: You recently sang the role of Loredano in Verdi's "I Due Foscari" in Barcelona with Plácido Domingo in Barcelona, a supporting role to Domingo's Francesco Foscari. Congratulations are being one of the relatively few artists of your generation to have performed in operas with both Domingo and Luciano Pavarotti.
[Below: an ovation at the end of a concert performance of Verdi's "I Due Foscari" at the Liceu Theater in Barcelona, Spain starring Plácido Domingo (first row, right) as Francesco Foscari. Raymond Aceto, who sang the role of Loredano stands behind a podium; edited image, based on a photograph from the Tearo Liceu.]
RA: These are two of our greatest artists in the last century! I was so fortunate to make my MET debut along side Luciano in Tosca, I appeared with him many times after that. I have had the good fortune of working with Plácidomany times both as a singer and conductor. This is one aspect of my career that I am truly very proud of.
Wm: I've seen you perform roles in Italian and German, and also in English (Olin Blitch in Floyd's "Susannah"), in Polish (the Archbishop in "King Roger"), and in French (Frère Laurent in Gounod's "Romèo et Juliette").
I'm a great fan of the French repertory and would like to have seen your Mephistopheles in Gounod's "Faust" at the New Orleans Opera last March. (In fact , Paul Groves, the Faust, invited me to join you guys on an ocean fishing trip during that time, I couldn't get it scheduled.)
What other French roles do you sing, and which others have you considered?
[Below: Mephistopheles (Raymond Aceto, standing on table) sings of the Calf of Gold; edited image, based on a publicity photograph for the New Orleans Opera.]
RA: The French rep is very important to me too. It's such a beautiful language to sing in. I absolutely love the Gounod Mephistopheles, one of the greatest bass roles in the French repertoire, and getting to perform with Paul is always great fun. I've also enjoyed Berlioz' "Damnation of Faust", and recently sang Verdi's "Les vêpres siciliennes" in Frankfurt.
Sorry you couldn't make fishing with us, we usually catch our limit!
Wm: I've enjoyed this opportunity to catch up with you.
RA: Thanks! Enjoy the show!
For my previous interviews and conversations, see: Rising Stars: An Interview with Raymond Aceto, Part 1
Rising Stars: An Interview with Raymond Aceto – Part 2
A Discussion of Susannah's Olin Blitch and Tosca's Scarpia (and other subjects) with basso Raymond Aceto.