The Santa Fe Opera mounted a revised edition of New York director David Alden's celebrated Opéra National de Bordeaux production of Handel's "Alcina", with three members of the Bordeaux cast – Elza van den Heever, Anna Christy and Alek Shrader – repeating their roles in Santa Fe.
It was the first time Handel's opera about the legendary sorceress was performed by the Santa Fe Festival. With three full acts of Handel's glorious arias, distributed among seven world-class opera singers, "Alcina" is like a modern baroque music festival with an absorbing storyline.
Elza van den Heever's Alcina
The opera was the occasion for the return to Santa Fe Opera, after an eight-year absence, of South African soprano Elza van den Heever [see my review of Donna Anna, her Santa Fe Opera debut role, in The Man Who Loved Women: Lucas Meachem's Empathetic Don Giovanni – Santa Fe, July 31, 2009.]
Van den Heever's tonal purity and lustrous legato were evident throughout her performance, interspersed with van den Heever's magnificent displays of the role's vocal fireworks (and opportunities to act out Alcina's sometimes near-hysterical reactions to events.)
[Below: Elza van den Heever as Alcina; edited image, based on a Ken Howard photograph, courtesy of the Santa Fe Opera.]
Van den Heever confidently demonstrated her dramatic grasp of how to perform Handel's larger than life sorceresses [for van den Heever as the sorceress Armida, see: Handel's "Rinaldo" in Chicago: Francisco Negrin's Finely Sung, Fun-filled Fantasy – Lyric Opera, March 16, 2012.]
As Alcina, Ven den Heever showed the range of her powerful voice, that is enlisted for roles as diverse as Wagner and Bellini [Review: The Dallas Opera's "Norma" – Vocally Outstanding, Dramatically Persuasive, April 21, 2017.
Paula Murrihy's Ruggiero
The role of the bewitched Ruggiero, who has come under Alcina's spell, was beautifully sung by Irish mezzo-soprano Paula Murrihy.
Murrihy's Ruggiero is an heroic presence, at his most appealing with his introspective aria Mi lusinga il dolce affetto. In it Ruggiero ponders whether he is still under some spell or is truly a "vile traitor".
[Below: Ruggiero (Paula Murphy, left) has been bewitched by the sorcerer Alcina (Elza van den Heever, right), who has fallen in love with him; edited image, based on a Ken Howard photograph, courtesy of the Santa Fe Opera.]
Daniela Mack's Bradamante
Bradamante, betrothed to the spellbound Ruggiero, was performed by mezzo-soprano Daniela Mack. Disguising herself as a man (pretending to be her brother Ricciardo), it is Bradamante who initiates the series of plot turns that eventually frees Ruggiero and everyone else that Alcina has bewitched from the sorceress' spells.
I have been fortunate to have covered Mack performances from early in her career [An "Idomeneo" Surprise in San Francisco – Daniela Mack's Princely Idamante – October 26, 2008], including her 2014 Santa Fe Opera season-opening performance as Carmen [see Review: Stephen Lawless' Creative New "Carmen" Production Opens 2014 Santa Fe Opera Season – June 27, 2014.]
With deep respect for Mack's earlier efforts, I found her Bradamante to be a supreme achievement, notably the aria Vorrei vendicarmi with its rapid-fire pyrotechnics.
[Below: with everything going as she wished, Bradamante (Daniela Mack) is comfortable switching out of her male disguise; edited image, based on a Ken Howard photograph, courtesy of the Santa Fe Opera.]
Anna Christy's Morgana and Alek Shrader's Oronte
As Morgana, Alcina's larger-than-life sister, soprano Anna Christy is betrothed to Oronte (Alek Shrader), but is infatuated with Ruggiero (Paula Murrihy).
Of all of the characters in this "Alcina" production, Christy's Morgana – brilliantly sung – had the most outlandish stage business, bringing the first act to a close with a provocative fan dance.
[Below: Oronte (Alek Shrader, left) and Morgana (Anna Christy, right) rest after spending some time together; edited image, based on a Ken Howard photograph, courtesy of the Santa Fe Opera.]
Christy is a specialist in the genre of off-the-wall operatic comedy [Loving "The Last Savage": Over the Top Menotti Charms at Santa Fe Opera – August 5, 2011]. She not only was Morgana to Shrader's Oronte in David Alden's production in Bordeaux, but was Marie to his Tonio here two seasons ago. [Review: Christy, Shrader, Burdette, Pancella Romp in Hilarious "Daughter of the Regiment" – Santa Fe Opera, July 3, 2015.]
[Below: Morgana (Anna Christy, center, standing on chair) tries out a bit of choreography; edited image, based on a Ken Howard photograph, courtesy of the Santa Fe Opera.]
Alek Shrader, who has emerged as one the finest lyric tenors of the past decade, was a likable Oronte, his voice continuing to grow in size, while retaining its inherent beauty.
Shrader is also a master of physical comedy. During the center section of Oronte's amusing aria Simplicette! A Donna Credi? chastising Murrihy's Ruggiero for believing a woman, Shrader retreats behind his curtains, only his head visible.
[Below: Oronte (Alek Shrader, head between curtains, upper right) advises Ruggiero (front, seated) not to believe what a woman says; edited image, based on a Ken Howard photograph, courtesy of the Santa Fe Opera.]
Christian Van Horn's Melisso and Jacquelyn Stucker's Oberto
New York bass-baritone Christian Van Horn was a stalwart and vocally impressive Melisso, showing yet another entry of his sizable repertory of deep-voiced roles.
[Below: Melisso (Christian Van Horn, above right) takes steps to break the spell that binds Ruggiero (Paula Murrihy, below left); edited image, based on a Ken Howard photograph, courtesy of the Santa Fe Opera.]
South Carolina soprano Jacquelyn Stucker was an appealing Oberto, a young boy whose father Alcina had bewitched at an earlier time.
[Below: Oberto (Jacquelyn Stucker, right, holding knife), in his attempt to save his transfigured father (left) has cornered Alcina (Elza van den Heever, center, lying on sofa); edited image, based on a Ken Howard photograph, courtesy of the Santa Fe Opera.]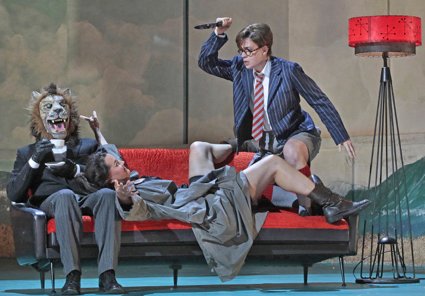 Director David Alden's Production and Gideon Davies Scenic and Costume Design
Director David Alden has proven to be prolific in devising unique ways of staging Handel and other baroque operas. Alden finds ways of telling these often obscure stories that are visually and dramatically interesting to contemporary audiences. [See also David Alden Stages Handel's "Rodelinda" – San Francisco Opera, September 25, 2005 and London, Handel, and David Alden: ENO's "Radamisto" – October 13, 2010.]
British designer Gideon Davies' sets and costumes were bright and cheerful, and added to the evening's pleasures.
The Wise Fool New Mexico circus/gymnast troupe was engaged to perform as men that Alcina has transformed by sorcery into ape-like creatures.
[Below: Oronte (Alek Shrader, right) interacts with a spellbound creature (a member of the Wise Fool New Mexico gymnasts); edited image, based on a Ken Howard photograph, courtesy of the Santa Fe Opera.]
Maestro Harry Bicket and the Musical Performance
"Alcina" opened with Santa Fe Opera's Chief Conductor Harry Bicket leading the Santa Fe Opera Orchestra in a taut performance. The stage action did not await the conclusion of the Handel's opening sinfonia. Instead, various ape-like beasts appeared – onstage, at the top of the opera house walls – all of whom were victims of the sorceress Alcina's spells.
The widespread revival of Handel's operas began in earnest in the 1970s. The inclusion of his operas within the "mainstage" repertories of the world's leading opera houses awaited the solution of several performance riddles – whom to cast in the operas' castrato roles (since no opera-singing castrati have existed during the past two centuries), what kinds of orchestral instruments to use, and how to stage the operas.
Various conductors may approach the composition of their orchestras differently. The emergence of highly skilled instrumentalists on such ancient instruments as the theorbo add to the conductors' choices. Maestro Bicket himself accompanied the vocal artists' recitatives on the harpsichord, while employing a mix of modern and period instruments.
The castrato problem has been solved through the distribution of the castrato roles to what is now a significant group of artists – male counter-tenors and female artists who perform male roles. (In Santa Fe Opera's production, no male countertenors were employed.)
Further thoughts on Ariosto and "Alcina"
The story of Alcina is one of the adventures of a group of knights and their fellow travelers recorded in Ludovico 's 16th century masterwork Orlando Furioso (who appear also in the works of Italian Renaissance poets Matteo Maria Boiardo and Torquato Tasso).
[Below: Titian's "The Man with a Blue Sleeve", considered by most authorities to be Ludovico Ariosto; edited image of the portrait in the National Gallery, London.]
The characters Orlando, Rinaldo, Ruggiero, Bradamante, Oronte, Oberto, Alcina, Angelica, Morgana, Ariodante, and others appear in various episodes, many of which are the ultimate source for opera libretti of the baroque [see Review: Vivaldi's Fascinating "Orlando Finto Pazzo" – Korea National Opera, May 10, 2017] and classical eras [see Review: Zurich Opera Young Artists Sparkle as Jetske Mijnssen Re-invents Haydn's "Orlando Paladino" – Theater Winterthur, May 7, 2016.]
I think of the opera libretti derived from Ariosto (and his imitators) as somewhat analogous to the movies and the television series that are based on characters that appeared in the comic book offerings of DC and Marvel Comics. An observer of pop culture need not have read any of these comic books to have a fairly good grasp of how various superheroes and avengers- as exemplified on TV and film – relate to one another.
This suggests that all of the operas derived from Orlando Furioso might be especially interesting if one spends a bit of time learning about who these Ariosto characters are and how they interrelate in Ariosto's sprawling Orlando Furioso.
Recommendation
I recommend this opera to every operagoer who enjoys baroque opera singing, especially in innovative productions, and to all those curious about seeing a performance of a major operatic work by Handel.