Composer Mason Bates and librettist Mark Campbell were commissioned by the Santa Fe Opera to write an opera about Apple, Inc's  Steve Jobs. This was Bates' first opera. [For my review of an opera with a Campbell libretto, see Pictures at an Exhibition: John Musto's Opera "Later the Same Evening" Brings Edward Hopper's Art to Life: Glimmerglass, August 13, 2011.]
[Below: Composer Mason Bates; edited image of a publicity photograph, from masonbates.com.]
The Santa Fe Opera's production includes the caveat that the opera "is inspired by the life and creative spirit of Steve Jobs, and does not purport to depict actual events as they occured or statements, beliefs or opinions of the persons depicted. It has not been authorized by Apple Inc., the Estate of Family of Steve Jobs, or by any persons depicted therein".
Without a cursory knowledge of Steve Jobs biography and devotion to Zen Buddhism and an appreciation of how the technological products he created and designed changed people's lives, the opera might seem obscure. With some preparation before attending the opera, "The [R]evolution of Steve Jobs" becomes a revelatory experience.
The Influence of Zen
The opera as constructed by Bates and Campbell uses the Zen approach to achieving self-awareness – it consists of flashbacks in Steve Jobs' memory. The parantheses in the opera's title – [R]evolution" – is instructive.  Jobs has revolutionized how most of us relate to technology, but the opera is about Jobs' personal evolution.
[Below: Librettist Mark Campbell; resized image of a Theresa Murray photograph, courtesy of the Santa Fe Opera.]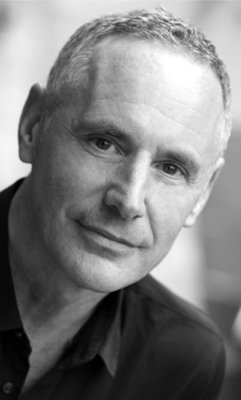 The opera centers on the year 2007 the year that Apple Corporation launched the Smartphone.  The Steve Jobs character is onstage and singing for virtually all of the opera's one hour and a half duration.
The opera consists of succession of scenes moving from Jobs' existence in 2007 to his thoughts of his boyhood in 1965 when his father presented the 10-year old Steve with a garage workbench.
[Below: a 52 year old Steve Jobs (Edward Parks, left center) remembers himself as a boy (Asher Corbin, right center); edited image, based on a Ken Howard photograph, courtesy of the Santa Fe Opera.]
The opera returns to events in  2007 at various times, but also moves backward as Jobs' remembers events that reveal his nature at those periods in time and beyond 2007 for the memorial service at his death. The fluidity of his memories are patterned after the Zen meditative practices, which Jobs embraced.
Two of the opera's principal characters, Jobs' wife, Laurene, and his Zen master, Kobun Chino Otagawa, share a common purpose.  Kobun helps make Jobs aware of Job's self-centered behaviors that cost him personally and professionally. He impresses on Jobs to live his life and to accept the Buddhist ideas of a circle from life's beginning to its end.
Laurene reinforces Kobun's goal to encourage Steve to embrace his inner humanity and cease his destructive behaviors.
[Below: Steve Jobs (Edward Parks) listens to the counsel from his Zen master Kobun Chino Otagawa (Wei Wu, right); edited image, based on a Ken Howard photograph, courtesy of the Santa Fe Opera.]
As composed by Bates and Campbell, Laurene's role seems somewhat anologous to the "redemption by love" themes in Wagnerian opera – Senta's sacrifice for the Dutchman, Elizabeth's continued faith in Tannhäuser's underlying goodness, Brünnhilde's for Siegfried.
[Below: Laurene (Sasha Cooke) is determined to get the demoralized Steve Jobs (Edward Parks) into a creative mood; edited image, based on a Ken Howard photograph, courtesy of the Santa Fe Opera.]
Some of Jobs' detractors might have desired an opera in which the less pleasant aspects of  Steve Jobs' personality were the principal theme, rather than the idea of Jobs being redeemed through the love of his wife and his Zen master.
I hold the position that no one should go to opera to learn history, or biography. The opera tells a story – a fascinating and absorbing one. The infusion of Zen ideas into the opera's structure creates a work without a chronological presentation, but one that proves effective.
The opera's lyrics often use long strings of words, many of which are sung by the Jobs character. The artist performing Jobs must sing strings like "Only one device/ does it all/ in one hand/ one device/does it all/All you need/ Communication/ Entertainment/ Information/ Illumination/ Connection/ Interaction/ Navigation/ Communication/ Inspiration/ Comprehension/ Not to mention/Communication."
These clusters of words combined with the recurring theme music in the Santa Fe Orchestra demonstrated the effectiveness of Composer Bates' and Librettist Campbell's collaboration.
Maestro Michael Christie's Conducting and the Musical Performance
"The (R)evolution of Steve Jobs" works on many levels. Its most complex musical levels are a series of tonal clusters (each with its own instrumental signatures) that relate to specific characters.
Mason Bates, himself, manned the computers that produced the electronic music (using Apple equipment). Maestro Michael Christie in his Santa Fe Opera debut excelled in keeping all the orchestral and electronic elements together.
Edward Parks' Steve Jobs
Edward Parks, who has a distinguished record of prizewinning success in international vocal competitions proved to be a plausible Jobs.
Parks, who has a likable lyric baritone, has the advantage of somewhat resembling Jobs as a thirty-something.
[Below: Edward Parks as Steve Jobs; edited image, based on a Ken Howard photograph, courtesy of the Santa Fe Opera.]
Sasha Cooke's Laurene Jobs and Wei Wu's  K0bun Chino Otogawa 
Kobun was played with affection by Chinese bass Wei Wu.  Wei Wu's deep resonant voice and flashes of humor were convincing, both as a singer and as an actor. Wei Wu was warmly applauded by the Santa Fe audience.
The woman that Jobs married, Laurene, was beautifully played by California mezzo-soprano Sasha Cooke.
Cooke's warm, expressive mezzo was well matched with Mason Bates' composition of some of the most beautifully composed operatic music for the female voice that has been created this century. [For another world premiere review starring Sasha Cooke, see Warm Reception for Adamo's "Mary Magdalene" – San Francisco Opera, June 19, 2013.]
Cooke's Laurene took on the task of encouraging Parks' Steve Jobs to continue working creatively, but to take heed of Kobun's warnings that he consider his mortality as well.
Garrett Sorensen's Steve Wozniak, Jessica E. Jones' Chrisann Brennan, and other cast members 
The supporting cast was strong. Indiana tenor Garrett Sorensen was an interesting Wozniak, always appearing genuine and likable. (Perhaps Bates could create an opera "Woz" starring Sorensen.)
[Below: Steve Jobs (Edward Parks, right) and Steve Wozniak (Garrett Sorensen, left) make a technological breakthrough in Jobs' garage workshop that they know will have revolutionary consequences for the telecommunications industry; edited image, based on a Ken Howard photograph, courtesy of the Santa Fe Opera.]
Idaho soprano Jessica E. Jones was the woman with whom he sowed wild oats (and tripped LSD).
[Below: Chrisanne (Jessica E. Jones, center right) and Steve Jobs (center right, caressing Chrisanne) experience an LSD trip in which Steve imagines the surroundings turning into an orchestra to play Bach's music; edited image, based on a Ken Howard photograph, courtesy of the Santa Fe opera.]
California mezzo-soprano Mariya Kaganskaya was a Teacher. Wisconsin baritone Kelly Markgraf was Steve's father Paul Jobs. Asher Corbin played Steve as a boy.
Kevin Newbury's Staging, Victoria Tzykun's set design and Jophy Weideman's Lighting Design
Staging a work with rapid time-shifts between decades has to be a challenge for any director. Maine director Kevin Newbury proved highly successful in this endeavor.
I have admired Newbury's staging of operas as different as early 19th bel canto works by Bellini ("Norma" for San Francisco Opera) and Donizetti ("Maria Stuarda" for Seattle Opera) and such contemporary works as the Adamo "Magdalene" cited above and Theodore Morrison's "Oscar".
Victoria Tzykun's set design includes many references to the world of "high tech".
The lighting design by Jophy Weideman complemented Newbury's and Tzykun's production ideas.
Recommendation
I recommend the opera to regular operagoers who like innovative new approaches to opera.
I also recommend the opera to those persons who have appreciated the potential of electronic music, expecting that some of them will become interested in the broader range of operatic performance.
Noting that the interest in the opera has been so heavy that a seventh performance has been added to the six previously scheduled, I would expect that the opera will be well-received in its next two performance cities – San Francisco and Seattle – whose opera companies serve two major "high tech" regions.
Whether or not the opera becomes a "hit" everywhere remains to be seen, but it has proven that Mason Bates is an American opera composer to watch.