Wisconsin coloratura soprano Brenda Rae and composer Gaetano Donizetti were two of the winners in Santa Fe Opera's production of Donizetti's "Lucia di Lammermoor". The opera was impressively led by Maestro Corrado Rovaris, who himself is from Donizetti's home town of Bergamo, Italy.
Brenda Rae's Lucia di Lammermoor
Lucia di Lammermoor is an operatic role that is associated with a legendary list of coloratura sopranos, dating back to its premiere in 1835. No major company would mount the opera without the presence of an artist who has mastered the role's demands – that include technically difficult vocal runs, trills, arpeggios and cadenzas, most famously in the extended Mad Scene.
Brenda Rae proved that she has all the attributes required for the role. She is an attractive actor in a role that projects a young woman's emotional turmoil from the opera's earliest moments. Rae's voice has the technical ability to sustain the lengthy Mad Scene's emotional intensity and vocal demands.
Of particular interest is Santa Fe Opera's use of the complex glass harmonica. An exotic instrument (invented in 1761 by Benjamin Franklin) with an ethereal sound, it was intended by Donizetti for use in the mad scene passages where Lucia's vocal phrases are echoed in the orchestra. [For a further explanation of the glass harmonica's use in "Lucia", see Dessay's Lucia di Lammermoor Delights in San Francisco – June 29, 2008.] For nearly two centuries the glass harmonica has been replaced by the flute.
In this production none of the Mad Scene's traditional cuts – commonplace in the 19th through the mid-20th century – were observed, thereby lengthening the time that Rae was required to sustain her vocal performance.
Rae was brilliantly successful in the long and intense role and was awarded with sustained applause after the Mad Scene and a vociferous standing ovation at opera's end.
[Below:Brenda Rae as Lucia di Lammermoor; edited image, based on a Ken Howard photograph, courtesy of the Santa Fe Opera.]
Brenda Rae's 2013 Santa Fe Opera debut in Laurent Pelly's production of Verdi's "La Traviata" was an early career milestone for the Juilliard alumna and Frankfurt Opera ensemble member [Brenda Rae, Michael Fabiano Impress in Pelly's Party-Time "Traviata" – Santa Fe Opera, July 29, 2013.] She continues to make her mark on the coloratura repertory with an impressive list of leading roles at the Oper Frankfurt.
Rae returned to Santa Fe in 2014 for both operas of the season's double bill [Review: A Hilarious "Impresario" Creates a "Rossignol" Land of Enchantment – Santa Fe Opera, August 1, 2014] and has subsequently starred in a baroque comic opera with tenor Alek Shrader and mezzo-soprano Stephanie Blythe at the Seattle Opera [Review: Blythe, Rae, Shrader Sizzle in Seattle Opera's Saucy "Semele" – February 25, 2015.]
Mario Chang's Edgardo, Zachary Nelson's Enrico and Christian Van Horn's Raimondo
Guatemalan tenor Mario Chang, making his Santa Fe Opera debut, is another important regular artist of the Oper Frankfurt. He proved to be an ardent Edgardo, with a bright lyric tenor appropriate to the heroic lead male roles in Donizetti's operas.
[Below: An angry Enrico (Zachary Nelson, right) threatens Edgardo (Mario Chang, left); edited image, based on a Ken Howard photograph, courtesy of the Santa Fe Opera.]
Maryland lyric baritone Zachary Nelson was impressive with his strong, focused Enrico. New York bass-baritone Christian Van Horn continues his successful run of roles in the lower register as the beleaguered cleric, Raimondo.
[Below:Raimondo (Christian Van Horn, right) argues for compassion to an unmoved Enrico (Zachary Nelson, left); edited image, based on a Ken Howard photograph, courtesy of the Santa Fe Opera.]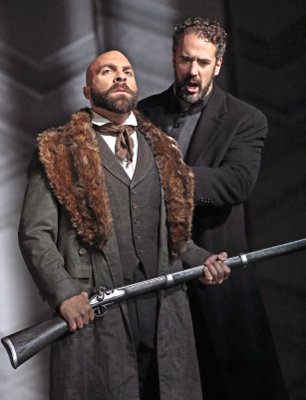 Other Cast Members and Dancers
Santa Fe Opera Apprentices sang the comprimario roles. Florida mezzo-soprano Sarah Coit was Alisa and Florida tenor Carlos Enrique Santelli was Arturo Bucklaw. Coit's Alisa and Santelli's Arturo join the opera's four principals in the most famous concertato in all of Italian opera, the "Lucia" sextet. Minnesota tenor Stephen Martin was Normanno.
[Below: An unhappy Lucia (Brenda Rae, left) visits the bedroom of her brother Enrico (Zachary Nelson, right) who demands that she agree to his choice of husband; edited image, based on a Ken Howard photograph, courtesy of the Santa Fe Opera.]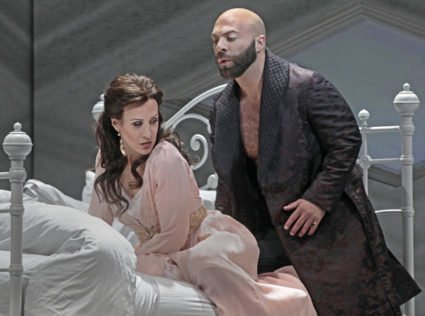 Massachusetts choreographer Zack Winokur, in the Santa Fe Opera debut, created a vigorous dance sequence for the wedding celebrations, with starring roles for Santa Fe Opera Apprentice Dancers, Evan Copeland (from Massachusetts), Benjamin Freedman (Florida), Sean Lamner (New York) and Ricky Wenthem (New York)
[Below: A mentally fragile Lucia (Brenda Rae), who has just murdered her bridegroom, joins the wedding guests; edited image, based on a Ken Howard photograph, courtesy of the Santa Fe Opera.]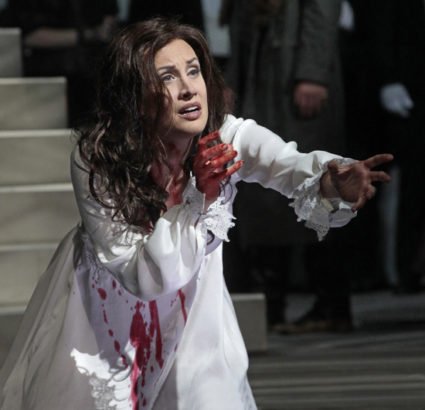 Maestro Corrado Rovaris, Director Ron Daniels and Projections Designer Peter Nigrini
Lucia's "mad scene", the Sextet, and Edgardo's final scene and suicide are highlights of the Italian repertory, but over the decades traditional cuts emerged as administrative impresarios, stage directors, and performing divas and divos sought ways to shorten the opera to concentrate on the parts that sell the tickets and attract the fans.
The so-called bel canto operas, with their emphasis on exposition of vocal virtuosity, gained a reputation as dramatically lightweight. Few observers took the dramatic content of such "diva" operas as "Lucia" or Bellini's "Norma" seriously.
In more recent decades (influenced by the emergence of uncut long-playing opera recordings) many of the traditional cuts in "Lucia" have been restored in performance. It is no longer an extraordinary event for the "tower" scene between Enrico and Edgar to be part of a performance. One now expects to see and hear the duet between Raimondo and Lucia in which the former persuades her to accept the husband her brother has arranged for her.
As confidence in the musical values of Donizetti's operas has increased, so too has interest in the dramatic content of those operas.
For these Santa Fe performances, Maestro Rovaris and Director Ron Daniels have produced a complete performance without cuts. No scene is omitted. (Having seen many different productions of the opera, only once or twice have I seen opera companies perform the short exchange at Mad Scene's end between the demoralized peacemaker, Raimondo, and the shocked Normanno – Raimondo blaming Normanno for inciting Enrico with the story of Lucia's love affair.)
Brazilian Director Ron Daniels' production is commendably faithful to Donizetti's vocal score and Salvatore Cammarano's libretto. By presenting the complete opera, and playing it more or less straight, Daniels' production realizes the essential power of the story that Donizetti and Cammarano intended be told.
We fully grasp the depths of anger caused by the destructive feud between Ravenswood and Lammermoor. We understand the desperation that Enrico feels in closing the deal on Lucia's dynastic marriage to the Bucklaws.
I had no problem with Ron Daniels' conceptualization of "Lucia" – building upon the opera libretto's references to ghosts of the past and future – nor to the appearance of Lucia's ghost in the final scene. (One of my favorite productions of the opera has several ghosts, including the bridegroom Arturo [Review: Soprano Nadine Sierra's, Director Michael Cavanagh's Vivid "Lucia di Lammermoor" – San Francisco Opera, October 8, 2015.])
Even the extra-textual stabbing of Edgardo by Enrico at opera's end didn't bother me. Enrico had sworn to do it and would have done it if he had had the chance. Daniels departs from some of the traditional ways of staging the opera, but these departures do no harm.
The sets by Cuban designer Riccardo Hernandez emphasized a tall wall (against which visual images could at times be projected) that had a walkway from which choristers or Sarah Coit's Alisa could observe the goings-on below.
The visual projections by Broadway designer Peter Nigrini were not successful. They invoked a ceiling design that were variously used for exterior and interior scenes.
[Below: The wedding celebration is ended abruptly with some disturbing news; edited image, based on a Ken Howard photograph, courtesy of the Santa Fe Opera.]
Director Daniels, in his essay on the production, describes the intent of one of the projection scheme's visual transformations: "The enclosed, stifling room becomes a wild forest, where furious men search for the intruder, their prey . . ." Regrettably, the "wild forest" is overwhelmed by the continuation of the "ceiling" wall projection. Nor do the colored lights superimposed upon that ceiling wall for the "fountain scene" give any sense of the action occurring outdoors.
[Below: Lucia (Brenda Rae) is embraced by Edgardo (Mario Chang); edited image, based on a Ken Howard photograph, courtesy of the Santa Fe Opera.]
I am an advocate for the intelligent use of visual projections in operatic productions. I had praised the projections in the San Francisco Opera production cited above and have cited Santa Fe Opera's remarkable successes in such efforts as Stephen Lawless' production of Bizet's "Carmen" [Review: Stephen Lawless' Creative New "Carmen" Production Opens 2014 Santa Fe Opera Season – June 27, 2014].
Although I found the "Lucia" projections unconvincing, their ubiquity did not detract much from the excellent performance of Donizetti's complete opera.
The production's costumes were created by New York designer Emily Rebholz.
Recommendations
I recommend the Santa Fe Opera production of "Lucia di Lammermoor" enthusiastically to both the veteran opera goer and the person new to opera, especially Brenda Rae's performance as Lucia and Maestro Corrado Rovaris conducting of the complete score.