The following interview took place with the deeply appreciated facilitation of the San Francisco Opera.
[Below: Bass Erik Anstine; edited image, based on a Rebecca Fay photograph, from erikanstine.com.]
Wm: I've enjoyed watching your career develop over the past seven years, having first seen you in performances of the Seattle and Los Angeles Operas. However, your debut at the San Francisco Opera as Leporello in Mozart's "Don Giovanni" is unquestionably a career milestone. You have performed both Masetto and Leporello in the opera and Antonio in Mozart's "Marriage of Figaro" at the Salzburg Festival. Should we think of you as a Mozart specialist?
EA: I don't know about being labeled a Mozart specialist, but I do think there is a wealth of great Mozart roles, especially for young basses. I am fortunate to have such great opportunities early in my career, and many of them happen to be in Mozart.
I am very comfortable singing Mozart, but I will need to tackle some of the other great roles before I could even think about calling myself an expert. I am currently preparing Figaro, which is perhaps a step in that direction. It definitely helps to be able to call upon my experience as Leporello.
[Below: Masetto (Evan Boyer, standing, left), Zerlina (Cecelia Hall, standing right) and Don Ottavio (Lawrence Brownlee, seated right) confront Leporello (Erik Anstine, seated left) in the 2014 Seattle Opera production of Mozart's "Don Giovanni"; edited image, based on an Elise Bakketun photograph, courtesy of the Seattle Opera.]
Wm: Leporello has become of a signature role for you. You were Leporello for the Seattle Opera's Young Artists' Program, later for a Seattle Opera mainstage production, and are scheduled to perform for the Edmonton Opera in Alberta next year. In San Francisco you are scheduled to be Leporello to Ildebrando d'Arcangelo's Don Giovanni in a performance that will be simulcast at the San Francisco Giants' AT&T Ballpark before a crowd of tens of thousand of people. What are your thoughts on this character and have your thoughts changed over the years?
[Below: Don Giovanni (Ildebrando d'Arcangelo, standing with sword) falsely accuses Leporello (Erik Anstine, on ground) of immoral behavior in the 2017 San Francisco Opera production of Mozart's "Don Giovanni"; edited image, based on a Cory Weaver photograph, courtesy of the San Francisco Opera.]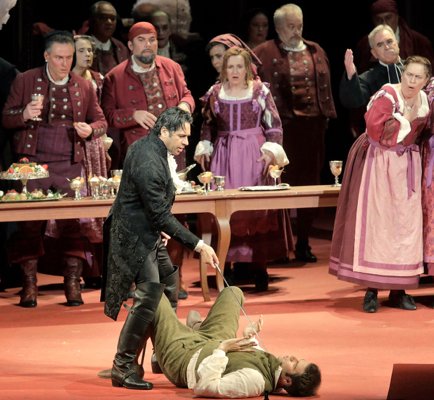 EA: I am so lucky to work with the amazing colleagues I have in this "Giovanni". That being said, and with all respect to the work they have done, Leporello is the most important character in the piece.
Of course, Giovanni is the title character, and the story is about him and how he affects the lives of the other characters, but it is through Leporello we, the audience, relate the opera to our own experience. We marvel at Giovanni's charisma and are terrified when he invites the statue to dinner.
[Below: Leporello (Erik Anstine, center) interacts with Don Giovanni (Nicolas Cavalier, far left) and the masked guests; edited image, based on a Elise Bakketun photograph, courtesy of the Seattle Opera.]
We might imagine aspects of Giovanni's life to be glamorous and exciting, but we see a very human Leporello try and often fail to keep up with the reality of that life. I find many of the new thoughts I have about Leporello as a character to actually be new thoughts I have as an artist and as a person, only reflected back.
I am very excited about the AT&T Park simulcast. It's so cool that the Opera does that here. I even got to sign baseballs!
Wm: I last talked with you at the Santa Fe Opera in 2012 when as a Santa Fe Apprentice Artist you were covering Raymond Aceto's Archbishop in Szymanowski's "King Roger". You had mentioned that growing up in Eugene, Oregon, you had a number of friends in chorus that urged you to join them, and your appreciation for chorus led you to participation in the Eugene Opera chorus and pursuit of a vocal performance studies in college.
In my interviews I continue to find that the seminal experience in so many operatic careers is an introduction to vocal performance as a child or adolescent – chorus, church choirs, high school musicals, even lead singers in rock bands. Even so, only a few of the persons with vocal performance experience seek careers in opera. What events led you to consider opera as a vocation?
[Below: Leporello (Erik Anstine, center) is in a disguise that has fooled Masetto (Michael Sumuel, left) and Zerlina (Sarah Shafer, right) in the 2017 San Francisco Opera production of Mozart's "Don Giovanni"; edited image, based on a Cory Weaver photograph, courtesy of the San Francisco Opera.
EA: I have always loved making music. That has been a constant, from my time in choirs up until now, and it was chasing that love for music which lead me to pursue a music degree, and ultimately a career in music.
I also enjoy the travel, the history, the colleagues, and the flexibility which comes with working as a freelancer. I was bitten by the "stage bug" sometime during my schooling and enjoy the performing aspect as well.
I am happy to see you call opera a vocation. I believe it is much closer to a traditional trade than any sort of academic pursuit. I don't think enough people appreciate that difference.
Wm: Before your selection as a Santa Fe Opera Apprentice, you had received a BA at Northwestern that included a year at the Academy of Music in London, England, graduate studies at Indiana University, two years in the Seattle Opera Young Artists Program, and a year in Los Angeles Opera's Domingo-Cafritz Young Artists Program. Since then you've spent four years in Switzerland as an Ensemble artist at the Zurich Oper.
You were accepted into the Seattle Young Artists Program right out of graduate school. What were some of the unique features of that program?
EA: I think Seattle was the perfect first step for me out of my formal studies. The program in Seattle was much more focused on actual training and polishing our skills and abilities than it was a platform to constantly audition and be seen by agents and casting directors. Sure, we had some of those auditions, but the focus was on our development as artists.
[Below: Erik Anstine as Leporello in the 2009 Seattle Young Artists' production of Mozart's "Don Giovanni"; edited image of a Rozarii Lynch photograph, courtesy of the Seattle Opera.]
I worked closely with Brian Garman and Peter Kazaras, who were both helpful. Brian Garman, especially, helped my development as a singer, pointing me toward specific recordings of great basses from the past, directing me to identify positive qualities to emulate, developing my taste and what sort of singer I wanted to be.
Wm: As a member of the Domingo-Cafritz program, you not only were associated with Placido Domingo, you got to work with the Los Angeles Opera Music Director, Maestro James Conlon. What was that experience like?
EA: Maestro Conlon was pretty tough, but always fair. I worked with him most closely in the Recovered Voices series, on Ullman's "Der Kaiser von Atlantis", but also on "Onegin".
Wm: How would you characterize the Santa Fe Opera Apprentice experience?
EA: Hard work! As an apprentice you are kept very busy, between your chorus obligations, coachings, scenes programs, and covers. It was a great place to meet and work with talented singers, directors, and coaches. It's also tough to beat the natural beauty out there.
Wm: Since you left for Zurich, you've been part of new opera productions in Zurich by directors Herbert Frisch, Jan Philipp Gloger, Christof Loy, Willi Decker, Tatjana Gürbaca and Ole Anders Tandberg and in Salzburg by Sven-Eric Bechtolf.
Do you prefer working on a new production as opposed to a revival. Do you regard any of the new productions you've taken part in as being particular interest or significance to you?
EA: I do prefer new productions. I enjoy the process of creating a character, and creating a cohesive performance with my colleagues. There can be a feeling when doing a revival of just reproducing another singer's performance, which is not ideal, but I do my best to bring my own interpretation.
I had an incredible time working with Sven-Eric on "Nozze". His production in Salzburg will always hold special significance for me. Even as a young singer in a small role like Antonio, I was never made to feel any less important than the much more experienced and famous singers, or that my role was any less complex or integral to telling the story.
His was a smart update from 18th century Seville to a 19th/early 20th century English manor, much along the lines of Downton Abbey.
Wm: In my recent interview with Luca Pisaroni, who had been the Almaviva in Bechtolf's "Nozze" with you, he made the point that there are no small roles in Mozart.
To me, reading the list of the roles you've performed, one that intrigues me is a Claus Guth production of Richard Strauss' "Ariadne auf Naxos", conducted by Fabio Luisi, in which you played Truffaldino with Eliot Madore as Harlequin and no less that impresario Alexander Pereira (who had been general director of the Zurich Oper from 1991 through 2012) as the Haushofmeister.
You've had Truffaldino in your repertory since your student days. Is it as much fun for the singers playing Zerbinetta's court as it is for the audience to watch you.
EA: It is! As the comedians, you're always bound to get up to some slapstick or silly hijinks, scandalizing Ariadne and the nymphs in the process.
That particular production, by Claus Guth, took place in the Kronenhalle, a famous and historic restaurant in Zurich. The set was instantly recognizable to the Zurich public, and when combined with Mr. Pereira's appearance, made for a production the audience really responded to.
Wm: For many young artists who would like to be opera singers, this might seem like overwhelming requirements for career preparation. Would you recommend to other North American singers – particularly those in your vocal category – that they go through all the kinds of experiences you've had (collegiate vocal studies, young artists programs, European opera company ensembles) or are there experiences that you regard as more critical to a successful operatic career than others?
[Below: Erik Anstine is Leporello in the 2017 San Francisco Opera production of Mozart's "Don Giovanni"; edited image, based on a Cory Weaver photograph, courtesy of the San Francisco Opera.]
EA: I think it is important for young singers to go through varied experiences, yes. That being said, which experiences those may be depends entirely on the individual. The correct program or school for one bass might be completely wrong for another.
Perhaps the most useful guiding principle I have found is knowing where you stand and what you need to go further. Teachers, mentors, coaches, friends, they can all help you identify your weaknesses and strengths, and help you decide where you need to go to address those shortcomings or showcase those particular talents. I see it more as building a house than trying to rank higher than your competition in a race.
My European experience was invaluable. I had the opportunity to perform more than I ever had before, and the stability of a fest contract enabled me to concentrate on my craft more than constantly auditioning. It was also a big adjustment going from a training program to a real life professional contract, and the shift in expectations that accompany that transition.
I suppose you may be right, that from the outside, to a singer just starting out, my path may look like overwhelming requirements. But I don't see the steps I have taken as requirements to have a career. I see them as experiences I have tried to make the most of, which have led to more experiences. At times, too much emphasis can be placed on the politics, and not on the actual 'doing' of opera. It is a trade after all, that's how you learn.
Wm: Is there a question you wished I had asked you, and, if so, what is it and what is your answer?
EA: No, I think that covers a lot! I would just add that it's been great to catch up and speak with you again.
Wm: Thank you for your time, and congratulations on your San Francisco Opera debut.
EA: Thank you!
____