The following interview took place in the administrative offices of the Houston Grand Opera, whose facilitation of this interview is very much appreciated:
[Below: Bass-baritone Luca Pisaroni; edited image, based on a photograph by Catherine Pisaroni.]
Wm: My first question of most artists I interview is of their earliest memories of music and of opera.
LP: I remember at age eight I was in Busseto, Italy with my grandfather Franco who had a cassette of opera arias. I used to listen to the aria Ella giamma m'amo that King Philip sings in Verdi's "Don Carlo."
I loved the aria's color, and couldn't believe that a man could sing so beautifully. After hearing it, I knew immediately that opera was going to be a huge part of my life.
Wm: We appreciate opera's Italian heritage, but is it usual for young Italian boys to want to become opera singers?
LP: A typical Italian boy or adolescent aspires to be a football (soccer) player. You need to be successful at football. But I hated running (although now I like jogging). I remember being forced to run, with adults yelling "lift those knees". Perhaps this was good training for some of the more "energetic" productions I've done!
I was a kid with Italian blood, but soccer was not my passion. At age 11, in 1986, when most young Italian boys wanted to become soccer players, I went against the current and decided that I would become an opera singer. I am grateful that I never had a doubt in my life that that this would be my career.
Wm: What was the reaction of your schoolmates to that decision?
LP: Being an adolescent can be really tough. I was not popular, but I didn't care. I knew what I loved and what I wanted to do, so that was my driving force.
It was still difficult because I was the only young boy that liked opera, so I joined Busseto's club of Amici di Verdi. That organization would meet to listen to opera and would travel all over Italy to see it. It was truly my salvation. Every Sunday I would go somewhere to see an opera. I was free and so happy to do this.
[Below: 14 year old Luca Pisaroni (right), with tenor Luciano Pavarotti (left) in Parma; edited image of a personal photograph.]
I continued to see operas and listen to recordings as often as I could. I asked my father for a recording of Luciano Pavarotti singing Nessun dorma from Puccini's "Turandot". He came with me to see my first full-length opera – a first for both of us – which starred Samuel Ramey. The memory of that has stayed with me to this day as a very profound moment in my life.
Wm: How does a young adolescent prepare for an operatic career?
LP: I was studying economics, but knew I had a voice. Most young boys have higher voices, but by age 12, I was already a tenor. I would sing all the Italian tenor roles with Franco Corelli recordings. When my parents came home from work, I would always be singing around the house.
When I was 14, my family arranged for me to have an audition with tenor Carlo Bergonzi. He counseled us that I should wait until I was 18 to sing in an operatic voice, so I did not sing that way anymore from age 14 to age 16. I tried singing again at age 17, and discovered I was no longer a tenor.
That was my first major disappointment. I already knew all of the Verdi tenor repertory. Even now I still remember those amazing tenor arias. In my brain, I'm a tenor. However, my voice doesn't match that feeling. So I had no choice but to go where the voice led me.
Wm: Tell me about your career preparations for being a non-tenor.
LP: I needed professional training, and I had the option of going to Milano or Parma. Milano had the Teatro alla Scala, so I chose to go there. Because I was living in Milan, I could go to La Scala every night. From their 1993 through 2000 seasons, I saw every single production that they presented.
Although I had a good time in Milan, I was less successful while studying voice. I had a teacher I didn't like very much, so I continued to look for a teacher that was a better fit.
I was lucky to have a contract, while I was still studying, for my professional debut as Figaro in Mozart's "Marriage of Figaro" in Klagenfurt, Austria in 2001. Unfortunately, I felt that my vocal studies had not adequately prepared me for that debut. I kept looking for a teacher that I felt was right for me and eventually found the Argentinean tenor Renato Sossola. I knew right away that he would my teacher, so I immediately moved to Buenos Aires.
In March 2001, I traveled to Klagenfurt where I spent two months in a tiny 250 square foot room. I still have a video of me singing from that time. It was interesting watching it so many years later – I was not too bad.
Wm: The first time I saw you in live performance was six years later as Masetto to Mariusz Kweicien's Don in Mozart's "Don Giovanni". It was Sir David McVicar's production at the San Francisco Opera. You made quite an impression as Masetto [See Kwiecien Excels in McVicar's Dark Side "Don Giovanni" – S. F. June 2, 2007.]
LP: Masetto is a great role. There are no small roles in "Don Giovanni". You already need to be a professional to sing Masetto.
When I sang my first Masetto, my Don Giovanni was Thomas Hampson. When you work with great artists, you watch them and constantly learn new things. I am very grateful for that experience.
Wm: Was this the time you met Catherine Hampson, to whom you are married?
[Below: Luca and Catherine Pisaroni; edited image of a Rebecca Fay photograph.]
LP: Yes, It was love at first sight for me. I tried very hard to be charming and funny but at the beginning I wasn't very successful. But I knew she was a special person and I persisted. Eventually she liked me too (obviously my "Don Giovanni skills" weren't all that developed at that time) and a beautiful love story started. We have now been together for 15 years and have been married for 10 years. It has been an amazing journey and I couldn't be happier to share my life with her.
Wm: Obviously for you to be invited to debut in a McVicar production in San Francisco five years after your professional debut in Austria means that you not only learned things, but gained a lot of attention in a short amount of time. What were some of your professional experiences between 2002 and 2007?
LP: I was very fortunate to be invited by the most important opera houses from the very beginning of my career. I can mention Publio in Mozart's "la Clemenza di Tito" at the Salzburg Festival in 2003, Leporello in "Don Giovanni" at Teatro Real in Madrid in 2004, my debut at the New York Met as Publio in 2005 with the great James Levin conducting, Leporello in "Don Giovanni" at the Paris Opera, Guglielmo in Mozart's "Cosi fan Tutte" at Glyndebourne in 2006 and Figaro in Mozart's "Le Nozze di Figaro" at the Salzburg Festival in 2007.
[Below: Luca Pisaroni (left) is Figaro and Elizabeth Watts (right) is Susanna in the 2008 Santa Fe Opera production of Mozart's "Le Nozze di Figaro"; edited image, based on a photograph for the Santa Fe Opera.
Wm: The next summer (2008) I reported on Mozart's "Nozze di Figaro" at the Santa Fe Opera in which you and Kwiecien were Figaro and Almaviva [Kwiecien, Pisaroni Lead Youthful "Figaro" Ensemble in Santa Fe – August 13, 2008.]
LP: I love working with Mariusz. We speak the same language artistically.
I have fond memories of that "Nozze", especially the last act with the stage covered with flowers.
My first two weeks there were scary because of Santa Fe's altitude. The first few days you run out of breath while walking, and, as Figaro, I had to open a door and start measuring with lots of physical activity immediately in the show. So, I hit the gym and started running. Eventually, I got used to it.
[Below: Mariusz Kwiecien (left) is Don Giovanni and Luca Pisaroni (right) is Leporello in the New York Metropolitan Opera's production of Mozart's "Don Giovanni"; edited image, based on a production photograph for the Metropolitan Opera.]
We had a very good time in Santa Fe. I couldn't believe the Santa Fe sky and its colors. It is like being on a different planet. My dog would bark at the moon!
Wm: In a Santa Fe Opera performance four years later in which you sang the title role of Rossini's "Maometto II", the Santa Fe sky got pretty dark [Stormy Weather, But Strong Performances from Pisaroni, Crocetto, Bardon, Sledge in Rossini's "Maometto II" – Santa Fe Opera, August 2, 2012.]
LP: "Maometto" was one of the highlights of my career. The piece is great, with such wonderful music, although it is continually underrated. I was so lucky to be working on it with director David Alden at the Santa Fe Opera. Although its style is classical, it has contemporary colors as well.
[Below: Luca Pisaroni as Maometto in David Alden's 2012 Santa Fe Opera production of Rossini's "Maometto Secondo"; edited image, based on a Ken Howard photograph, courtesy of the Santa Fe Opera.]
We all had a wonderful time. Very often a role like Maometto is painted as a villain in one dimension. But there is a human side to even the worst person. Even Hitler – who represents ultimate evil in the world – probably had someone like a secretary he was nice to and who cared about him. For me, if I try to be evil throughout an entire performance, it gets boring. Characters need to have more than one dimension, which allows for the story to more strongly resonate with an audience.
We eventually revived the Santa Fe production in Toronto, at the Canadian Opera Company. It was even better the second time around, especially reuniting with some of my colleagues from Santa Fe.
Wm: Then I reviewed your performance as Argante in Francisco Negrin's production Handel's "Rinaldo", with David Daniels and Elza van den Heever [Handel's "Rinaldo" in Chicago: Francisco Negrin's Finely Sung, Fun-filled Fantasy – Lyric Opera, March 16, 2012]. What are your thoughts on that opera?
LP: "Rinaldo" is a difficult piece. My entrance through the gateway of letters that spelt Gerusalemme was brilliant theater.
[Below: Argante (Luca Pisaroni, center) breaks through the letters that form the gate to Gerusalemme in Francisco Negrin's 2012 Lyric Opera of Chicago production of Handel's "Rinaldo"; edited image, based on a Dan Rest photograph, courtesy of the Lyric Opera of Chicago.]
Working with Elza van den Heever is an amazing experience. I was blown away by Elza, who never does the same thing twice, particularly when she was able to act out Francisco Negrin's wild concepts. Singing is like playing tennis; you have to react to what your colleagues give you each and every performance.
Wm: Both you and Elza debuted at the San Francisco Opera in the 2007 "Don Giovanni". Subsequently, your San Francisco Opera performances have been in Mozart roles, including both Figaro [Copley Directs, Luisotti Conducts, Sparkling "Nozze" Ensemble – San Francisco Opera, October 3, 2010] and Almaviva [Review: San Francisco Opera's Youthful Cast Excels in "Marriage of Figaro" – June 14, 2015]. Obviously, your career is importantly based on Mozart roles. What attracts you to Mozart, and do you plan to stay with this repertory indefinitely?
LP: I really want to keep Mozart in my repertory as long as I can. I am not a portamento guy, and, although you can sing portamento in other repertory, in Mozart portamento is a no-no.
I love Mozart's recitativo. It allows you to explore how to say things as if you are speaking in a theater. It is among the best parts of Mozart's operas.
[Below: Luca Pisaroni as Figaro in John Copley's 2010 San Francisco Opera production of Mozart's "Le Nozze di Figaro"; edited image, based on a Cory Weaver photograph, courtesy of the San Francisco Opera.]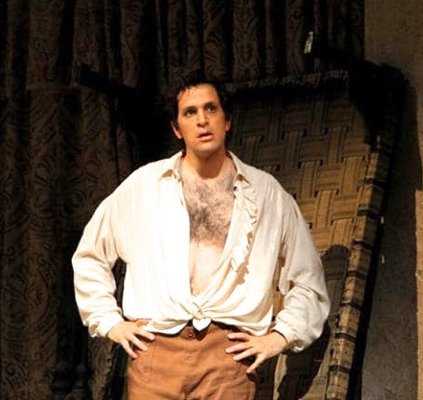 In "Don Giovanni" I have moved from singing the role of Masetto to those of Leporello and Don Giovanni. I've jumped to Almaviva from Figaro. I'm amazed that from a dramatic perspective there is always so much to challenge me in every Mozart role. I can always find something new to play with, and I continue to learn and grow from that process.
Wm: Bass-baritones have quite a range of Mozart characters!
LP: You can get away with being yourself if you're performing Guglielmo in "Cosi fan Tutte" or Figaro. I sang 150 performances as Figaro and always felt he was a nice guy, but you have to become another person to sing Almaviva or Don Giovanni.
Wm: Now that you're inhabiting the role of Almaviva, what are you learning about that character?
LP: He goes through an amazing journey during the opera, from being incredibly arrogant to humbly asking for forgiveness.
One of the things that I have noticed is that the tempi in Mozart performances is getting faster over time. If you listen to the older recordings of Otto Klemperer – even Riccardo Muti – the tempi are much slower. The faster tempi very much affects how Mozart operas are sung and acted today.
Wm: You've performed in Haydn's oratorio "The Seasons [Das Jahreszeit]" with Nicholas Harnoncourt. What are your thoughts on the prospects of reviving Haydn's operas for 21st century audiences?
LP: Haydn's music is like a bridge between Handel and Mozart. Even though the music may sometimes seem simple on the surface, working with Harnoncourt on Haydn's vocal music required me to consistently observe and accentuate all of Haydn's dynamics for a nuanced interpretation of the piece at hand.
Even though Haydn's operas have not attracted many of the major opera stars, it requires wonderful singing. I very much enjoyed performing Haydn's vocal music, but it seems the major problem is that it lacks a large audience base.
Wm: Opera impresarios know that there are audiences that are partial to Wagner or Verdi or Mozart or Puccini or Richard Strauss or the three bel canto composers or Bizet's "Carmen" and a few other French works, but once you get past these familiar names, the prospects of a core audience for the work are greatly diminished.
LP: With less money available to subsidize musical performance, the best known and most popular works are chosen, and that can lead to some laziness in programming. Ticket sales influence repertory choices.
You see this in symphonic programs as well. I attended a concert where Maestro Muti had scheduled the music of Hindemith, which only attracted a smaller audience. But I applaud him for presenting such an interesting piece to his Chicago audience.
It's really limiting if impresarios base the repertory choices solely on what audiences know they like, rather than on what they might like if they had an opportunity to see a work and to learn about it in advance. Operas like Cherubini's "Medea" should be performed more frequently.
However, audiences can surprise the impresarios. In Toronto, the general director Alexander Neef said he had never thought he would put on a Rossini opera seria, but "Maometto II" proved to be a powerful piece that was well-received by the audiences. There is so much more opera repertoire than what is regularly performed, and I hope companies will begin to explore those works and take some chances.
Wm: With the role of Mephistopheles in Gounod's "Faust", you've moved into the French repertory. Is this a natural evolution of your voice from Handel, Mozart and Rossini?
LP: I've been invited to perform Verdi, but I've felt strongly that I need to spend time in the "in-between" repertory that includes more Rossini and the French works.
[Below: Luca Pisaroni as Mephistopheles in the 2016 Houston Grand Opera production of Gounod's "Faust"; edited image, based on a Lynn Lane photograph, courtesy of the Houston Grand Opera.]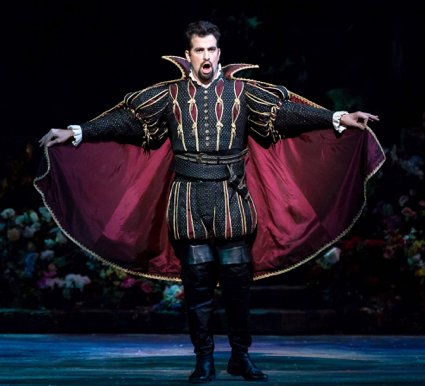 Mephistopheles is written for the bass-baritone voice and sits very well in my voice – a range that sounds and feels natural and comfortable for me. I also plan to do the Four Villains in Offenbach's "The Tales of Hoffmann".
I'm a curious person and new repertory is fun for me, but the challenge of Mephistopheles proved to be a massive one, and took a lot of advance preparation. The history of the role is intimidating, to say the least.
Wm: Houston's "Faust" production in which you are performing [Review: World Class Singing in Classic "Faust" – Fabiano, Martinez, Pisaroni, Hopkins at Houston Grand Opera, October 28, 2016] was created by Francesca Zambello in 1985. Although it's been a long time since she's directed it personally, the revivals have retained all of her brilliant concepts. Reversing the death of Valentin and the church scene is one of Zambello's best ideas.
LP: When I arrived, I had no idea of what I was in for, but I quickly discovered that the production works incredibly well. It is so modern, with amazing details and nuances. The set itself is not quite as easy to work with as a singer, since, acoustically, there is nothing around you.
I love the character of Mephistopheles, and find everything that I'm supposed to do in the role makes sense. As I mentioned before, I don't want to be evil all the time. I am elegant. I'm a kind of a variation on Don Giovanni, having fun and taking some risks. It's a constant game with God to tempt human beings.
Wm: You have a number of different roles scheduled in the next several years.
LP: I've recently had to prepare six new operas in a short period of time and find myself constantly staring at the scores.
These include Count Rodolfo in Bellini's "Sonnambula" and Giorgio Walton in Bellini's "I Puritani". I am also adding Mustafa in Rossini's "L'Italiana in Algeri" and Mahomet II in Rossini's "Le Siège de Corinthe". In addition to these bel canto operas, I will debut as Golaud in Debussy's "Pelléas et Mélisande".
In the future, I'll also add Escamillo in Bizet's "Carmen". That role will be a difficult one to interpret, because it essentially has no character development.
Wm: Throughout the history of opera, in every generation there is a group that argues that the singers of the previous generation constituted a "golden age" whose singers were greater than those of present times. I was able to be at live performances of so many of the stars of the latter half of the 20th century, yet I find present day singers who are just as interesting and exciting – many of whom are much better actors that those who sang in the past.
LP: I wish that singers would be judged based on contemporary standards rather than what people believe existed in the past.
If you listen to the recordings from the mid-20th century, all the basses from that era would be much closer to the baritones of today. If you listen to Cesare Siepi, his voice is so easy and so close to the speaking voice. Today most bass-baritones have a darker sound.
Wm: Much of your repertory – all of the baroque roles and the Rossini opera seria roles – can be thought of as "rediscovered" repertory for which there is no recent tradition as to how it should be sung. There are not even mid-20th century recordings extant of most of these works. It seems to me that this allows you some freedom to approach these operas from a totally fresh perspective.
LP: When I approach a new role, I always listen try to listen to the recordings made by other artists, but I want to get close to the source of the piece and figure out how I should perform it. Often, my take on a role is completely different from what other artists have done previously.
I especially do this with lieder. To me, if it might sounds like it should be performed faster or slower, I will incorporate that into my approach. I believe a piece speaks to me, and it's my job to listen and respond accordingly.
Wm: You mentioned that you had a dog that barked at the Santa Fe moon. Your performance schedule requires you to be moving between different parts of the world, and it's well-known that you and your wife Catherine travel with a couple of dogs. How do you make your dog's travel arrangements?
[Below: Luca Pisaroni with his dogs, Lenny the golden retriever and Tristan the daschund; edited image, based on a photograph from lucapisaroni.com.]
LP: It's not that difficult. I have doing it since in 2003 with our first Golden Retriever. Traveling with dogs requires organization. We travel with an extra bag in which we carry the dachshund, who sometimes sleeps in it. The Golden Retriever would hate to be left behind, so they are both always with us on the road.
They really enjoy the places we go. When we travel to San Francisco, everyday we take the dogs to Crissy Field every day, so that they can swim in the ocean. Both dogs are unorthodox swimmers. We had taken them to Lake Zurich and the dogs' swimming styles created a lot of interest from the people watching nearby.
[Below: Bass-baritone Luca Pisaroni (left) and baritone Thomas Hampson (right); edited image of a Dario Acosta photograph from lucapisaroni.com.]
Wm: The Houston Grand Opera has recently announced that you and Thomas Hampson will perform together in "The Phoenix", a new opera about Lorenzo da Ponte being composed by Tarik O'Regan and John Caird. What can you tell us about the progress on that initiative?
LP: Patrick Summers initially had the idea for the commission, and it is certainly an interesting and enticing project for both Thomas and myself.
As an artist who spends most of my time in the standard repertory by Mozart, Rossini and others, I look forward to working on something completely new and to creating this role. The thought of shedding light on da Ponte's life and work in this way is an exciting challenge, and I'm happy to be doing this in Houston. The piece is in process, and that's all I can say for now!
Wm: I'm already planning to be in Houston for the world premiere. Thank you, Luca.
LP: Thank you.